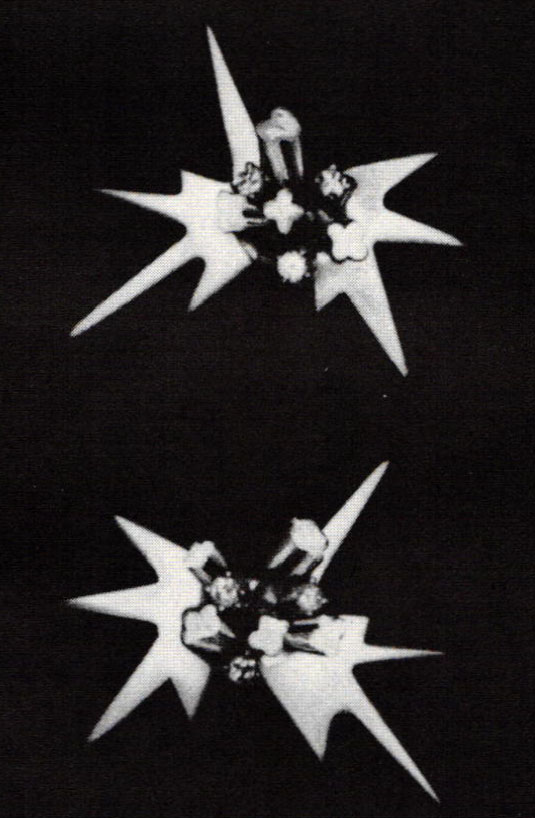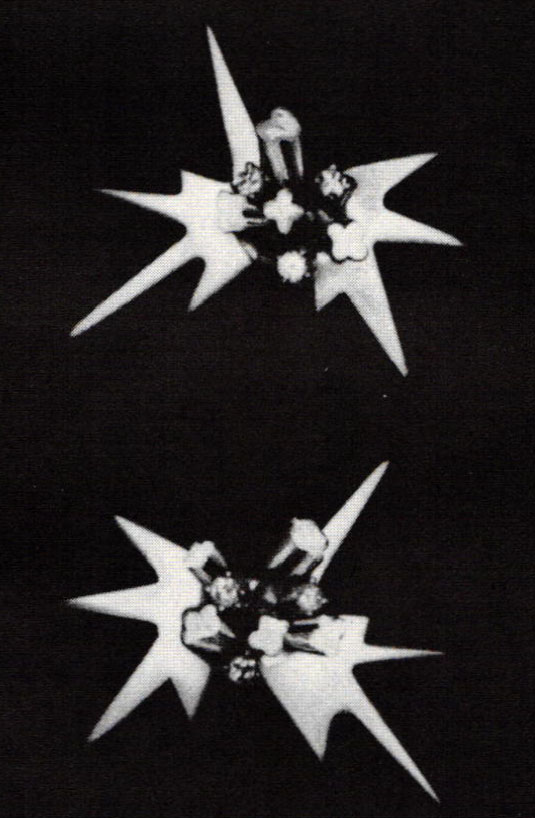 Joan Michlin: Current Metalsmithing
---
1 Minute Read
Celebrating its move to a new location, Creative Metalsmiths featured the slick art jewelry of Joan Michlin. Her futuristic style was toned down with materials that have transcended time—all gold jewelry, most with a small diamond or two. The highly reflective surfaces were technically flawless, well designed and artistically appealing. Man-made chains were the most disturbing element, although they were an important factor in keeping the prices within an affordable range.
Joan Michlin: Current Metalsmithing
Creative Metalsmiths, Chapel Hill, North Carolina
September, 1983
A native of Michigan and product of Memphis Academy of Art, Michlin has been living and working in New York City for four years. In college she created jewelry to sell at craft fairs, and now she has achieved a successful fusion between the commercial and art worlds. She utilizes production casters and diamond setters, while remaining true to academic design concepts. Light, energy and motion synthesize in Michlin's work, whose space-age titles add to the message: Streak, Explosions and Futuristic Fan. One sensed a tightness to her work, almost demanding to be let free, like a comet ready to soar. Joan Michlin's collection presented a strong, unified design approach, with the exception of two nonfunctional items: The Engraver's lease, an engraving tool made from fine silver with a carved malachite handle, and The Weaver's Tease, a similarly well-executed piece.
This show was important not only for the artist and the three other "creative metalsmiths" who own the Chapel Hill gallery, but for the trend it represents—a trend towards metal artists creating their own avenues of employment. With college teaching jobs at best, stabilized, at worst, lading, this new breed has had to fight to establish itself. By exploring more commercial ventures, like designing for the public and opening small shops and galleries, this group has taken risks and should be credited with bringing art jewelry out of its ivory tower. Welcome to the real world.
By Lynda & Mark Baldridge
You assume all responsibility and risk for the use of the safety resources available on or through this web page. The International Gem Society LLC does not assume any liability for the materials, information and opinions provided on, or available through, this web page. No advice or information provided by this website shall create any warranty. Reliance on such advice, information or the content of this web page is solely at your own risk, including without limitation any safety guidelines, resources or precautions, or any other information related to safety that may be available on or through this web page. The International Gem Society LLC disclaims any liability for injury, death or damages resulting from the use thereof.
---
The All-In-One Jewelry Making Solution At Your Fingertips
When you join the Ganoksin community, you get the tools you need to take your work to the next level.
Become a Member
Trusted Jewelry Making Information & Techniques
Sign up to receive the latest articles, techniques, and inspirations with our free newsletter.