Author
Patricia Harris and David Lyon
Website: http://www.snagmetalsmith.org
---
Articles and Videos by Patricia Harris and David Lyon: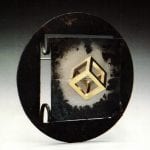 Joe Wood says he was first attracted to jewelry for its economy – the opportunity to focus a great deal of intensity in a small object. That is, he likes to make big statements in small forms. Wood's artistic impulse…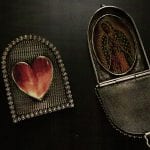 Bernadette Rodriguez-Caraveo confounds expectation. Just when it seems her work can be pigeonholed – as typically Hispanic devotional art, as updated versions of Victorian memorial lockets, as neoclassic Southwestern silver – a given piece unfolds into surprise. She applies meticulous…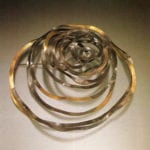 The delicious paradox of quantum physics is that matter exists simultaneously as particle and as wave. Much of Reiko Ishiyama's recent jewelry shares that strange condition, appearing concurrently as both object and gesture, point and vector.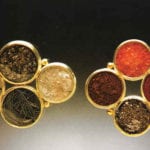 Jennifer Trask sometimes seems to approach jewelry like a natural historian, filling locket-sized, glass topped silver and gold cases with specimens isolated from the world around her. She likens herself to a Victorian taxonomist, and a whiff of the musty museum case does attend her forms. She affirms the association by inscribing the backs of the cases with the common and scientific names of the objects within..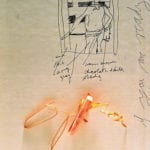 Manfred Bischoff has a fascination with language. Like many Europeans of his generation, Bischoff is fluent in several languages, including German, English, French, and Italian. And, as an artist of his generation, he is similarly versed in aesthetic theory that arises from deep structure linguistics. Although he makes jewelry, he insists, I am creating language. If I find a sentence or a theme I like, then the piece is done. I must only, search for how to do it..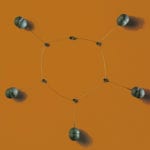 Since earning a BFA at the Rhode Island School of Design in 1983, Enterline has narrowed her focus to a handful of simple shapes and forms and has emphasized construction so spare that it might almost seem severe. In the first decade of her career, she often made spheres, but found herself frustrated by what she calls the "industrial" feeling of the shape. Around 1992, she began elongating the halves. "If I raised them up a little bit more, it was an egg form," she recalls, noting that the shape still remained simple and abstract, yet was suggestive of the natural world. Since the early 1990s, she has evolved a library of signature forms-egg, sphere, truncated cone, cylinder, circular medallion, and four-lobed star fruit-that she repeats with endless variation. Each one employs a biomorphic geometry that straddles both the natural world and the constructs of mathematics.