Bernadette Rodriguez-Caraveo confounds expectation. Just when it seems her work can be pigeonholed – as typically Hispanic devotional art, as updated versions of Victorian memorial lockets, as neoclassic Southwestern silver – a given piece unfolds into surprise. She applies meticulous artisanry to a rich cultural tradition to create jewelry as evocative and complex as the milieu from which she springs.
Most recently, Rodriguez-Caraveo has begun a series of one-of-a-kind pieces evolved from the relicario, a repository box for a sacred object. In Hispanic Catholic tradition, the relicario often takes the form of a locket with a saint's image. Rodriguez-Caraveo's particular pieces merge the form of devotional object with personal imagery to evoke the power of public archetypes in otherwise intimate statements.
If there is a single description that casts a broad enough net to cover all of her recent work, it is the frequently maligned term of "narrative". Because her work lies outside the abstract mainstream of art jewelry, Rodriguez-Caraveo takes refuge by labeling herself a "folk artist".
There is a certain degree of truth in this self-protective coloration. She is a folk artist in the sense that she is a bearer of cultural and religious tradition. Raised in Santa Fe, New Mexico, by her grandparents, Rodriguez-Caraveo grew up in the Hispanic culture of the northern Rio Grande. This particular tradition is unique, having developed its own idiomatic language and artistic vocabulary in prolonged isolation from the mainstream Catholic Church in both Mexico and the United States.
"I grew up heavy-duty Catholic with my grandparents, getting up at 6:00 in the morning every Sunday and going to church", Rodriguez-Caraveo explains. And while she is less deeply involved in the church, her interest in the religious artistry persists and she still attends "more for the images and the rituals". The imagery remains a connection to her past. "My grandma always had religious images everywhere", she says. "She always had an altar in the house."
While Rodriguez-Caraveo's work draws from the cultural reserves of Spanish colonial tradition and upper Rio Grande religion, it is ironically unacceptable for the major traditional Hispanic arts exhibition held each year in Santa Fe. Although the city is best known for Native American arts as displayed each August at Indian Market, it is also the central trading town for traditional arts of Spanish colonial origin. Each July the zocalo teems with the three-day Traditional Spanish Market, which, like Indian Market, is limited to artists who both have the appropriate bloodlines and who work in traditional methods, motifs, and material. In both cases, participating artists must pass muster through a rigorous jurying process.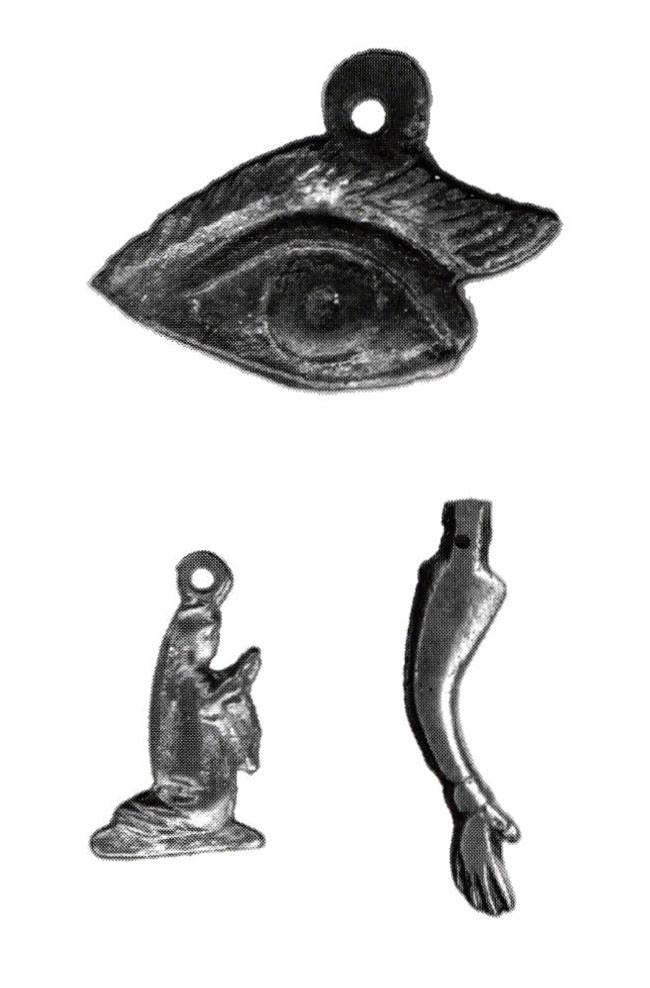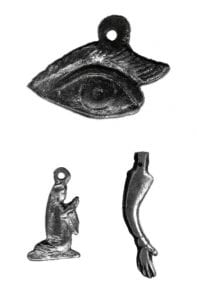 Many contemporary artists and artisans also create a line of work to meet the scholarly criteria for admission to these markets because the prestige and visibility can be a career builder. But Rodriguez-Caraveo foregoes Traditional Spanish Market because she doesn't want to be limited to decorative filigree, the only colonial-era silver of the upper Rio Grande valley. Instead, she and her jeweler husband, Oscar Caraveo, exhibit at the concurrent Contemporary Spanish Market on Santa Fe's side streets. The contemporary market, also strictly juried, is open to artisans whose work incorporates post-colonial techniques or materials.
"I used to be bothered that I couldn't show at Traditional Spanish Market", Rodriguez- Caraveo says. "At the same time, I really like the freedom I have in Contemporary."
That freedom is born of mastery of the full range of a silversmith's technical skills. As she says, "l have the philosophy that you can make anything you want as long as you learn the technical skills."
Her training began early. Rodriguez-Caraveo grew up in the Santa Fe milieu "surrounded by jewelry and the arts", and some of her earliest memories are of visiting silversmiths at work in the shops. By her early teens, she was working for a neighbor, Patricia LaFarge, an importer with a specialty in jewelry.
On LaFarge's encouragement, Rodriguez-Caraveo enrolled at the University of New Mexico in 1976, determined to become a special education teacher. But she couldn't stay away from the art department and her 1982 degree was in art education. With a master's degree in hand, she now teaches in an alternative high school and in the jewelry program at the University.)
The head of the jewelry program, Ralph Lewis, spurred Rodriguez-Caraveo to pursue jewelry as a creative medium. A look at her student work shows why. Although her design skills had not reached full expression, her instincts were leading in an unconventional direction. And she was already shaping pieces more as a sculptor than a silversmith. Two pieces using the same hammering technique show her evolution. Her hammered silver earrings with blue lace agates of 1978 already demonstrated what would become a trademark tension between glassy and textured surface. Their complex shapes – the apparent free-form design is belied by the symmetry of the two pieces – is atypical of her work, perhaps more characteristic of student style at the time. By the time she produced the 1981 cylindrical silver box with an opal set into its lid, she had mastered the hammer to produce an effect that calls less attention to itself but clearly marks the piece as an artifact of a human hand. An inarticulate history of manufacture is proclaimed in each speck of recessed oxidization.
After graduation and intrigued by an offer to stay with a silversmith's family, Rodriguez-Caraveo went to Taxco, Mexico, to perfect techniques she had not studied in depth at the university. Historically, Taxco was among the first and richest silver-mining and fabricating towns during the Spanish rule of Mexico and today Taxco is Mexico's leading center of jewelry design and production. "Everywhere I walked it was silver", Rodriguez-Caraveo recalls of her first visit. "The town glistened with silver."
Taxco was an education in both jewelry and pre-modern Mexican life. "I paid $100 a month to Isidro Garcia and his family to live with them", she says. "We did all the family things together, the traditional stuff. I couldn't even go out unless I had an escort."
Rodriguez-Caraveo did her primary apprenticeship at Los Castillos, the largest of the Taxco jewelry-makers, where she had a master teacher but rotated throughout the operation. She eventually worked all the benches executing the clean, smooth, house designs that derive from modern Scandinavian abstraction of simple forms.
Yet a piece like Rodriguez-Caraveo's silver pitcher with bird handle for Los Castillos shows her own predilection for texture and narrative and a taste for the colloquial which derive from a long folk tradition. (Ceramic and stone vessels with bird handles dating from the first three centuries A.D. have been found at Teotihuacán, the pyramid city near modern Mexico City. Because Teotihuacán was the chief trade center of the Americas in its day, the vessels could have originated anywhere in Mesoamerica.)
When she completed her Los Castillos apprenticeship, Rodriguez-Caraveo worked with other Taxco masters to learn their technical specialties. Perhaps most influential was Bruno Pineda, who taught her repoussé.
Of course, technical training alone does not make an artist – it merely enlarges her possibilities. In producing her first independent pieces for Contemporary Spanish Market, Rodriguez-Caraveo turned to vernacular "folk" art of the upper Rio Grande. Although the tradition boasts little jewelry, it is nonetheless rich in iconography. For Spanish Market, she followed the lead of her brother, Marry Rodriguez, a maker of wooden replicas of Camposanto crosses, a type of grave marker still found in village churchyard cemeteries in the Sangre de Cristo mountains. But Bernadette produced hers in silver, fabricating rather than casting. The experience was discouraging, in part because many potential buyers didn't understand how the work differed from mass production pieces of similar themes.
"Even here, where people are sophisticated about jewelry many customers don't know the difference between a hand-fabricated piece and a casting, and I was cutting these by hand", she says. "But it was a good start and I got a lot of galleries in the process." More conventional traditional rosaries and pendants with figures of saints met with better acceptance from the buying public.
The gatekeepers at Spanish Market had an easy time with Rodriguez-Caraveo's crosses. Silver was not used to produce crosses in the colonial period; ipso facto, she was a contemporary artist. Standards are not so clear for an audience less concerned with historical authenticity. How does one view an artist who employs folk tradition but departs from the anonymity of that tradition to make a personal, even intimate statement?
A lead might be found in the work of Mexican painter Frida Kahlo – not in terms of direct influence on Rodriguez-Caraveo, but because she took a similar approach to turning tradition to her own artistic purposes. Even European and US art critics who are sympathetic to Kahlo's art often fail to credit Kahlo's appropriation of popular, often devotional art of colonial Mexico in constructing her apparently surrealist imagery. But while Kahlo's paintings were extensions of the Mexican retablo painting tradition, they were usually psychological self-portraits. By assuming the vocabulary of popular art, she could use its symbols and stylizations as an emotional shorthand immediately recognizable by anyone immersed in the popular culture. But these images of artes populares have a resonance even outside the culture, as evinced by the critical embrace Kahlo has received in the US in recent years.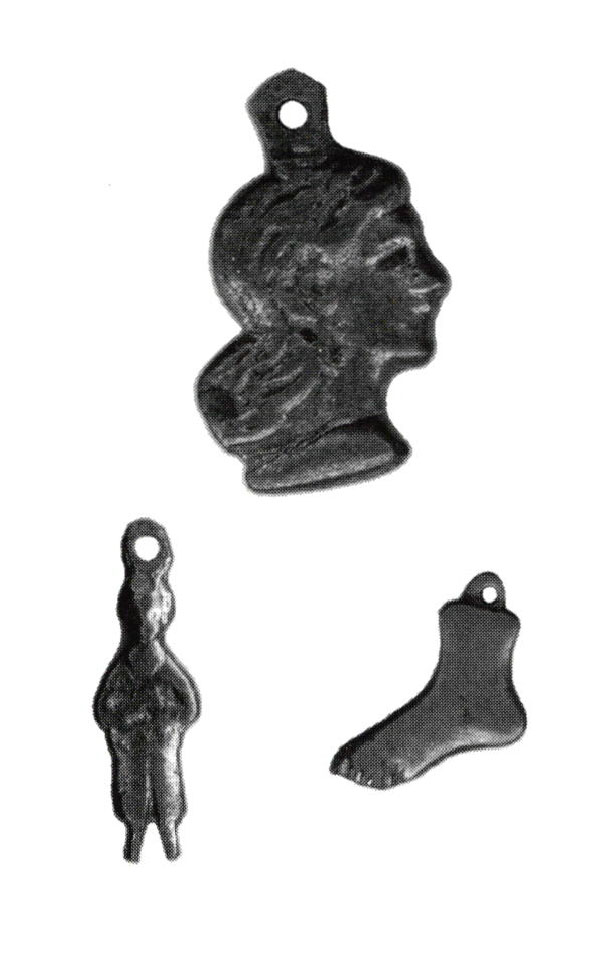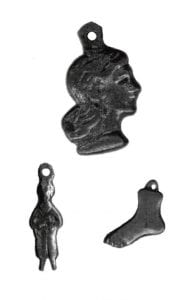 Like Kahlo, Rodriguez-Caraveo has found inspiration for innovative and personal work in a populist body of imagery: the milagro. Milagros are religious fetishes – ex-voto figures – still prevalent in Catholicism throughout Latin America, although they have not been widely used in New Mexico for a generation or more. They are typically pinned to the figure of a saint from whom the supplicant asks heavenly intervention or as a gift of thanks for answered prayers. The milagros, most often cast of base metals but sometimes of gold or silver, take any number of forms – arms, legs, hearts, eyes, lungs, pregnant bellies, farm animals, heads of grain, vegetables, houses, barns, automobiles, etceteras. Some of the figural motifs are more closely related to indigenous animistic religion than to Christianity.
In 1992, Rodriguez-Caraveo and her husband acquired reproduction rights to an extensive collection of milagros from throughout the Americas owned by art historian Martha Egan. Through their mail-order firm, Milagros y Más, they sell sterling and bronze castings of these figures. The business arrangement gives Rodriguez-Caraveo access to objects laden with centuries of ritual power.
In effect, a milagro is an externalization of a prayer – a desire made metal. To believers, it represents a sympathetic magic, a homeopathic medicine of the spirit. To a non-believer, it can still be imbued with power through its semiotic qualities. Rodriguez-Caraveo points out that even in the folk tradition, no one knows why a given milagro was made, but that each user bestows his or her own meaning on the form over time. In effect, a milagro becomes detached from the significance perceived by its maker and becomes instead a focal point for the dreams or worries of each successive owner. Rodriguez-Caraveo incorporates them into her relicarios as pointers to the traces of a nearly vanished culture, a celebration of a way of life and belief.
Using milagros as an element in jewelry was not a new concept. Mexican folk artists had been covering wooden crosses with them for many years, and Acapulco jeweler Pal Kepenyes designed an entire line of brass and bronze jewelry incorporating dozens to hundreds of milagros in each piece in the late 1970s and early 1980s. In both cases, the milagros are design elements that achieve their effect through accumulation and agglomeration. Rodriguez-Caraveo, on the other hand, isolates and juxtaposes individual pieces, which demand a more contemplative response.
The figures are also a link to her personal past. "When I was a kid, Patricia [LaFarge] would take me to the bank and show me these very old milagros, all in silver, that she kept in her safe-deposit box. One was a little bed with a person lying in it. I thought a lot about that image that had been made to keep someone healthy or help someone through an illness." As a child, she had been touched by the faith embodied in that particular milagro. As a mature artist, she recognized that milagros could be both a gateway to memory and a powerful and complex vocabulary.
Moreover, she saw that although their ostensible purpose was prayer, the milagros embraced both secular and liturgical subject matter, which opened up new dimensions of expression for an artist whose imagery had dealt primarily with the austere iconography that dominates the traditional New Mexican strain of Catholicism. "I wanted people to open one of my pieces and laugh or be intrigued", she admits.
So she made a small silver box and began composing scenes with milagros. One association led to another. When she was a child, her grandparents would go for Sunday drives into the country, especially the hill country north of Santa Fe that remains a stronghold of pre-Anglo culture.
"Grandpa had some friends in Chimayó who always had farm animals – pigs or donkeys. The milagros drew that back from the past into my memory. The very first relicario I did was a man and a woman in a little box locket", she recalls. "The front is a farmhouse. You open it up and they're inside. On the side I put fencing and I had animals inside the fencing and on top of the fence."
Two constants permeate traditional Hispanic culture along the upper Rio Grande: the land and the church. The logical next step after working with farm motifs was to reflect the simple devotion of the country church. Relicario Farm Scene with Milagros and, Relicario Churches with Milagros, demonstrate a relatively straightforward approach to the church – sketched with an economy of line that directly echoes both the folk architecture of adobe structures and the material asceticism of the interior. In Rio Grande tradition, a church is intended to be filled not with glorious furnishings or even stained glass, but with prayer.
The modality of these relicarios owes a great deal to the traditional locket, on one hand, and the nicho of local religious tradition on the other. (In northern New Mexico, the nicho was a small wooden side altar set into the adobe wall of the church – almost like a doll house stage-set for a religious parable. In recent years, the nicho motif has been adapted to other media and to more secular settings.) As such, the relicarios bear the solemnity of liturgy, yet at the same time, they suggest a secular whimsy through the folk qualities of the milagros incorporated into them.
As a result, potential buyers don't always quite know what to make of each piece. "They look at it, play with it, and walk away", she says. "And usually they come back and say, 'I really have to have that'."
It is a welcome reversal of the attitude that greeted her Camposanto crosses, for making one of these relicarios is laborious, Rodriguez-Caraveo admits. While some of the milagros are cast, all the other pieces are made and assembled by hand. "I love to solder", she says, almost apologetically. "And I love setting stones and I love seeing things come together. And when you cast it, you lose the attraction you have with the metals."
She also chooses to work in sterling silver, using gold only rarely as an accent. History is one reason for her preference: "I grew up with sterling because sterling is affordable. Every Christmas or birthday, I always got a piece of silver jewelry."
Since beginning with the Chimayó tableau nearly three years ago, Rodriguez-Caraveo has used the relicarios to explore the creative and symbolic potential inherent in milagros. They have become her signature pieces, representing a mature and modern vision with the weight of tradition behind it. The scenes within her relicarios speak to memory – with all the mystery enclosed behind the doors – as well as to evocative possibilities of the figures that tell a story in a language so embedded in a collective unconscious that we swear we know the tale.
Patricia Harris and David Lyon are freelance writers and frequent contributors to arts and fine crafts magazines. Patricia Harris also collects art from the Spanish Americans. They co-wrote the critical essay for the monograph, Michael James: Studio Quilts, appearing this spring from Editions Attinger, Switzerland.