Author
Marlene A. Prost
Website: http://www.colored-stone.com
---
Articles and Videos by Marlene A. Prost: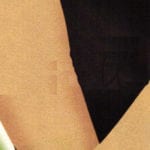 Pearl jewelry has come a long way from the days of grandmother's proverbial strand of round pearls. In today's retail market, consumers can choose from golden, pink, black, and peacock green pearls in one-of-a-kind, baroque shapes. On the fashion runway…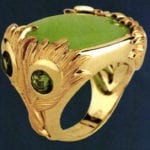 True, predicting the color of fashion is not an exact science like meteorology. But since the mid-1970s, professional color forecasters have been able to tell us — in subtle detail — what colors will predominate in fashion, home design, and…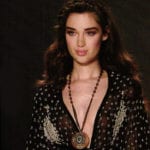 This year's fall and winter fashions are decidely subdued. The necklaces worn at Anna Sui's Fall 2006 show reflect the jewel tones of her fashions; photo © REUTERS/Seth Wenig. Gone are the flamboyant layered chains and wild color mixes of…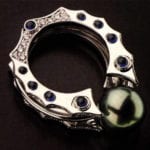 As the saying goes, it took James Kaya almost two decades to become an overnight sensation. The Boston-based jewelry designer has spent his lifetime creating jewelry, starting as an apprentice at the age of eight, and has built an avid…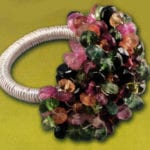 Google the words "bead jewelry," and page after page of Web sites pop up, vying for attention. With the explosion in popularity of beads, more and more former amateur jewelry makers are turning pro. In the fiercely competitive marketplace of…
This is an exciting era for gemologists. High-tech analytical techniques now make it possible to identify trace elements, treatments, and origins of colored stones that could only be guessed at decades ago. For example, when the gem world was rocked last fall by mysterious, processed orange sapphires coming out of Chanthaburi, the Gemological Institute of America (GIA) relied on two of these high-tech procedures – Laser Ablation Inductively Coupled Plasma Mass Spectrometry (LA-ICP-MS) and Secondary Ion Mass Spectrometry (SIMS) – to discover what elements could be causing the surface color.
The marketing slogan 'All Natural' has been used for years to advertise products from cereal to shampoo. Now some gem dealers are using it to market their natural, unenhanced gem material – and to distance themselves from negative publicity over treatments. Why not take advantage of the fact that stones like garnet, peridot, and sunstone not only are unenhanced, but can't be improved with treatments? After watching the price of small-sized yellow and orange sapphires tumble because of the controversy over diffusion treatment, some gem dealers are creating a marketing niche for people who want an absolute guarantee their purchase is not enhanced.
The decade of the '90s put spessartite garnet on the map. Once a rare collector's gem, the brilliant orange garnet burst on the scene in 1991, when a deposit was discovered in the rugged mountains of northwestern Namibia, and again in 1999, with a seemingly bottomless find in the remote bushlands of Nigeria. Suddenly, enough spessartite was being produced from these and other sources to market it to mainstream jewelers. Prices dropped and jewelry lines began to feature the stone. Unfortunately, this dealer's dream ended almost as quickly as it began, as by 2001 the African alluvial deposits had mostly dried up. Today, spessartite is again rare, and prices are rising as supplies dwindle.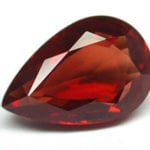 Shot through with copper, sunstone from this locality has mesmerized miners and designers alike. It has inspired vacation rockhounds to put down stakes in Oregon's mining country, and has spawned a hearty fraternity of diggers determined to bring the Oregon state stone into the sunlight.
Can the colored stone industry choose a standard light source from the multitude on the market?
If we needed more proof that our society is obsessed with celebrity style, we have only to look at the spectacular success of pink gemstones in retail stores this year. Last year was the year of pink in clothing and accessories, from Hollywood red carpets to Milan runways. That demand extended to gemstone jewelry, according to the 2004 survey of retail jewelers conducted by Colored Stone. Fancy sapphire, including pink, was the second best-selling stone last year, say the nation's retailers.