Twenty first-century artists consider how best to relate to our changing world in a meaningful way. Pittsburgh artist ROY has chosen just two formats to present her worldviews: the bracelet, an object of adornment that she has always explored, and the candle snuffer, a domestic object little considered today.
ROY 's early bracelets appropriated existing artworks, as in her 1998 Jackie O bracelet, which borrowed Warhol's famous painting. Almost simultaneously she developed a series of city bracelets. Recently her bracelets display a creative leap in response to 9/11, with such works as Godzilla with Fez and Level Red, which abandon appropriation while continuing to depict cityscapes. The candlesnuffers have also evolved. Once in the form of buildings with chimneys through which the snuffed candle smoke was emitted, they have become freestanding, sometimes smoking, small sculptures.
The linked-panel format of the bracelets gives them a power beyond their scale, making them seem almost monumental. Aegean Bracelet (a "city" bracelet) incorporates three sapphires, which suggest the blue Aegean Sea and punctuate the low skyline as windows. The wavelike bottom edge of the bracelet clearly indicates that the low buildings have their feet in the sea. ROY's Greek heritage and her visits to the Aegean islands are an obvious influence.
93rd Floor is considerably darker, as it refers to 9/11 and the point of impact at the World Trade towers. Buildings adjacent to the one with a diamond marking the point of impact seem to lean away from that building, as if to disassociate from it. The patina applied to the metal gives it a painterly quality and evokes darkness.
Towers of Pittsburgh, 2002
Brass, copper, wood, electronics
Engineered by David Parlour
Liquid, smoke, light, fan
12 1/2 x 14 x 5 1/2″
Photo: David Parlour
Courtesy the Mattress factory Museum
The Godzilla with Fez bracelet at first glance reflects a lighter mood, featuring a red, yellow, and blue cartoon­ like city (the color added with non-reflective Plexiglas). Yet Godzilla looms over the skyline in his red fez; the fez, a reference to Islam, changes the tone of the bracelet from amusing to anxious, as if the threat of terrorism loomed large over the city. 93rd Floor and Godzilla both also incorporate line drawings, for added visual richness.
Level Red sheds the cityscape format and becomes an ominous warning of present danger. The words "Level Red' are spelled out with machine-like wheels below each letter and a red stone above the "e" in Red. Color has become charged with a new meaning as ROY plays on the intermittent warnings that place certain parts of the country under a level yellow or level red state of alert. The warning juxtaposed with the train-like structure increases the ominous mood.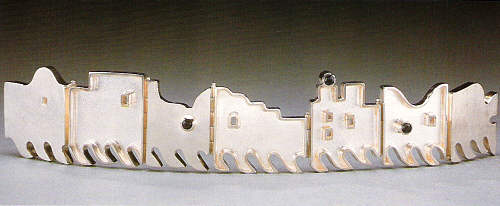 Aegean Bracelet, 2002
Sapphires, silver, nickel
3/8 x 3/8 x 8 1/4″ (open)
Photo: Dean Powell
These recent works ask questions rather than giving us serenity and calm. It is a pleasure to see an artist change directions successfully, engaging us on a deeper level and forcing us to consider a more dangerous world, even in our choice of adornment.
93rd Floor, 2002 20k
Diamond, silver, hinging, non-reflective
Plexiglas, nickel
7 5/8 x 3 x 1/4 " (open)
Photo: Dean Powell
Godzilla with Fez, 2002
Silver, rag paper, non-reflective
Plexiglas, nickel, brass
8 1/4 x 2 3/4 x 3/8″ (open)
Photo: Dean Dover
Level Red Bracelet, 2002
Ruby, silver, silver wheels, washers,
axels, brass rivets
1 3/8 x 9 1/2 x 1/2 " (open)
Photo: David Parlour
The small sculptures, the candlesnuffers, and the very recent Towers of Pittsburgh have also turned the corner from amusing objects to a clear sense of a threatening world. Towers of Pittsburgh is a small sculpture of a dark skyline. Instead of an abstract cityscape, we see rooftop structures, with equipment sheds, chimneys and other industrial accoutrements. These towers and sheds and vents light up and emit smoke for a far more menacing vision. The small structures of the earlier candlesnuffers have become larger, self-contained, and considerably uncomfortable. While ROY 's craftsmanship is exquisite, her objects beautiful, it is her intellectual and narrative content that gives the work its power.