Mounted in Paul McClure's silver pendant, Alveoli, are two pearls taken from a necklace his mother left him when she died of cancer. The work is a memento of her death, in memory of her life. Shaped like the bronchial branches of the lungs, the pendant references the tiny sacs that exchange oxygen and carbon dioxide from the blood.
Over time, the pendant's black oxide wears against the body, revealing a highly polished silver surface; thus the contrast between the pearls (a symbol of tears) and the pendant fades. This process lasts about two years – the same period of time the Victorians mourned the death of a loved one.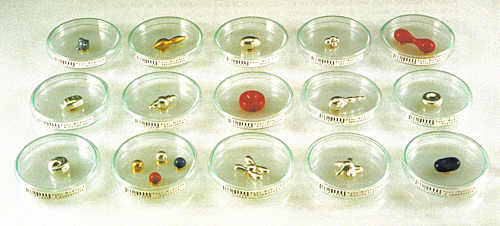 Cells, (brooches), 1999-2002
silver, gold, copper, resin, neodymium, magnets, glass petri dishes
18 x 12 x 1″
Alveoli is part of a series titled "Memento Mori." The Latin motto ("remember, you must die") has often been inscribed on mourning jewelry throughout history. The earliest recorded example of memento mori jewelry is the bequest of Richard II (1366-1400); he left a gold ring to each of nine executors. Mourning jewelry became popular in the seventeenth and eighteenth centuries and was the height of fashion during the Victorian era. These pieces represent a sense of loss, taking on meaning beyond its form; they awaken our memories.
In the work of Paul McClure, universal structures, memory, ritual, and science forge an intimate alliance between knowing and believing. This relationship is illustrate in a series of magnetic brooches titled "Cells," composed of more than 20 cellular forms, that celebrates life through the formal language of science. Each cell illustrate plays a role in combating disease and regenerating life. As McClure rebuilds his own life, he leaves us reminders, mementos, of the internal nature of life and triggers in us the capability to believe in an idea beyond form.
In a recent solo exhibition in Barcelona that coincided with the fourteenth international AIDS conference. McClure introduced HIV to the Cells collection. His HIV Viruses derive from a 1994 work, commissioned from an AIDS benefit, consisting of 500 brooches clustered together in a magnetic field. Each guest was invited to take a "virus" from the sculpture, thus altering the sculpture's shape to mimic the behavior of the AIDS virus. Like the earlier work, McClure's HIV Virus brooches help raise awareness about AIDS, and foster a community of tolerance and compassion.
Alveoli, 1994
oxidized silver, pearls
2 x 1 x 1″
Miotic cell (brooch), 1998
oxidized silver, cubic zirconia, neodymium magnets
2 1/2 x 1 1/2 x 1 1/2″
HIV Viruses (brooches), 2002
silver, lapis lazuli, jade, carnelian, amethyst, neodymium magnets
each 1/2 x 3/4 x 1/2″
Paul McClure's jewelry is a statement of faith. He places value both in systems of knowing and personal experience. Whether based on science, religion, or history, his works remind us that these systems serve only to describe our human condition.