Possibly the most controversial jewelry artist now working in the United States, Keith Lewis Is undergoing a transition from propagandist to post activist artist. Defiantly "out," queer, gay, and male, Lewis has spent the past decade or more dividing his time between teaching, lecturing, and making art.
That such a small body of work (roughly 40 objects) has generated such a raft of commentary and criticism underlines some key aspects of the American metals field: its poverty of artists addressing unpopular subjects; the in bred system of academic group shows; and the nestling cocoon of protected free speech within the halls of tenured universities. The time has come to have a closer look at Lewis's art, to compare it to his voluminous and revealing writings, and to judge it on critical terms rather than the artist's own stentorian and often hysterical claims.
Muster 1995
(Pin in memory of Peter V.)
Sterling silver, 2 3/4 x 2″
Photo Jim Cummins
After teaching at Central Washington University (CWU) in Ellensburg for six years, Professor Lewis attained tenure in 2000. Until then, a heavy load of committees and teaching only permitted four solo gallery exhibitions (1988, 1993, 1995, 1999) and 50 group shows, mostly on campuses, with a few abroad.
Despite sharing content with many contemporary painters and other sculptors, Lewis has never been written about in an art magazine. Instead, he has subsisted critically within the cozy craft world, where commentary on his art has been shaped by his own extensive written and spoken statements of intent. Usually, the writers simply quote him rather than analyze his art. For so interesting and provocative an artist, this is a shame and a mistake. Controlling discourse is easier in the craft world because so few writers have ideas of their own. Lewis has supplied them all they need. To date, Lewis has essentially reviewed himself, and, as a result, has carried on a monologue of extreme claims with large doses of projected anger and guilt.
Sebastian (imaginary Self-Portrait) 1999
Sterling Silver, 18K Gold
3 1/2 x 1 1/2 x 1 1/2
Photo: Doug Yaple
Is it even possible for us to step back and analyze such work objectively? So many red flags appear along with clanging alarm bells: gay sex, AIDS, explicit genitalia, self absorption, and of proclaimed guilt. Space does not permit a thorough meta critical analysis of the reviews of his work, but it is worth setting Lewis in a historical context; repeating his intentions based upon his writing and lectures; assessing published opinion; and, finally, noting bow, most surprising of all, he has dropped propaganda art of late, reconciled with the heterosexual world, and fully embraced a broader definition of humanity and the decorative dimension.Since CWU is the birthplace of Northwest Funk jewelry' and a haven for the discovery of found object jewelry', it is entirely appropriate that Lewis replaced Ken Cory (1943 1994) as jewelry professor at Ellensburg. Cory's work had a strong, if submerged, erotic character, too, but it grew out of a complex puzzle system that frequently concealed sex as much as it revealed it.
For Lewis, his position at CWU has afforded him a bully pulpit. As he told a Boston audience, "I live to lecture!" AIDS activism preoccupied him long before he completed his graduate studies with metalsmith Kathleen Browne at Kent State University in 1993. And although accompanied by slides of his work, his numerous guest lectures served primarily as a launching pad for bold political positions. A few gems shared with undergraduate and graduate students include:
The making of jewelry is a political act. I see it as propaganda… [There is] a cloying hetero defined reality… Their comfort … is my anxiety and outrage.
These people won't stop until every shred of difference that distinguishes us … is obliterated.
The heterosexist project depends heavily on the eradication of our history.

Do the pins, brooches, and necklaces hold up to these provocative claims? Hardly. As early as 1988, the four golden tummies with "expanding" male genitals seemed more amusing than daring or angry. The headless cartoon figures of the early "self portraits" with symbolic appurtenances seem diminutive and dainty, especially when one notes the gold plating.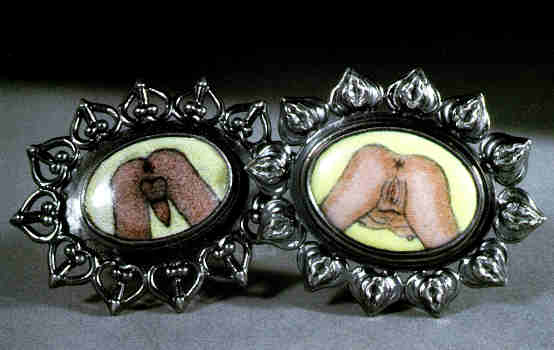 Boy and Girl Spread (pins), 2001
Sterling silver and limoges enamel
Each 1 3/4 x 13/8 x 1/4″
Photo: Keith Lewis
How does an activist artist deal with the essential paradox of jewelry: attractive body ornaments typically worn by women? After all, even though one writer called them "sculpture that happens to have a pin on the back," if no one wears them, they're not activated at all, let alone activist. Along these lines, by 1992 selfloathing became a central subject in Lewis's work, artfully and attractively done despite imagery of skin gouging as in just a Few Priks (1992); Peeling Off (1993); and Well, Doug, It's 36 Now (1994). Expressed as AIDS survivor guilt, self loathing has been a powerful and effective position for Lewis as an artist. As he confessed to a group of students in Boston: "Why did the virus that killed him … hesitate to leap to me?" This joined a more troubling confession of guilt and possible bad faith: "How legitimate is this work? Does it prostitute the lives of the people that I called my friends? … I sell this stuff for money … My project seems Yet more callous and dishonest."
Bath Time, 1995
Sterling silver, fine silver, plastic,
24k gold plate, 2 3/4 x 2″
Photo: Keith Lewis
Before that 2002 mea culpa, Lewis produced another dozen or so pins tracking the spread of AIDS among friends, dedicating memorial works to them, and exhibiting in the sympathetic San Francisco Bay Area (the site of his best reviews). Pride, rather than guilt, might be a more appropriate, if less opportune, emotion for the artist. Enhanced workmanship and potent animal surrogates (a rooster, a bear, a shrimp, an elk) make these pins among the best of the survivor guilt series. Bath Time (1995), for example, uses a golden bear to satirize portly middle aged gays at a steam bath (and virus infection site), while Salt Lick (1996) adds real diamond semen droplets to the gold over silver six pack torso, enriching the artist's most explicit image yet of masturbation. Together, they take the notion of male brooches as icebreakers or conversation starters to another extreme: art as the surrogate pick up line in a bar. A Lewis pin on a man says, "Get closer and have a look." But could these outrageous ornaments ever really "encourage a change in societal attitudes," as one curator hoped?' Not likely. No more so than Judy Chicago's Dinner Party did or Andres Serrano's Piss Christ.
A sabbatical in 2001 2002 led to a significant breakthrough: the appearance of the female figure, the depiction of heterosexual intercourse, and the diminution of the artist's strident anti straight rhetoric. Lewis's embrace of a broader humanism has enriched his work immeasurably. Now accepting the existence of the majority of the human race women Lewis is finally free to depict a wider range of anatomical parts. Daisy Chain ( 2001 ) anticipates the current, reconciliatory phase of his art. A silver and gold necklace with watch crystal linked elements, each circle filled with a different photographic image of the human anus, appropriated from available pornographic magazines. At least non phallic in character (which is a refreshing change with Lewis), Daisy Chain also seems closer with its necklace structure to women's jewelry. It was preceded by the paradoxical Too] necklace (2000), which uses intricate drawings of male and female genitalia interspersed with images of punning tools: pliers, screws, screwdrivers, vices, and nails.
Tool (necklace), 2000 (detail)
Sterling silver, copper, 18k gold, pen on paper
Diameter 18″
Photo: Keith Lewis
Similarly expansionist in spirit, Boy and Girl Spread (2001) introduces Limoges enamel technique in a series of his and hers rings and pins, each displaying appropriated porno images, in this case, low angle views of male and female genitals seen from beneath the figures' bodies, a typical adult movie camera viewpoint.
Most promising of all, Neckpiece for Zymrina (2002) is an ingenious necklace of detachable pins, each with a different enameled image based on pornographic frescoes at Pompeii (where the artist traveled during his sabbatical). Coming around to a more inclusive view of sex, Zymrina's necklace all move Lewis closer to a sexually integrated community, one in which straights and gays may coexist (as they did in Rome and Pompeii) with mutual respect and tolerance. Rejecting the sexual isolationism of his Act Up activist years, Lewis now embraces a more varied population. Just as dividing lines between gays and straights in society as a whole are blurring of late, along with vanishing legal barriers and establishment religious prejudices, so has Lewis softened his stand by shifting to female imagery.
Neckpiece for Zymrina (pin)
2002 sterling silver, fine silver, 24k gold plate, enamel, pearls
Neckpiece diameter: 10 1/4″
Each pin: 4 3/8 x 2 3/8 x 3/8″
Photo: Doug Yaple
The AIDS pins were indeed, as one critic put it, "talismans that mark an angry reckoning of our nation's failure to engage this [AIDS] calamity." However, Daisy Chain, Boy and Girl Spread and Neckpiece for Zymrina herald a new, post activist Lewis, still involved with his precious "genderfuck" issues but now more open to sexual coexistence within a society still struggling, in this case, through its art, to create meaningful cultural artifacts.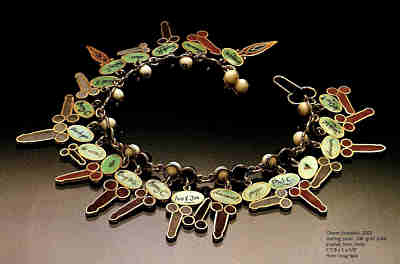 Charm (bracelet), 2002
Sterling silver, 24K gold plate, enamel, horn, bone
7 7/8 x 1 x 1/8″
Photo: Doug Yaple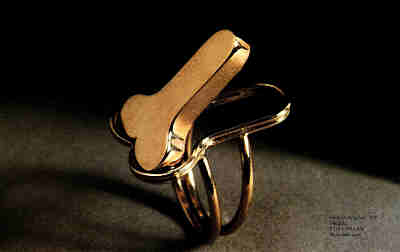 Hard-on Ring (up), 2001
14K gold
1 1/4 x 3/4 x 3/4″
Photo: Keith Lewis
Editor's Note
Keith Lewis became a member of SNAG's Board of Directors and of Metalsmith's Editorial Advisory Committee in May 2003. This article was commissioned earlier that year without any prior knowledge of his subsequent appointments.
Footnotes:
Matthew Kangas, "Ellensburg Funky," Metalsmith, Fall 1995,14 21.
Kangas, 'The Age of Solberg," Metalsmith, Winter 1995. 24 29.
Keith Lewis, "Body Politic," unpublished lecture notes, delivered at University of Wisconsin Green Bay, April 1999.
Ibid.
Chiori Santiago, "Keith Lewis Undercover," Metalsmith, Summer 2000.46.
Keith Lewis, "Embodied: Flesh, Memory and Longing," unpublished lecture notes, delivered in Boston, September 2002.
Ibid.
Barbara Tannenbaum, Her Story/ His Story: Jewelry and Sculpture by Kathleen Browne and Keith Lewis. Akron, OR Akron Art Museum, 1994.

Santiago, "Keith Lewis Undercover."