The Turkish jewelry industry is booming. Last year, exports reached a record high of 1,172 billion US-$. Over the last two decades, Turkey has developed from producing souvenirs to becoming a global player in jewelry manufacture. Today, this country on the Bosporus is exporting top quality jewelry at affordable prices and in unique designs all over the world and on an industrial scale.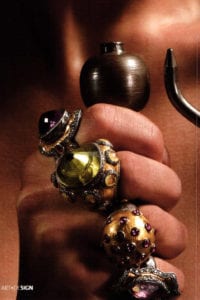 Rings by Sevan Bikakci. Styling: Felicia Baumgartner Make-up: Carina Kristandt


'Zumrut' ear pendants by renowned jewelry designer Erhan Gursen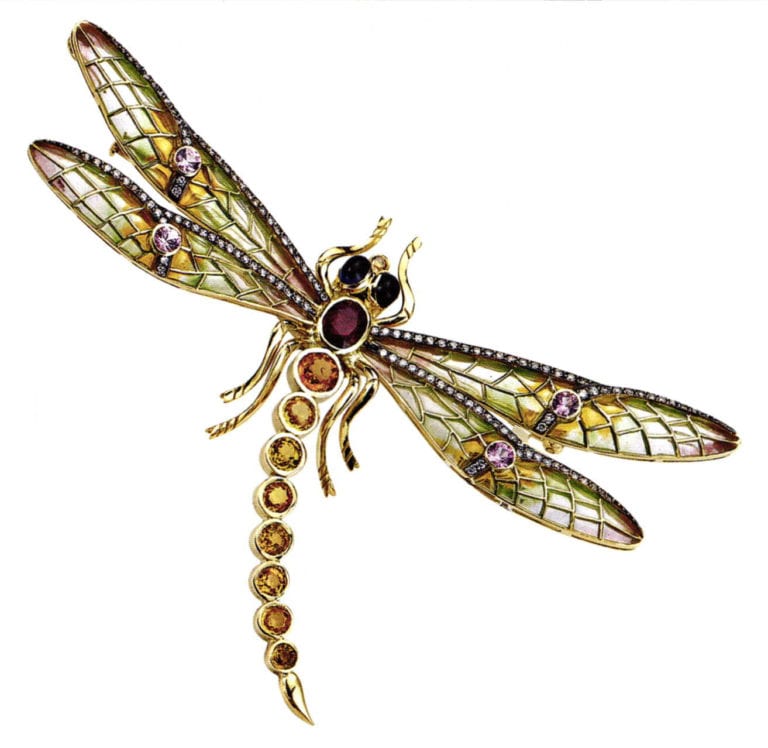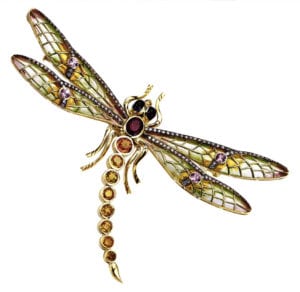 Art Nouveau dragonfly brooch in 18 karat gold with colored gemstones by S&B Charms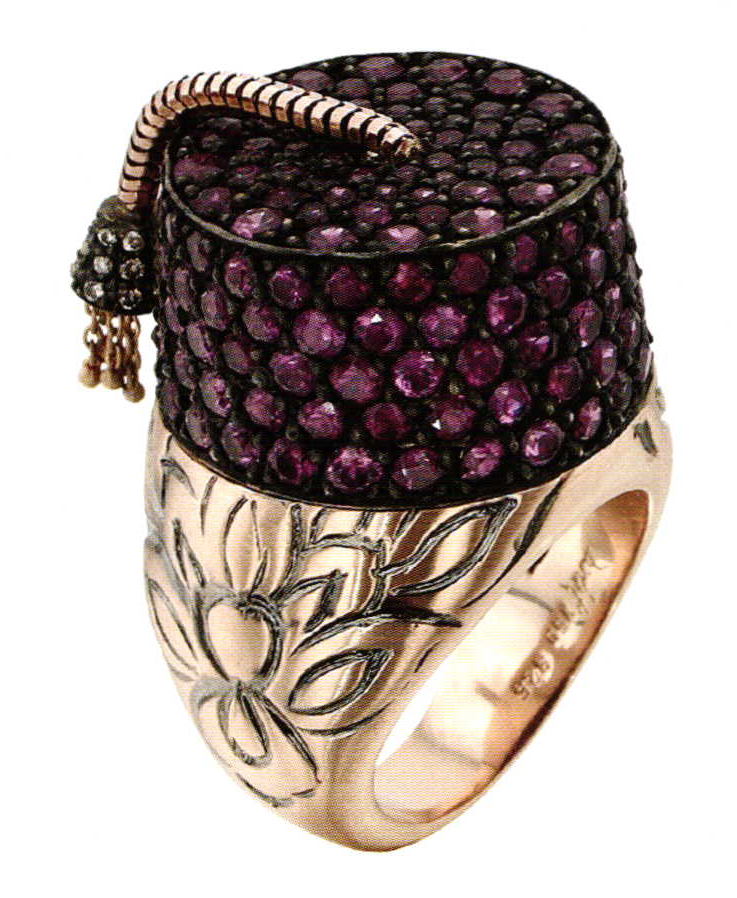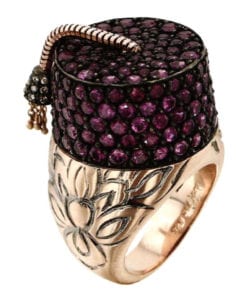 Fez ring by Chintermani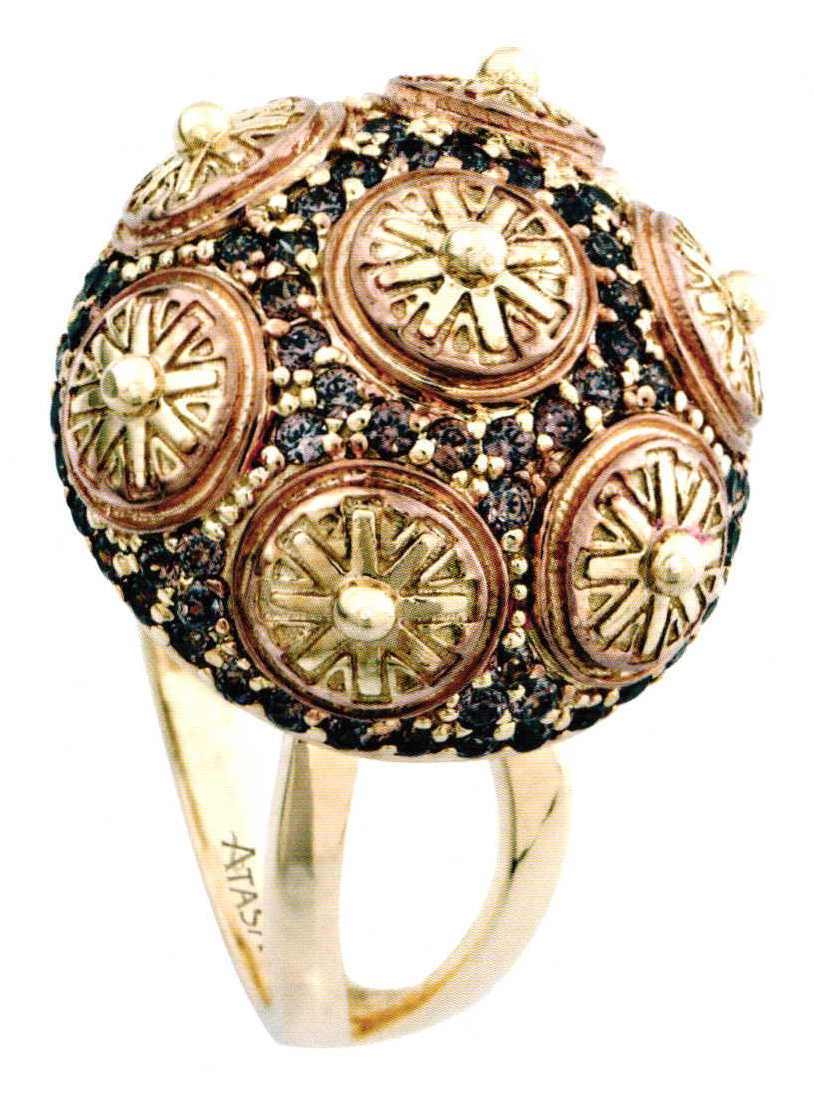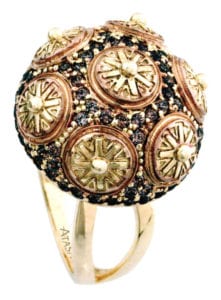 Ring with Otto man pattern by Atasay
In fact, a remarkable success story has emerged here over the last two decades yet has gone almost unnoticed: the export value of Turkish jewelry increased from a modest 8.6 million US-$ in 1995 to more than 1.172 billion US-$ in 2006. More than one in three items of jewelry produced in Turkey are exported. The sector accounts for 1.5% of all Turkish exports. Today, Turkey is the world's second biggest exporter of gold jewelry after Italy. The country is also the third biggest consumer of gold after India and the USA. More than 300 tons of gold are fashioned into sophisticated pieces of jewelry here in the highly modern jewelry factories. This exceeds the amount processed by China. Turkey also has its own gold deposits. Numerous mines have been in operation here since Antiquity. More than 6,500 tons still remain in the ground here.
In three years, jewelry exports will increase to more than five billion US-$, according to the Turkish Association for Jewelry Exports. Turkey now exports jewelry to more than 140 countries. The USA is its main export destination followed by the United Arab Emirates, Italy, Russia, Germany, Israel and Libya.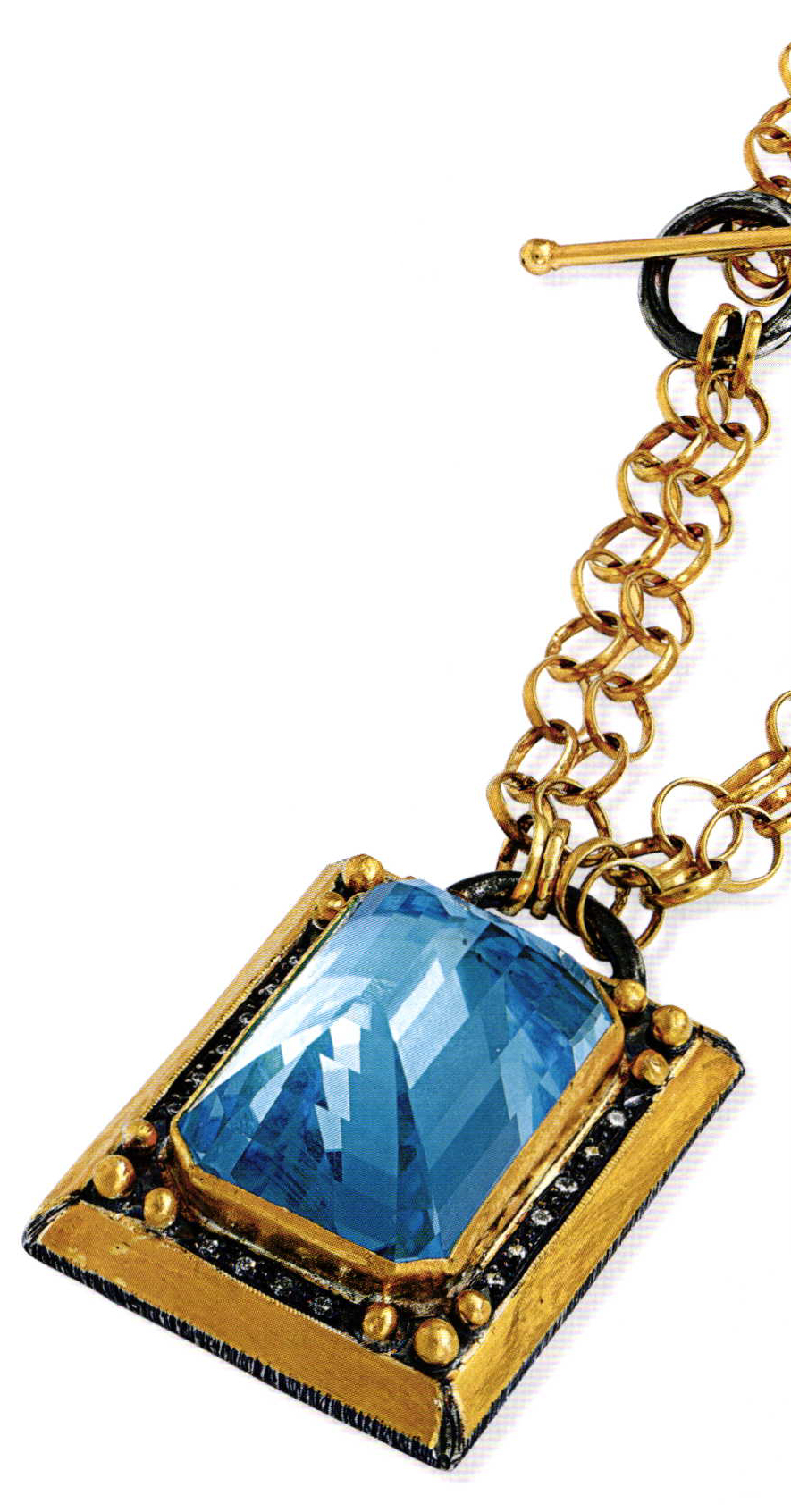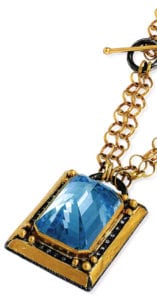 Chain with pendant by Kurtulan. 24 karat gold, 55.7 ct blue topaz and diamonds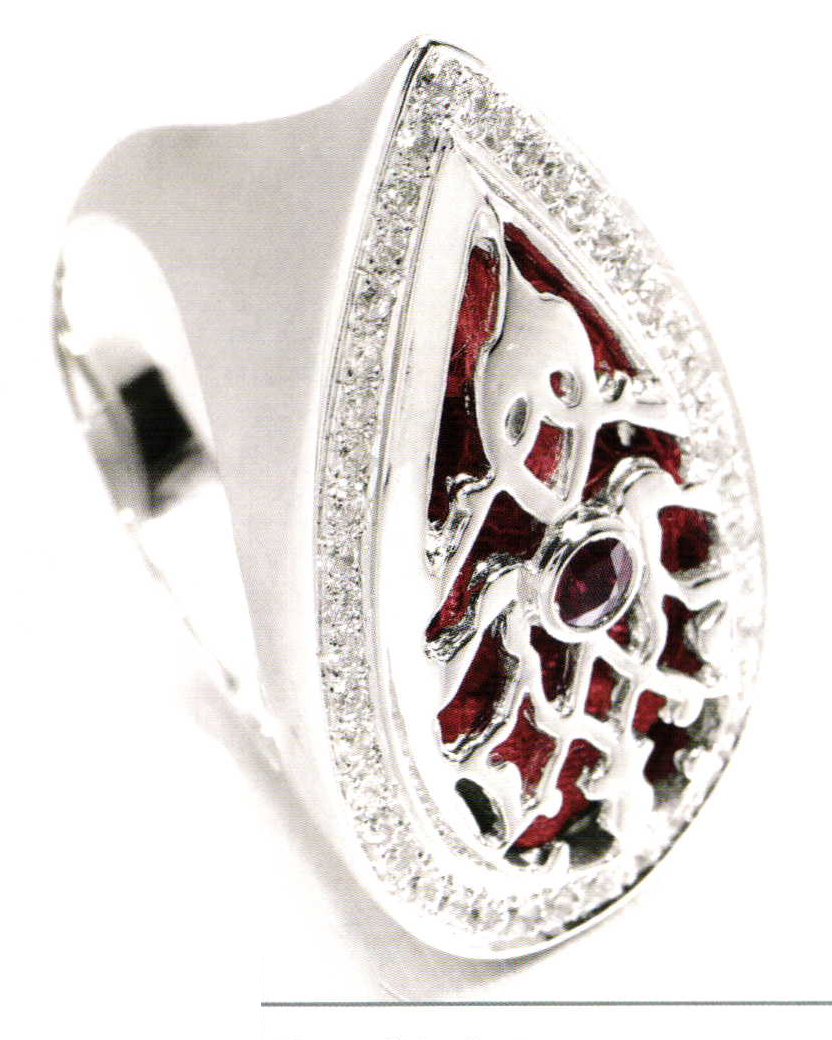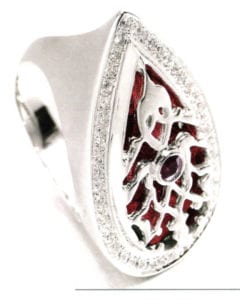 Diamond ring by Zen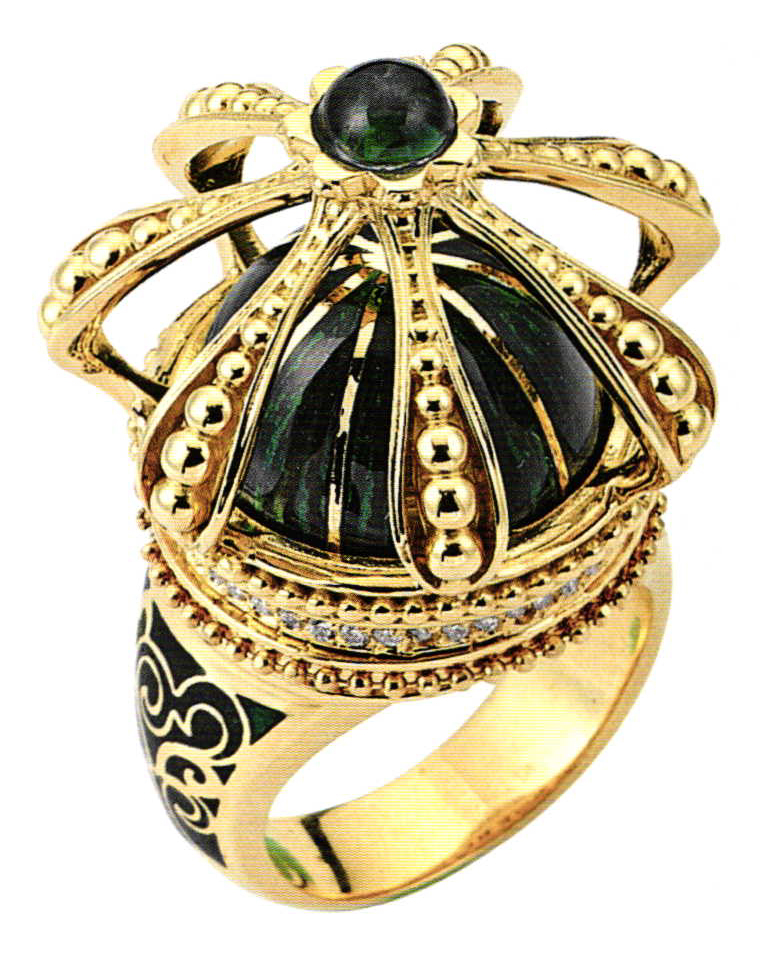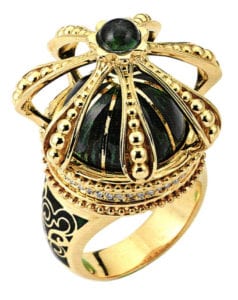 Crown ring by Roberto Bravo, gold, diamonds, colored gemstones
However, it is not just exports which are behind this fast development. Some 22 million tourists visit the country each year and buy jewelry worth 1.2 billion US-$. Turkey is now presenting itself as one of the most dynamic and fastest growing jewelry markets in the world. This once flagging land of high inflation has transformed itself into a stable economic location with gross national product increasing by 6.5% each year. Experts in the sector confirm that Turkish producers can now offer the best price/performance ratio in Europe. The high quality sector is also undergoing development. "Today we offer jewelry for a hundred as well as for 10,000 US-$," says Mustafa Kamar, a member of the Istanbul Precious Mineral & Jewellery Exporter Association. "A Turkish piece often costs half as much as elsewhere in the world. And significant progress has also been made over the last few years in terms of quality".
The fact that the Turkish jewelry industry is traditionally anchored in the culture of the country forms the basis for its potential. "Turkey is a country where jewelry means more than just an accessory" says Serbulent Sengun, former chairman of the Turkish Association of Jewelry Producers. The region has a tradition dating back a thousand years which has been influenced by many different peoples, meaning that it is in a better position to combine todays requirements and ideas into one single identity. Not to mention the promotion of a talented young generation of designers who not only learn the traditional crafts, but also study at college and university so as to compete on the international market. The university in Istanbul offers design courses in architecture and product design. Young artists regularly take part in international competitions such as the competitions run by the World Gold Council or Pearl de Tahiti.
Jewelry artist Meltem Kurtulan recently caused a stir with his magnificent competition pieces as winner of the Tahitian Pearl Trophy for the Middle East region. He comes from an ancient dynasty of goldsmiths which, like many Turkish jewelry producers, started out as a small workshop at the Istanbul Grand Bazaar. Murat Akman of the Turkish World Gold Council (WGC), which has been in the country since 1991, explains: "In 1980 it was difficult to find four or five distinguished designers in the country. Today we have more than 400 top executives who follow international trends and combine them with their local heritage to form charming new creations".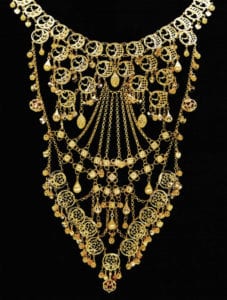 Oriental style gold necklace by Istor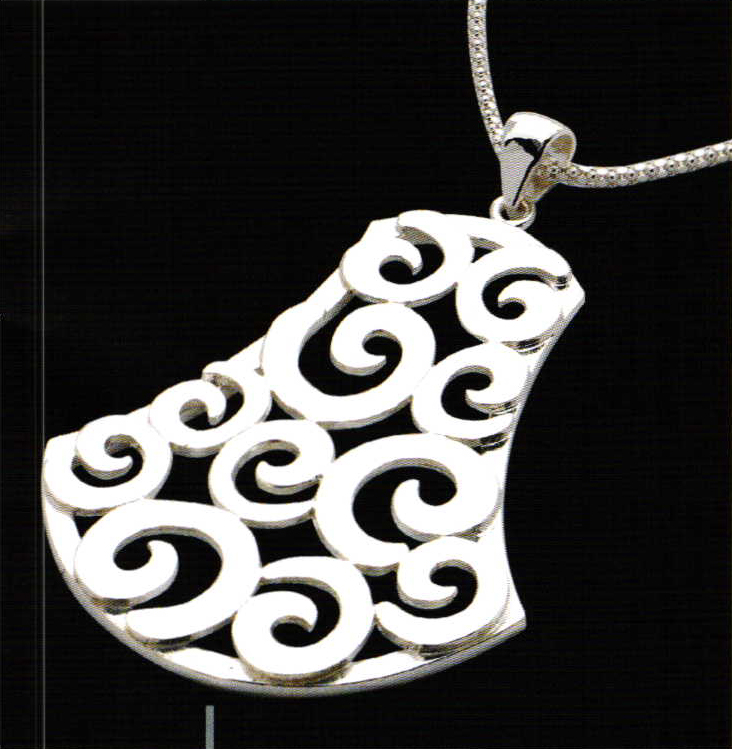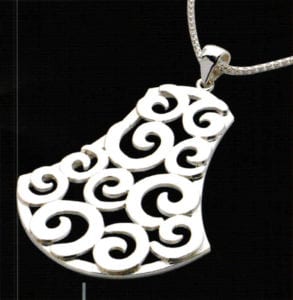 Silver chain by Sezgin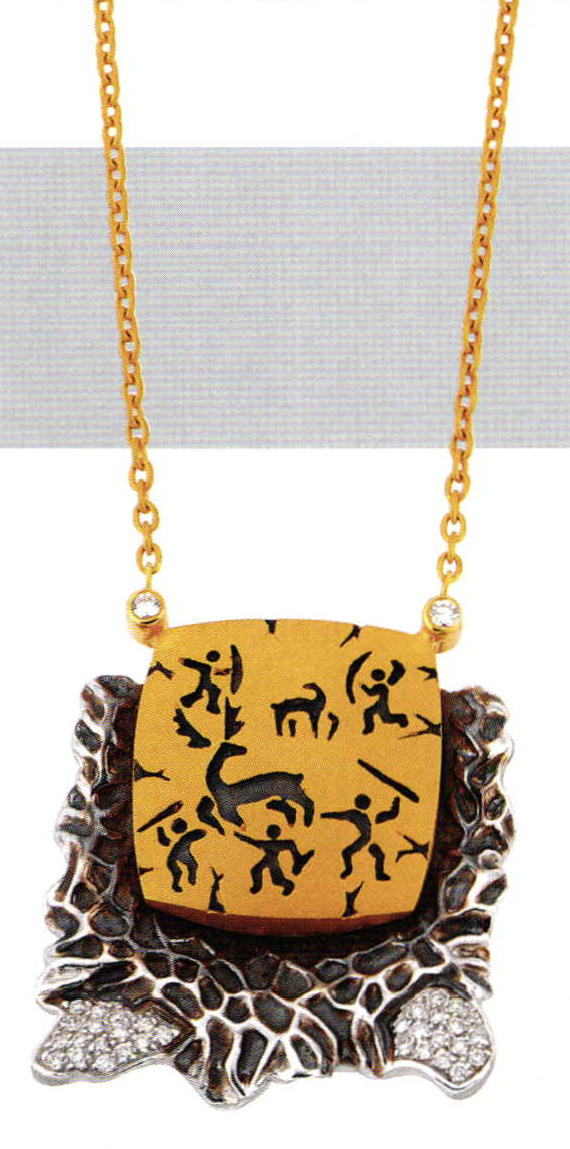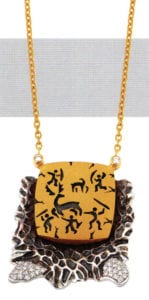 'Primitive Life' collection from the Fibula label, Efe jewelry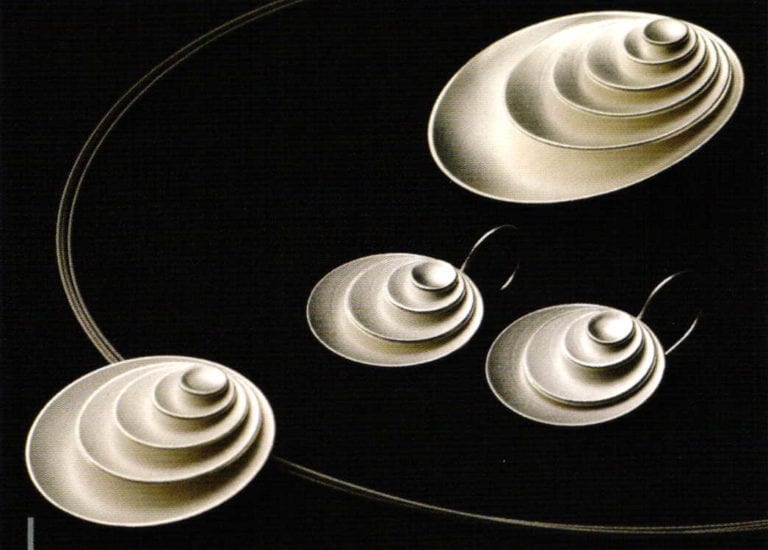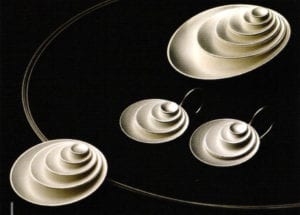 Silver set by Kelim
The young jewelry scene is located primarily in Istanbul. Atasay Kamer, president of the Turkish Association for Precious Metals and Jewelry Exports emphasizes the advantages of this regional concentration of the sector. "If you want to visit 60 or 70 firms in Italy, you need around 14 days because they are spread out all over the country. In Turkey, where business is heavily concentrated in and around Istanbul, it takes significantly less time". In June 2005, the Istanbul Jewellery Artisans Complex Building Cooperative Known as Kuyumcukent, was opened in the Turkish metropolis of trade. This modern and spacious complex is designated as a meeting place for the Turkish jewelry scene. This center for the sector is the first of its kind in the world. Production, marketing and sales are all incorporated here. More than 2,000 jewelry firms are represented. This "jewelry city" is a meeting place for manufacturers, artists, shoppers, largescale retailers and exporters. More than 25,000 people already work at Kuyumcukent, with figures expected to increase to more than 30,000. The imposing collection of buildings in this jewelry city, located close to the airport and trade fair center, bring together jewelry firms, studios, sales rooms, accessories companies and service providers as well as entertainment and restaurants in some 2,500 rooms, all under one roof. The center is also known as the "Goldsmith City" and is one of the biggest investments of the Turkish jewelry sector. Training and further education are also on offer for the younger generation in the form of training in specialist labs and gemological institutions. This is a sign of the ambition and optimism of the Turkish jewelry sector, which hopes to become the world number one within the next few years.