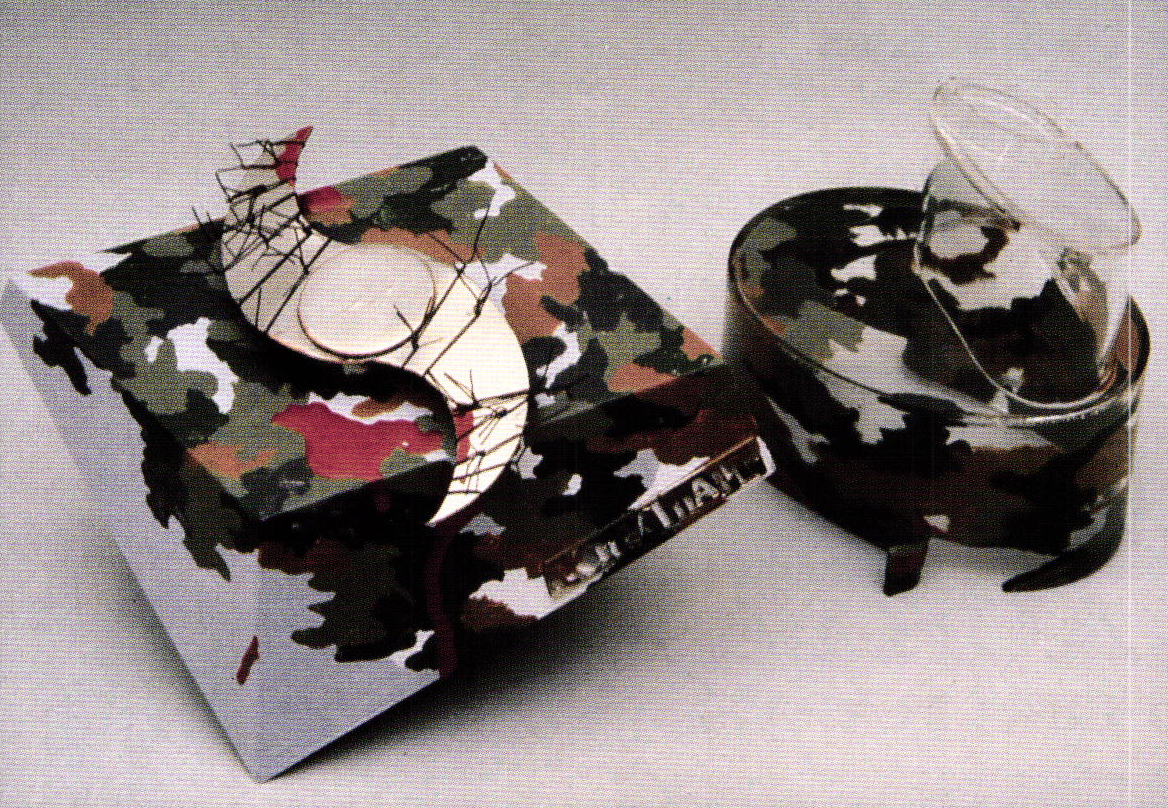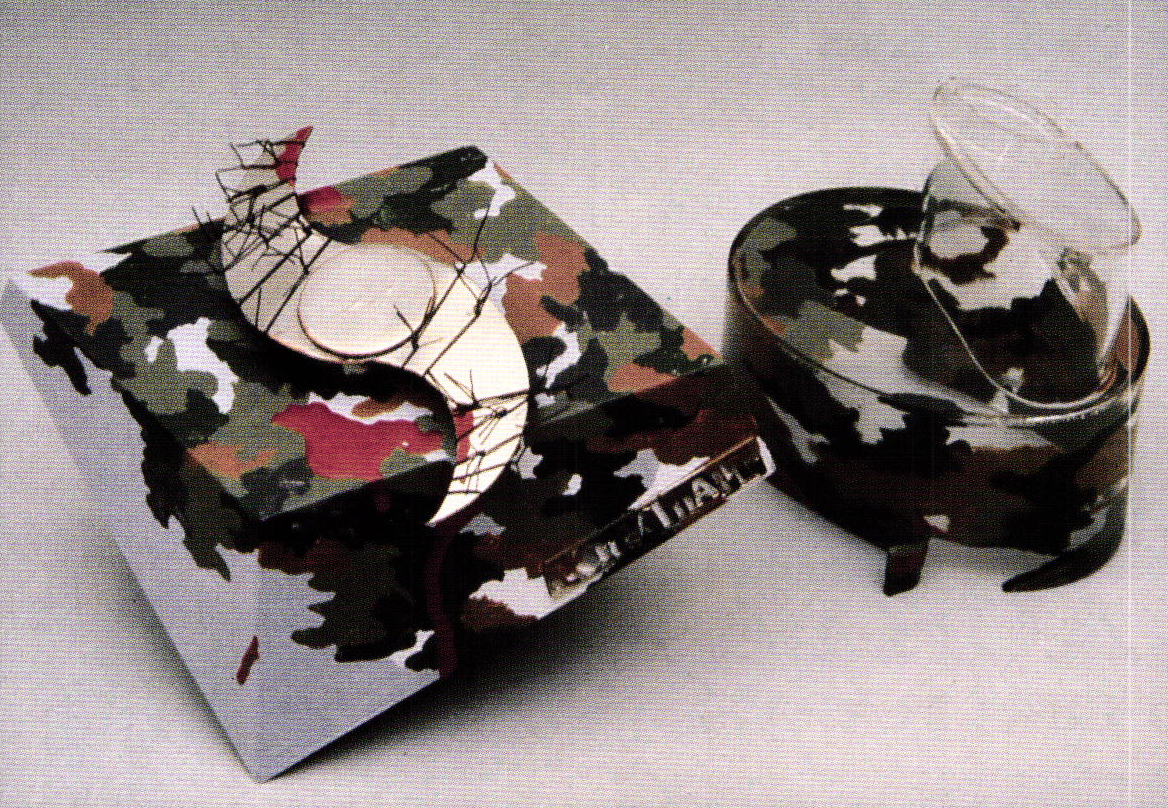 The Representation in Contemporary Metals
---
7 Minute Read
My recollection of the first piece of metalwork I owned is of a pin consisting of two poodles connected by a silver chain. This, the use of representation at its most banal, probably floats somewhere in all our early memories of jewelry.
As I grew up, and became more sophisticated, more style-conscious, more art-conscious, I left the poodles behind, rather ashamed and contemptuous of their silly sentimentality, their obvious cliché image. I move on to abstract form, subtle, minimal, geometric—the circle pin. So much for representationalism.
This rather flip view of my cultural growth, surprisingly, parallels the history of 20th-century art and design. Early representational imagery that forms the bulk of Western art history was left behind—from the earliest of our collective memories: the bison hunt on the cave wall, the bone carved as a bear, the clay figure of a fertile woman, through the complex symbolism and storytelling of Christian imagery, to the twining flora and fauna of Art Noveau. In the 20th century, these images, this use of representation was seen as no longer relevant. Modernism had arrived.
By Modernism I mean that esthetic that, in its extreme, is concerned with the purely visual. Frank Stella's famous quote "What you see is what you see" refers to the fact that the content is what is optically there in form and material.
Modernism marked a rupture with the past: Modernist art is antidescriptive, antinarrative, antidecorative, antisubject matter; it is nonreferential, sufficient unto itself. These positions gave rise to a number of "rules" in design and architecture: usefulness = beauty; form follows function; structural truth = esthetic truth; ornament is a crime. Modernism's vision was utopian—a classless society, free from the bondage of the past, pure and universal.
However, as time went by, a renunciation of Modernism was inevitable; hence, Post Modernism. With Post Modernism, history returns in a rush, bringing with it symbolism, ornamentation, subject matter and narrative. In other words, content has returned.
The Post Modern esthetic refers to something outside itself; it is in some ways dependent on shared cultural knowledge. It is an art of issues—moral and political, psychological and spiritual, high and low culture. It is an art that accepts and occasionally struggles under the burden of history. It is also an esthetic that allow for the abundant return of representational imagery into the mainstream of art and design.
How does contemporary metal fit into this Modern/Pose Modern scenario? The most obvious Modernist connection is the still dominant presence of the Bauhaus and de Stijl, whose philosophy of design resulted in a reductivist style in metals that Ralph Turner, in his book The New Jewellery, calls "rigorous or pared down design that is currently less noticeable as an attribute of jewelry in the United States than in Europe." Of course, American metals had its Modernist influences, but I feel that there is a special affinity for representational, content-oriented imagery in American metalsmithing.
Perhaps this is because we are not under the shadow of a strong esthetic philosophy as in Europe. We have an anti-intellectual bias that manifests itself in literalness. We are outside the mainstream of art and industrial design and therefore allowed to ignore the tenets of Modernism. Because we are art-oriented—taught in art departments for the most part rather than in design departments and concerned with those current "art" issued of message and meaning, or , conversely, because we are not taught at all in the historical sense, and can thus pursue art in a naïve way, we have always had metalsmiths working with representational imagery, from Sam Kramer's eccentric and occasionally grotesque blend of surreal figuration and abstract expressionist surface to Earl Krentzin's humorous robots to Robert von Neumann's graphic applique figures to Richard Mawdsley's incredible "gothic constructions."
The body of work I am presenting in this, the first of Metalsmith's "Exhibits in Print" reflects a substantial growth in the number of artists working in a representational style in metal. Does this reflect Post Modernism? Yes, in that many of the issues that appear as themes in Post Modern art and design appear here. As Howard Fox writes in the Hirshorn Museum catalog "Content: The Will to Meaning 1974-84," the central issue of Post Modernism is the issue of content.
All these artists share the need to communicate specific ideas and emotions, sometimes personal, sometimes political, often autobiographical, humorous or mysterious; and they all choose representation as the language best able to convey their meanings. For some, turning away from abstraction and the principle of Modernism reflects a spirit of the times—boredom with the limits of abstraction, a desire for more warmth, more "humanity," to tell stories, to be direct in communicating personal experiences. Most have always used representational imagery, narrative and have always dealt with the "Post Modern" issued of historical reference, subject matter and so on. And, in fact, most may have come to the crafts because the field was not locked into those mainstream values of Modernism, where such "Post Modern" attitudes could find a means of expression, before anyone had coined the term.
These people fit into the Post Modern movement, as I explained earlier. But it seems less an act of the artists than a fortuitous turn in the mainstream of art and design. In fact, many snicker at the label Post Modern for their work. Are these metalsmiths then looking towards the history of their craft for inspiration? Actually not. In fact, very few mention metalwork, contemporary or historical, in their list of influences. Most look at painting and sculpture of a certain kind—Chicago and New York schools, Joseph Cornell versus Louise Nevelson, or naives and primitives versus minimalists like Richard Serra. If craft is mentioned at all it is in the context of the California ceramic movement, ethnic art of Africa and American Indians or a whole range of ideas from theater to taxidermy, photography, architecture, cartooning, feminist art, nature . . . the list goes on and on.
What now? Will these artists continue to work representationally? Does this constitute a trend? In The New Jewellery Turner notes, "It seems likely that the next few years will see more and more figurative work of innovation and interest, partly because abstractionists are coming to a logical albeit temporary conclusion in their ideas about the forms jewelry can take." On the other hand, in painting and sculpture, there is already a pull away from representation and Post Modern concerns, fondly called Neo-Geo. In design and architecture, Douglas Davis's article on "Late Post Modernism" predicts a return to Modernist principles—"Out in the landscape a vulgate postmodernism is spreading like a pre-industrial plague."
As I mentioned earlier, these metalsmiths currently fit into a movement due to a serendipitous turn in the mainstream of art. If that Yin/Yang of art style changes again, I feel that these artists will be content to pursue their individual visions regardless of art trends. To remain in metal seems to me a good indication of independence from the currents of the mainstream. If the art focus shifts back to intellect over emotion, logic over instinct, these metalsmiths will continue to explore the mystery and messiness of human existence.
Carol Kumata is an Associate Professor of Art at Carnegie-Mellon University and a practicing sculptor.
You assume all responsibility and risk for the use of the safety resources available on or through this web page. The International Gem Society LLC does not assume any liability for the materials, information and opinions provided on, or available through, this web page. No advice or information provided by this website shall create any warranty. Reliance on such advice, information or the content of this web page is solely at your own risk, including without limitation any safety guidelines, resources or precautions, or any other information related to safety that may be available on or through this web page. The International Gem Society LLC disclaims any liability for injury, death or damages resulting from the use thereof.
---
The All-In-One Jewelry Making Solution At Your Fingertips
When you join the Ganoksin community, you get the tools you need to take your work to the next level.
Become a Member
Trusted Jewelry Making Information & Techniques
Sign up to receive the latest articles, techniques, and inspirations with our free newsletter.