This article describes how India fell in love with precious gems and the role of precious gems in India's culture. Read on for more details.
Forget diamonds. An Indian woman's best friend is most likely to be her ruby ring, or the string of pearls her mother gave her for her tenth birthday, or perhaps the giant garnet earrings that have been family heirlooms for over six generations.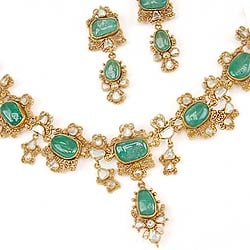 A contemporary design featuring emeralds and unpolished diamonds, used for formal evening wear.
Jewelry and photos courtesy Vummidi Bangaru Jewelers, Chennai, South India.
India's love affair with precious gems dates back thousands of years. It could be said to have reached its peak in the Mughal era. The Mughals — Muslim invaders from the Middle East — swept through northern India in the early 1500s, radically changing the politics and culture of the region. In addition to art, they had a profound influence on architecture. It was during the reign of the Emperor Shah Jahan in the mid-1600s that the Taj Mahal was built, decked with gemstones of all types — a luxury that is said to have severely taxed his treasury and earned him the ire of his sons.
Going back even further, Indian Hindus have a history of crafting rich and ornate temple jewelry for their pantheon of gods and goddesses. Statues of heavy-busted women were adorned with chunky, beaded necklaces bearing intricate filigree designs; dozens of oversized, gem-studded bracelets; earrings that resembled clusters of dangling grapes; thick anklets; and jewel-encrusted nose rings. While such jewelry was initially made simply as decorations for the goddesses, later it was worn by temple dancers. Eventually, it became fashionable for Indian women to sport those antique styles, which got absorbed into the bridal trousseau and worn on special occasions.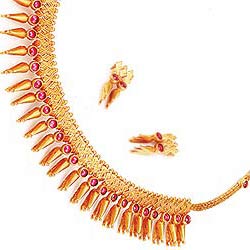 A modern interpretation of a traditional jasmine flower design with unpolished rubies.
Jewelry and photos courtesy Vummidi Bangaru Jewelers, Chennai, South India.
In the old days, more was definitely better. However, when it came to choosing the actual gems, women took the conservative approach. They rarely ventured beyond pearls, rubies, and emeralds, and these were always interlaced with gold and diamonds in an ostentatious setting. Every rich family had their own private designer, and, in some cases, they would even source out the gemstones personally in their travels to Myanmar (formerly Burma) and overseas. Not only was it considered auspicious to purchase jewelry, but it also served as a practical and reliable investment.
The traditional antique Indian jewelry range could be broadly classified into three categories: spiritual, bridalwear, and the temple jewelry described above. All of these varieties used a great deal of colored stones to enhance their look.
Spiritual jewelry evolved due to social and religious dictates. It was considered providential for both men and women to wear precious gems for all celebrations, especially while attending weddings and at times of prayer, so distinctive ornaments were designed to cater to these occasions.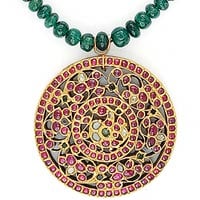 A popular traditional jewelry design from north India called Rakudi, often seen in temple jewelry.
Jewelry/photo courtesy Vummidi Bangaru Jewelers, Chennai, South India.
The common motifs in spiritual jewelry were inspired by Hindu mythology, and, despite the fickle dictates of fashion, they remain essentially the same today. These bejeweled idols of gods and goddesses are now often worn on the hands, hips, and neck as pendants, bracelets, belts, and brooches.
One of the most popular Hindu motifs in spiritual jewelry is the Ganesha — the divine elephant-headed god who is renowned for his ability to bestow luck and good fortune. This god is constantly evolving, and has been depicted in as many as 32 unusual and distinct designs. In some poses he carries a ladoo , an Indian sweetmeat, often represented by a cluster of rubies or yellow sapphires.
ladoo
, an Indian sweetmeat, often represented by a cluster of rubies or yellow sapphires.
Another favorite descendant of ancient spiritual jewelry is a good luck talisman. The most popular bears the jewel-encrusted Sanskrit word "Om" — considered the most sacred syllable from which all other sound emerges — strung on a beaded chain.
In the old days, it would have been considered outrageous to mix and match an assortment of colored gems. This was because Hindu astrologers believed that each gemstone had a distinctive property and had to be handled with care. Each of these nine gems — ruby, emerald, pearl, yellow sapphire, hessonite garnet, cat's eye chrysoberyl, diamond, blue sapphire, and coral — represented a particular planet which could have an untold influence, either good or bad, on the wearer. This led to the birth of navaratna rings, which combined the nine planetary colored stones to bring the wearer wealth and good luck. The navaratna rings were the byproduct of the Hindu discipline of astrology, where particular gemstones were believed to have the power to alter the course of one's fate, cure diseases, and effect positive change in one's life, ushering in great prosperity and peace of mind. These effects were thought to be highly individualistic, with varying results from person to person.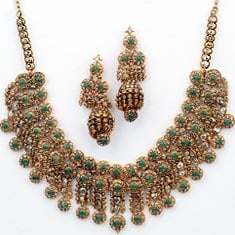 Jewelry/photo courtesy Vummidi Bangaru Jewelers, Chennai, South India.
The marriage rituals of all classes dating as far back as the 14th century also reveal a partiality for gemstones and jewelry. No Indian wedding is considered complete without lavish ornamentation, which is as significant as the ritual that accompanies it. Antique jewelry, with its intricate lacing and filigree work set with raw gemstones, is still a crucial element in the dowry.
Many of the traditional Indian designs, especially in bridal wear, drew inspiration from nature and wildlife. Common motifs were delicate, jeweled floral patterns, brilliant emerald parrots, and beautifully crafted peacocks encrusted in a rainbow of colored gems. A particularly popular style was the manga-malais — chokers that were encircled by golden mangos, India's preferred tropical fruit, and studded with blood-red rubies. These were the all-time favorites, and they continue to be in vogue even today.
manga-malais
— chokers that were encircled by golden mangos, India's preferred tropical fruit, and studded with blood-red rubies. These were the all-time favorites, and they continue to be in vogue even today.
In some sects, the bridal jewelry is infused with spiritual motifs. For instance, the chettairs, a small merchant and money-lending community in southern India, use a thali , or wedding chain that solemnizes the marriage, crafted with the symbol of goddess Lakshmi in gold and diamonds with a small ruby at its center. Lakshmi is the goddess of prosperity; the ruby represents the kum-kum , or the holy ash of the Hindus, which is symbolic of fertility and wedded bliss.
Modern Demand
It is a well-known fact that India is the largest consumer of gold in the world, with an annual demand that exceeds 800 tons. While a large percentage of that goes to manufacturing jewelry for export, the domestic market remains the biggest consumer.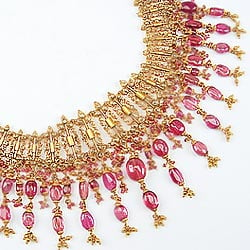 This combination of old and new designs features motifs common in temple jewelry with a modern flair. Ruby beads are set in gold with elaborate filigree work. Ruby beads are set in gold with elaborate filigree work. Jewelry/photos courtesy Vummidi Bangaru Jewelers, Chennai, South India.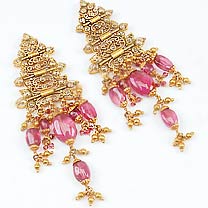 The All India Association of Industries puts the growth rate of this sector at 6.3 percent annually. For centuries now, India's gemstone and jewelry industry has been doing booming business, fueled by a sentimental and cultural demand for adornment. With a work force of over 2 million artisans and designers employed in various cities throughout the nation, the industry has expanded enormously from its traditional roots.
That growth owes much to a burgeoning middle class and the numerous celebrations that call for the purchase of colored gems — from the birth of a child to the occasion of moving to a new home.
Diwali, the annual festival of lights that occurs in October, is also significant. It is a time when the family gathers around for the Lakshmi Pooja, the worship of Lakshmi. It is considered the most auspicious time to acquire jewelry and to add to one's personal reservoir of wealth. Jewelry houses are also packed on Akshaya Tritiya, an auspicious day during the Dushera festival in September. It is believed that if one buys jewelry then, prosperity will abound the whole year through.
Though a strong sense of nostalgia ensures that there is a constant demand for traditional styles, tastes are evolving. "The Indian woman of today is aware of the trends in the international jewelry scene, but at the same time, she is reluctant to give up her traditional wear," says Bhavesh T. Shah, the showroom manager of Intergold Gems Pvt. Ltd., one of India's largest diamond jewelry manufacturing companies. "This has led to a new fusion of design — a new range of jewelry that makes use of a unique mixing of traditional and contemporary styles."
Branded jewels are becoming more popular, and colored gemstones are all the rage. The regulars of the Indian gem scene — the diamond, pearl, and uncut ruby and emerald — are now being replaced by the more trendy onyx, jade, amethyst, aquamarine, topaz, and deep red garnets in varying metals.
"A lot of experimenting is on with blue and yellow topaz, citrine, garnet, rose quartz, jade, black and green onyx, coral, and colored pearls, which are gaining great acceptance of late," says Shah. Gold enamel work, bracelets strung with single beads of gemstones, and light, airy designs are here to stay. The modern Indian woman is now separating her antique jewelry from her stylish party wear. Though both may be equally cherished, the two are no longer interchangeable. The focus is now strongly oriented toward affordability and aesthetics.
"The customer today is far more discerning," says Jithendra Vummidi, a graduate gemologist from the Antwerp University in Belgium and managing partner of Vummidi Bangaru Jewelers, one of South India's leading jewelry outlets. "They are no longer satisfied with their jewelry just because it's a family heirloom. It has to appeal to them first. They have very specific tastes and prefer to accessorize, matching their jewelry shades with specific clothes, handbags, and shoes. To cater to their changing needs is very challenging indeed, especially since it involves a lot of creative designing and keeping up with the trends in the international jewelry scene."
In light of recent changing interests, the role of professionally-trained, in-house design teams is more critical now than at any other time.
"In the past few years, jewelry manufacturing units have not only matured in design, but have also excelled in the use of modern technology," says Shah. "This has put them in the competitive league of the international jewelry market." The Indian consumer has come a long way, both in perspective and preference — a fact that has revolutionized the gemstone industry.