The master goldsmiths Heike and Roland Simon are almost wholly dedicated to the art of chain making. Each piece that leaves their workshop in the small North Rhine-Westphalian town of Wegberg is handmade.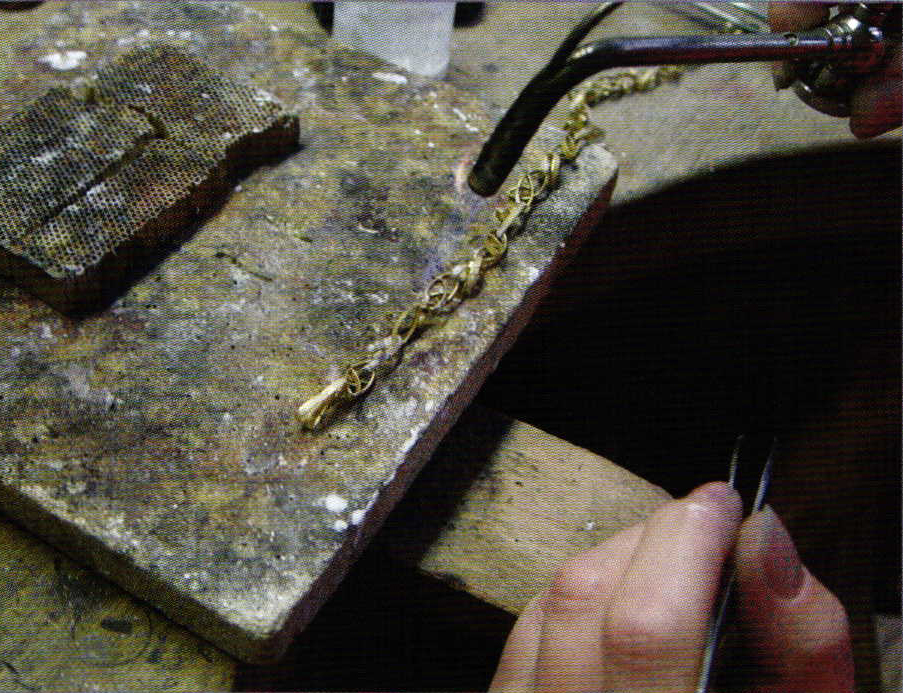 Heike Simon affectionately slides the Looping model through her hands. The onomatopoetic name of the chain is apparent without the need of a close inspection of the individual links. The links loop around each other, each of them unique in its shape, lending their individual dynamism to the overall impression of the chain. One takes the form of a twisted musical note, with the next perhaps enveloping itself in serpentine fashion. Interlinked with one another, the individual elements represent a fantastic piece of jewelry, appearing both fragile and powerful at the same time. This principle of fragility combined with stability is not merely an optical effect, it represents the fundamental axiom of the Simons' chains: "Every chain that we develop is examined for its suitability for daily use – for example, if it hinders any bodily movement or if the individual links catch – before we incorporate it into the collection", explains Heike Simons, before adding: Wearing comfort is a factor that is just as important as first-class quality and design".
Flame burns and fish swims
The Simons' chains bear the names Tango, FlickFlack, Flame, Fish or Tulip for a reason. Each of them lives up to the name that it receives: some dance, others flow, with others appearing to burst into bloom, or transmitting the tranquility and harmony of the individual elements. Heike Simons explains the origins of their chain production thus: "After opening our goldsmith workshop in 1995 with work of our own and of other jewelry designers, we soon realized that, in contrast to the large number of rings and bracelets available, there are very few high-quality chains to be found". This provided the incentive for the couple to develop their own collection of chains. From the composition of the alloy to the melting of the metal, the sawing and polishing of the individual elements and the concluding matting or polishing, every single step is performed by master goldsmiths. 18 karat white and yellow gold is used, as well as platinum. The Simons decorate individual elements with brilliants, with some models also ornamented with pearls. 25 different models have already been created in this manner, with an average of two new models added each year, and others removed from the collection. Although individual bracelets and earrings are available to match some models, the primary focus of the two designers lies clearly upon the development and manufacture of chains. On request, Heike and Roland Simon also produce special editions, although this involves a lengthy development process. The easy lightness of Looping and its companions requires a great deal of thought and craftsmanship, involving both the experimental input of the designers and adequate time to prove its value in daily use.
Ganoksin is sponsored by