Working predominantly in stainless steel, metalsmith Pat Pruitt of Paguate, New Mexico, thought the Wolf Belt Sander looked neat when he decided to pick one up a few years ago. He expected "a toy, geared for the hobbyist who just wanted a cute little sander," he says. "Boy, was I wrong."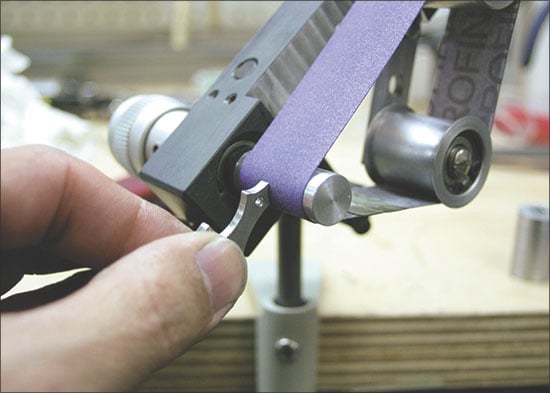 What it Does
Using 1 inch by 11 inch belts with a 4.25-inch working surface, this sander fits onto a flex-shaft with a quick-release collar. It can be clamped onto a table or bench and is adjustable to many angles. An optional mounting attachment is available for use with the GRS Benchmate. The sander comes with five assorted belts in a variety of grits from very coarse to very fine.
Why it's one of Pat Pruitt's coolest tools: "The construction is pretty darn good for such a small unit — it's about the size of your hand," says Pruitt, who is used to working with a full-size belt sander for his stainless steel work. "All bearings look to be sealed so dust and grime should have a hard time getting in there, thus prolonging the life of the bearings.
"It's a very nice variable-speed sander that does a great job for its intended purpose," he says. And it's flexible. Pruitt was used to sanding belts moving downward; the Wolf sander moves up and away. No problem. He simply flipped the sander around to get the belt moving in the other direction. (Since then, he's purchased a Foredom that will run in reverse, mitigating the need to turn the sander upside down.)
While he thinks his chosen material and method for working might be somewhat hard on the unit, "for those working in softer metals, such as gold and silver, this machine is going to be a dream," he says. Pruitt says the Wolf Belt Sander saves him huge amounts of time on small pieces that are impossible to finish on the large belt sander and would otherwise have to be finished by hand. In addition to sanding flat surfaces, he's discovered he can sand some curved surfaces where the belt goes over the drive wheel. (He cautions that aggressive grinding over the wheels might take a toll on them.) He likes being able to use both hands and control the speed of the unit with the foot pedal.
Pruitt has also done some considerable modification to the sander — as he says, "hot rodding it" — to make it more suitable for polishing the tiny radii on his stainless parts. To see how he made new quick-change contact wheels in 0.5 inch, 0.75 inch, 1 inch, and 1.135 inch diameters, read his Ganoksin blog post.
Ganoksin blog post
.
"This saves me gobs of time," he says. "I'm so glad this was possible with this sander."