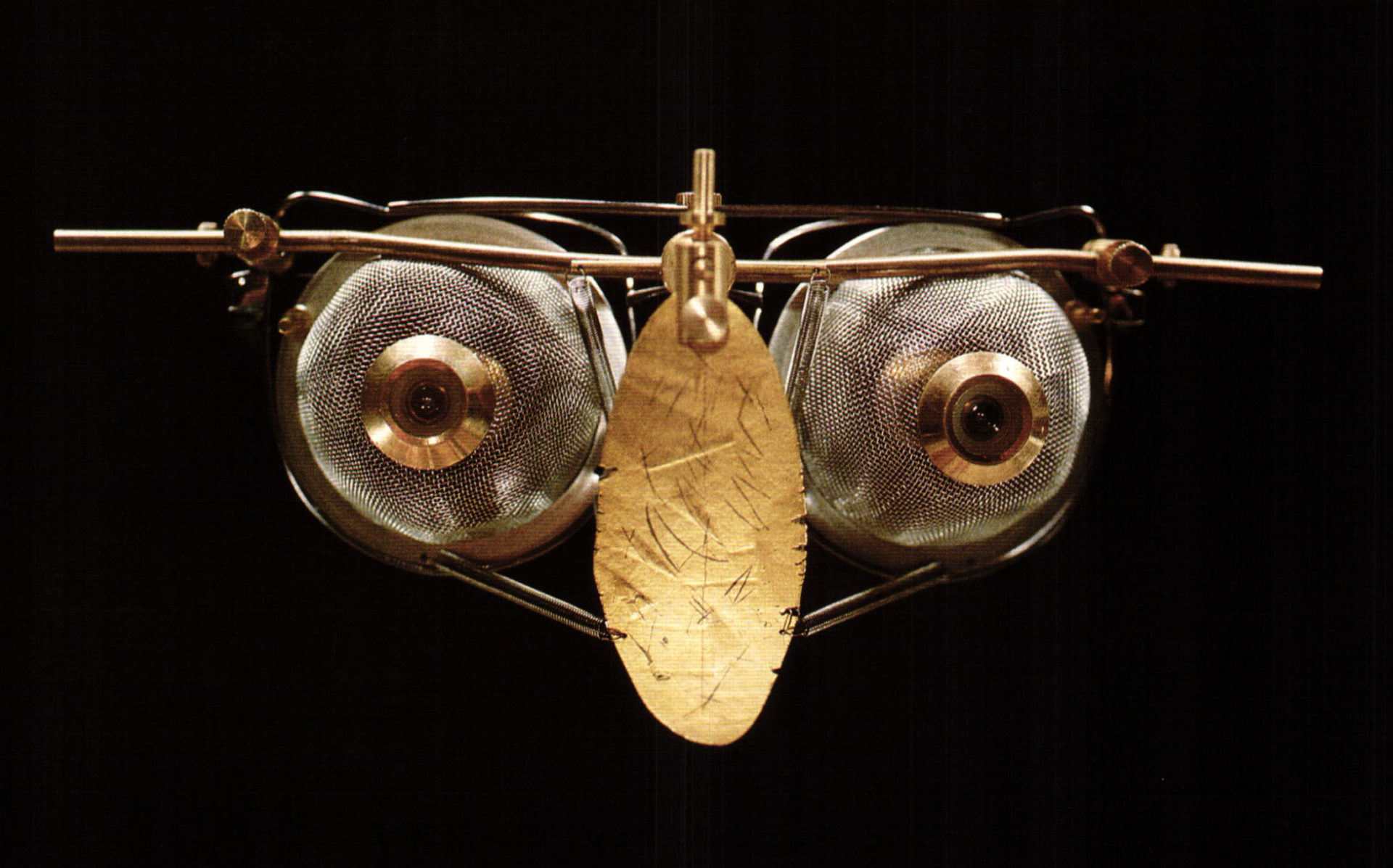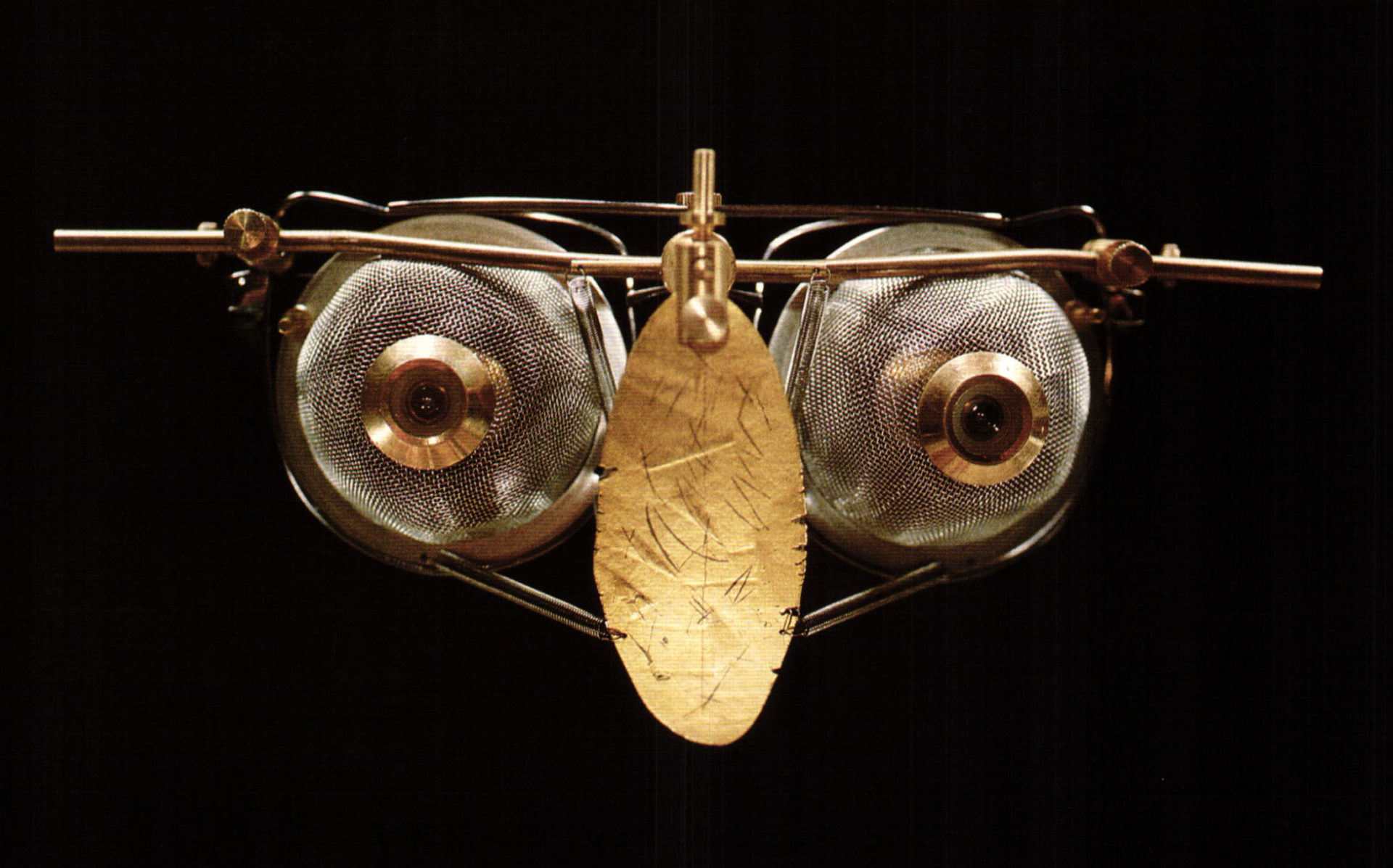 Metalsmith 1995 Exhibition
---
14 Minute Read
This article showcases various exhibitions  published in the 1995 Exhibition issue of the Metalsmith Magazine. This features Sandra Bonazoli, Craig J. Calhoun, Shana Kroiz, and more!
~~~~~~~~~~~~~~~~~~~~~~~~
Sandra Bonazoli
I've been working for the Whaling Museum in New Bedford, cataloging their Victorian jewelry collection that includes scent bottles, cigar cutters, sewing things, change purses and other chatelaines. I was attracted to these Victorian objects that are absolutely decorative but had a real function too. I began thinking about what I carry today and things that are usually concealed in your purse. This is my Chatelaine, a modern woman's utility belt.
Craig J. Calhoun
Recently I didn't feel that metal was working for me. Fabric started getting into my artwork. As a youngster I grew up in a sewing environment. I have this natural love for fabric and clothing. I am interested in our perception of people through clothing. In this series, using underwear and other found clothing, I was concerned with this issue and with formal artistic qualities like line and flow. There was a deliberate attempt to make the pieces somewhat elegant.
Shana Kroiz
I do a lot of figure drawing and I look at hand tools and I see relations between the shape of the tools and the human figure. You can almost see the curve of the hip, the waist, and chest in an ax.
9 Brooches, 1994, formed copper, enamel, silver, walnut, paduke woods, approximately 3 x 1¼ x ½"
I am very tactile oriented. I sometimes underfire the enamel to get more texture. The backs of the pieces are all carved wood forms, from woods like purpleheart, osage, and ebony, and are as much as part of the piece as the front. The feel of the piece in your hand is as important as wearing it.
Jocelyn Chateauvert
There is a symbiosis between the metal and the paper in my work, but the paper is what drives me. I developed this paper for jewelry making. It is actually a variation of a traditional form of paper, abaca, found in the Philippines. It's naturally resistant to water and it has been used for about 400 years. This paper has a resonant sound when parts hit against each other, so the jewelry has both an audible and tactile quality. The fig leaf necklace is on a long chain. It is meant to be worn as lingerie.
Valerie Jo Coulson
I was excitedly planning for a jewelry workshop in Tuscany, Italy in May of 1994, and was looking through art and architecture of Florence to prepare myself for it. I was poring over books and was taken with, and inspired by, the photos of the dome of Brunelleschi's Santa Maria Del Fiori - the Duomo. As it turned out, I was not able to take the workshop. I decided to make a bracelet with this idea of the domed ceiling. Trying to capture the feeling, the spirit of the Renaissance architects and of looking up into the vaulted domes, I was trying to capture the spirit of Italy and placate myself.
Jan Yager
When I lived in Rhode Island, I went beach combing and used pebbles that I found as a starting point for my jewelry. Now that I live and work in Philadelphia I have translated the beach combing idea to the city. I don't live by any natural wonders, so somehow I have to find some beauty in this area. I have gathered crack vials, bullet casings, cigarette butts, paper clips, Bic® pen caps all from two blocks around the studio. Though the crack vials are repellent, these things are seductively colorful and varied in form. All of these objects are part of the environment around here. I want to transform these things so they pass as jewelry but they still have significance to my life and times.
Joan Parcher
The earliest memories I have in my life are of thinking about jewelry. I only know how to do jewelry. In art school when I was asked not to do jewelry but to do sculpture, I totally fell apart. Another early memory was going around dumps. I've spent many hour looking through dumps. In doing this I find interesting materials like graphite and mica. After I collect them, the materials sit around and I think about them for a long time. I try to come to an understanding about their nature and characteristics and make the simplest piece I can using those characteristics.
Valerie Mitchell
I used to work with plant life forms geometrically and minimally but the work began to be too much about design and not enough about emotion. Working with the natural forms in a more organic way came easily for me.
I like the hand feel of sculpting the wax. Something intuitive happens. I am more of a sculptor than a metalsmith in this sense, but I like the idea of adornment and the idea that a person can derive pleasure and a feeling of spirit or well-being from wearing jewelry.
Suzan Rezac
A long time ago I made some chain mail pieces in sterling. They were massive. I always wanted to make one in gold but it took me about eight years to get to it. I just kept that piece in mind and finally made it in gold, and in gold I could work much thinner and get much more delicacy. I am trying to stay purely with gold now.
When I moved to a new house, there was a huge garden in bad shape, and so I had to get interested in it. I now love to garden and I spend hours in my garden. This has imprinted on my thinking jewelry.
Glenn Lehrer
When I first started stone carving in 1975, fancy cuts or unusual carvings of stones were uncommon. I couldn't interest other jewelers in my work, so I began to learn metalsmithing. Though not much of the metal is seen in my pieces, it is highly technical, with clasps, hinges, rivets, etceteras, holding things together.
As a stonecutter, I have an extensive inventory of rough gem stones, which I use like a painter's palette. Gem carving offers two very powerful components - emotions and light.
Sandra Enterline
I liked the presentation boxes of the quail eggs in Japan town, near where I live: the tension between the engineered protection and fragility. I have always been interested in encasing things and cages - things encased, cherished, protected.
I usually don't title pieces, but this new work I felt needed a sense of place. I've been titling them with the names of the locations where I found the objects.
Bruce Metcalf
Basically these necklaces with the figures hanging from them are a Renaissance idea.
David Damkoehler
I feel that I am part of the lineage of people who work with metal. I read widely about cars, motorcycles, firearms, and architectural technology, and am interested in locks, forged weapons, and other metal objects. For me, the 1920's Miller racing engine, which has a beautiful array of finishes, fins, bolts, and tubes, is an exquisite piece of jewelry. I like the plebeian quality of stainless steel and all of its associations. Lately I have been looking at technical catalogs for milk processing equipment.
Judy Onofrio
My work happens of the moment. Anything goes, and I will look for whatever material works. In regards to my beading it's like painting, a layering and layering of color. For me the tight order of the peyote stitch is the point of departure to create a chaos of thick, juicy, abundant forms.
Deborah Krupenia
I go through different obsessions. At one time everything I did had to start with a checkerboard. At another point all my work had gestural marks. Now I'm into X's. Well one night I was walking to the train from my studio and as I was crossing the bridge, I looked down and saw a discarded lid from a soft drink container. And I thought this is a great X, where you put the straw through the cover, and so that became central to the latest piece.
Thomas Gentille
In these pieces, the decision for a correct usage of the wood burl took three years. The use of eggshell as definer in secondary and primary position of color, texture, and form took seconds.
I present my thinking, almost always, in non-objective geometric terms, showing no story or emotion other than those which form, materials, and revelation of light reveal.
Laura Marth
At one time I worked in a machine shop making prototypes for medical research and also automobile parts. I was a lathe person and a welder. As an artist I tried working with different metals and found that what really turned me on about metal was the ability to carve it. There is something about taking that cold chunk of metal and carving it. It becomes warm just from that friction and there's this sort of life in it for me.
Kathy Buszkiewicz
The power of particular materials continues even after they have been altered or rendered intrinsically worthless. Where is value placed: upon or beauty? As these objects are contemplated when worn, a reversal of values is considered.
Charles Lewton Brain
I have worked on glasses as a series since 1988. The earlier ones were about technology and vision. My more recent glasses play with vision directly, for instance a pair which shows you looking at yourself in perfect focus about 8 inches in front of you. Others distort vision heavily, place ghosts of yourself and your neighbors all around you, lop off your ability to view your hands or feet and so on. The blind seeing truly (in the Greek tragedy sense) and more.
Anne Fauteaux
I make jewelry that is also a tool that may or may not contain magical powers. In Lover Catcher you have to write the name of the person whose heart you want to catch on a small piece of paper, roll it up, and push it through the hold into the heart, and lock the cage door. The heart contains a marble, which must be touched by the person whose name is locked in, next time you meet. You will probably capture this person's heart.
Lisa Gralnick
Sometime in the late 1980s the German sculptor and installation artist Reinhard Mucha declared, "There are no neutral materials". I have, in fact, become obsessed with this notion, and have discovered that the non-neutrality of materials can inherently suggest the non-neutrality of other things, including language. It is with this tenuous connection between material and concept that I began to experiment. These new works are both poetic and tragi-comic, odd intimate objects with a weight that is almost too great to bear, save for the occasional insertion of humor.
Barbara Stutman
I was asked to participate in a show on being female. I started making pieces and discovered that certain memories started expressing themselves in my work. In an Alien Framework is about childbirth. I was thinking of the indignities I was subject to at the birth of my children over twenty years ago, about being forced into an incredibly uncomfortable position and actually being tied down into place. I found that events that caused sadness and outrage within me, which were experienced by women I knew who had been the victims of incest or rape, had become the subject of my work.
David L. Page
I like the idea of disguise and what it does to the person who wears the mask. When wearing a mask you feel free to do things you wouldn't ordinarily do, even though everybody knows who you are. It disguises your psyche more than your identity.
I like creating something that is idealized and beautiful and distorted and grotesque at the same time. My inspiration is sports armor and industrial protective devices. My masks pretend to have some kind of function. They are so laboriously made - but they are laughing at the time and effort that goes into making them.
Joyce Scott
Harry Jr. is the second half of a story. The first half, Harry's Dead, is a story about a woman who killed her husband and thought she had gotten away with it. But he comes back to her as a ghost or an emanation. He haunts around, getting on her nerves and he figures that since she took away his life that she would have to give him his pleasure. Harry Jr. is about him having sex with her as an incubus. So it's them making love and out of it comes this embryo. The first piece is about not being able to get away from stuff that you did, like saying something rotten to somebody else, how that kind of behavior dogs you. Harry Jr. is about one thing leads to another, one lie elicits another lie, a domino effect.
This way of approaching subjects comes out of a southern tradition. My folks are from the Carolinas. You were taught with allegory and stories.
Arline Fisch
I wanted to do something with curves and color, something exuberant, so I looked at flowers as a source of imagery. I especially like the effect of groups of flowers moving slightly, rather like a garden in the wind. Movement is achieved by mounting the flowers on springs so the quiver, or placing them with pivots so they can spin. When worn, the flowers twitch and tremble delicately.
Joe Wood
The idea for the imagery in this series came from a pre-Renaissance ivory sculpture relief of knights storming a castle of virtue. The castle parapets are inhabited by maidens feigning to fight off the knights who are laying siege, but the maidens are throwing flowers down on the knights. The castle door figures prominently in the tableau with this trefoil image above the door. The trefoil is evocative of medieval sexual imagery. The title of the relief is Siege of the Castle of Love.
You assume all responsibility and risk for the use of the safety resources available on or through this web page. The International Gem Society LLC does not assume any liability for the materials, information and opinions provided on, or available through, this web page. No advice or information provided by this website shall create any warranty. Reliance on such advice, information or the content of this web page is solely at your own risk, including without limitation any safety guidelines, resources or precautions, or any other information related to safety that may be available on or through this web page. The International Gem Society LLC disclaims any liability for injury, death or damages resulting from the use thereof.
---
The All-In-One Jewelry Making Solution At Your Fingertips
When you join the Ganoksin community, you get the tools you need to take your work to the next level.
Become a Member
Trusted Jewelry Making Information & Techniques
Sign up to receive the latest articles, techniques, and inspirations with our free newsletter.