Megan Thorne on Lene Vibe's Magical Jewelry
Megan Thorne, owner of Megan Thorne Fine Jewels in Fort Worth, Texas, loves antique jewelry. In fact, she shares that some of her pieces are based on her grandmother's rings. So it doesn't come as a surprise that one of Thorne's favorite designers is Lene Vibe Dahlgren, owner of Vibe's in Copenhagen, Denmark. Both designers prefer a vintage aesthetic, executing their work according to their trademark feminine styles. You can see the same woman wearing both brands. Their designs are delicate and imaginative, and share a prevalence of detail.
 Yet, the styles are dissimilar as well. While Vibe's pieces are whimsical and humorous, featuring the exotic flowers and tiny mystical creatures of Hans Christian Andersen's stories, which inspired the designer, Thorne's work is less literal, favoring implied magic over actual fairies. Thorne explains the distinction by saying that her jewelry is more of a staple, while Vibe's is unrestrained, grand, and over-the top—the kind of a fun piece a woman might wear to a special occasion.
It is exactly that eccentric otherworldliness that draws Thorne to Vibe's work. She describes it as "a tiny magical fairy land," pointing out the little snails, flowers, bugs, and bubbles enveloping stones. "The details are from all angles, and feel as if they have a life force of their own, almost like each time you look at the piece, elements have squirmed or sprouted into a new configuration," says Thorne.
Ganoksin is sponsored by
"…almost like each time you look at the piece, elements have squirmed or sprouted into a new configuration." – Megan Thorne
Thorne is also drawn to Vibe's unexpected choices. For instance, unlike many designers, Vibe doesn't sketch to have an idea of the final piece before she begins to work. Instead, she follows a more spontaneous technique, choosing to let the designs emerge during the process of creation.
Thorne sees this as a brave method to work, especially considering the fact that, technically, Vibe's work is difficult to produce, pointing out "all that hand carving and shaping around such organic forms." Thorne believes that, to make those complex constructions look effortless and joyful is a real feat.
Ganoksin is sponsored by
"It never appears sloppy or haphazard, just as a perfect little fairy tableau," she says.
Another unusual aspect of Vibe's work that fascinates Thorne is the Danish designer's irreverent use of pearls. "I don't consider myself a pearl person, but her fresh perspective is enchanting," she says.
Thorne appreciates the way Vibe reimagines the pearl as an exciting and quirky stone that's intended for more than just special occasions. Thorne thinks that it's almost as if Vibe is saying, "Don't wait for a precious moment. Rock it!"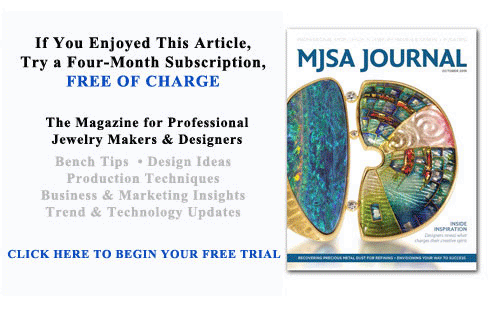 In association with

The award-winning
Journal
is published monthly by MJSA, the trade association for professional jewelry makers, designers, and related suppliers. It offers design ideas, fabrication and production techniques, bench tips, business and marketing insights, and trend and technology updates—the information crucial for business success.
"More than other publications, MJSA Journal is oriented toward people like me: those trying to earn a living by designing and making jewelry,"
says Jim Binnion of James Binnion Metal Arts.