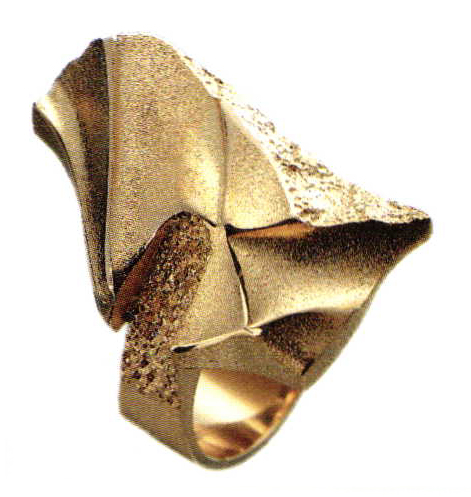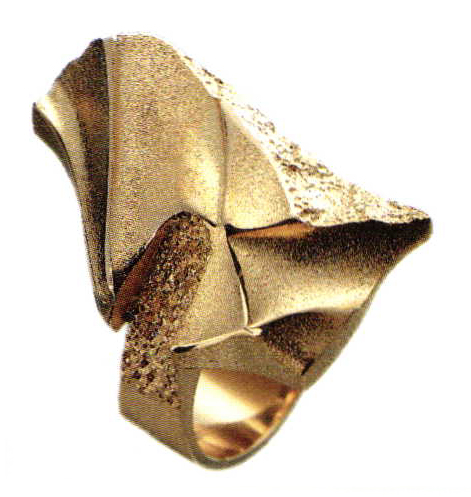 Lapponia Jewellery and The Message of the Sculptor
---
3 Minute Read
Björn Weckström had a decisive influence on the idea of Finnish style. Over four decades of cooperation with Lapponia Jewellery has created jewelry in gold and silver that reflects Weckström's belief that jewelry is a "miniature sculpture with a human background". Weckström has created striking works not only as a jewelry designer, however, but also as a sculptor, glass designer and even as a furnitutre designer.
The jewelry designer
"The form of a piece of jewelry should make a statement, have significance. The borders between sculpture and jewelry design are disappearing increasingly as the years pass. Indeed, they appear to have disappeared today. I always took this for granted in my work as a sculptor." This statement by Weckström on his work concisely expresses the special nature, the obvious aspect of his jewelry.
The gold nuggets the artist washed at the start of the sixties in Lapland marked the start of a completely new style of jewelry design that departed entirely from standard appreciations. Inspired by the wish of one client to integrate the Nordic nuggets in an item of jewelry Weckström developed an entirely new, natural style for jewelry design. Without prejudice concerning the combination of different materials, the artist and pioneer in his field breaks through the typical understanding of jewelry design. In his appraisal, the shining surface of jewelry appears artificial. In his work, he intends to rob gold of its cold shine, and to restore its original, matt, warm glow.
His collection of silver jewelry is also of fundamental importance for freeing jewelry design from the constraints of tradition. Over the decades, this produced work that was often combined with stones that were cut by a truly prominent figure in the world of jewelry, Bernd Munsteiner. All of the pieces are characterized by the archaic beauty of nature or the natural surface of the metals. In addition, Weckström always gave his jewelry names in order to lend it identity. He has helped shape the impression the world has had of Finnish art since the sixties.
The congenial marketing by Pekka Anttila in his company Lapponia Jewellery Oy helped secure victory. Using convincing slogans, decoration, brochures and packaging and a story for each item of jewelry, Lapponia established Weckström's jewelry around the world. As a sculptor, he played a pivotal role in promoting the appreciation of jewelry design as an independent discipline of art. First of all, he models his creations in three dimensions using plaster. This is the secret of his spontaneous expression.
The sculptor
The work by the sculptor Björn Weckström is characterized by the use of various materials such as bronze, marble, glass, acryl and combinations thereof. The expressive language of forms ranges from abstract design to the interpretation of individual realism. The bronze sculptures in particular frequently reinterpret classical Greek mythology. Another topic is the tense relationship between man and machine.
The acryl sculptures he created between 1971 and 1973 represent a truly special stage. They were conceived as a protest against the "noisy", kinetic art by people like Tinguely or Kovac. They were intended to offer a contrary world for peace and meditation. This is an indication of the artist's interest in Zen Buddhism.
Weckström's vital urge to design is also clearly visible in his architectural models in glass and furniture. They are also actually sculptures with a message that far exceeds their actual designated purpose.
You assume all responsibility and risk for the use of the safety resources available on or through this web page. The International Gem Society LLC does not assume any liability for the materials, information and opinions provided on, or available through, this web page. No advice or information provided by this website shall create any warranty. Reliance on such advice, information or the content of this web page is solely at your own risk, including without limitation any safety guidelines, resources or precautions, or any other information related to safety that may be available on or through this web page. The International Gem Society LLC disclaims any liability for injury, death or damages resulting from the use thereof.
---
The All-In-One Jewelry Making Solution At Your Fingertips
When you join the Ganoksin community, you get the tools you need to take your work to the next level.
Become a Member
Trusted Jewelry Making Information & Techniques
Sign up to receive the latest articles, techniques, and inspirations with our free newsletter.