One of Joan Dulla's favorite materials is another metal that often gets little respect in the jewelry world — niobium. "I like the magic of how niobium changes color," says Dulla, an artist from Chandler, Arizona. "Sometimes I make necklaces one color, and sometimes I use the whole rainbow. I don't limit myself to one or the other."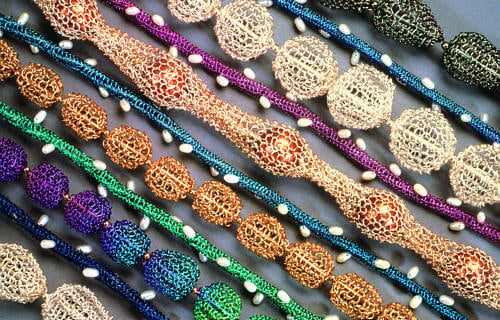 The sheer brightness of her work is even more surprising if you know her personal history. An incest survivor, Dulla has used niobium wire to make sculptures that vividly express the pain of that formative experience, as well as to create bright jewelry that represents her triumph over the past. "The jewelry is joyful for me, and very meditative, especially the crocheting," she says. "The first niobium piece I made is called, 'I Can Wear A Rainbow,' when I was coming out of the depths…[In another piece] there's barbed wire surrounding me and holding me in, and then there's me popping through with my colors."Dulla crochets niobium wire into airy beads and necklaces studded with Swarovski crystals. The result is jewelry that is bright, colorful, and exuberantly joyful.
Those bright colors caught the eyes of the judges at MJSA's American Vision Award design competition this spring, and earned Dulla first place in the Reactive Metals Distinction category. It also routinely catches the eyes of consumers at craft shows and art fairs. "It stops people in their tracks," says Dulla. "People walk by jewelry booths and expect to see gold and silver. They don't expect to see the hot colors, especially in something as airy and light as what I'm doing."
That fascination hasn't been shared by everyone in the jewelry world, though. "I've been surprised how many people don't know what [niobium] is, or who think it's cheap. They're surprised [when I tell them] that it costs five times as much as silver," Dulla says. "I was talking to some people who promote [designer jewelry], and they told me they would be delighted to promote my gold and silver, but they wouldn't touch the niobium."
Dulla is hoping to change that attitude. Although she also works in fine silver and 18k gold, and has won awards for that work, it is niobium that really captures her imagination. "It's really different, and it makes my work stand out," she says, noting that niobium offers colors she would find difficult to incorporate any other way. "My work is very flexible, so it moves a lot, and enamel would break and chip. I do patina silver a lot, but you can't control [the colors] the way you can with niobium.
"I've seen fabulous things [in niobium] by other artists, and I don't understand why it's not out in the general public," she concludes. "People are using it for more and more wonderful things. It's just as good as silver and gold."