James and Jytte Tuttle started Green Lake Jewelry Works in Seattle, WA based on the premise that their new endeavor would be fun, provide a comfortable work environment and offer opportunity, reward and enjoyment for customers and employees.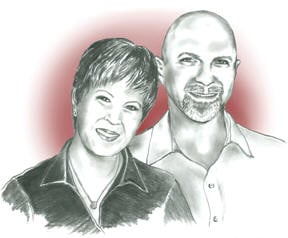 Just north of Seattle's bustling downtown district the grid of heavily trafficked streets gives way to a scenic urban passage leading to Green Lake. Along the lake is an immaculate park where spring has arrived early in an abundance of daffodils. Across the street in a charming shopping niche with (naturally) a great view is Green Lake Jewelry Works.
In this inspiring setting, James and Jytte Tuttle and Green Lake Jewelry Works artists sell and produce more than 2000 custom orders per year, mostly using Gemvision's Matrix software and the Gemvision Revo 540 mill. Their specialty is custom wedding sets.
Gemvision's Matrix software and the Gemvision Revo 540 mill
. Their specialty is custom wedding sets.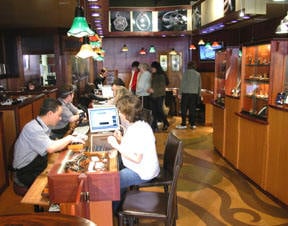 At GLJW it's not unusual to see the sales staff wearing jewelers' aprons and optivisors at one of the 25 computers showing customers Matrix CAD layouts of a proposed design. Neither is it odd to see customers watching the Revo540 mill shape their jewelry or a future bride e-mailing CAD renderings of her wedding ring to a fiancé who lives in another state. Owner Jim Tuttle, a 19-year bench jeweler with an industrial engineering background, says the percentage the store makes with Gemvision CAD/ CAM has gone from 0% to 90% in three years.
The Green Lake Jewelry Works Custom Design and Manufacturing Process
1. Initial Consultation
Customers who commission Green Lake Jewelry Works typically have been referred by a friend who owns a piece from the store or have heard of its reputation for custom design and manufacturing through word-of-mouth or the company's website.
Mindy Koblenzer, a bench jeweler, designer and GIA Diamonds certificate holder, works with a customer to design wedding bands. She uses the GLJW consultation form to record client preferences such as metal color, gems, style and motif, along with ring size and other specifics. Here she uses a sample ring to sketch a design element to scale.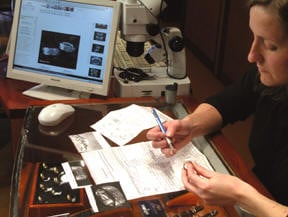 A computer at each design station allows customers to review Matrix-generated images stored at the GLJW website or on the store's main computer. The two references have a combined total of over 7,000 images of jewelry designed and made by the store. The images are categorized for easy reference. For example, a staff member can print a selected shot from these sources to use with one brought by a customer, then sketch options of how the elements could be incorporated into the design. "Our customers enjoy using their creativity to make it their own," says bench jeweler Mindy Koblenzer.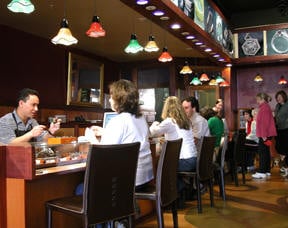 Bench jewelers, designers and wax modelers all work with customers and comprise the sales staff at GLJW. The designer remains in communication with the customer throughout the design/manufacturing process. Once a design is approved, it's passed on to a Matrix CAD expert to be laid out and rendered. All CAD designers are trained on Gemvision's Matrix software.
2. The Computer-Aided Design (CAD) Process
Multiple view jewelry renderings (shown, a one-view rendering) and computer-aided manufacturing instructions (g-code) are the two main uses of CAD software. This design, created by Lance Dameron, was translated in Matrix by CAD pro Jill Goodson.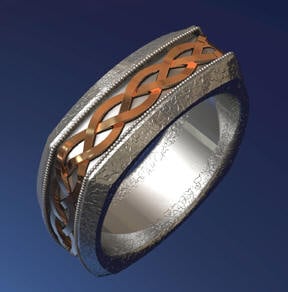 Advantages of processing this project through CAD include:
The two components of this ring – 18-karat palladium white gold band and 18-karat rose gold braid – were made to mortise together for ease and efficiency in assembly. This would have been a time-consuming process by conventional means.
The intertwining braid was created accurately, consistently and quickly to exact dimensions. Matrix CAD enabled the work to be done in far less time than if it had been carved in wax or fabricated it in metal.
The hand-made look the customer wanted was achieved in a fraction of the time it would have taken to do all the work by hand, whether in wax or metal. After producing the band and elements using CAD/ CAM , then assembling the cast pieces, the band was finished by hand.
Jill Goodson, a bench jeweler with an master of fine arts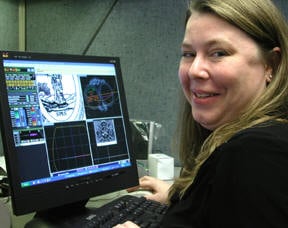 degree in metals from the University of Washington, with experience using Rhino software was an early supporter of Gemvision CAD/ CAM at Green Lake Jewelry Works. She admits that it didn't take much "begging" on her part to convince her boss to invest in the technology. "Jim is very progressive in acquiring the tools we need to do the best job," she says.
3. Production of the Model
The manufacturing process begins by using the Gemvision Revo540 to mill the wax. Four people at the store are trained on the mill, and it's kept running close to 24 hours, 7 days per week. Jim was one of the first to purchase the Revo 540 mill. "We have Mill number 8", he beams. The volume of custom-order work has grown so much they will soon add a second mill.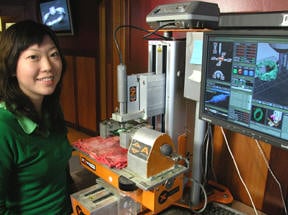 Checking a job on the Revo 540 mill is Ellie Lee, who studied at Rhode Island School of Design and is one of four CAM operators at GLJW. The mill will usually shape a wax in a few hours, depending on strategy and detail of a wax pattern. She is also one of the CAD experts and Ellie says of the Gemvision software, "I find the Matrix program so much better, more…'professional' and easier to use than the program learned at school". As one of the photographers at the store she uses Gemvision's ImageDome Digital Image System to take artfully composed jewelry pictures.
The wax is perfectly cut by the Revo 540 mill, but will require removal from the holding device, clean up and finishing. A final inspection for parameters is made before casting. Here master wax carver Kristi Hansen collaborates with Jim Tuttle regarding the intricate details of the design. Kristi, who has twenty years of experience in all areas of wax modeling, is one of two full-time carvers at GLJW.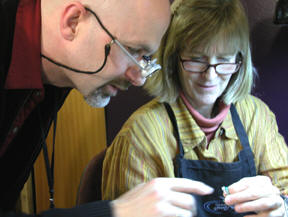 Lance Dameron reviews the progress of a design with one of his customers. Here he shows the wax that was milled on the store's in-house Revo 540 mill. If the customer requests changes (never a problem at GLJW), he'll make them and route the piece through production.
Revo 540 mill
. If the customer requests changes (never a problem at GLJW), he'll make them and route the piece through production.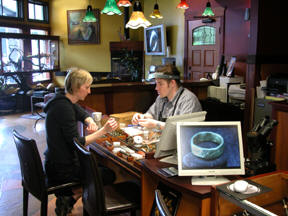 4. Manufacturing
| | |
| --- | --- |
| | After the waxes are finished, they're sprued for casting. Here Tuttle prepares the broken-arm centrifugal induction casting machine for the day's casting. GLJW has gone from a torch-melt casting system where just a few pieces are cast at a time to an induction-melt casting system to cast larger trees and multiple pieces at one time. |
| | The braided rose gold wire components have been cast in 4 pieces designed to mortise into the white gold band. Next the parts will be laser welded together. |
| | A photograph of the finished wedding band. After casting and assembly it was hand-hammered and millgrained. Every photo of finished jewelry is taken using the Gemvision Image Dome. |
5. Delivery to the Customer
All finished jewelry is presented to the customer by the people who designed it and kept in communication with the customer through the process.
Tuttle prepares a package that includes the finished jewelry, an interactive CD and final documentation.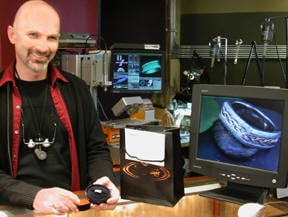 The CD contains:
An active link to the Green Lake Jewelry Works website.
A feature titled "About Us" that includes information about the store and shop.
A thank-you that includes a warranty and information about stone loss.
A category containing photographs of the customer's piece prepared for use on the Internet.
A gallery of related work for future consideration.
Tuttle states that customers "blogs" or web logs have provided multiple links back to Green Lake Jewelry Works bringing new customers. David Alonzo, fulltime network administrator and web master keeps Jim abreast of internet activity and stats, and is constantly up-dating the website.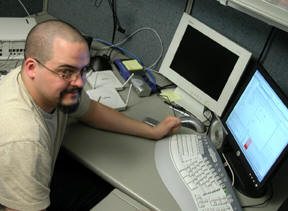 Of his store Jim says, "I created a place where I would be really happy working and figured all the rest would follow." What followed were other jewelers seeking the same gratifying environment, bringing with them a range of expertise to his core workforce. Tuttle, who can perform every operation in his business is proud to say that now he's "just the back-up guy" at the shop. He encourages employees to be more layered in their skills, training to do the work that interests them. As a result, he has an enthusiastic team of workers with skills beyond their numbers, fulfilling their customer's dreams in a most creative way.