The fields of art, craft and design are becoming increasingly intertwined and the boundaries between them ever more fluid. The 'Internationale Handwerksmesse' (IHM) trade fair for craft-based enterprises, held in Munich, reflects this coming together of the various disciplines through its spectacular products presentations and special exhibitions during the IHM PRIVAT, which attracts visitors from all over the world.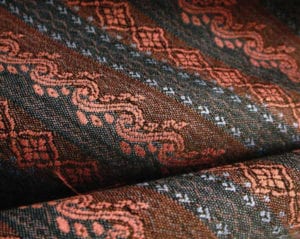 Jacquard weaving from Chiemsee: the traditional materials produced by the Hofer company are characterized by their colorful decoration and highest quality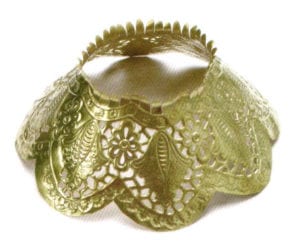 19th century ornaments re-interpreted: bracelets by Vera Siemund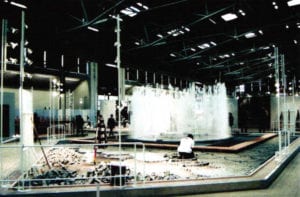 Visitors to the IHM can view arts and crafts at first hand in 'living workshops'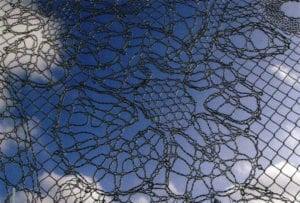 The Dutch design group Demakersvan have transformed this year's 'Ornaments' theme at 'Exempla' into an everyday objects: flower ornaments entwined around a mesh wire fence
Ganoksin is sponsored by
The term 'crafts' is generally associated with professions such as carpentry dress-making, confectionary and tiling. A closer look at the products created by these professional groups reveals that furniture, clothing and jewelry fall into the categories of art and design as well as crafts. Organizers of the Munich'lnternationale Handwerksmesse' trade fair (IHM Privat), which will be taking place from 28th February to 5th March 2008 at the Munich trade fair center, have focused on this encounter between the trades and disciplines in their 'craft & design' exhibition. While the IHM PROFI (halls B1 to B3) is a specialist fair for those working with technology, studios and tools, the IHM Privat (halls A1 to A4) focuses on ways of living and living space, exhibiting both handicrafts as well as craft products for a quality-discerning public. The 'craft & design' exhibition in hall A1 presents contemporary crafts, individual fashions, signed individual pieces and applied arts as well as internationally renowned special exhibitions and prize giving ceremonies which bring together craft workers, designers, gallery owners and collectors from all over the world. The organizers focus on the interdisciplinary amalgamation of interests. "We want to address all customers who feel an affinity with art and design and a liking for special things, for the small and sophisticated: this is achieved through our presentations at the IHM on the one hand and through the 'Designparcours' fair, which takes place at the same time in the Munich area, this year comprising a minimum of ten stations," says Dieter Dohr, deputy director of the 'Gesellschaft fur Handwerksmessen', which organizes these craft fairs. Since 2002, Munich's design talents have been presenting their skills here each year through campaigns, exhibitions, talks and workshops. The so-called Designparcours is made up of more than 40 stations in the city area, appealing to both the general public as well as designers and manufacturing companies.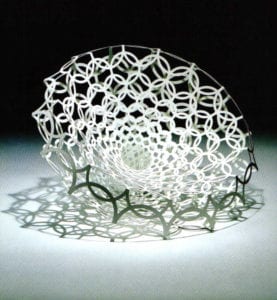 Functionality is secondary; the fundamental ornamental concept stands out: 'Veryround'  chair by danish designer Louise Campbell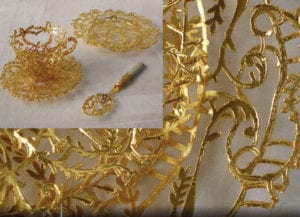 Wiebke Meurer asserts herself as a metal weaver. Her works are reminiscent of everyday objects and yet form filigree forms of the highest quality craftsmanship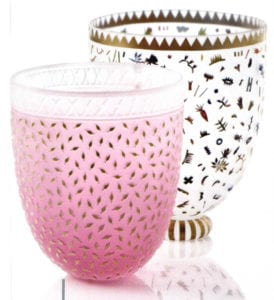 Leaves, flowers, insects, fish – glass artist Freia Schulze creates elegant glass objects with magical ornaments
Poetic flower art meets modern construction: the over-sized flower creations by Susanna Taras form a unique piece of spatial choreography
Good design under the spotlight
Traditionally, the IHM PRIVAT presented products, companies and training opportunities in the fields of arts and crafts. In 2008, the design dimension will be added to these areas of expertise of the first time. Even though the boundaries are fluid and exchange occurs on both sides – the terms are still relatively easy to define: while the crafts side of things refers to production-related activity, the arts side is more design-orientated with an emphasis on art while the design side is design-orientated with emphasis on industrial manufacture.
Ganoksin is sponsored by
Visitors to hall A1 can expect to encounter a high quality range of gold and silversmiths, fashion designers, bespoke tailors and artisans offering designer jewelry, art embroidery, ceramics and metal working. The four special exhibitions – Exempla, Jewelry, Talents and Masters of Modernity – emphasize the theme of crafts and design from various different perspectives.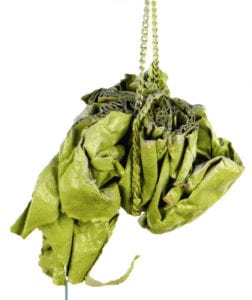 Contemporary recycling art: Shari Pierce gives used cardboard a new life. Cardboard and façade paint from 2007

'Breathe in/breathe out' is the name given by Dongchun Lee to his black and white pendant made from iron, latex and twine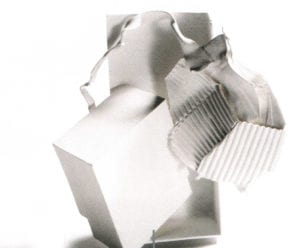 All in white; 'The Bride' brooch by Annamaria Zanella made from silver, gold, steel, enamel and acrylic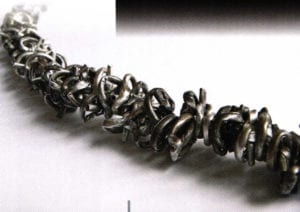 Homage to a Bavarian specialty? The 'Pretzel Chain' by Jun Konishi, in silver
'Exempla', which has been taking place since 1970, is very highly regarded both in Germany and abroad. It aims to demonstrate how the knowledge and experience of craftworking acquired in many different fields determines the image of our times. Exempla is based around themes and has been presenting the top achievements in the international crafts field for close to 40 years. The theme for 2008 is 'Ornaments' – the 25 magnificent contributions are presented primarily in 'living workshops'. Visitors can, for example, observe plasterer Thomas Salveter at work or see contemporary glass architecture from Franz Mayer of Munich, whose products are based on the principle of ornamentation. You can also look over the shoulder of jewelry designer Vera Siemund as she works: as part of the exhibition, she will be using ornaments from the 19th century and combining and distorting them, thereby creating new pieces of jewelry which bridge the gap between yesterday and today. The significance of ornaments in art and design is also reflected by the flower motifs of Spanish designer Patricia Urquiola, the ornamental textures used by Dutch artist Tord Boontje to create lights, textiles and curtains and the large-scale flower installations of artist Susanne Taras. 'Exempla 2008' highlights the fact that ornaments also have a distinctive character in cultures outside of Europe: the exhibition of African textiles, Japanese ornamental paper and North-American quilts also features the personal presence of the multi-award winning Indian textiles printer Ismail Khatri, a real highlight at this year's Exempla. Having traveled all the way from Rajasthan, he will be demonstrating to visitors how he prints textiles using the traditional patterns and ornamentation of his homeland, emphasizing the richness and creative power of ornamentation.
Ganoksin is sponsored by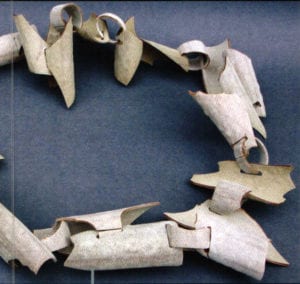 Bizarre shapes: The 'Pastawood' chain by Diana Tipoia is made using wood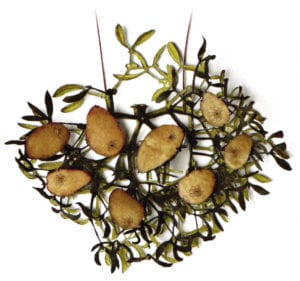 No fear of unusual materials: Eun Mi Chun uses pig skin, seeds, hair, silver, zinc-plated steel, paper, steel wire and twine for this chain created in 2007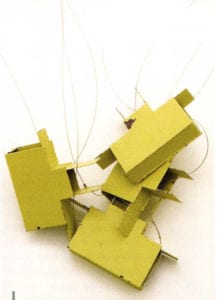 Necklace by Sara Borgegard made using iron, nylon-coated wire and spray paint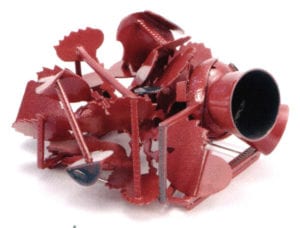 The 'Red Machine' brooch by Helen Britton is made of silver and paint and is 70x50x30 mm in size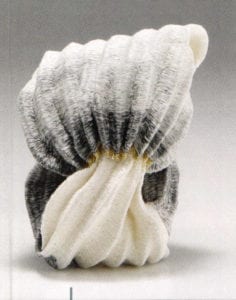 An exciting composition of Chinese ink, Japanese paper, nylon thread, gold and silver is incorporated into this brooch by Kazumi Nagano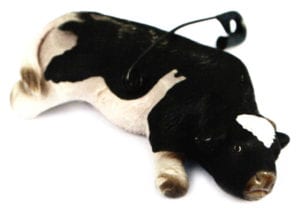 'Milk cow' brooch by Jasmin Hess
Jewelry as a crowd-puller
The much-awaited special 'Jewelry' exhibition has become one of the most important events on the international jewelry scene over the last 40 years. It presents unique pieces from contemporary goldsmiths and jewelry artists. The exhibitors often include young goldsmiths, still in training, as well as world-renowned jewelry designers.
Ganoksin is sponsored by
Each year, the jewelry show features a different designer as curator and therefore bears the personal print of this designer, not least due to their subjective selection of designers. Over the last few years, Dutch artist Ruud Peters, German artist Dorothea Pruhl and Spanish artist Ramon Puig Cuyas were selected as curators; this year, London-based culture journalist Ralph Turner will be responsible for the selection. Turner, an accomplished specialist in jewelry art, has selected 60 jewelry artists from 20 countries from more than 400 applicants to create a balanced mix of both young and established artists and goldsmiths. An important date in the special 'Jewelry' exhibition calendar is the awarding of the internationally renowned Herbert-Hoffmann prize, which is awarded to three specially selected designers.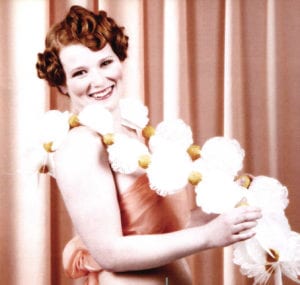 This contribution by Norwegian born Mona Bjornsen to the special Talents exhibition is known as 'wearable jewelry'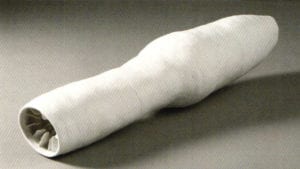 Hwa Yoon Lee from Germany contributes ceramic pieces such as the 'World of Plants'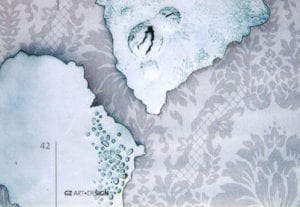 US born Kate Bauman is represented in Munich by her enameled wall ornaments such as 'Ghosts'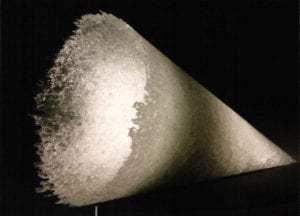 'Untitled' glass object by Australian Masahiro Asaka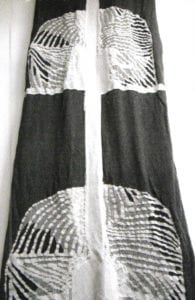 Body-related fabrics by Israeli-born Noa Bar-On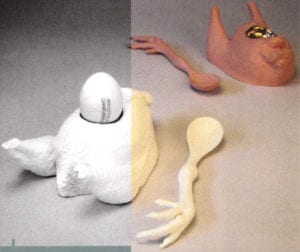 Form follows origin: ceramic egg-cups by Sissel Wathne, Denmark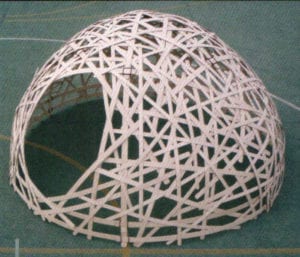 German-born Emmanuel Heringer presented a construction set for an igloo, made from beech plywood
Crafts as the cultural contribution of the next generation
As a forum for high quality contemporary arts, crafts and design, the new 'craft & design' area provides a fitting setting for talented young designers whose works are characterized by originality, perfection and a fresh and experimental interaction with materials and craft techniques. The special 'Talents' exhibition has been taking place since 1980 and is one of the most important competitions for young aritsts, designers and crafts-workers. In order to track down the stars of the future, the operators are cooperating with a world-wide network – and this has proven to be successfully as numerous renowned celebrities, such as members of the Droog Design Group and celebrated star designers such as Konstantin Gricic, Tejo Remy and Louise Campellmade made their debut at the Munich 'Talents' exhibition. The works exhibited by these young designers are fresh and avant-garde and reflect the impressive commitment of the younger generation to crafts. Here, it is certainly clear that the craft-working professions should in no way be seen as a last resort for less intellectual school leavers; indeed, they make an important cultural contribution. The much sought-after 'Talents' prizes are awarded to exhibitors by an jury of international judges. The 'German prize for excellent innovational performance in crafts' and the 'Bavarian state prize for exceptional technical and design performance' are also awarded here. The winners receive 5,000 euros each in a special ceremony.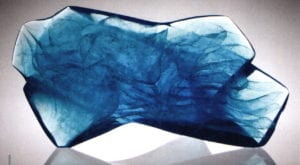 'Blue block of ice' made from glass by Peter Bremers from the Netherlands. The current works by this designer and sculptor are inspired by blocks of ice and his travels to the Arctic. He has been working with glass for many years
Ganoksin is sponsored by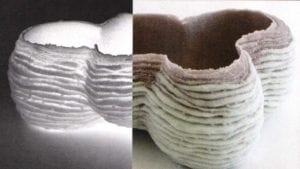 Belgian-born Carine Neutjens works with Pate de Verre and creates fascinating vessels with fragile crystalline surfaces. Sharp edges and uneven finishes contrast with the folded and thick-walled and mostly rounded vessels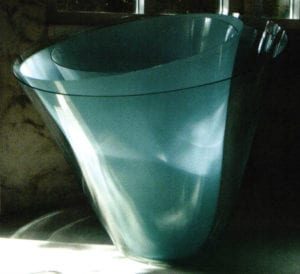 Glass objects lying inside one another by Dutch artist Bert Frijns. His works, made from industrial glass, are characterized by their clarity and classical elegance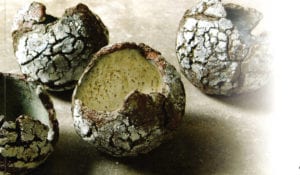 The ceramic bowls by Japanese artist Yoshimi Futamura, now based in Paris, are reminiscent of tree bark or a loaf of bread. The artist combines sound and porcelain in her works, covering the surfaces with an ash glaze
Ganoksin is sponsored by
Undeterred stars together
Exhibitors at the fourth special exhibition, entitled 'Masters of Modernity' are selected under the direction of the Munich Chamber of Crafts. "The selected exhibitors represent the masterful implementation of specific fields of work and act as a role model for the younger generation," says Wolfgang Losche, manager of the trade fairs and exhibitions department. "The focus is on craft designers who forge their own pathway, undeterred, having sought out and found their own individual language of forms and style." This year, some 35 artists from 15 countries will be presenting their fields of work in glass, ceramics, metal, jewelry, textiles and weaving. These artists include, for example, German silversmith Beate Leonards and Japanese metal designer Naoki Takeyama, whose vessels are characterized by their sophisticated surface structures. For the first time, vessels by a Chinese Celadon master (Asian ceramics technique) will be featured as well as the fantastic works of Japanese weaving artist Hisako Sekijima. "Glass will form a special focal point this year, " says Wolfgang Losche. "We want to present the impressive works from our neighboring countries as a kind of counterpoint because glass-working in Germany is on the decline." Visitors can expect to see glass works from Slovakia (represented by Stepan Pala, among others), the Czech Republic (Rene Roubicek) and England.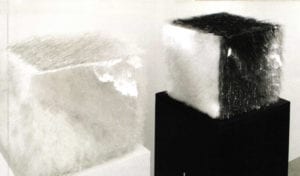 German painter and graphic designer Josepha Gasch-Muche was awarded 1st prize in the Coburg Glass Prize for her two cubes of broken glass in 2006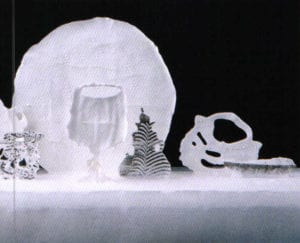 This still-life of receptacles by Antje Scharfe is a real declaration of love for vessels. The spatial installation with different surfaces and structures in cast and painted from bone china
Ganoksin is sponsored by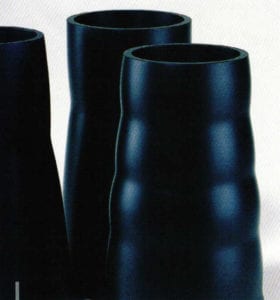 These three vessels by skilled goldsmith Beate Leonards are made of aluminum, bronze and tombac