This ring is in for repair and reconstruction. When it was originally made, 6-prong settings were used to mount the customers diamonds. All prong tops are severely worn and one prong has broken (arrow).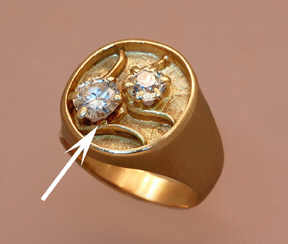 The customer has requested bezel settings, so the prong settings were removed from the ring. The ring was re-sized according to the customers request and then pre-finished. For tacking the tapered 14-karat yellow gold bezels, the brass tweezers lead was modified to firmly hold a bezel. A ball bur was used to remove metal from inside each end of the tweezers.
The tapered bezel is placed in the tweezers to check the fit. After confirming the fit, all sharp edges were removed. Sharp edges can lead to destructive tack welds.
The ring is held in the ring clamp lead. One side of it has a copper plate that comes in contact with the ring. The tweezers lead holds the bezel in place. The ABI Tack II was set on the high energy setting at 40 volts. A few attempts were made to tack the bezel to the ring but they failed. The voltage was ultimately increased to 60 volts to successfully complete the tack.
The ring with the bezel was firecoated, then soldered using 14-karat easy yellow solder. This bezel was shortened to accommodate the smaller diamond. After soldering and pre-finishing, the tapered hole for the second bezel is completed using a cone bur.
With the ABI Tack II set on the same settings, the second bezel is tacked. By tacking, the bezels do not move during the soldering procedure.
The ring assembly is again firecoated and the bezel soldered using easy solder.
The bezel installation was made easy by tacking them in place prior to soldering. Tacking also eliminated shifting of parts during the heating process for soldering.
Important
Tack-, fusion- and pulse-arc equipment settings will differ and are based upon the volume, amount of contact and alloy of the material you are working with. Practicing using like materials will give you a parameter for the settings required for your application. Keep a record of settings and tasks for future reference.