ABI introduces the Mini Pulse III (A), a new pulse-arc-welder to their line of tack-fusion-and pulse-arc-welding equipment. The Mini Pulse III delivers 17,000 mics of energy, capable of producing 1 pulse of energy per second as compared to the ABI Pulse-Arc-Welder that delivers 27,000 mics of energy and is capable of producing 2 to 3 pulses of energy per second. The Mini Pulse III has a dial voltage adjustment and 6 levels of energy controlled by toggle switches.
The ABI Mini Pulse III comes with an argon gas regulator (B), the Opti-saver instant darkening flash shield (C), 3 different size welding tips with two sizes of electrodes, brass lined pliers, brass tweezers, an alligator clip, contact pad, welding pencil holder and foot pedal (D) for $2,700.00. ABI also sells the unit without the argon gas regulator or the Opti-saver shield for $2,450.00.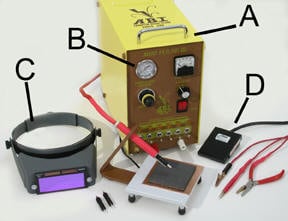 Freshwater Pearl Earring Repair Using the Mini Pulse III

14-karat yellow gold cultured freshwater pearl and diamond earrings will be repaired as a demonstration of the new Mini Pulse III.

The connecting post and dangle jump rings were not soldered when originally made.

One of the dangles has become unattached to the post (E).

The jump rings are straightened and re-attached to the dangle portion of the earring (F).
The welding pencil is secured to the holder with the #2 welding tip (G). It is attached to the positive terminal of the Mini Pulse III.

The alligator clip lead is attached to the negative terminal and clip it on the earring.

The Mini Pulse III is set to 35 volts and on the 4 power level of energy set by the toggle switches. Levels of energy are activated when and the toggle switches are in the up position (H).

The indicator lights (I) come on confirming that level of energy is activated.

The jump ring is about one half millimeter away from the welding tip.

It's not necessary to remove the cultured freshwater pearls since the energy for welding is instantaneous and will not cause damage to them.

The pulse of energy is directed to the joint on the jump ring. The welding has occurred on the side of the jump ring facing the welding pencil tip.

The jump ring is rotated to complete the welding.

The surface residue was generated by the welding procedure and polishing with rouge easily removes it.
Important
Tack-, fusion- and pulse-arc-welding equipment settings will differ and are based upon the volume, amount of contact and alloy of the material you are working with. Practicing using like materials will give you a parameter for the settings required for your application. Keep a record of settings and tasks for future reference.