Green Bench Tips – Part 1
This is the first in a two-part series on green bench tips shared by jewelers who are taking an eco-friendlier approach in their shops. Small changes at the bench can make a difference.
Window to the World
Jennifer Dawes, Dawes Design, Santa Rosa, California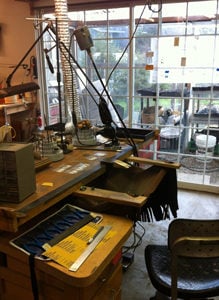 Place your workbench next to a window. This helps the environment by using less electricity, which puts a little more green in your pocket. As opposed to fluorescent lights, natural light is easier on your eyes and won't alter the colors of your gemstones. For added color clarity, tape gems to tracing paper adhered to the window.
Painless Repurposing
Joni Kat Anderson, JKAT Jewelry, Chicago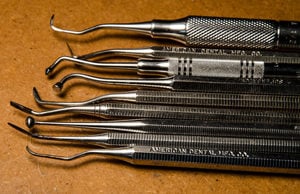 Next time you visit the dentist, ask if he or she is planning to get rid of any old dental tools. With minimal alterations, those dental picks and scrapers can be saved from the dump and repurposed into some great wax carving tools for your shop.
Ganoksin is sponsored by
 Old Is New Again
Christine Dhein, founder and editor of GreenJewelry News.com
Many jewelers are aware that they should avoid fluxes containing fluorides, which are hazardous in case of skin and eye contact, as well as inhalation. But many "non-fluoride" fluxes actually contain ingredients in the fluoride family, such as potassium fluoborate, which pose the same exposure hazards and are toxic to lungs and mucous membranes.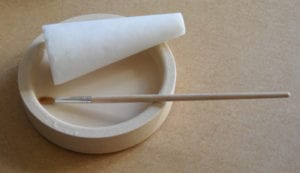 As an alternative, opt for a borax cone. A traditional flux used by jewelers for centuries, borax is still used widely in Europe today and poses only minor potential health risks.
Place a borax cone in a ceramic dish with an abrasive surface, add a bit of water, and rub the bottom of the cone against the dish to create a paste. Thin it with water to the desired consistency and use as flux.
Ganoksin is sponsored by
Related Topic:
Green Bench Tips – Part 2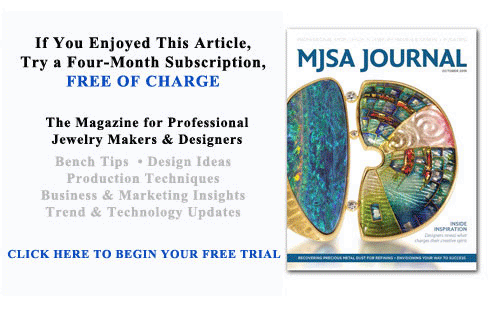 In association with

The award-winning
Journal
is published monthly by MJSA, the trade association for professional jewelry makers, designers, and related suppliers. It offers design ideas, fabrication and production techniques, bench tips, business and marketing insights, and trend and technology updates—the information crucial for business success.
"More than other publications, MJSA Journal is oriented toward people like me: those trying to earn a living by designing and making jewelry,"
says Jim Binnion of James Binnion Metal Arts.