This article covers setting-up Foredom AllSet Master Stone Setting Kit to cut consistent bearings for an in-line bracelet.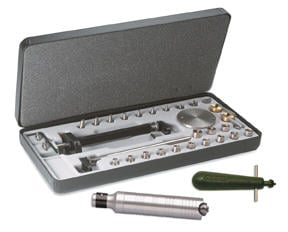 The Foredom AllSet Master Stone-Setting Kit includes prong, pave, channel-cutting guides and a fixture that attaches it to a Foredom No. 30 handpiece. The kit is capable of quickly being set-up in a multitude of ways to complete a variety of stone setting tasks.
Foredom AllSet Master Stone Setting Kit
Preparation for Cutting Bearings in Prongs

There are two parts to the fixture that hold the AllSet attachments to the No. 30 handpiece. Begin by attaching the body (A) by hooking it over the collar of the handpiece opposite the chuck key opening. Next attach the AllSet holding collar (B) perpendicular to the handpiece and tighten the two set screws with the supplied Allen key.
Select the proper setting bur for the project and match it to the appropriate size prong guide. There are 13 to choose from and select the one that offers minimal clearance between the bur and the inside diameter of the guide. For the example, the prong guide(C) is attached to the L bracket (D).
Insert the shaft with L bracket into the body.
After the shaft is inserted, lightly tighten the shaft locking screw (E). There will be additional adjustments to make, so don't securely tighten it.
Next insert the setting bur, and lock it in the No. 30 handpiece using the chuck key. Align the bur and the guide.
Finally, adjust the depth of the cut using the shaft adjusting nut (F) then securely tighten the shaft locking screw.
The depth of the cut should allow the top of the gemstone to be slightly below the tops of the prongs prior to bending them. Experiment with a couple of settings and make the final adjustment. Next bur all bearings, one after the other using the Foredom Model TX Flexshaft at a medium low speed with plenty of lubrication.
The AllSet took less than two minutes to assemble for this project. Most AllSet users typically remove the L bracket only and use the No. 30 handpiece for general use with the AllSet attachment secured to it. Use of the AllSet takes less time to set up when leaving the attachment secured to the handpiece.