Flush Setting Round Brilliant Diamonds in Platinum
Seated at his bench, David Howard, owner of My Jeweler, Inc. in Albuquerque , NM contemplates and prepares his work for the day. Technicians at My Jeweler perform repairs while customers wait in addition to the constant flow of design and custom order work.
Their glassed-in workshop located at the entrance of the store allows customers to observe the bench jewelers at work from both the retail floor and the walkway outside. The day I was there, Howard demonstrated a flush setting technique for small round brilliant diamonds in a platinum band.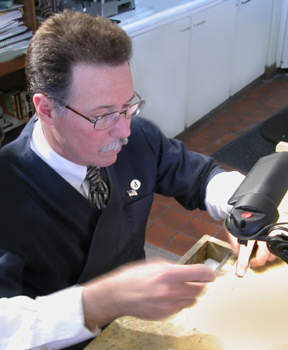 | | |
| --- | --- |
| | In this project, Howard will set ten full cut 0.01 carat diamonds evenly spaced in a platinum band. |
| | He determines the spacing of the diamonds and marks the band using dividers. With an automatic center punch, Howard makes a small indentation where each hole will be drilled. Howard organizes his jobs in clear take-in envelopes (A) for easy viewing of the instructions and materials to be used. Howard's bench faces the store and is separated from the retail area by a glass partition – allowing his customers to watch the work he and his staff are completing. |
| | After creating the small indentations, Howard drills pilot holes (B) for the diamonds using Foredom's #30 handpiece (C) with the Foredom model TX flexshaft that features full torque at all speeds. The drill for the pilot holes measures 0.55 millimeters. The diamonds are 1.3 millimeters in diameter. After drilling the pilot holes, Howard uses a 1.2 millimeter ball bur to remove the rag of metal at the middle of the drilled hole inside the shank. |
| | He mounts the platinum ring in a clamp system. As he tightens the inside ring-holding adjustment (D), the small inside ring-holding device (E) expands and securely holds the ring. |
| | Howard has used the Foredom AllSet (F) daily for over 10 years for a variety of stone setting applications. Here he's attached the AllSet to his #30 handpiece and uses a 1.3 millimeter high speed setting bur to create the bearings. He slowly burrs each bearing using an AllSet channel guide (G) to control the depth of the cut. The AllSet Howard is using in the photo is the original model. The newer AllSet model is black and has a new top/end bracket. Both models work the same ultimately providing a marked overall improvement in setting quality combined with increased setting proficiency. |
| | To control the depth of the bearing cut, the AllSet guide height (H) is adjusted by turning the control knob (I). |
| | Next Howard places and seats the diamonds in their bearings. The height of the table is lower than the top of the platinum band. Using the Foredom Micro Motor with the Hammer/Graver handpiece, he lightly hammers platinum downward over the diamonds. The hammer/graver handpiece is connected to the control box unit by a coiled cord, maximizing maneuverability and ease of use. |
| | Howard mounted the graver holder collet (K) and a custom made flush setting chisel head (J) on the Micro Motor Hammer/Graver handpiece. The force of the impact can be adjusted from light to full by turning the metal ring. Light pressure and contact between the hammer/graver handpiece and the work piece activates the impact action. Howard used the optional foot pedal to control the impact speed. |
| | After setting each diamond, Howard uses Foredom rubberized Ceramic Abrasive Wheels to recreate a flat surface on the band. The wheels range in grit from coarse (120 grit) to super fine (1500 grit). They provide a fine luster prior to polishing. Howard then uses Foredom's Platinum Blue and White polishing and finishing compounds to complete the project. |
For information related to the featured Foredom tools, equipment and accessories visit Foredom tools
By Mark Mann
Technical Contributions by David Howard, My Jeweler, Inc., Albuquerque, NM -
© Mark Mann - 2006
All rights reserved internationally. Copyright © Mark Mann. Users have permission to download the information and share it as long as no money is made-n. No commercial use of this information is allowed without permission in writing from Mark Mann