Laser engravers can do wonders for a jewelry manufacturer's hallmarking process, making it more efficient and leaving a crisp, clear mark of even the most detailed logobut the benefits of this technology don't stop there.
As the cost of laser engraving equipment has come down in recent years and the degree of accuracy and versatility has increased, more jewelers have started looking at laser engravers as more than just marking tools.
On the following pages, you'll read about how three jewelry companies are putting their engravers to use as design tools, creating unique and personalized details that help set their jewelry apart.
Fable Designs West Jordan, Utah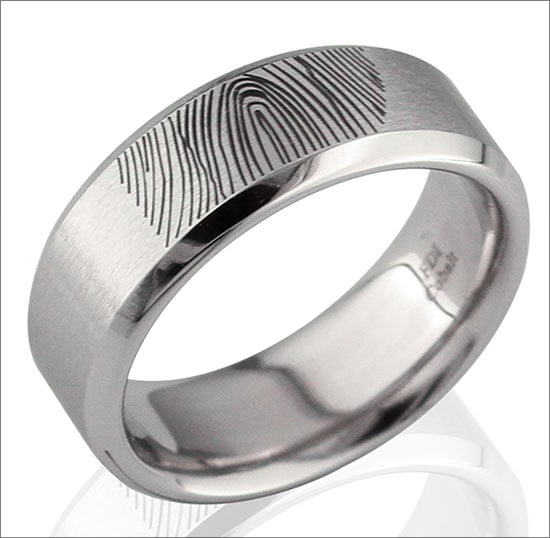 Fable Designs in West Jordan, Utah, manufactures custom wedding bands in a wide variety of alternative metals, including black zirconium, titanium, tungsten, ceramic, and cobalt. Company vice president Kathi Bogenschutz says Fable's business took off when it began specializing in customization. "More and more people are becoming aware that you can customize with laser engraving and let your imagination go wild."
Retailers send Fable virtually any design they can dream up, and the manufacturer uses its LaserStar FiberStar Laser Marking System from LaserStar Technologies in Riverside, Rhode Island, to provide the customer with a unique custom design. For example, one Father's Day gift the company created featured a child's drawing of a cat with a mouse engraved on the top of a man's ring. It's also been successful at putting fingerprints on both the inside and outside of rings using the FiberStar. Today's couple buying wedding rings might put one person's fingerprint on one side of a ring and the other person's fingerprint on the opposite side. In fact, Fable markets its ability to re-create fingerprints as an optional addition to its pink ceramic Susan G. Komen rings. The consumer can elect to have the fingerprint of a loved one who had breast cancer engraved on the inside of the ring.
All of these options simply require the retailer to e-mail an image of the design they want placed on the ring. Fable inputs it into the computer, verifies that the image will work on the size of jewelry chosen, and engraves the design. If there are any issues with the image working on the specified ring, Fable communicates with the retailer and adjusts the design accordingly.
"We work with the customer to see how we can use their image," says Bogenschutz. "Basically, anything that isn't copyright-protected can be engraved on one of our pieces."
Robert Corio Designs Johnston, Rhode Island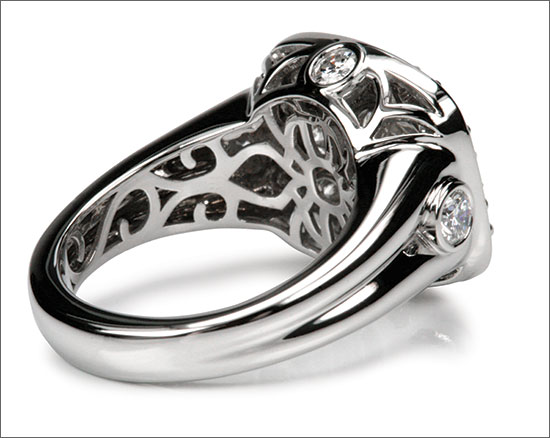 Robert Corio of Robert Corio Designs in Johnston, Rhode Island, prides himself on embracing technology in his shop. An avid user of CAD and rapid prototyping, Corio includes his Firescan 12W laser engraver from B&D Sales in Cranston, Rhode Island, on the list of his most essential tools. "Most jewelry manufacturers are using laser engraving as a hallmarking device, when in fact it can be so much more," says Corio.
While Corio does use his engraver to hallmark the roughly 60,000 pieces of jewelry his company manufactures each year, he also views the technology as a design tool for adding subtle details to his pieces. In the custom platinum ring shown here, Corio used the Firescan to cut an intricate pattern into a sheet of metal that he places on the inside of the ring as a gallery beneath the diamonds. "It's something special just for the wearer," he says. He cuts the design out of sheet stock, shapes it with a forming tool, lays it inside the hollowed out shank of the ring, and laser welds it into place before setting the diamonds.
He'll also work with individual customers to engrave exactly what they want on a piece of jewelryfrom a design that one of his salespeople sketches at the counter to a personal message or symbol hidden inside a ring shank. "It's so easy to utilize the machine that it's really on a customer-by-customer basis," he says. "The industry has become very personalized, and we can offer a product that meets that demand because of the technologies at our fingertips."
Edward Mirell Deerfield Beach, Florida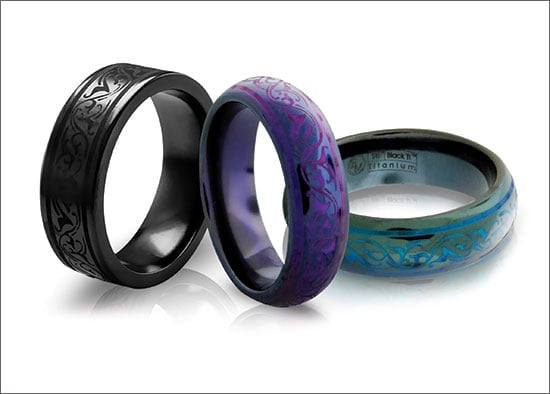 Since introducing laser engraving into its operation more than a decade ago, Edward Mirell of Deerfield Beach, Florida, has experimented with applying the technology as a design tool. In the trademarked Black Ti Rain collection of titanium jewelry, the manufacturer uses the EasyJewel from Rofin-Baasel in Devens, Massachusetts, to engrave elegant patterns on rings, pendants, and earrings. The pieces are then anodized for a colorful two-tone effect, as the process produces different hues of color within the recesses of the engraved design and the surface of the piece.
In addition, the speed afforded by the technology enables Edward Mirell to react quickly to market opportunities with personalized jewelry designs. For example, when the tsunami washed over Japan in 2011, the company engraved a titanium dog tag with the word "hope" in Japanese and a bonsai tree on one side, and the word "HOPE" in English on the other side. The design team was able to move from concept to production one day after approving the artwork and manufactured about 300 pieces. All profits from the Kibou Dog Tag sales were donated to the American Red Cross Tsunami Relief Fund.
The company also uses laser engraving technology as an option to fulfill its customers' requests for personalized products. "We have customers with a special event or fundraiser in their area, and have created one-off pieces for them," says Adam Rosenberg, Edward Mirell's director of business development and sales. "Overall, laser engraving has moved into a spotlight role as one of many unique design options in select signature pieces. Stories can be translated quickly and with great precision, allowing art and science to be reflected in inspired jewelry creations."