A country whose flag is comprised of four different colors must love vivacity. Brazil and the Brazilians most certainly do. The warm and friendly sunlight that mostly smiles benignly on the largest country in South America sets Brazil's magnificent colors alight. Color is omnipresent in nature, in clothing, in celebrations and naturally also in jewelry. Colors love Brazil in the same measure that Brazilians love color.
It is no coincidence that the country is blessed with vast reserves of natural, colored gemstones and is therefore among the seven largest gemological provinces in the world. Some of the most popular gemstones from the depths of Brazilian soil include emeralds, citrine, agates, amethysts, tourmaline, aquamarine, imperial topaz and quartz crystals.
C.R. Brüner is one of the youngest, boldest and most dynamic companies on the Brazilian jewel market. Their sophisticated collections are illuminated by a mix of gems, colors, traditions, tonalities and cuttings, beautifully showing the joy and spontaneity of the Brazilian soul. The use of mandarin and topazes, differently colored sapphires, chalcedonies, beryls, chrysopases, morganites and tourmalines create a magic explosion of colors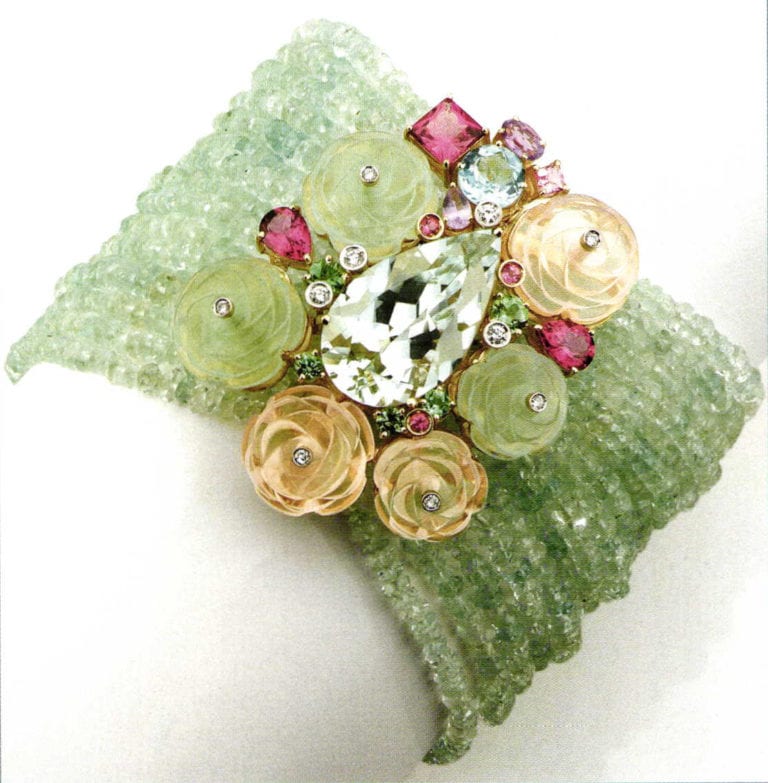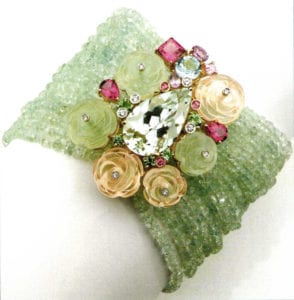 Brazilians are known throughout the world for their bubbly joie de vivre, which is expressed among other things in their exuberant celebrations with magnificently gaudy costumes and decorations. Carnival, famous across the globe for its richness of color and its rollicking party atmosphere, is just one example of this. But even in everyday life, Brazilians are at pains to present themselves perfectly styled and with a carefully sculpted appearance. A well-honed, groomed physique is just as much a part of the Brazilian ideal of beauty as a colorful and well-stocked wardrobe. It is hardly surprising therefore that jewelry has a special significance. Brazilians love jewelry and love adorning themselves. The confluence of a lifestyle dominated by happiness, music and exuberance and the veritably gigantic deposits of colored gemstones has created a style of jewelry that is more extravagant, vivacious and joyous than in any other country in the world. Indeed, we can observe that the Brazilian jewelry industry designers and also manufactories are – successfully – increasing their efforts to attract interest from other countries. Over the past few years, for example, new markets were developed in Russia and Saudi Arabia; they are proving to be increasingly receptive due to the high quality of Brazilian gemstones and the vast variety of the jewelry design.
Brazilian style
More even than precious ingredients, design is one of the main elements in increasing the value of jewelry. Brazilian jewelry designers have succeeded in creating a typical, national style of jewelry with their original, "Brazilian-flavored" jewelry design – which is valued on the basis of its quality and creativeness and not solely on the price. Not least due to the variety of colored gemstones and a rich cultural and environmental diversity, Brazil offers its designers ideal arable land to express the richness of their ideas to the absolute maximum. The uniqueness of Brazilian design, which is now admired throughout the world, lies in the secret of combining the typical traditions of the country with all their colors, forms and – in some cases religious significance – with the natural reserves of colored gemstones and the constant development of new technologies in the production of jewelry. It is not precipitous to say that Brazilian jewelry has developed its own language characterized by sensuality, levity, creativity, spontaneity and an eternal openness to what is different in the world.
International design awards
Manifold variety, audacity, sophistication and elegance of form, combination and color – these combined characteristics represent the trademark of contemporary Brazilian jewelry design. Jewelry that dresses itself in such attributes not only suggests motion, sensuality and joy, it also wins prizes and awards around he world. The talent of Brazilian jewelry designers has been recognized in the most important international design competitions. For example, jewelry design submitted from Brazil regularly wins coveted awards at the World Facet Award, the Diamond International Award, the Gold Virtuose Award, the International Pearl Design Contest or the two major design competitions in Germany, the reddot design award and the IF Design Award. IGBM Award of Design, which has been organized by the IGBM (Brazilian Institute of Gems and Precious Metals) since 1991 for Brazilian jewelry designers, is regarded as the stepping stone to international competitions. The contest is seen as being part of a process in which new talents are discovered and promoted and contacts to the industry are promoted.