Andy Cooperman's Sargasso Server, a contemporary sterling silver fish slice, evokes life in the sea. The blade resembles a squid's tapering, almost conical head, trailed by silver and gold "tentacles" that form the handle. These long, interwoven strands of metal also suggest tangles of kelp, or sargassum weed. The transitional piece between handle and blade imitates the flared movement of a jellyfish and the nodular texture of a sea urchin.
A Seattle metalsmith who works primarily as a jeweler, Cooperman received this commission from local collector Benton Seymour Rabinovitch after years of association through the Seattle Metals Guild. Rabinovitch's renowned collection of antique bladed silver servers has grown to include pieces commissioned from contemporary metalsmiths. The collector required only that the new server be primarily sterling silver and weigh at least 10 ounces.
Design
Instead of designing hollowware, Cooperman decided to construct the server's handle by weaving together long tapered strips of 16-gauge sterling silver. He rolled each strip against an incised steel pattern to impart a striated texture. To establish the handle's general shape, he twined several larger strips into an elongated spiral, then threaded in smaller strips to build dense layers, obscuring the void at the handle's core and encouraging visual investigation.
Cooperman replicated a silver tendril and replaced it with an 18-karat gold copy to create the striking gold tendril that curls around the handle's tapered tip. He fabricated the blade from 14 gauge sterling sheet and added a cast 18-karat gold bolster, inset with a small diamond. After soldering the piece repeatedly to ensure stability, Cooperman burnished all edges, wire-brushed the surface, and oxidized the server black. This unusually dark-toned silver distinguishes Sargasso Server in Rabinovitch's notable collection.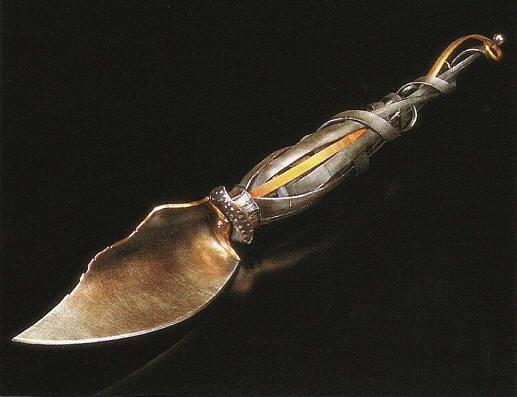 Andy Cooperman Sargasso Server, 2002
Sterling Silver, 18k Gold, Diamond, Grey Pearl; Length: 13 ½"
Commissioned by Benton Seymour Rabinovitch