This article page is from a section "Favorite Tips" from BENCH Magazine 2002 submitted by readers and BENCH Magazine Staff. Read on for more details.
~~~~~~~~~~~~~~~~~~~~~~~~~~~~~~~~~~~~
A ring roller designed to enlarge rings can be used to tighten stones in a channel set wedding band. Select a half-round die larger than the width of the band; making certain the die will contact the tops of the channel without hitting the stones.
Apply gentle pressure and roll across the entire channel, compressing the metal down tight onto the stones. Then, remove the ring and check the stones. Repeat as necessary. DO NOT Over Tighten The Die Against The Ring. This process will leave the channel smooth and even.
~~~~~~~~~~~~~~~~~~~~~~~~~~~~~~~~~~~~
If you're tired of butterfly guards breaking, pinching or snagging or the sticker shock of other arthritic shanks try this idea. It has worked for over a year on this Platinum ring. order 18Kw gold to make it. I used 1 x .75mrn flat shank material and rolled it to .5mm to add spring. The metal is then curved to match shank shape. Make a jump ring that is proportioned like picture and solder it on to end.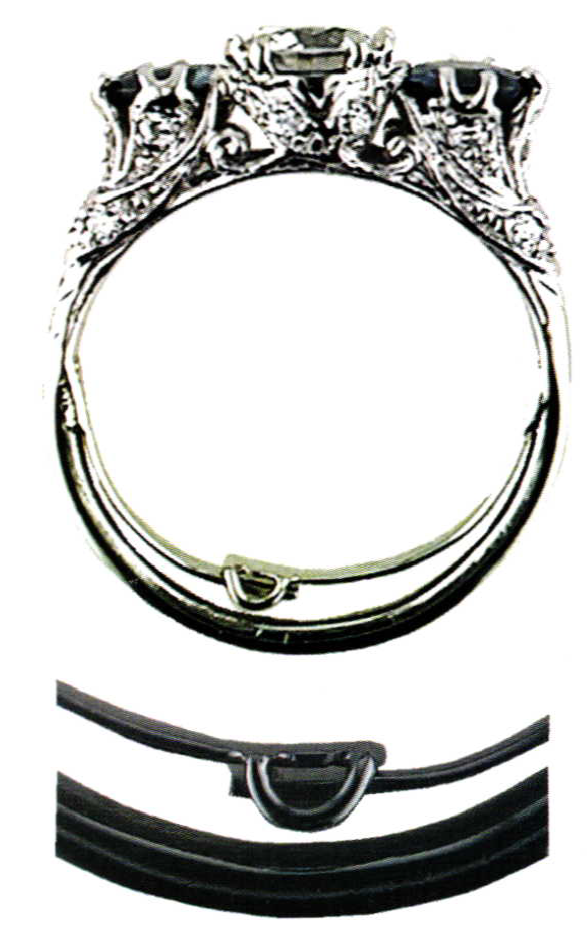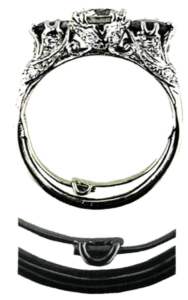 Curve the jump ring so when the pieces spring down toward the shank they give each other stability as well as not pinching the skin. This also makes the jump ring act like a guide. Make sure when fully compressed against the shank that the jump ring side still overlaps slightly. Solder the non jump ring side first so aligning the jump ring side with the correct amount of flex is easier to do.
– Steve Satow (see article for Tools Alterations)
~~~~~~~~~~~~~~~~~~~~~~~~~~~~~~~~~~~~
Take a warm ball of Jett Sett and squeeze the lower third in a ring clamp. Then, allow to cool.
To use re-heat the top of the ball to secure the item of jewelry and re-clamp the ball in your ring clamp.
~~~~~~~~~~~~~~~~~~~~~~~~~~~~~~~~~~~~
See Also: