There is something of the alchemist's magic in Pat Flynn. Like those artful wizards of long ago, he changes common materials into objects of value and delight. Rusty nails, chips of slate, slivers of ivory snatched from discarded piano keys*all transform under Flynn's skillful hand, emerging as delicate pins and brooches.
Embracing "all those things that mean 'function,"' the 28'year-old artist creates palm-size works that become wearable sculptural drawings. Seemingly simple, the pieces harbor an intensity and detail that entice the viewer to linger over them, yet never overpower the wearer. They have earned Flynn a growing reputation as a creative innovator in the field, evidenced in his numerous workshops and exhibitions, including "Young Americans: Metal"; "Copper II"; and "Good as Gold," the Smithsonian traveling exhibition of jewelry made from non-precious materials.
Slate Pin with Slot, with sterling, 14k gold, colored pencil, 1½ x 1½ x ¼", 1981. Photo: Ralph Gabriner
In its miniature elegance, Flynn's work redefines our notions of richness. While many of the pieces feature elements of silver and gold, it is the incorporation of common materials which expands their meanings. Ignoring monetary value and tradition, Flynn chooses substances for their contributions of color or texture. Pewter and slate lend a rich grayness; ivory yields a delicate translucency; rusty nails and barbed wire reveal a character and history of their own. Drawing inspiration from his rural Pennsylvania upbringing, Flynn captures personal memories of farm life and the out'of'doors in his work. "Many of my works spring from images and feelings from my childhood on the farm," Flynn comments. "Daily life, with its patterns and rhythms, had a good discipline there. Many of the materials, colors, and textures I work with come from memories of those daily tasks-both good and bad."
Flynn's rural experiences are complemented by his academic years at Edinboro State College in Pennsylvania and later studies at the SUNY New Paltz campus. These years, Flynn admits, gave him the solid grounding in skills and techniques he later refined working in the trade. After receiving his BFA in 1978, Flynn set up his own studio in New Paltz with his wife, Sue, and son, Jason. Renovating old houses in the area provided a part-time income while he developed his own work and tried to digest "everything that had been crammed into those years in school."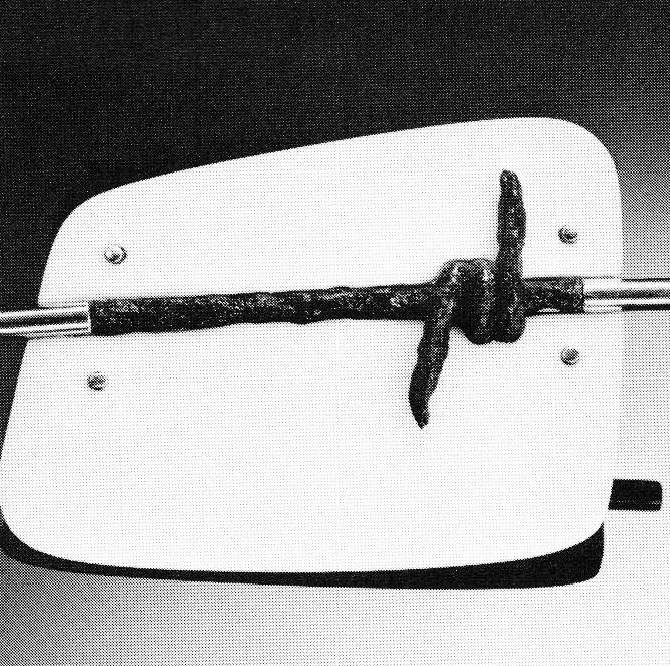 Ivory Pin with steel, 14k gold, 1 x 1½ x ¼", 1979
Dismantling old houses, Flynn became enamored with the qualities of many of the discarded materials, pocketing them with the thought that "they might turn into something someday." A short while later Flynn took a position in the jewelry industry as a designer and model maker, enduring a daily predawn commute to New York City. Though exhausting, the experience enabled him to perfect his skills as a goldsmith and provided a grounding which makes him highly sought after for private commission work. After nearly three full-time years with the trade. Flynn decided to work with industry on a freelance basis, which he still does frequently.
Flynn admits that much of his interest in non-precious metals came as an outgrowth of his New York City experiences. "When I was working in the City, I would sit at a bench all day long, working shoulder to shoulder with other people. I might be soldering for eight hours straight. The last thing I wanted to do when I was back home in my own studio was to solder or work with a piece of metal. I also wanted to isolate: New York was about metal; New Paltz and my own studio was about non-metal."
Beginning to investigate alternative materials. Flynn rediscovered many of the remnants he had saved from his earlier renovation work. "I would get an idea for a piece," he recalls, "and when I would go to my studio the materials would already be there. It was as if I had subconsciously made the work, as if it was all supposed to happen."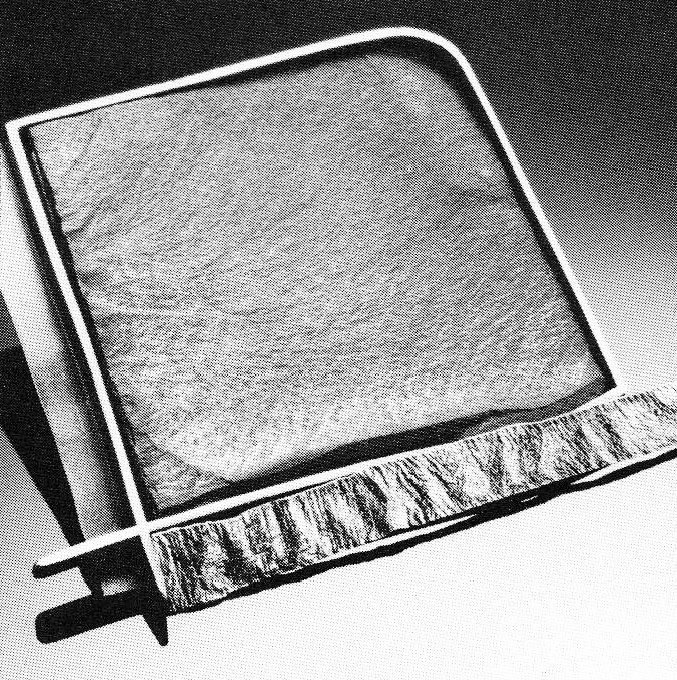 Slate Pin with Slot, with sterling, 14k gold, colored pencil, 1½ x 1½ x ¼", 1982. Photo: Ralph Gabriner
Escaping the structures and demands he fins working in industry, Flynn intuitively pushes his work to that realm where creative mischief meets the pleasant surprise. Removed from the "rules" of the trade, Flynn explores the possibilities of uncommon juxtapositions in his pieces. With a mischievous whimsy he may set diamonds in "something as 'icky' as lead, which will oxidize in a few hours, but then has a wonderful rich gray color." In the same spirit, he has also planished 14k gold on a rock "to pick up an incredible texture" for his pieces.
This element of surprise is consistent with Flynn himself, who appears – standing 6'2″ tall and sporting a beard – more a rugged outdoors-man that a maker of matchbook-size jewelry. The power of Flynn's work, however, lies beyond mere iconoclasm. While the raw materials may be essentially crude, Flynn personalizes them with meticulous craftsmanship, transposing them from mundane to meaningful.
Slate Pin from 1982 is an example of this transformation. A celebration of texture, the work reveals Flynn's sensitivity to material, surface and line. Undulating gracefully, the central slate component is highlighted by subtle blue-violet hues from colored pencils. Below, a texture ribbon of 14k gold contrasts with a sterling silver perpendicular band and frame, hinting at an organic grid like structure.
Flynn's self-imposed challenge of capturing "giant energy in a little, precious thing" is evidenced in his 1981 Slate Pin with Slot. Inspired by the monolithic forms of tombstones, the work expresses the presence of such monument within the span of merely one-and-a-half inches. The blue-gray slate is bisected with a jagged vertical cut, punctuate with a miniscule block of 14k gold. Flynn has again employed colored pencils in this work, accentuating the rough textures of the slate in contrast to the smooth sterling silver band at the bottom.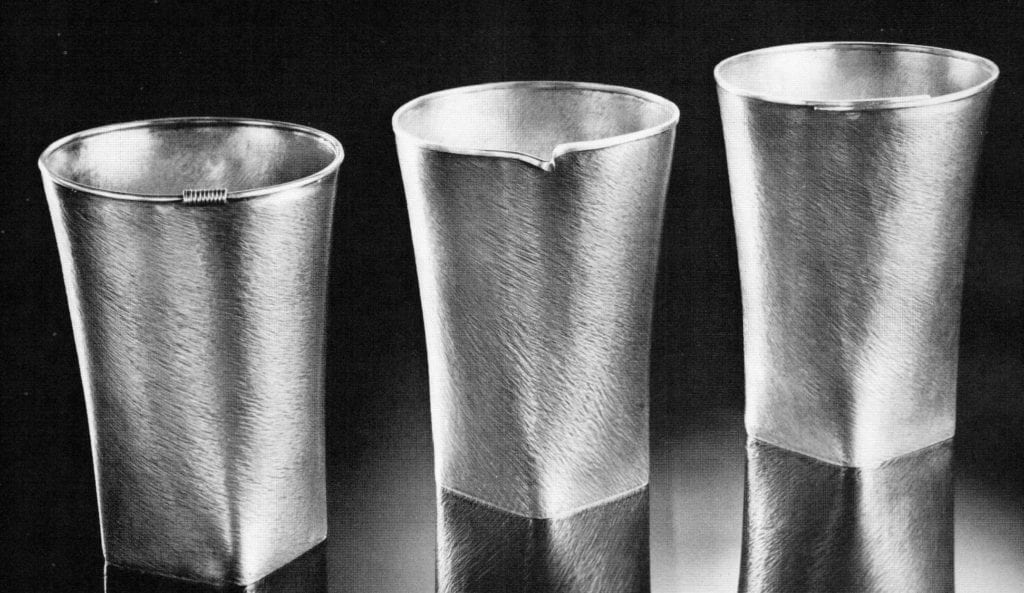 Pewter Drinking Cups, with sterling, 14k gold, silver and gold plating inside, 3½½ x 2½ x 2½", 1982. Photo: Ralph Gabriner
This same large-scale presence is contained in an earlier work, Ivory Pin. While the piece expresses many of the artist's personal memories, it also makes a powerful statement to a wider audience. Flynn establishes a startling juxtaposition of repulsion and attraction in the work by embedding a rusty strand of barbed wire in translucent ivory. Gold-tipped caps, reminiscent of cowboy's boot tips, elevate this rusty discard to a higher status. Flynn has created a context to focus our attention on this common material, shifting our perceptions of its meaning.
The gray oxidized surface of pewter is contrasted with gold and silver elements in a set of drinking cups from 1982. Flynn finds pewter to be an expressive material, one that permits him to work loosely and quickly. The outer forms are constructed using simple wooden tools, changing from round rims accented with gold detailing to squarish bottoms. Flynn recently shifted from hand-formed silver-plated interiors to sterling silver commercially spun linings for these pieces. The change creates a new dimensional relationship of a double cup – round interior bottom and squared exterior base – and presents a pleasing duality of primitive versus modern.
Flynnn enjoys this continual dialogue between the technical and the nontechnical in his work, and comments, " I don't get caught up in technical virtuosity, although my work is done very caringly and thoughtfully. I use a very limited set of tools so I don't get encumbered by machine and can stay in touch with the pieces I make." He admits that his goldsmithing skills not only enable him to fabricate unusual materials with precision and sophistication, they also underscore his credibility as a jeweler. "When other metalsmiths look at my work – if they can get beyond the materials – they usually appreciate it. When you're working on such a small scale and not a lot is going on in a piece, it has to be done very carefully – and it shows immediately if you have succeeded or not."
Terri Lonier is head of Lonier and Associates, a New York City consulting firm for the arts.