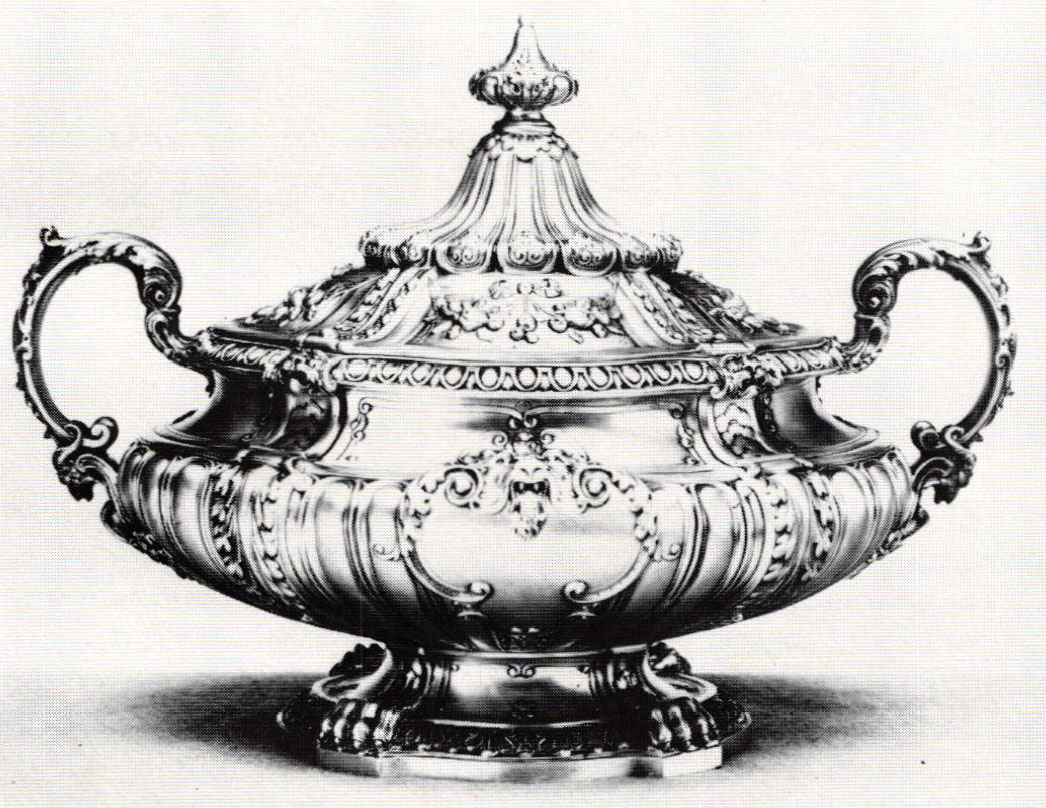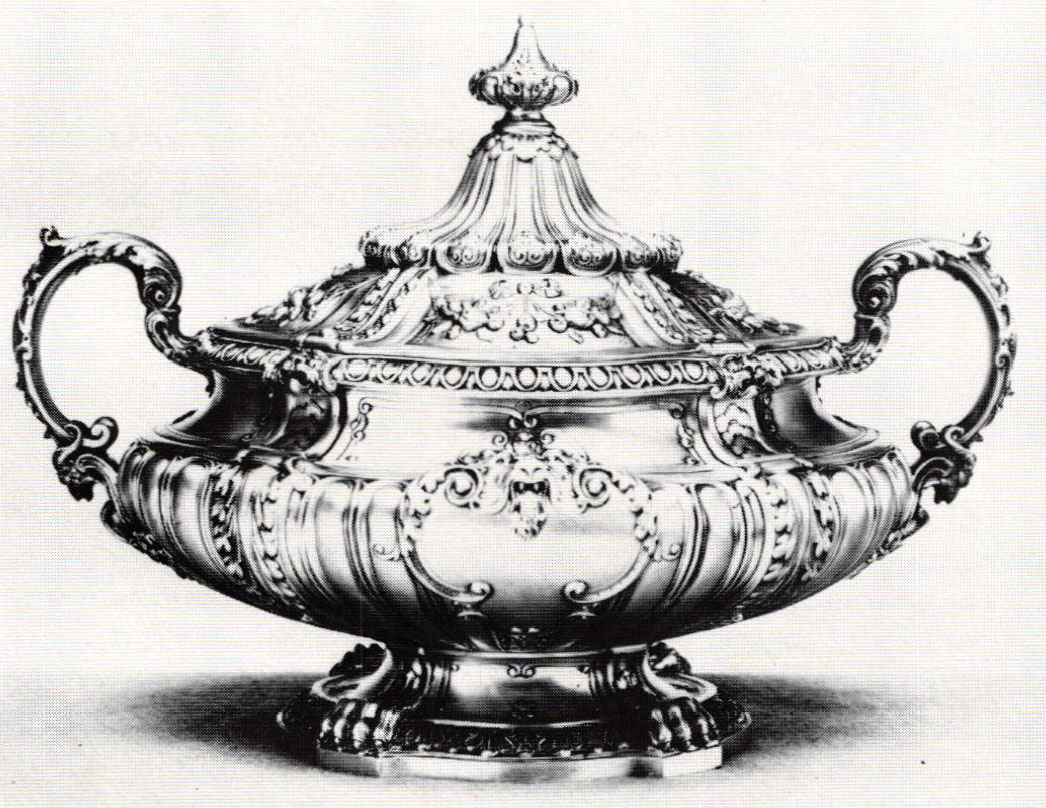 Gorham Masterpieces in Metal Exhibition
---
9 Minute Read
Gorham Company was 45 years old when its 2,000-ounce "Century Vase" celebrating the nation's centennial won great acclaim at the Philadelphia Exposition Over the next hundred years Gorham maintained its prominent position through both its design innovation and industrial development. The exhibition recently assembled and presented by the Museum of Art, Rhode Island School of Design, from October, 1983 through February, 1984 further confirmed, if any proof was needed, that the Gorham tradition of excellence is well-founded and deserves our recognition.
The show represented a huge effort, collecting over a dozen presentation pieces, almost 50 framed renderings, and over 100 other objects, almost all in silver. A unique feature of the exhibit was its panoramic view. Since Gorham has been a leader in holloware and flatware since the mid-1800s, a comprehensive collection like this offers a valuable historical survey. Particularly when augmented by Charles Carpenter's excellent book, Gorham Silver 1831—1981, the history of Gorham traces a pattern of design trends and economic shifts that is as fascinating to the social historian as it is to the metalsmith.
The Gorham Company was started in 1831 by Jabez Gorham, who built his business primarily on the making of coin silver spoons. Working out of a small frame building on Steeple Street in Providence, Rhode Island, Gorham and a handful of employees began each day by pouring an ingot of .800 silver. Using tin dies and traditional hand methods, each worker produced about a dozen spoons in an 1 1-hour workday. These were marketed through stores and sold by peddlers who traveled throughout rural New England.
In 1848, John Gorham bought out his father's share of the company. John's vision and aggressive business practices pushed the company out of the pack of small shops making similar wares. After doubling his capital by going into partnerships with his cousin, Gorham Thurber, John went to England in 1852 to buy a steam-powered drop press. Its inventor, James Nasmyth had been trying unsuccessfully for several years to persuade the factories of Sheffield and Birmingham of the value of his press. He was delighted to learn that his machine had at last found an enthusiastic backer and delivered a press to Providence the following year. While in Europe, John Gorham also convinced several designers and craftsmen to emigrate to Rhode Island to work for him, establishing a pattern of hiring that was to continue well into the 20th century.
The major personality of this wave of imported designers was George Wilkinson, who came to work for Gorham in 1857. For the 30-year period beginning with his ascension to the position of chief designer in 1860, Wilkinson led the company in an ambitious course of growth and diversity. Wilkinson directed several styles including a High-Victorian, Renaissance Revival, Neo-Classical and Japanese-inspired direction. He extended his authority into the daily workings of the company by serving as plant manager and is largely responsible for the expansion and modernization of the company that continued through the latter half of the 19th century.
The several decades bridging the 19th and 20th century were dominated by a new designer and a new president at Gorham, W.C. Codman and Edward Holbrook, respectively. Holbrook was an aggressive tycoon of the silver business, intent on becoming master of the industry. He took over the company at a time when it had just built and moved into the largest silver manufacturing plant in the world, located in the Elmwood section of Providence. Preoccupied with the boardroom side of the business, Holbrook needed a strong personality to direct the design and technical operations of the plant. He found such a person in William Christmas Codman, an ecclesiastical designer from England. Codman came to the States in 1892 when he was 52 years old, and retired in 1914 after working for Gorham for 23 years. His tenure at Gorham was marked by many awards and distinctions. One of his masterpieces is the lady's writing table pictured here. It illustrates his love for luxurious surface treatment, his knowledge of woodworking and exotic materials and his ability to combine many elements into a controlled and elegant design. During this time he acquired 55 design patents for flatware, including one for Chantilly, the most popular flatware pattern in the world. He designed hundreds of pieces, and his workmanship put Gorham at the leading edge of the Arts and Crafts Movement in America.
We can assume that Codman's early English training familiarized him with the Arts and Crafts philosophy of integral design and the value of handwork. He had brought with him from his homeland seeds that were slowly to mature into a line of art pieces called Martelé, meaning "hand-hammered" in French. The look of these designs is Art Nouveau, inspired by sinewy natural motifs and turning frequently to exotic materials and unexpected proportions. The deeper value of The Martelé line lies in its philosophy. Under Codman's direction the company gave up its assembly-line methods for art pieces, allowing a single workman to make each piece from start to finish. Although it had been the tradition for designers to specify every detail of a piece, the Martelé line originated with rough drawings interpreted by the worker through forming or chasing processes This digression from traditional methods was a tremendous gamble and apparently one that paid off. Though these art pieces were not big moneymakers for the company, they earned Gorham prestige in both the United States and Europe.
During World War I Gorham suffered an economic decline that lasted several years. Leadership of the company had fallen to John Holbrook who lacked his father's drive, while the position of chief designer had passed to William Codman, son of William C. Lacking his father's talent and vision he became stridently reactionary, imposing binders on the company's design outlook and subsequently diminishing the lead it had achieved around the turn of the century. After several years of turbulence, a businessman named Edmund Mayo became president and began to regain the company's stature. Though William Codman remained chief designer, Mayo hired a noted Danish silversmith, Erik Magnussen, to work independently of Codman. His refined shapes and unadorned surfaces were antithetical to Codman s Colonial Revival designs. These two directions split the company, and the esthetic direction of the company wavered, becoming secondary to its commercial growth.
Economic and cultural changes over the last 30 years have diminished both the appreciation of and market for large silver pieces. These changes of course, have affected Gorham, where one-of-a-kind pieces are now far less important to the company than they once were.
The Exhibition
I walked into the museum hall expecting to see many of the vast punch bowls and soup tureens that emerge from unknowable sources for occasions like this. I did see them, but there was more. The exhibit was installed in a single room in a straightforward, if not particulary imaginative arrangement The walls of pale beige fabric were hung with large color renderings. each in the same simple oak frame. The center of the room displayed two exquisite small tables each a work of untold labor. The pieces were arranged more or less chronologically, which meant that they were also grouped by style. A case at one end of the room offered examples of several techniques in various stages of completion, each with an explanation of the technical process.
The punch bowls, so massive and imposing, were difficult to assimilate at once. In most cases, the raised form had been lost, beneath a frosting of high relief and complex chasing. This is so far removed from the metalwork familiar to most of us that it offers no easy point of entry. I found myself standing in front each piece looking for a section I could understand. This is not to denigrate the high level of craftsmanship these pieces embody, but to suggest that the response they generate is not so much an immediate, heartfelt appreciation, but a more distant and thoughtful respect.
The several cases of spoons and small containers held a more vital attraction. The spoons included some very early pieces, whose traditional fiddle handles owe their charm to miserly thinness and evident use. Also on display were more elaborate pierced serving pieces and ladles, some with handles straying so far from convention as to be almost kitsch, The Victorian eclecticism, for instance, that introduces oriental motifs to gothic patterns has a naive daring. The cigarette cases and matchsafes were less flamboyant, but because of their size they presented an easy reference to contemporary work.
Several examples of the Scandinavian Modern look made a welcome opportunity to see at firsthand work for the most part shown previously in books. The confidence of these forms and their impeccable workmanship were striking. In this context of highly ornamented pieces, they are a particularly effective statement.
There was, as well, unexpected humor in the exhibit. The last years of the 19th century—adolescent years of the Arts and Crafts and Art Nouveau—movements instigated many fantasy pieces. An example is the trompe l'oeil plate made entirely of silver. It resembles a woven straw disk onto which a fancy dinner napkin has been carelessly dropped. The design is eye-catching, the workmanship elegant and the effect of the whole is one of inspired humor. Another example is a pair of spoons, again made entirely of silver. The bowl appears to be a shard of beaten metal, and the handle a bamboo twig. Though the spoon was made as a single whole, careful carving implies that the pieces are lashed together with a rough cord, like some tribal utensil. Fresh, unusual and preposterous enough to be funny. There is as well a large pitcher resembling two snakes curled around one another and a mammouth turtle that is actually a soup tureen, and so on.
The renderings were a pleasant surprise. These were usually actual-size gouache drawings, often on gray or tan paper. Particularly in the case of the older work, where the flourishes of the Rococo Revival might hold little appeal, these drawings came off better than the actual silver pieces. Of course it is a late-20th century perception that is so crass, but that the drawings should have such a life of their own was an unexpected pleasure.
If there was a disappointment in the show it was that the work was somewhat crowded together. But despite this, the exhibition was a potent and pleasant survey, particularly timely in this generation of businessmiths concerned with the interplay of creative work and the rigors of manufacturing.
An exhibition of work produced by Gorham Manufacturing was on view at the Museum of Art, RlSD, in Providence, Rhode Island, from October 14, 1983 to February 4, 1984. Information for this review is drawn also from the book Gorham Silver 1831—1987 by Charles H. Carpenter, Jr.
You assume all responsibility and risk for the use of the safety resources available on or through this web page. The International Gem Society LLC does not assume any liability for the materials, information and opinions provided on, or available through, this web page. No advice or information provided by this website shall create any warranty. Reliance on such advice, information or the content of this web page is solely at your own risk, including without limitation any safety guidelines, resources or precautions, or any other information related to safety that may be available on or through this web page. The International Gem Society LLC disclaims any liability for injury, death or damages resulting from the use thereof.
---
The All-In-One Jewelry Making Solution At Your Fingertips
When you join the Ganoksin community, you get the tools you need to take your work to the next level.
Become a Member
Trusted Jewelry Making Information & Techniques
Sign up to receive the latest articles, techniques, and inspirations with our free newsletter.