For Alex and Ani, booming success points back to manufacturing locally, with love. Pharmaceutical salesperson Kelly Oliver logs thousands of airline miles every year — and she never flies without her St. Christopher bangle, her sacred source of protection.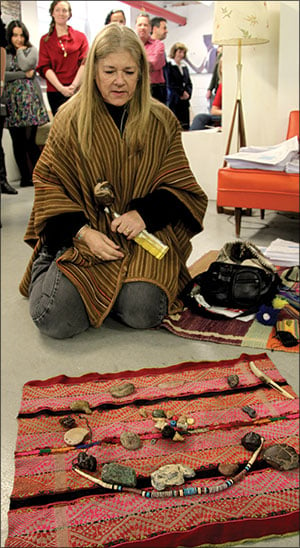 For her 25th birthday, Amy Sonata's boyfriend, Zach, presented her with several bangles: "A" and "Z" charms standing for their names, a heart symbolizing their love for each other, and two starfish and a Martha's Vineyard charm representing the beach on which they met.
Breast cancer survivor Lois Paredo wears a set of three bangles every day: the ribbon of strength charm, "Hope" charm, and pink crystals. A symbol of her triumph over the disease, the bangles also support a cause close to her heart; 20 percent of sales go to the Gloria Gemma Breast Cancer Resource Foundation in Rhode Island.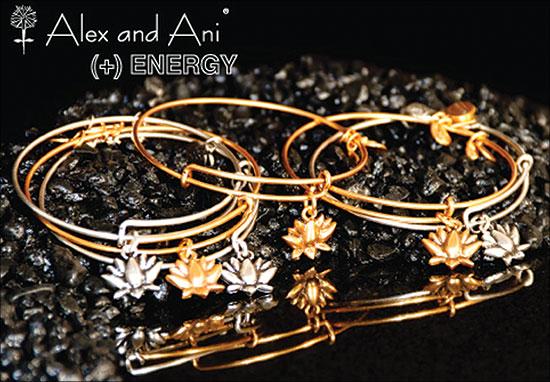 For these and countless other women, the sentimental and expressive bangles — all made by Cranston, Rhode Islandbased Alex and Ani — are more than just accessories; they're personal treasures with which they make an emotional connection. They have, says company founder and creative director designer Carolyn Rafaelian, "heart and soul — positive energy."
And that same heart and soul can be seen in the company's devotion to its local roots. Alex and Ani uses the tagline, "Made in America with Love," and if it weren't so wordy and clumsy it would probably be, "Made in America, Specifically in Rhode Island, with Love." Rafaelian is proud of the fact that her operation is almost entirely supported by Rhode Islandbased suppliers and contract service providers — a tradition that is rooted in her family's history.
"My father started a jewelry manufacturing plant in 1966, and I grew up in the business," she says. "I was born and raised a jewelry manufacturer in [what was called] the 'jewelry capital of the world.' And as more companies moved production overseas, I watched Rhode Island start to lose that reputation. I will bring it back with Alex and Ani."
Prior to incorporating her brand in 2004, Rafaelian did private label fashion jewelry manufacturing for such prominent names as Chico's and Victoria's Secret — and she never once considered outsourcing overseas. "There is no fun in watching boxes of finished product come in one door and go out another," she says. "What's fun for me is to walk around a factory and see a bunch of people listening to music while soldering, gluing stones, or assembling components. I need to be able to watch my product being made in front of me by people who love being there. It's in my blood."
Working with local refineries and mills to source the materials for her line, the majority of which is composed of base metal with sterling silver and gold plating, Rafaelian contracts with local service providers for anything she doesn't do in-house. For example, a nearby plating company plates the wire that she uses in most of her pieces, while a stamping subcontractor stamps the charms and brand tags for the line.
"Through our growth, we have helped some of our subcontractors stay in business," she says. "The companies we work with have had to add second shifts, hire more staff, or build bigger facilities to help produce our product. As we build our brand, we are 100 percent committed to building up our community along with it."
Explosive Growth
If the last two years are any indication, Alex and Ani's community is destined to be a boomtown. In 2011, the company's revenue was between $17.5 million and $18 million; this year, that number is projected to grow to over $50 million. "And that's a conservative estimate," adds Rafaelian.
Alex and Ani launched its first retail store in Newport, Rhode Island, in the summer of 2009. In just under three years, it has opened another 10 stores around the country. Under the direction of CEO Giovanni Feroce, who joined the company in 2010, Alex and Ani's distri-bution in other retail outlets has grown exponentially. "We have in excess of 800 individual accounts in boutiques and stores such as Nordstrom and El Corte Ingl?s S.A., Europe's largest department store group," he says.
But the most notable trend of late has been the company's success with placing its plated base-metal product in fine jewelry stores across the country. "Five years ago most of these stores would never even have considered it," says Feroce. "But today we are getting calls from fine jewelers who are asking us if they can carry the line."
Feroce tells the story of a reputable Rhode Island fine jewelry store owner who walked into his office demanding to get the line. "He came in and said, 'My mother wears it. My daughter wears it. My wife wears it. My sister wears it. I've got to have this in my store!'"
Given the steady rise in metals prices over the past few years, it's no surprise that fine jewelry retailers are searching for a branded, affordable, fashionable product to fill a niche in their stores. A plated bangle with a charm starts at about $24, so a consumer can leave the store with an impressive stack of eight for less than $200.
When asked what they believe is contributing to the company's explosive growth as a U.S.-based jewelry manufacturer, Rafaelian and members of her management team cite the following:
Marketing Savvy
Log on to alexandani.com and in less than five minutes you'll have a very good feel for what the company is all about. The photography, videos, and copy paint a cohesive picture of the company while showcasing its individual products and their meanings. "Every Alex and Ani customer is unique, and our products reflect that," says Rafaelian. "The symbolic pieces reflect differently to each person, and our brand speaks to consumers across all demographics, in every age group, and with all belief systems. [We determined] how to reach our customers [through] community outreach, interaction with consumers, and customer feedback."
And with the help of Mediapeel, a Lincoln, Rhode Islandbased ad and media agency, Alex and Ani communicates its message with the world. Just a few months prior to presstime, Alex and Ani went from being Mediapeel's largest client to acquiring a majority stakeholder position in the agency.
The acquisition, says Feroce, is one of the top decisions he's made as CEO. "We now have the ability via video and marketing to showcase what we as a company are doing on a daily basis and present our work at various locations and events," he says.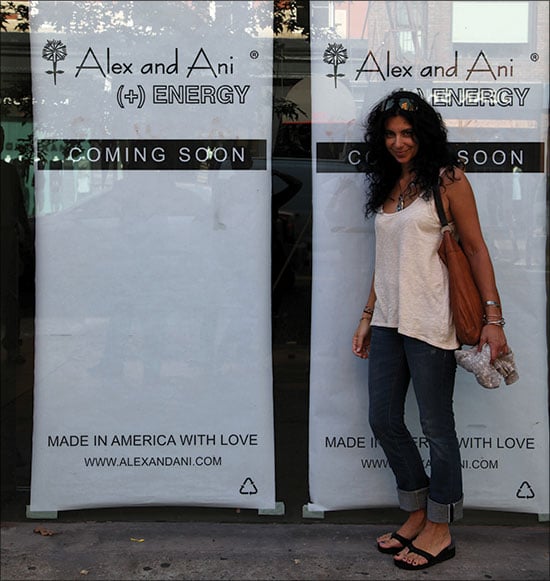 And it's not only good for Alex and Ani, but also for its retailers. "It gives us the ability to produce quality ads and other creative materials for stores that sell Alex and Ani jewelry, and get better rates purchasing media spots so we can pass along savings to individual account holders," he adds. "It maximizes revenue for us and minimizes expenses for our retailers."
Product Quality
Because it has 100 percent control of how its products are manufactured, Alex and Ani makes quality its number one priority. Carolyn's sister, Rebecca Rafaelian, runs the company's production facility, which is located about a mile away from its headquarters in Cranston, Rhode Island. She personally oversees all product entering and leaving the facility.
"Because our jewelry is so affordable, I'm not sure people expect to hear that every piece is inspected for quality before it goes out the door," she says. For example, inspectors check to make sure jump rings are properly soldered, the branded quality stamp is affixed to each piece, and the item matches the design specs on the tag.
One of the biggest benefits of manufacturing high-volume base metal goods in the U.S. comes when its time to test the products to ensure they meet Consumer Safety Product Commission standards for lead and cadmium. "Even though we don't actively market our products to children, we test all of our lines to ensure they meet the standards," she says. And for some pieces, such as the branded Disney and MLB products, testing is mandatory.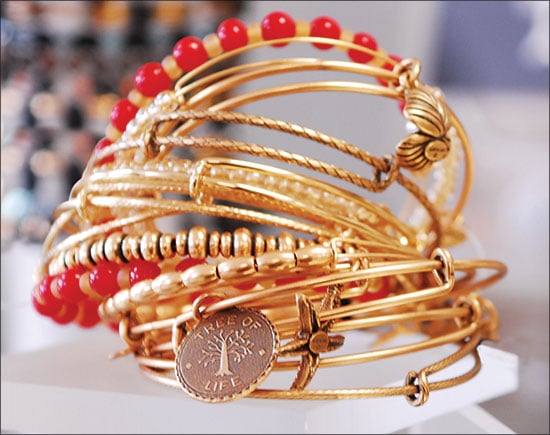 Rebecca Rafaelian says manufacturing in the U.S. and using a local company to test its goods provides a far greater level of control than possible when outsourcing. "When you are importing 10,000 pieces, you might have a sample lot come in, test it, and everything is fine," she says. "But when the entire order is ready but it can't come into the states because the lead levels are too high, you have a big problem."
At present, the only problem that seems to be facing Alex and Ani is keeping the smiles off the faces of its employees as the company continues to grow by leaps and bounds. And much of that success, Rafaelian believes, comes from the energy of a product that is "Made in America with Love."
"We need to keep our factories healthy here and make the best product we can make," she says. "My product has a DNA of love, and behind every piece is a company that stands behind its message. We can never not be made in America, or the brand goes away."