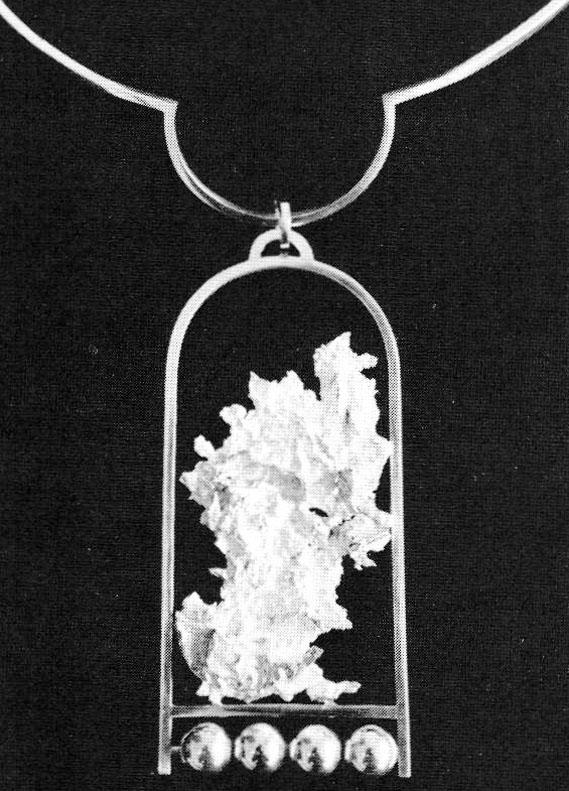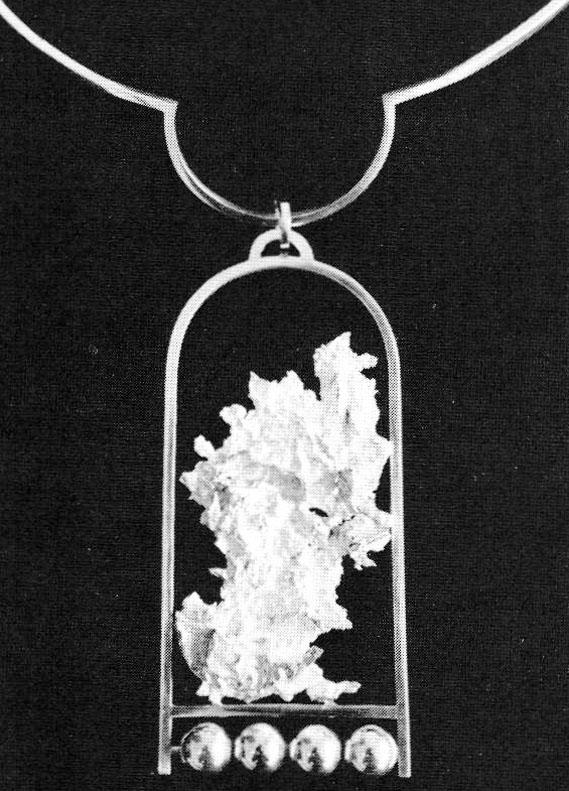 The Metal Arts Guild of Ontario
---
7 Minute Read
In 1946 a small band of metal enthusiasts in Toronto, Canada, formed the Metal Arts Guild (MAG) "to promote and encourage the cultural and commercial development of metal arts and crafts both non-ferrous and ferrous." The articles of incorporation list the first directors as "Marjorie Steel, Married Woman; Nancy Meek Pocock, Silversmith; Harold Gordon Stacey, Instructor Craftsman; Russell Arthur Whitely, Solicitor; and Carl Herman Ansingh, Salesman."
Despite the diversity of their backgrounds this was a serious group of artists working in metal who wanted their work understood and appreciated as art. Their aim for the new organization was that it be a Canadian version of the English Worshipful Company of Goldsmiths. The constitution stated that the guild's objectives were to provide and arrange for instruction in metal ads, prepare and conduct tests and examinations of skill and proficiency, establish standards and give diplomas directly or indirectly. At a time when much of the awareness of crafts was as therapy for returning veterans, the group's lofty ideals were especially praiseworthy.
It was the hope of the guild's founders eventually to buy or lease property for sales, exhibition and instruction. The sales, conducted either for profit or not, would include materials and tools for the convenience of the membership. Publication and distribution of books, lectures and instructional material were also foreseen. The social aspect was not neglected as the constitution empowered the guild to serve refreshments of all kinds to its members and their guests, and afford them "all the privileges of a club."
MAG in 1984 is the successful child of the Married Woman, Silversmith, Instructor Craftsman, Solicitor and Salesman. Like all children, it is not quite what the parents envisioned (there are no diplomas and there is no MAG edifice in Toronto) but the guild is a dynamic craft organization that is proud of its history of yearly juried exhibitions, public demonstrations of metalworking and informative programs for its approximately 200 members.
The first meetings in the 1940s featured "lantern slides," "a good old method of gilding on sterling spoons with linen ash" and talks by British potter Bernard Leach and Danish craftsman Bent Christophersen of Georg Jensen. "Coffee and daintees" were served for refreshment. Since then, the monthly Friday night meetings have run the gamut as the MAG executive strove to find interesting speakers and cull technical expertise from among the membership. Everyone knew that a promising speaker meant good attendance and hundreds have turned out on snowy Toronto evenings to enjoy and learn from such well-known craftsmen as Mary Ann Sherr, Bill Newman, Bob Ebendorf, Christel Klocke, Jamie Bennett, Hero Kielman and Lois Betteridge. Other meetings have been good forums for exchanging information on tools, techniques, marketing, design, photography—literally every aspect of metalwork.
There has always been a loyal core which kept the guild functioning. At first it consisted of the founders and a few other professionals. One of these was Harold Stacey, internationally recognized as "Canada's silversmith," who set up the pilot project for Corning Glass to develop designs in forged silver to complement its Steuben Glass. Others included Andrew Fussell who opened his workshop to amateurs; Douglas Boyd, well known for his ecclesiastical holloware, especially the cigarette box that was presented to the Duke of Edinburgh; Jack Sullivan, master at the Ontario College of Art; Nancy Meek Pocock and John Pocock who ran their own jewelry studio in Toronto; Mary Milne known for her fine jewelry; Dr. Mark Zimmerman who excelled in miniatures; and George and Marjorie Steel whose work centered around their outstanding lapidary collection. Many other artist-craftsmen, important in the history of Canadian metalwork, have moved in and out of the core group during the last three decades as they generously gave their time and energy to this volunteer association.
The annual juried exhibition has usually been the high point of the guild's activities. The first shows were held at the Royal Ontario Museum and were strong in holloware, with everything from chafing dishes to tea sets on exhibit. Newspaper reviews rated many of these shows highly. A 1956 review said "the guild [work] is completely free of decadence" and its members are designer-craftsmen, not just craftsmen. While the public still regarded the crafts as a kind of psychological or cultural therapy, serious metalworkers were solving problems that had their exact counterparts in the fine ads. Indeed, the 1959 show traveled across Canada sponsored by the National Gallery of Canada.
The yearly show was often seen as an index of the guild's technical or design wellbeing. lf the professionalism sought in design and presentation was not there, the membership met to discuss how things could be bettered. As times and tastes changed, and metalworking techniques improved and became more varied, so the guild developed. The entire show process from the call for entry to the glossy show catalog and the guild's own showcases has taken years to evolve into a professional presentation.
Guild members, in the 1940s and 50s gathered for dinner before privately viewing the show. Now there is an opening party, the Steel Trophy (in honor of an early member) is awarded for the best piece in the show and $1500 in donated prizes are presented to winners in various categories. In 1976 the show was entitled "The Medium is Metal" and this name has continued. However, with many jewelers experimenting in alternate materials it is interesting to speculate what direction the Metal Arts Guild might take if its members all leave their bench pegs for fields of silk, plastic or rubber. This year's call for entry will stipulate that pieces submitted for the show contain metal. It will also be translated into French in the hope of attracting more entries from Quebec and reflecting the bilingual nature of Canada.
Aside from the show and the monthly meetings, other themes have persistently recurred in the lifetime of the guild—the need for a firm financial base and the desire for increased public awareness of the guild and metal art in general. On the financial side, the guild has been mostly dedicated to serving its members and not making profits from its activities. For the past two years funding from the Ontario Arts Council has helped bring guest lecturers and jurors from across Canada and the U.S., and corporate fund raising is an ongoing project to augment members' fees. Some members still fondly remember how fund raising 30 years ago was more difficult in an Anglo-Saxon Toronto that viewed a charity raffle as gambling and thus in contravention of the criminal code. Fortunately at that time Henry Birk, president of Canada's large jewelry store chain, was the guild's patron.
In a country where there seemed to be little appreciation of quality handmade articles, the guild has striven to increase its status in the community. From the beginning, the annual show was a focus for public attention and, later, demonstrating metal techniques at the Canadian National Exhibition became a yearly assignment to educate summer viewers in metal. A 1975 discussion planned a three-year program to boost the guild's image to that of the most professional craft organization in Canada with a portfolio of members and a permanent base of operation. Although incorporated in Ontario, the guild continues to attract members from several provinces and states.
Affiliation with the Ontario Crafts Council has enabled the guild to share experiences and problem solving with other guilds and benefit from the Council's good offices as lobbyist and intermediary with government. The Craft Council's catalytic role in bringing to Toronto the Smithsonian Institution's Good as Gold exhibition and its ensuing "Conference for Jewellers" was a benchmark for the guild and Canadian art jewelers in general who were delighted to meet each other and share ideas.
Today the guild is riding a high wave. Its newsletters report on members' activities: exhibiting internationally, opening new studios and shops and winning awards and grants. In response to member needs, the guild is working on common problems of marketing and publicity, and, to remind the Society of North American Goldsmiths that Canada is part of North America, it has applied to host a future SNAG conference.
The dreamers amongst the MAG membership see the future in terms of an edifice, be it office or loft, for the 200 strong metalworkers to call home. It would have sales area, studio, library and staff to serve not only the membership but the public who would with a new awareness seek out contemporary metal designs in everything from platinum to tantalum, stamped with the MAG logo as well as the maker's mark. Metal artists would be recognized by the government as artists, not manufacturers, and the "Medium is Metal" show would travel internationally every year. In sum, the child of the Married Woman, Silversmith, Instructor Craftsman, Solicitor and Salesman is ready at age 38 to become a Worshipful Company of Metalsmiths.
Anne Barros is a Toronto silversmith.
You assume all responsibility and risk for the use of the safety resources available on or through this web page. The International Gem Society LLC does not assume any liability for the materials, information and opinions provided on, or available through, this web page. No advice or information provided by this website shall create any warranty. Reliance on such advice, information or the content of this web page is solely at your own risk, including without limitation any safety guidelines, resources or precautions, or any other information related to safety that may be available on or through this web page. The International Gem Society LLC disclaims any liability for injury, death or damages resulting from the use thereof.
---
The All-In-One Jewelry Making Solution At Your Fingertips
When you join the Ganoksin community, you get the tools you need to take your work to the next level.
Become a Member
Trusted Jewelry Making Information & Techniques
Sign up to receive the latest articles, techniques, and inspirations with our free newsletter.