Sculptural Jewelry '82
Contemporary Artisans Gallery, San Francisco
October 27-November 20, 1982
Under the theme "Sculptural Jewelry '82" Contemporary Artisans showed the diverse work of eight nationally known jewelers. Most outstanding as the jewelry by Rachelle Thiewes. The smooth, mostly satin-finished surfaces, curved and sometimes sharply folded, indicated her interest in the way light plays on her metalwork.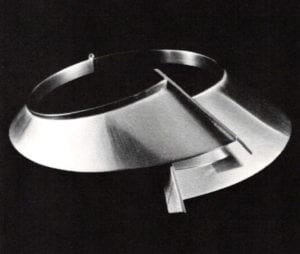 Rachelle Thiewes, Bracelet Form 82-1, Silver
On exhibit were three distinctive styles: Masterfully engineered bracelets, handcuffs and neckpieces in silver with gold and copper were defined by their clear and geometric designs and substantial size. "Shutter" earrings and bracelets incorporated woven strips of silver into elegant design. Her newest work consisted of cut, slightly conical silver discs, pierced with several gold needles to form gracious pins and earrings.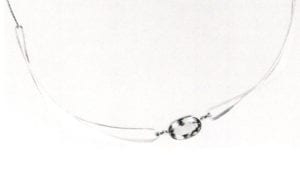 Michel Royston, Necklace, 14k gold and sterling with blue topaz. Photo: Tom Wachs
Michel Roysten's compositions of lines and delineated space demonstrated her skillful metal forging. In her gold and silver earrings and barrettes fine lines grew into wide lines in gentle, sometimes unexpected curves. The shape and color of selected transparent stones added another local point to her neckpieces, hair pins and earrings.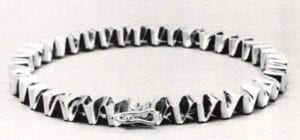 Alan Revere, Accordian Bracelet, 14k gold, 1982
The jewelry of Alan Revere looked refined, elegant and modern, sometimes futuristic. His gold rings with inlaid stones in gently rounded geometric shapes demonstrated excellent workmanship. Bracelets and earrings in niobium and gold stood out for their vivid, pleasant color.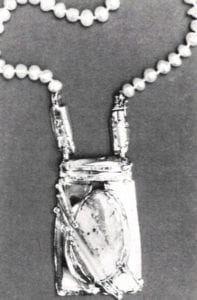 John Heller, Necklace, 14k gold with matrix opal and fresh water pearls
John Heller's cast jewelry is obviously conceived three dimensionally. Silver, overlaid gold and gemstones like rose quartz and opal are combined in his brooches and rings into miniature sculptures which are pleasing to the eye from every direction.
In Ann Grundler's "silverprint" jewelry the surface has become a central design element. Imprinted textures range from delicate, featherlike webs to rougher veining which she sets in contrast with each other or with gently curving forged lines. Her necklace clasps are successful examples of integrated design. Some of the neckpieces focus on handcarved stones of renowned German stonecutter Bernd Munsteiner.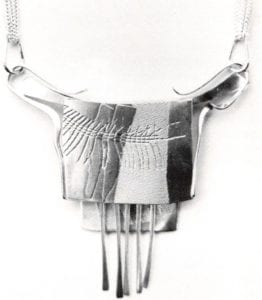 Ann Grundler, Necklace. Sterling and 14k gold, 2 x 2″, 1981
Surface texture is also a basic design element in the jewelry of Micki Lippe. She overheats metal to achieve a reticulated surface and contrasts silver with gold and pearls. I liked the creative use of hinges in her earrings.
Pamela Allman showed an impressive table sculpture with two removable pins. Her earrings and pendants in reticulated vermeil with silver and pearls left me a little disappointed, probably because I had expected to see some of her outstanding riveted jewelry pieces and objects in silver and wood.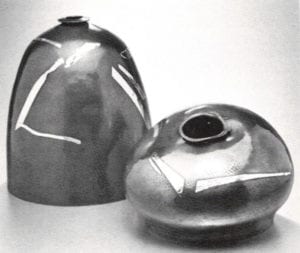 Douglas Steakley, Containers, copper with 14k gold. Photo: Lee Hocker
Douglas Steakley's holloware containers represented sculptural work by a jeweler. The vessels in asymmetric forms with irregular highly planished or roughly textured surfaces had an organic quality which was enhanced by the vibrant colors of heat-treated copper.