In 1954, Don Tompkins, a twenty-one-year-old student of the influential Northwest artist-teacher Russell Day, entered three pieces of jewelry in the second annual Northwest Craftsmen's Exhibition at the University of Washington 's Henry Gallery in Seattle . It was the first juried exhibition he has ever entered, and his first jewelry. He won a special award, and one of his works was reproduced on the cover of, the exhibition catalogue.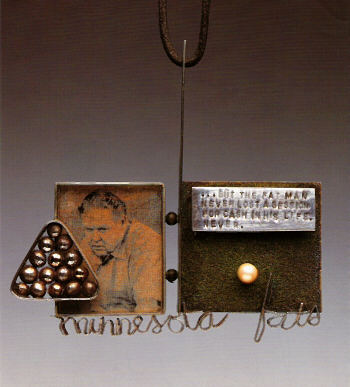 Minnesota Fats, 1971
Sterling Silver, gold, cultured pearl,
magazine photo, plexiglass
3 x 6 1/2″
The Museum of Fine arts, Houston, The Helen W. Druff Collection
Photo: Lynn thompson
Tompkins was born in 1933 in Everett , Washington. His Parents were lifelong teachers, mainly in small rural western schools, The Pacific Northwest has long been a fertile center for the crafts, but only relatively recently has the importance of Don Tompkins in this history been acknowledged. And his story cannot be told without bringing in a reminder of Russell Day's significance in this history. Tompkins was his student at Everett High School , In 1953 Tompkins married Marilyn Hopkins (now Whyte); in 1954′ and '55, he continued his studies with Day taking drawing, painting, and design, and was his student assistant at Everett Junior Community College after Day took a position in the art department there, "Don was so interested in the jewelry that I was making that I gave him a set of tools, some silver and other materials," Day remembers.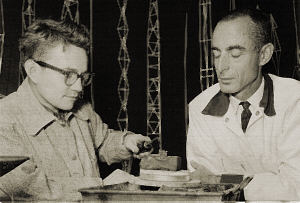 Don Tompkins and Russell Day, 1957
For several months, on his own, Tompkins "tried to come up with something, but it all flopped, so he just gave it up, discouraged," says Day. But sometime during the next year, Tompkins raided his mother's kitchen drawer for some spoons and, using his father's blowtorch, his mother's flatiron for an anvil that would be solid iron, folks, nothing like the iron you'd buy today-and other odds and ends that struck his fancy, including bottle caps and broken glass, made some beautiful jewelry, Those were the works that ended up in the Northwest Craftsmen's show, He made all three in a single weekend, completely ignoring the specialized tools Day had given him, Out of this beginning Tompkins would go on to create a small but, in the Ell of 20th-century American craft, significant body of work.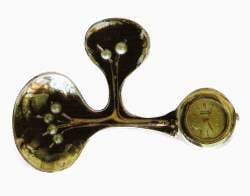 Watch Brooch, ca late 1950s
sterling silver, gold, cultured pearls
Russell Day had studied with Ruth Penington at the University of Washington in the 1940s, Not only was he Don Tompkins's first art teacher; four years later he was painter Chuck Close's teacher for two years at Everett Junior College. Day was also pretty much the first artist in the region to, in his humble words, "piddle around with glass," In 1956, while a graduate student at the University of Washington . Day was the first student to have a one person show at the university's Hen Gallery, a glass show that created quite a stir, He worked mainly with flat glass and concrete casting, influencing the architect John Detlie and creating commissioned works for architects Robert Durham and Ralph Anderson, In 1966, Day helped build the first glassblowing furnace in Washington , Later, when Dale Chihuly came to Day for help creating his college application portfolio, he only approved it after Chihuly's fourth attempt, Day also lectured widely and published articles on teaching and art, Day was a brilliant teacher, a serious artist, and a pivotal influence and force on the Pacific Northwest 's postwar crafts community.
In 1954 Tompkins transferred from Everett Junior College to the University of Washington to study with Penington, like Day had before him. Penington is central to the history of Northwest craft and metalsmithing; Day says, "Almost anybody who was working in metal in the region studied with or was influenced by Penington. She was a great teacher because she believed in a minimum of tools, giving students the chance to be more inventive." In 1956, Tompkins received his BA in art education and, staying on, in 1958 earned his MEN in design, specializing in metal, jewelry, and sculpture, With his degrees in hand, Tompkins then went back to Everett Junior College and joined Day in the art department, where they taught together for five years,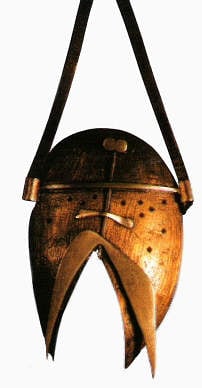 Pendant, 1954
Brass and silver
Collection of Mary, Tompkins
But let's revisit the 1954 Northwest Craftsmen's Exhibition, Two of the three works Tompkins entered are pendants, the third a gold ring. All three works are brashly well accomplished for so young an artist. One of the pendants, fabricated of brass and silver, is especially strong. Though it echoes to a small degree the dominant Modernist aesthetic of the time (what metalsmith Ken Cory later dismissively called "snot jewelry"), it nonetheless possesses an authentic voice, Working at home with only the most primitive of tools, Tompkins forged out the brass with a hammer, fashioning a slightly concave, seductively feminine vulvalike form, A silver chevron is soldered at the bottom–or perhaps welded with his dad's home welder, Vaguely figurative, the piece is totemic, with a visceral, atmospheric presence, More than jewelry, it is a charm, a talisman.
In 1959, Day's essay, "An Approach to jewelry Design," appeared in Design Quarterly, offering a brief but insightful inquiry into creativity and aesthetics, especially in Tompkins's work. Day wrote, "Don Tompkins has never been handicapped in anything he attempts to do for lack of a piece of equipment, materials, or a place in which to work…. In the development of [his] sensitivity to form, there has been no edict handed down from some superior being. It has evolved from the process of seeing; of seeing enough until there is recognition."' Tompkins would later quote Pennsylvania sculptor Wharton Esherick, who wrote, "I use any damn machinery I can get hold of. Handcrafted has nothing to do with it. I'll use my teeth if I have to. There's a little of the hand, but the main thing is the heart and the head."6 Tompkins went on to win awards in the 1955 and 1956 Northwest Craftsmen's Exhibitions, was a juror in 1957, and won awards again in 1958, 1962, and 1963. He also showed extensively in the Pacific Northwest Arts and Crafts Fairs, held in Bellevue , in 1954, '55, '57, and '62. "He had an amazing capacity for doing something in the flash of the moment. He was unafraid of ideas, of attempting anything," Day says. Right from the beginning.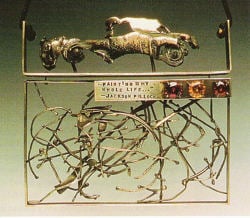 Jackson Pollack, 1972
sterling silver, brass, copper, semi­precious stones
4 3/4 x 5″
Private Collection
Marilyn Whyte tells an insightful story from this time: "Don was a very inventive and creative person. We saw some ancient pieces of jewelry that had tiny beads of gold fused to gold objects, and Don decided to learn how to do this process himself. We discovered it was a lost art and no one knew how it was done. We spent hours and hours researching and experimenting with silver until he was able to do it"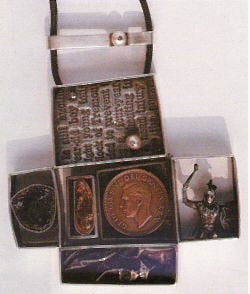 Pendant, ca. 1965
sterling, silver, semi-precious stones, coin
2 3/4 x 2 1/2 x 3/9″
Collection Marilyn Whyte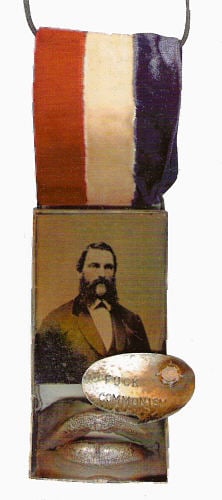 Patriotic (Fuck Communism), ca. 1969
sterling silver, tintype, semi-precious stone
5×3″
Collection Betty Tompkins
Private CollectionDon Tompkins's early works are charged with innovation, unbridled creativity, elegance, and often sublime beauty. Several bracelet watches and a brooch watch from the late 1950s are utterly unique for the time. He carved a set of eyeglass frames for himself out of a single block of aluminum. Many of the rings he made were kinetic and incorporated movable parts that made for surprise and delight, like a dog ring with tiny knobs on the dog's collar–when you squeeze them, the dog's mouth opens, revealing an exquisite set of hand carved, ivory teeth. Merrily Tompkins, Don Tompkins's younger sister and a prominent Northwest artist in her own right, says of the ring, "I know of nobody who has been able to look at it and not laugh out loud." Many of his works also incorporated the results of his experiments with the lost-wax casting of crumpled paper, Saran Wrap, t and other eccentric materials. From very early on Tompkins brought to his jewelry found objects, nontraditional materials, experimental techniques, and his wild and fertile native creativity.
One work from this time also sets the stage for what would later emerge as Tompkins's most important contribution to American metalsmithing. A slide of the work is labeled (in Tompkins's hand), "Pendant, ca 1965." Marilyn Whyte, who luckily still has the piece, says of it, "It's probably one of the first medallion pieces. No theme to this one like his later pieces. He cast one of [his son] Paul's to Indians, wax paper, etched lettering from newspaper somehow, added a couple of stones, a Canadian penny, and pearls." Day says, "People like Ramona [Solberg], Ken Cory, and Bob Winston have been given credit for what was the beginning of Pop Art in, American jewelry. It was Don that brought the found object to American jewelry" Regardless of who's on first, the series Tompkins later called "Commemorative Medals," produced between 1965 and 1976, helped stake out new ground for work that fundamentally changed American jewelry making. He wasn't alone of course; it seas a halcyon time, as first Ramona Solberg, Bob Winston, ]. Fred '1 Wood, Ken Cory, Lane Coulter, 7 and later Kiff Slemmons, Nancy – Worden, Merrily Tompkins, and others, each in their own way, redefined the field.
In the 1964 pendant, Tompkins sets up a grid and then riffs on the form, like a jazz improvisation, a Beat poetry reading. By breaking the grid apart and then putting it back together out of the broken pieces-a gesture firmly established in painting a decade earlier by the Abstract Expressionists-and through the seemingly spontaneous incorporation of unrelated objects, Tompkins invents a form that he would explore for the next decade. This first pendant is a tableau, the inscrutable parts of a short story, a fable, a private mythology. A world. In this work, and more fully in the mature series that soon followed, Tompkins crashes the party' of American Modernist jewelry, bringing eccentric materials and new techniques, social and political satire, the detritus of popular culture, private histories, bawdy good humor, and just plain good fun to the workbench.
In 1963, while he was traveling in Egypt , Day received a letter from Tompkins with the news that he and their colleague, the painter Larry Bakke, had both received teaching fellowships to Syracuse University for graduate study. Later that summer, Tompkins and his family moved to upstate New York . That fall, Don met Betty Beitscher, a native Philadelphian and a student in one of his classes. Romance ensued, breaking up his marriage with Marilyn, who returned to Washington with their kids. It was while Tompkins was teaching and studying at Syracuse that he first began spending time in New York City , with Betty. He loved the city, and it left an enduring mark on his life and art. Merrily Tompkins says, "He loved Henry Miller. New York City . Pop Art. He loved the energy and the lopsided, balls-out soul of the city."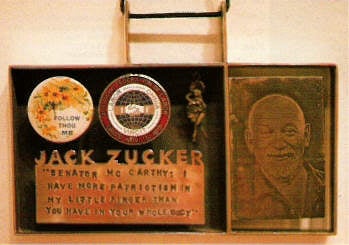 Jack Zucker, 1972
sterling silver, found objects.
Photo-etching
Collection the Zucker Family
In 1966, Don and Betty married and spent the summer in Philadelphia . Tossing about for work, he approached Wesley Emmons, a jeweler with a successful commercial operation, echo hired him to buff and do repair work. He was terrible at it. It's not hard to imagine how- a brilliant and wildly inventive craftsman like Tompkins would feel as a repairman and production line drone. Frustrated, Emmons told him that in the back there was a bunch of cast-metal charms and other junk, and that he should "just do something with the stuff so that I can justify paying you," as Betty Tompkins remembers. That was the moment when, taking his own cue from the pendant of a year earlier, Tompkins began the work that would soon become the "Commemorative Medals" series. A few of the first pieces he made m Philadelphia that summer–works not yet visually or narratively linked to specific individuals or themes-became popular pieces in Emmons's line. The medals that followed that summer's experimentation at Emmons's shop are wholly unique–at turns deeply, sweetly personal, and bitingly satiric and culturally savvy–in a way that was inseparable both from Tompkins's riotous creative personality and from the times in which they took shape.
Before going down to Philadelphia that summer, Tompkins had received a call from Ramona Solberg, who was teaching jewelry in Ellensburg , Washington , inviting him to join the faculty and teach jewelry and metalsmithing. Central Washington College is in the heart of the dry, dusty, largely empty ranching country in the Kittitas Valley . Solberg first met Tompkins when he was Day's student assistant and had seen his work over the years. She says, "I knew that he was a jeweler and I knew r that [he] was good. And I thought he was exactly what we needed over there. But it was thanks really to Russell Day that I knew about Don." That fall Don and Betty arrived in Ellensburg. Betty hated it on sight­–central Washington is a long way, culturally and socially, from the East Coast but they would stay on for six Years, with Don teaching design, jewelry, and metalsmithing.
The years Tompkins and Solberg taught together were fruitful for them both. Solberg remembers, "Don influenced what l was using in my jewelry perhaps more than anyone…. It kind of loosened me up ." The two collaborated on the design of the jewelry studio for Central Washington 's new art building, but before she had a chance to use it, Solberg returned to Seattle in 1969 to teach at the University of Washington . She says, "Don and I had a very nice relationship. We had a wonderful time. [He] was a very popular teacher and influenced many people over there." About craft, photographer and colleague Jim Salstrand remembers Tompkins saying, "As long as you understand Your tools, you can make anything." Merrily Tompkins nails it down this way: "He was a great teacher. Loved teaching, loved his students, and they loved him. He was always available to them; he had students hanging around his place all the time, eating barbecue, drinking beer. In addition to top-notch jewelry technique instruction and guidance through the creative process, his students were also constantly exposed to philosophical ideas… and intellectual discussion of anything under the sun."
Teaching is the enduring connective tissue in Tompkins's life. After receiving his BA in art education from the University of Washington , he entered Syracuse 's graduate program in education before leaving to take the Ellensburg position. Three years before he and Betty left Ellensburg, in 1972, Tompkins began the coursework for his doctorate in education at Columbia University 's Teachers College, in New York City , one of the most influential and respected education schools in the country. He clearly put his teaching first–he was the son of teachers, after all–one of the reasons that he left such a small body of work behind. According to Betty Tompkins, "He really only made jewelry so that he could keep his teaching job or get a new one."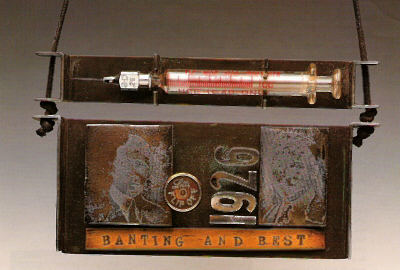 Banting and Best, 1969-72
sterling silver, brass, found objects,
photo-etching (glass insulin syringe, insulin and top from insulin battle)
4 x 5 x 5/8″
Collection Betty Tompkins
Photo: Lynn Thompson
While studying at Teachers College, Tompkins was especially close to his philosophy professor, Maxine Green. Sometime in 1972, William J. Mahoney, chair of the art education department, Green, and others at Teachers College recommended him for a position with the art department at New York University . Because Betty wanted to return to New York so badly–and Don loved the city so–he accepted the position, stepping back down a rank to assistant professor. He and Betty returned to New York , bought a loft on Spring Street and settled in.
Throughout the 1960s and '70s, Tompkins worked and showed regularly. The Fairtree Gallery in New York included his work in "Contemporary American Silversmiths and Goldsmiths," a 1972 show that traveled to the Corcoran Gallery in Washington , D.C. His Ranting and Best commemorative medal was selected for the 1973-74 Museum of Contemporary Crafts "Portable World" exhibition by the museum's director, Paul J. Smith. He showed at the Washington State Capital in Olympia, at New York University, in the Ruth Penington Invitational mounted to honor Penington by the Henry Gallery, and in many other venues in the Northwest and on the East Coast. He also mounted two exhibitions at the Teachers College Gallery: "Jewelry and Other Old Stuff," in October 1970, and "The Late Late Show," in January of 1972. The 1970 show included more than 30 works from 1954 through 1986, ranging from early jewelry, carved wooden bowls, a set of bongo drums, and a five-string banjo to several watches and, most significantly, seven medals-. Of the medals he lists one simply as Medal, from 1966 (perhaps the prototype he marked as ca. 1965?), another as Commemorative Medal, also 1966; the others are his first medals dedicated to specific artists he respected: Miller (1967), Hoffman, Oldenburg, Mailer, and Picasso, all 1968. No exhibition checklist exists for the 1972 show, but the announcement reads: Don Tompkins presents: The Late Lace Show starring Martha Mitchell , Minnesota Fats & introducing Jack Zucker Commemorative Medals.
Including the first medal-like pendant, there is a record (likely still incomplete) of 25 commemorative medals. Naturally, some are clearly richer, more cohesive and visually dynamic than others, such as Henry Miller (1968); Patriotic (Fuck Communism) (ca. 1969); Nixon (1969-72); Janis Joplin, Minnesota Fats, Martha Mitchell and Jack Zucker (all 1971 , quite a run); Jackson Pollock (1972); what must be considered his masterwork, Banting and Best (1972); and Iran Karp (1974). These medals possess the visual grace that Tompkins brought to his earlier traditional jewelry, together with biting parody, balls-to-the-wall social commentary, often a full-­blown wit and at turns a tender, personal touch.
Jack Zucker (ca. 1972) is one of the gems and comes out of a terrific story. Zucker, a Philadelphia union organizer, was a friend of Betty Tompkins's parents. Along with so many intellectuals of the 1950s, lie was called up before Senator Joseph McCarthy's specious Un-­American Activities Committee and asked to defend himself. He said, "Senator McCarthy, I have more patriotism in my little finger than you have in your whole body." Tompkins commemorates those words in the work, along with an etched portrait of Zucker, an American Federation of Labor pin, and a kitschy cast charm of a dancing girl, all wonderfully balanced in the grid format. A terrific tribute.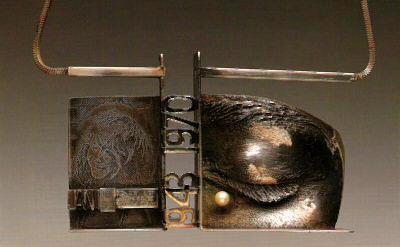 Janis Joplin, 1971
sterling silver, brass, cultured pearl, photo-etching
Private Collection
Photo: Lynn Thompson
The medals represent a kind of autobiography: oddball, hard-living, and unique American icons like Minnesota Fats and Janis Joplin, whom Tompkins just loved; the pop/political constructions like Patriotic and Martha Mitchell (the wife of John Mitchell, Nixon's attorney general and mastermind of Watergate); and of course the whole constellation of fellow artists he so admired. A review of Fairtree Gallery's 1973 show, in Craft Horizons says, "Most amusing was the satiric comment on Martha Mitchell, clearly stating the case with castings in silver, from telephone, gabbing mouth to toilet bowl.
Janis Joplin is especially lovely, incorporating a mold taken from a life cast of Betty Tompkins's closed eye and cast in silver, a single pearl tear ( Joplin liked to be called " Pearl "), Joplin 's birth and death dates, and a photo-etched portrait. The photographic etching that Tompkins brought to his jewelry is one of the medals' most unique and independent touches. The piece also features an especially elegant, finely designed and executed attachment to the cord, something unusual for the pendant form that be used throughout the medals series. As the critic Matthew Kangas said in these pages in the fall of 1995, "These objects comprise an important body of work which satirizes American society in pendant-necklaces of great linear delicacy, impeccable composition, and withering with." True enough, yet, like Jane Joplin, they could also be gentle, heartfelt celebrations or eulogies.
Banting and Best, in brass and silver, is unquestionably Tompkins's most important medal. Tompkins was diagnosed as a diabetic when he was nine: Banting and Best were the scientists who discovered and isolated the hormone insulin that saved his life. Here he commemorates the date of the discovery, features delicately etched portraits of the two scientists, and adds an actual syringe filled with insulin. Nothing he did in the commemorative medals could be more deeply personal, more affecting.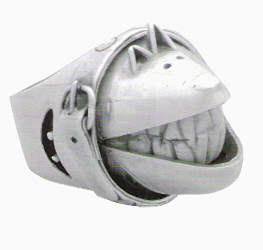 Dog Ring, ca. 1980-81
sterling silver, carved ivory
1 3/4 x 1 1/4 x 1 1/4″
The Museum of Fine Arts, Houston . The Helen W. Drutt Collection
In 1975, Tompkins was fired from NYU for a second time. He had been drinking heavily for years and had begun arriving to class drunk. After his first firing, his students petitioned the administration to reinstate him, and won. Nobody could help him the second time. "Don was a very passionate man, drawn to extremes," Merrily Tompkins says. "He had a real admiration for anyone who did their job lovingly butchers, real estate agents, policemen, spacemen, scientists, waitresses. He was also kind of captivated by the seedy side of life. He found a certain sweetness and soulfulness in the underbelly of the underdog. I think it seas partly (in addition to the liquor) that sort of appreciation of the human spirit prevailing that drew him to the bars. He was an alcoholic, chain­-smokin', steak-eatin' guy." Drinking is of course suicidal for a diabetic, and he smoked heavily. His drinking also broke up his marriage Betty Tompkins tells a tragically prescient anecdote: "When I first met Don, he told me that w hen he was twenty-one he drank a whole six-pack of beer one day and liked it so much that he decided that he w as going to drink at least one a day for the rest of his life." After NYU, he tried setting up a business, The Jewelry Loft, in SoHo , but it failed. Defeated and depressed, he returned to the Northwest in 1975 and took a position teaching goldsmithing at the Northwest Technical School ," but clearly his heart wasn't in it. Russell Day says of this time, "He was just shot dolor. His whole spirit was gone. He took AA and quit drinking, fair he just didn't come back from it."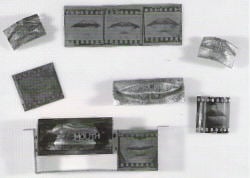 Various elements for the unfinished Mouth that were on Don Tompkins bench upon his death, early 1980s
brass, silver, sterling silver, photo etchings, original negative
Collection Merrily Tompkins
Photo: Dan Tilden
Don Tompkins produced little work that w e know of from 1976 until he died in 1982 of a heart attack–he was eight months shy of fifty. He was working, though perhaps fitfully, as the unfinished Mouth and other fragments of work were found in his shop after he died. Nonetheless, the works that he did leave us the marvelous early jewelry, the essential Commemorative Medals–as well as the man students and artists whose lives he touched and whose aesthetics he helped form, are an essential legacy that has been too little known. Russell Day leaves us Ninth perhaps the most lasting tribute. "Where most reach for a tool or material because they have been told it would work, Don reaches because in his mind he sees what will do the job. He seems to have the conviction nothing is impossible, nothing is inviolable. All he needs to do is find the key." Don Tompkins's life and work a courageous, boisterous, lusty, and creative life, and jewelry that comprises a lasting influence in American metalsmithing are at once an example and a caution. We are all the richer for both.
Ben Mitchell is senior curator at the Yellowstone Art Museum , Billings , Montana , a 2003 Montana Committee for the Humanities Research Fellow, and author of The Jewelry of Ken Cory Play Disguised.