"The work talks," Wendy Yothers explains as she sets down a plastic bin and lifts out a sterling teapot that needs her attention. The lid has lost its original ebony finial, and sports in its place a worn knob from a dresser drawer and the distinct air of an earl embarrassed in a pawnshop.
Yesterday Yothers received the production drawings from the archives upstairs, and now she can see how to restore the teapot's dignity to its nineteenth-century designer's exact specifications. More than 100 years after being sold by Tiffany & Co., this piece has been returned to the firm's conservation department for a touch-up that will carry it through its next century of service. [1]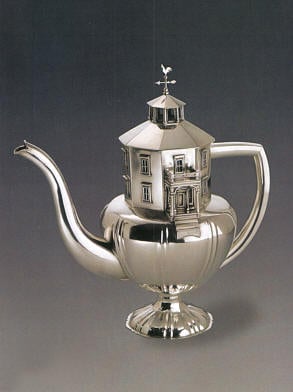 Silver teapot from 1984 by Tiffany's conservator of silverware, Wendy Yothers
13 x 14″
Photo: Dick Duane
Wendy Yothers is Tiffany's conservator of silverware. She has taken a winding road to this workbench, beginning with a BFA from the University of Michigan , graduate work at Texas Tech, and then the formal course of training at the guild-sponsored college for silversmiths in Finland . With her journeyman's certificate in hand, she went to Denmark to earn her master's title. Her European education stressed the skills necessary for making silverware in an industrial setting. After a number of years in Tiffany's silver studio, Yothers finds that the position of conservator feeds her insatiable hunger for technical insight as well as her passion for the magnificent historic silverwork. [2]
"You wouldn't believe what you can learn from these pieces. The guys who made them solved every problem I could ever imagine, and those solutions still work 100 years later. Of course there are lots of pieces like this teapot. I see so many things that are damaged by people who did not understand what they ware doing. Every hand that ever worked on them leaves evidence."
Just as a shell contains the sound of the sea, the pieces that pass through the conservation lab at Tiffany & Co. carry within themselves a larger and older voice, a tide of sound made up of the clamor of the workshop and the voices of many generations of skilled silversmiths and designers discussing production schedules, debating points of structure and finish, and always striving to push the frontier of the possible further than any other manufacturer. Yothers claims that in the case of some of the tour de force pieces produced for World's Fairs and other industrial exhibitions, she can hear swearing in the mix as well.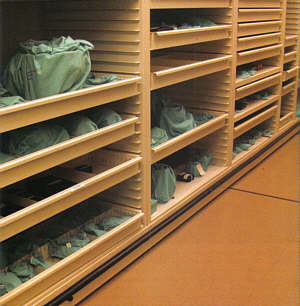 An aisle in the Tiffany archive collection room where pieces are stored when they are not on loan to exhibitions.
"When you examine these things, you can hear the guys in the shop figuring it all out. Sometimes you know they must have told the designer when something was impossible, but they found a way to do it anyway. They used the hardest solder they could in each situation, and invented wonderful cold joining techniques. When I have to take something apart for repair or refurbishment, it's clear that they planned for such eventualities. An object that cannot be maintained by later generations cannot survive."
The conservation lab, located at the Tiffany & Co. manufacturing facility in Parsippany, NJ , is a long, stark room with high ceilings and cold fluorescent light. There are only a few tools visible, and none of the creative clutter one associates with the fermentation of new work. The environment speaks more of the clinic than the studio. In 1987, when a group of investors purchased Tiffany & Co. from its parent company Avon Products, the new administration created a formal archives department to oversee the collection of nearly one million design drawings, production records, and correspondence that had been accumulating since the early 1850s. At the same time, the company committed itself to seeking out and purchasing significant pieces produced by their studios. They now hold just over 1700 historically and aesthetically important items of silverware, jewelry, and crystal. These pieces travel to museums and put in periodic appearances in displays at more than 100 Tiffany retail stores around the world.
Charles L. Tiffany (1812-1902) opened his first store in 1837 to provide stationery and luxury goods to the people of New York . By 1847 he added silverware to his inventory. It sold so well that in 1851 he contracted with the workshop of John C. Moore to produce silverware exclusively for the Tiffany firm. [3] John Moore retired shortly thereafter and left the direction of the silver studio to his gifted son Edward C. Moore (1827-91).
Moore 's passion for natural forms and Oriental designs combined to create a distinctly American aesthetic that foreshadowed the rise of Art Nouveau. [4] In addition, Moore 's technical excellence and managerial insight led the migration of commercial silverware away from the small independent studios into increasingly mechanized industrial facilities centered in the northeastern United States . This consolidation allowed craftsmen to specialize and excel in specific areas such as chasing and engraving in a way that they could not have done in a studio with only a few skilled hands available to do all the necessary tasks of production. [5]
This combination of a deep pool of skilled workers and substantial capital support meant that Moore 's studio could create work of unprecedented size, style, and quality. Charles Tiffany took full advantage of this resource to further both his entrepreneurial vision and his patriotism by having Moore design and build numerous exceptional objects, especially for international trade exhibitions. In 1867, a piece designed by Edward Moore won the grand prize for silver craftsmanship at the Paris Exposition Universelle, a first for an American manufacturer is this field.
Following this success, Charles Tiffany purchased Moore 's entire operation outright and designated Moore as the manager of the newly created silverware division. Tiffany & Co.'s New York store soon boasted one of the finest inventories of silverware in the world, a standard it has upheld to the present day, outlasting nearly every other manufacturer founded in the same period. As a result, the items in the archive collection represent an unusually intact cross section of American design, taste, and technical achievement in silver.
In addition to maintaining the archive collection, the conservation lab serves a larger, more diffuse collection of Tiffany object: every piece of Tiffany silverware and jewelry ever purchased by any customer can be sent to the lab for evaluation, conservation, and repair. Wendy Yothers's access to the original production drawings gives her unparalleled insight into the structure of these objects. For instance, when the New York Yacht Club sent her a regatta trophy commissioned from Tiffany in 1876, it was so battered that the designer's drawing was the only way to determine its original appearance. Yothers made molds from the fragmentary parts, case new pieces, and reassembled the trophy to match the drawing.
Items sent by customers usually arrive in need of straightforward repair, such as tightening the handle on a coffee pot or truing the hinge on a delicate enameled box. Many of the pieces that come to the conservation lab from the archive collection or a private customer have their own stories. A legendary professional golfer sends his gold putter in periodically for a buff, with strict instructions to leave the visible dings—and their associated anecdotes—exactly as they are. A complete tea service given to a young bride 120 years ago came in for refurbishment before going to the bride's great-great-granddaughter on the occasion of her wedding.
Some pieces arrive having suffered genuine adventures. Recently, Yothers worked on an elaborate sword and scabbard commissioned by the officers and privates of the 25th Regiment of Massachusetts Volunteers for Col. Edwin Upton in the early 1860s. tiffany began making presentation swords in 1861 for Union officers and heroes. [6] The Co. purchased blades made by famous European steel manufacturers, then ornamented them with etching, engraving, decorative hilts, guard, and other accessories. They made approximately 100 reasonably ornate swords and about 30 exceptionally ornate ones. The rarity and beauty of these weapons makes them among the most valuable of Civil War collectibles, and that value does not always work in their favor.
In 2000, a burglar stole Col. Upton's sword from the collection of the Historical Society in Fitchburg , MA , and then jettisoned his loot into a local pond, where it marinated for 14 months before being recovered. The FBI returned the sword to the Historical Society in a tank of water, knowing that exposure to air would do serious harm to the wet steel. Unfortunately, others who handled the sword on its circuitous route to the Tiffany conservation lab did not know this, so by the time it finally arrived, the blade had been sitting in the damp scabbard for months. [7]
"Well, thank goodness it was fresh water," Yothers says. "The enamel was horribly darkened and fractured, the steel was corroded, and the original patination in the engraved and etched areas was gone." Fortunately Yothers's past experience making Damascus steel helped her understand how to restore the blade's surface without compromising its value. The sword is safely home again, with a longer provenance and a new gleam.
Often Yothers wishes that people undertaking repairs and restoration would read the Hippocratic Oath, dwelling at length on the line "First, do no harm." She frequently receives work seriously injured by the ignorance or haste of earlier efforts.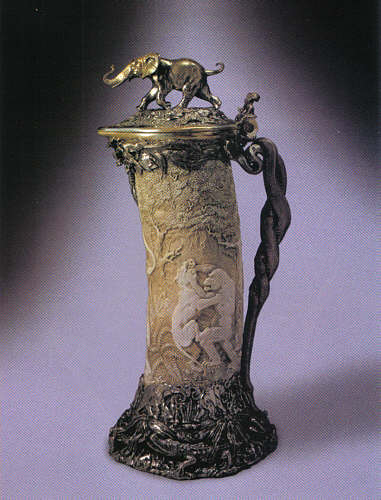 Tiffany designer Paulding Farnham's 28″ high tankard in ivory and silver, created for the 1900 Paris Exposition.
Photo from John Loring, Magnificent Tiffany Silver
(New York : Henry Abrams, 2001)


Photo from John Loring, Magnificent Tiffany Silver
(New York : Henry Abrams, 2001)
"The sad thing is that most of these folks mean well," she says. "The just don't know that the eggplant-purple color on the pitcher is a Japanesque patina, not tarnish, so they dip it, or polish it all away."
In some cases, ignorance causes real catastrophe. Tiffany designer Paulding Farnham created a 28 inch tall tankard for the 1900 Paris Exposition. [8] The body consists of a single hollowed section of elephant tusk, completely covered in high relief carvings of lions fighting gorillas in a dense jungle. The base, handle, and hinged lid are heavy sterling cast and carved into crocodiles, snakes, vegetation, and a charging elephant. It is every imposing item, and at some point, someone felt so convinced that they needed to disassemble it that they took a hammer and punch to the hinge in order to remove the lid.
They succeeded in removing the upper sterling frame, and the tusk promptly expanded and cracked along its growth rings, and threatened to shed one of the lions completely. The tankard was hastily reassembled and sat for several years before Tiffany & Co. bought it for the archive collection. Yothers found a way to stabilize the ivory, retain the lion, and make the piece sound enough to travel to exhibitions. One can barely make out the repair on the ivory, but the gouges in the hinge are still painfully apparent.
The most common misguided repair, and perhaps the most insidious, is the use on silver of low temperature solders containing lead. There are many formulations, so the degree of damage can vary. The lead penetrates the sterling and alters the structure of the alloy, weakening and darkening it. If the piece is ever heated again, the leas solder will eat holes in the piece. One of the most challenging restorations Yothers ever did involved an historically important teapot designed by Paulding Farnham. The pot had split along three seams and been slathered with lead solder. The ornamental figure and swags were also thoroughly contaminated. It took over a month to chemically remove the dangerous solder so Yothers could safely reassemble the piece using silver solder. Perched on its niche in the archive the clean lines of the pot look pristine, but Yothers can perceive the invisible patina of her angst and invective all over it.
The work of conservation demand much: technical prowess, practical experience, obsessive attention to detail, a willingness to do historical research. You have to find the confidence to disassemble huge, ornate objects or to fabricate bits that exactly match the famous original. It takes a certain tolerance for disappointment when something cannot be completely restored because we no longer know how it was made in the first place. For Yothers, the difficulty of the work is minor compared to the passion she feels for these pieces and their makers. In the archives storage facility she happily shows how the silversmith charge with making the running horse for the Comanche Trophy in 1837 vented the hollow sculpture where real horses are also vented, deep inside the ears and yes, right up under the tail.
"How can you not love that?" she asks.
Acknowledgement:
The author would like to thank Linda Buckley. Voce President for Public Relations, and James kline, manager of Repair Services at Tiffany & Co. for their assistance with this article.
For an article featuring Wendy Yothers's own silverwork, see "Profiles of Modern Day Silversmiths: Wendy Yothers" in Silver magazine, Vol. 35, no. 3, 2003.
For a detailed narrative of the founding of Tiffany & Co.'s silver department and the role of Edward C. Moore, see Charles H. Carpenter Jr and Mary Grace. Tiffany Silver (San Francisco: Alan Wofsy Fine Arts, 1997), chapters two and three.
See 'The Emergence of a Tiffany Style: Edward C. Moore" in John Loring. Magnificent Tiffany Silver ( new York : Henry Abrams, 2001).
For an overview of this transformation in silver manufacturing, see Charles L. Venable, Silver in America , 1840-1940: a Century of Splendor (New York: Henry Abrams, Inc. 1994), especially chapters four, seven, and eight.
Carpenter, 133-41.
Interview with Elizabeth A. hannula, Director, Fitchburg historical Society, Fitchburg , MA , August 2003.
For images of many of Farnam's other remarkable pieces, see loring, chapter three.