Anyone working in a creative field knows just how strong the influence between the direct environment and each individual's work is. Almost entirely surrounded by houses, streets, residential blocks, bridges or places of worship for all different religious movements, i.e. by architecture in its manifold varieties, it is barely surprising that jewelry designers also seek inspiration from the art of building in general.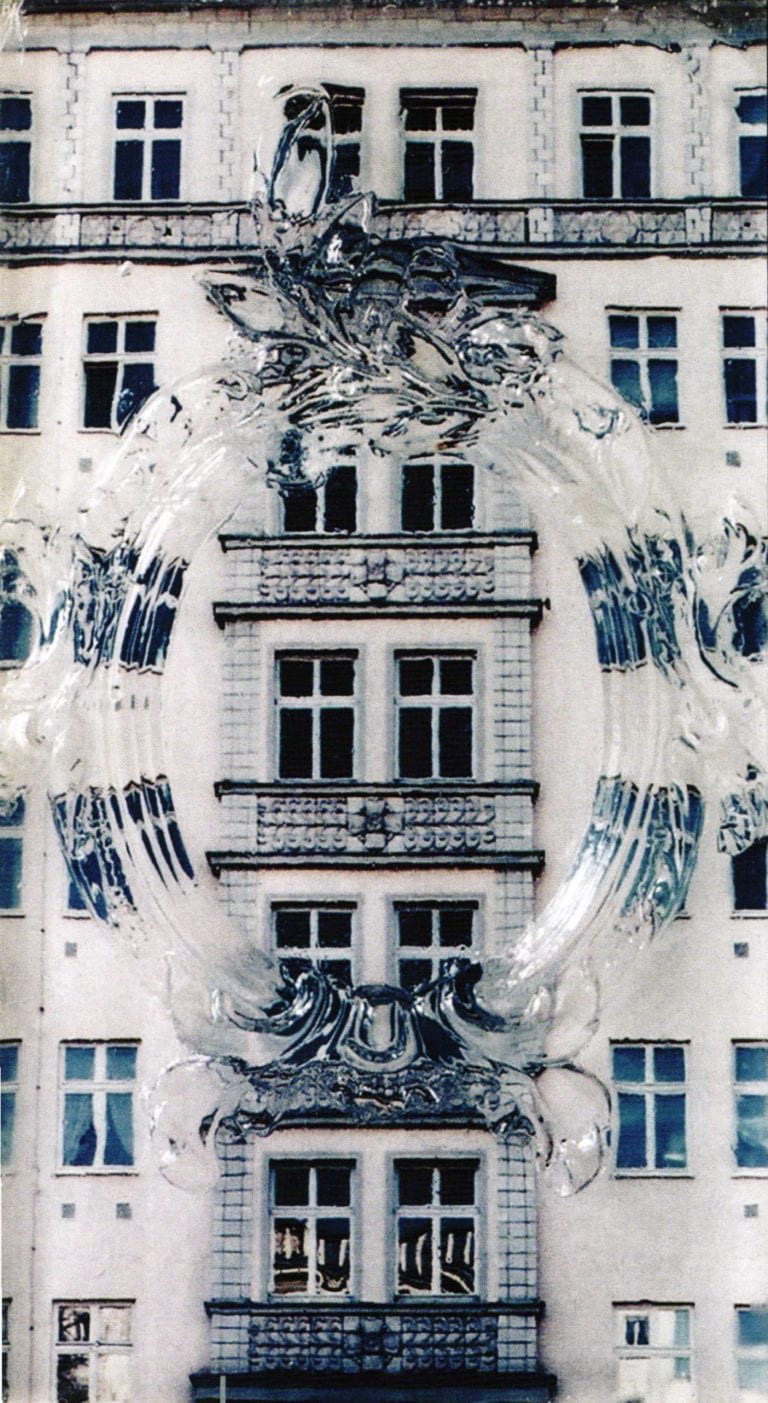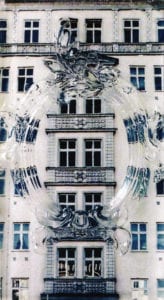 Cityscape views by Susanna Kuschek from Berlin: brooch made of a photograph distorted using synthetic resin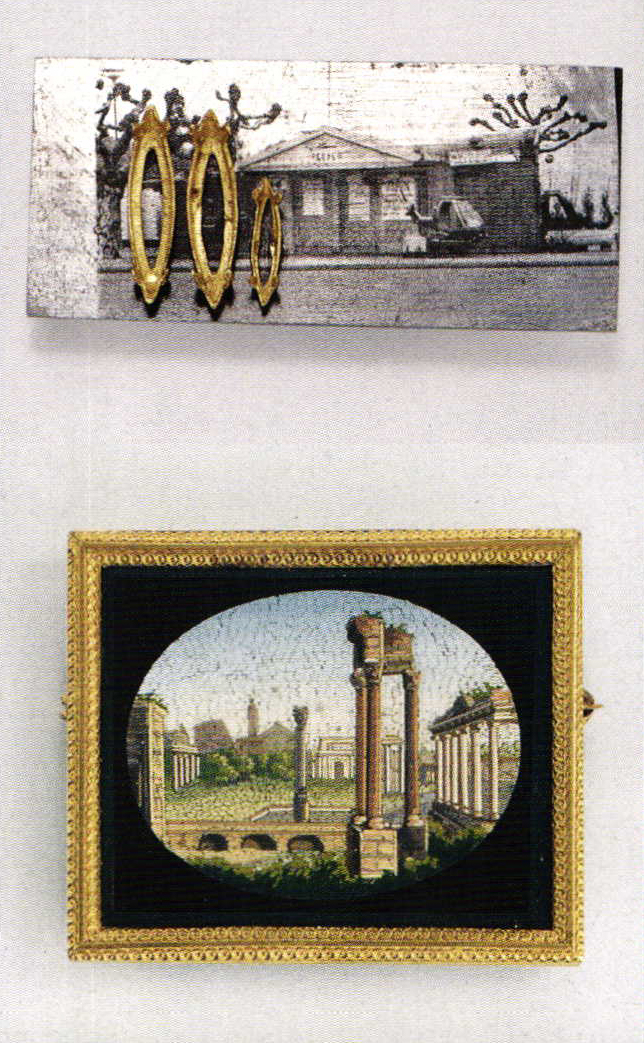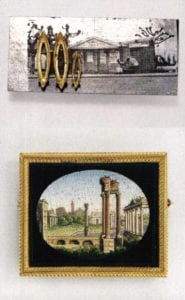 Jewelry and architecture then and now: brooch by Bettina Speckner (1994) and souvenir jewelry from 1830. Both on show in the Jewelry Museum in Pforzheim, Germany
Irrespective of how different what we see may be, the result can still be very similar: a wander across one of the richly decorated, cast iron Seine bridges in Paris, the view from a luxury villa in southern Spain with its Moorish elements or the sight of drab, high-rise buildings in Berlin, anonymous, human silos for hundreds of people, all of this may have the same effect on jewelry designers – they draw inspiration from it for their own art. As early as the 19th century trips to antique sites in Greece and Italy generated a desire for so-called souvenir jewelry. Appearing like miniature mosaics made of colored glass, the architecturally miraculous structures erected by the Greeks and the Romans were replicated in coveted brooches, intended for well-heeled and educated citizens. One of these decorative pieces, which confirms the early connections between jewelry and architecture, can be viewed for example in the Jewelry Museum in Pforzheim.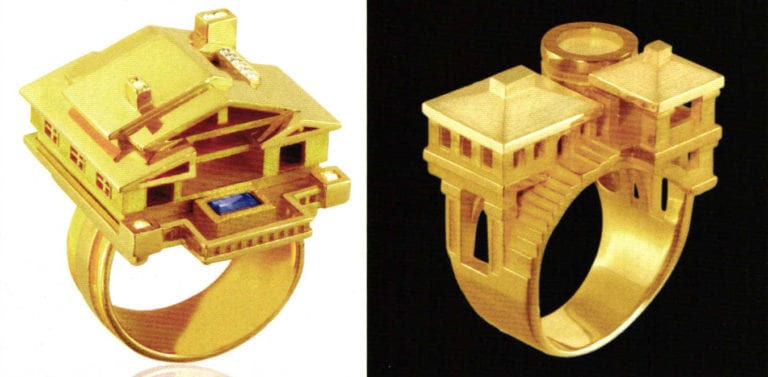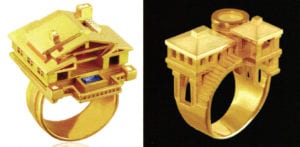 Philippe Tournaire: master of architectural jewelry details. Rings Chalet (left) and Citadel (right)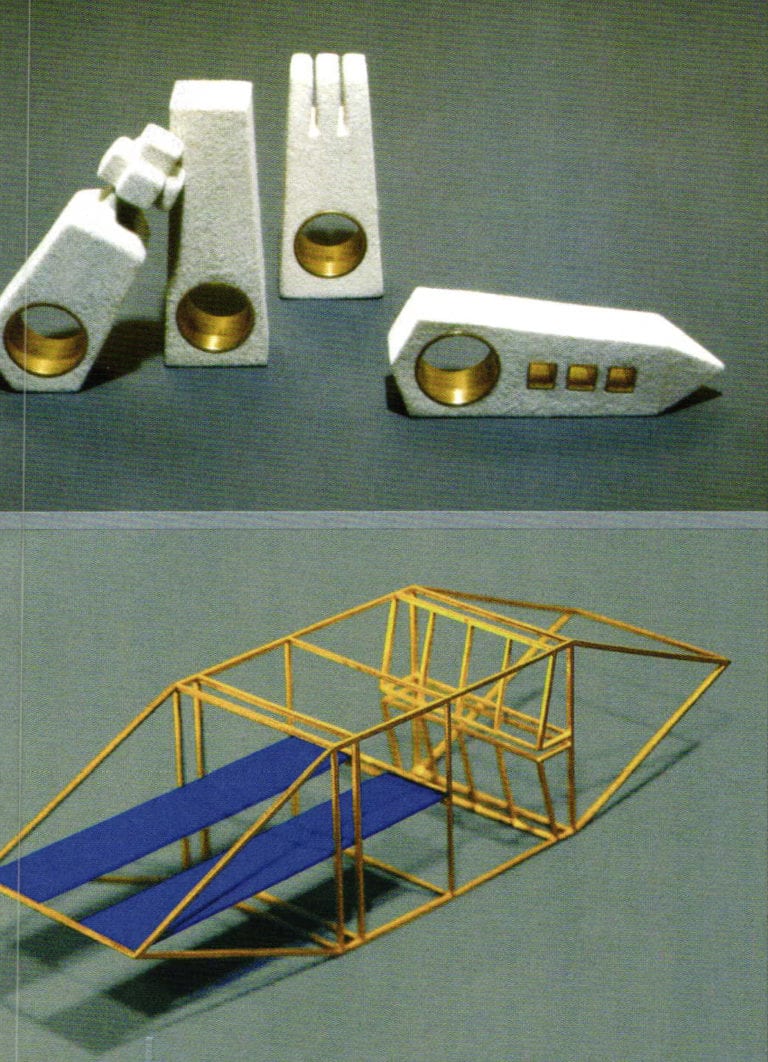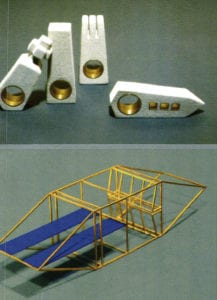 Bernhard Früh is inspired by architecture in all its different forms: ring sculptures and brooch Ark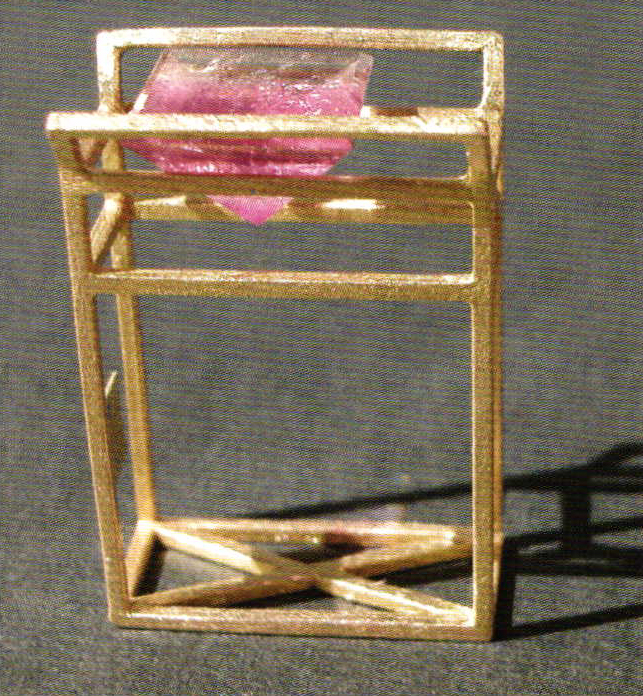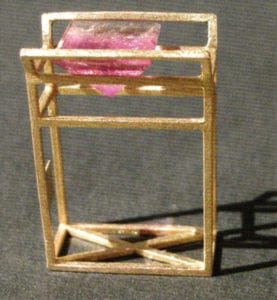 Scaffolding ring by Adelheid Maas made of 18 karat gold and tourmaline
Contemporary jewelry on the other hand reveals itself to be less replicating as more associative with regard to architecture. While some designers portray entire strongholds with stairs, towers and buildings on one single ring, for example the Frenchman Philippe Tournaire with his assiduous detail, other designers turn more to an abstract translation of the respective architectural peculiarities that inspire them with an idea for jewelry. Nane Adam, for example, a designer who lives in Weimar used the spectacular bridge structures by the Spanish architect Santiago Calatrava as role models for her Flexible rings. The colorful nylon cords, which she arranges in graphic patterns on the inside of the rings, are reminiscent of the stays and suspenders on Calatrava's bridge. In Nane Adam's rings, they stand for flexible comfort and also an optical effect in equal measure. Susanna Kuschek from Berlin is also inspired by the architecture that surrounds her. She creates a jewelry series named "Views", featuring photos of buildings whose obvious structures provide the decorative ornaments. In this way, series and repetitions we see every day in high-rise buildings are transformed into jewelry". Additionally, the photographs of facades and interior rooms are overlain and distorted using rosettes or geometric forms cast in synthetic resin. Facades also form the main focus of the idea behind the jewelry created by Lena Hülsmeier from Osnabrück. Facades lend a building structure and decorate it through the form of architecture, and this is how she sees jewelry also: people wear it as external adornment, thus presenting their own aesthetic preferences. The visual interplay between facade and jewelry is revealed in her work in the form of gemstones that appear like brightly lit windows in an otherwise uniform house front.

The hemisphere-shaped roofs on pagodas and other religious buildings inspired the designers Oliver Schmidt (right) and Jürgen Schneider to create their items of jewelry


Monotonous rows of house facades determine Lena Hülsmeier's design principle. Conversely, the flexible bracelet created to reflect house facades is avant garde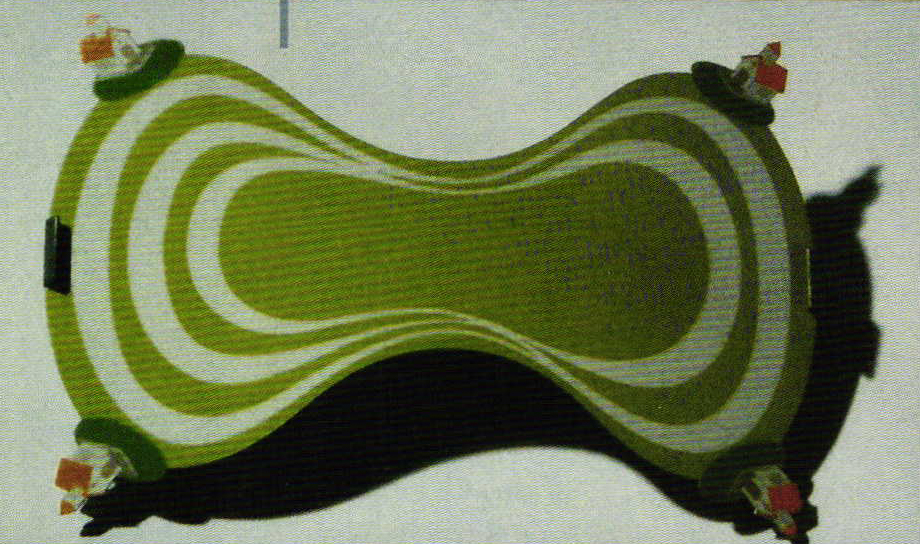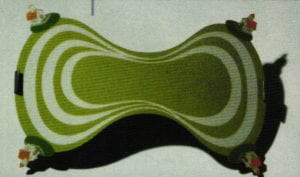 Architecture in the playpen: "House and Garden # 5" is the name given to the brooch by Norman Weber, portraying the tracks of his model railway and a small church in each corner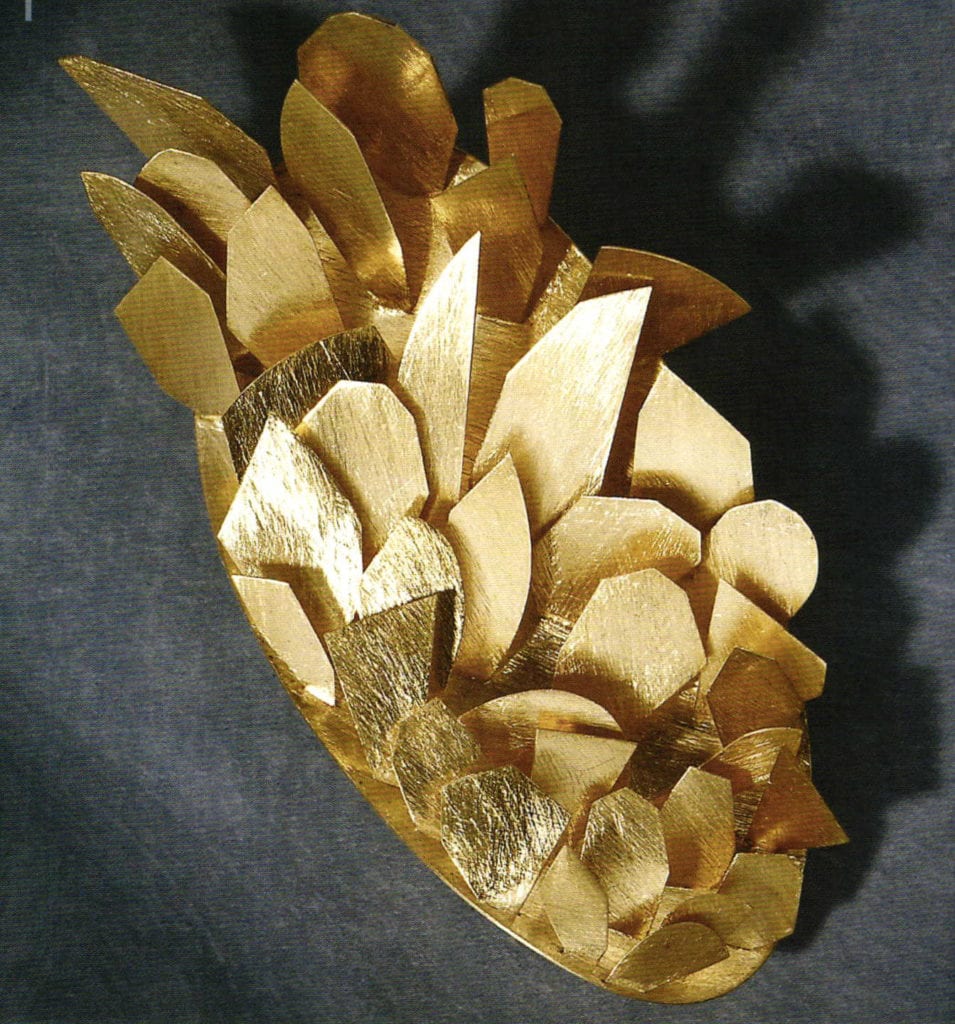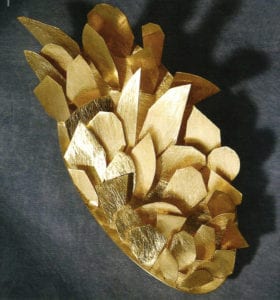 Cities as role models: bizarre forms define Alberto Zorzi's jewelry series "la citta"
Whereas Bettina Speckner does not place the main focus on architecture, although it does appear in the form of souvenir photos depicting her grandparent's house or her first own apartment, for example, the scaffolding rings by Adelheid Maas concentrate entirely on construction and material. Her rings, made of golden bridges, are not only reminiscent of scaffolding, placed against houses in order to touch up the façade or roof, they also form an airy holder and precious stage for the gemstones she uses. Their special feature is that precious metal construction does not rigidly hold the stones in position, but instead often leaves them space for movement and permits a view from all sides.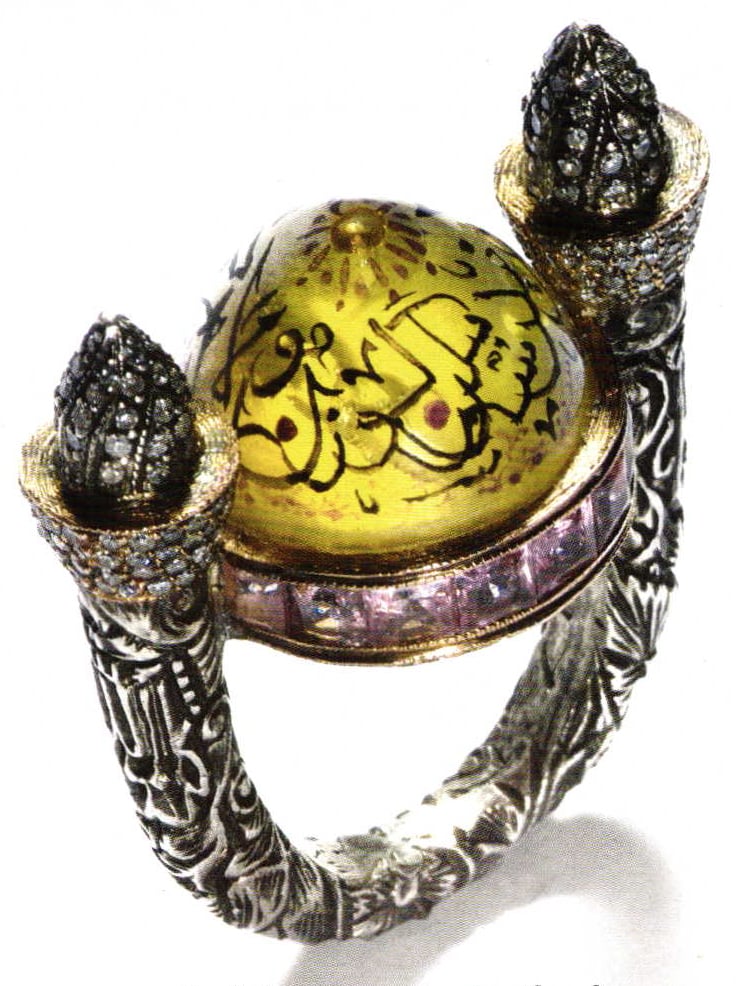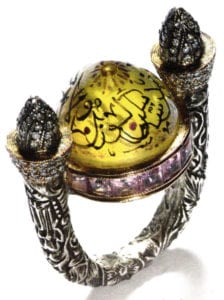 The call of the Muezzin: Roofs of oriental mosques, as they often can be found in Instanbul, inspired the Turkish designer Sevan Bikakci to create his expressive ring "The call"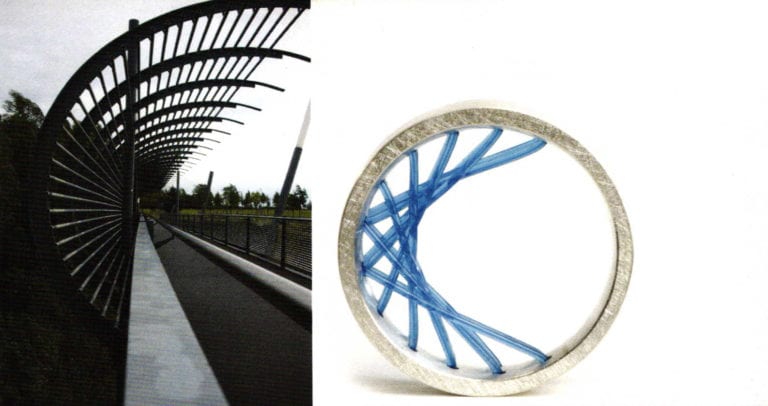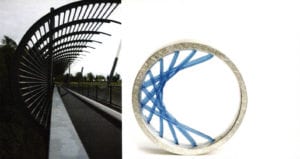 The spectacular bridge structures by the Spanish architect and structural engineer Santiago Calatrava are the role models of Nane Adam's Flexible rings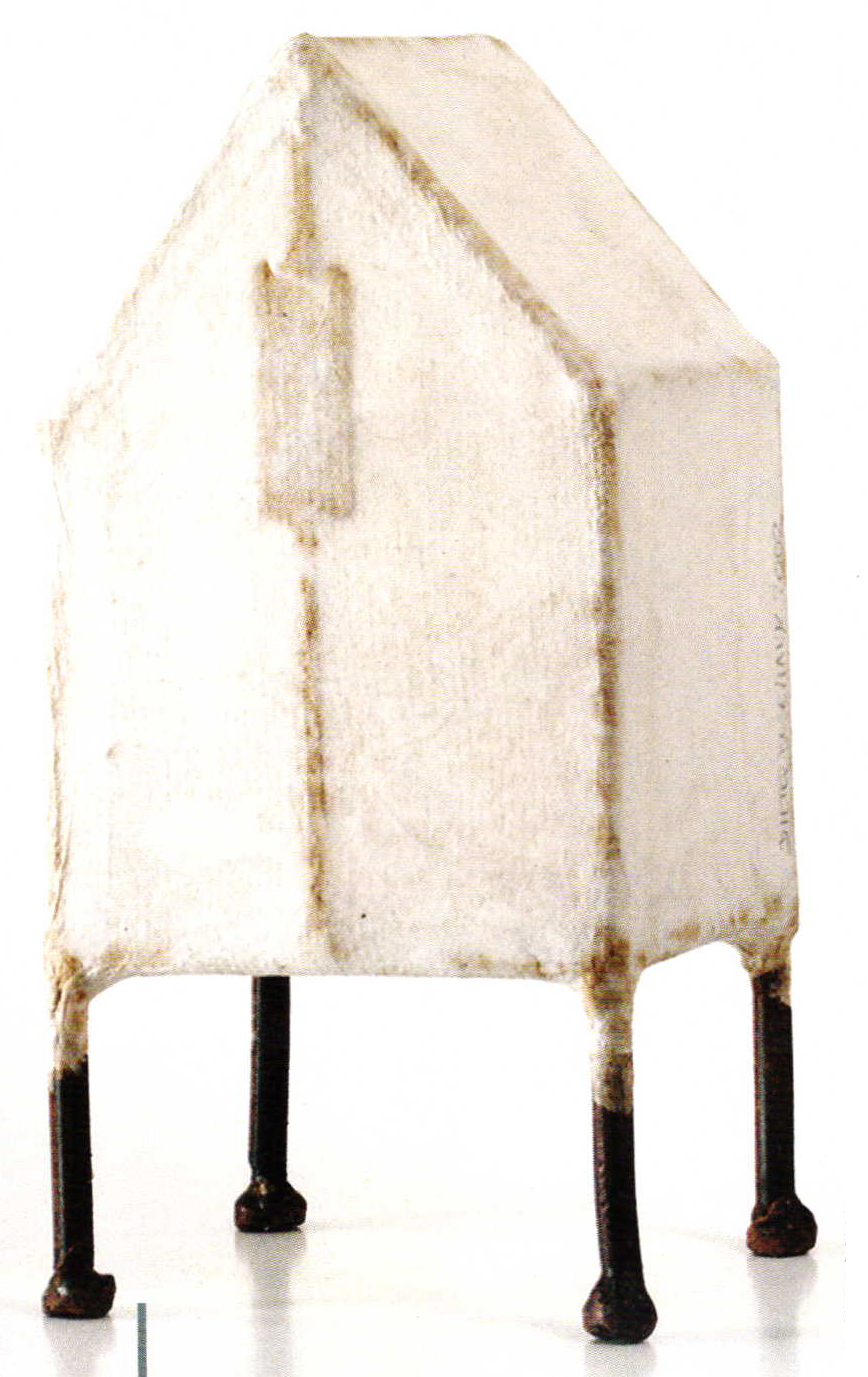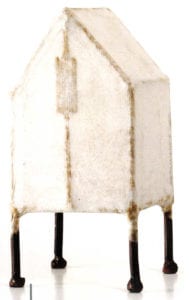 Dieter Begemann created this holder made of parchment and wire to accommodate the precious item, marking the exhibition "Five Grams of Gold"
Whether the subject is flat bungalows, extensive squares or revolutionary roof constructions, the Italian jewelry artist Alberto Zorzi knows how to allow entire cities (jewelry series "la citta)") to emerge on the abstract corners, graphic elements and angular round parts of a single brooch, ring or bangle. He focused on the topic of cities since 1994. His golden lamellas, rising sharply out of their base, appear threatening and wild and are equally reminiscent of anonymity of large cities.
www.schmuckmuseum-pforzheim.de