In the fashion world, the difference between a trendsetter and a trend follower can be a matter of weeks. Being first to market can mean the difference between a phenomenally successful product and one found on clearance racks.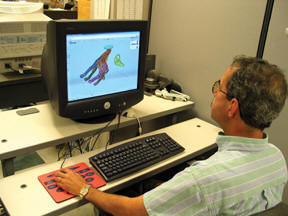 "When your lead time to market is relatively long, you might miss a short trend completely," says John Simms, vice president of manufacturing at Swarovski North America, a manufacturer of crystal fashion jewelry and accessories located in Cranston, Rhode Island. To get their fashion-forward jewelry to market faster, the company's designers and model makers have traded in their pencils, sketch pads, and wax tools for computer keyboards.
"Computer-aided (CAD) design allows us to be more responsive to fashion trends," says Simms. "Our productivity is up 39 percent and our cycle time [from concept to market] has been reduced by 30 percent. For us to be able to react that [much more] quickly to market trends-it's hard to even measure what that means to us in realized sales revenue."
Communicating Design In addition to reducing the labor required to move a design from the sketch stage to the actual model, CAD reduces misunderstandings between designers and model makers. Because pencil sketches are not always precisely scaled or proportioned, a model maker relies on his or her own interpretation of the designer's vision. Such interpretation opens the door to misunderstandings.
With CAD, designers are able to produce initial design drawings that can be translated directly into a production model. "It does make things more black and white," says Simms. For example, he says, model makers no longer have to determine how many stones will physically fit in an area. Because every stone's dimensions are dialed into the software, model makers can create models that are perfectly sized for the number of crystals in the design.
CAD has also helped improve communication between the design team and the marketing department. With traditional design methods, marketing generally saw only 2-D images until a model was created-at which point a great deal of time and labor had been invested in the piece. With the addition of CAD to the designers' toolbox, marketing staff is better able to visualize the final product, and make suggestions earlier in the process.
"With CAD, you can rotate the piece [on screen] and really see what it will look like," says Simms. "We also have the ability to output the file to a ThermoJet [rapid prototyping machine] and create a wax that we can show to marketing in a couple of hours."
Embracing Change These days, almost everyone at Swarovski agrees that the incorporation of CAD/CAM has been an overwhelming success. But the technology's future wasn't quite so cut-and-dried when Swarovski decided to adopt it five years ago.
The company's current CAD/CAM system is actually its second attempt at incorporating the technology. The first effort, made more than a decade ago, failed when skeptical employees resisted the change and management didn't support the initiative.
"During the initial attempt, we decided to purchase a software package that may not have necessarily been the best one for our application, told the employees this 'was the future,' and then failed to educate and train them in its application. And it failed, which was no surprise," says Simms. "This time, we pulled people directly into the process to help evaluate the packages we might use. It was a more collaborative effort, and the result was a shared ownership of the project and its outcome."
Swarovski management began the process of moving to CAD by discussing their plans and soliciting the design team's thoughts. Model makers and designers were then actively involved in selecting the CAD/CAM software the company adopted.
"We sent designers and model makers to various software shows to walk around and talk to vendors, and learn for themselves what's out there," says Simms.
Swarovski management also made a commitment to train their staff properly. "We've done both in-house training and we've sent the designers and model makers to off-site training for two or three day sessions," notes Simms. "We continue to support the training efforts as new versions come out."
Success also depended on understanding that CAD/CAM couldn't do everything. About 20 percent of the company's design models still require hand labor, such as cleaning up the seats for pav?-set stones or removing excess flashing. "This percentage could be reduced further with the advances in technology, but it would require considerably more capital investment, and at this time doesn't provide the desired return on investment that we expect," observes Simms.
Moving Forward Swarovski has also discovered that each CAD/CAM package has its own strengths and weaknesses. "When we started out, we thought that we'd buy one software program that would do it all," says Simms. As the model makers learned more about the capability of their current package, they discovered that having other packages in the shop expanded their options. "We started to say, okay, let's invest in other programs because they can enhance what we do in [our primary program]," says Simms.
Today, model makers at Swarovski have three different CAD/CAM packages to choose from: ArtCam, which is used to add dimensions to simple shapes, and to create raised lettering and script; Rhino 3D, which is used to design complex 3-D shapes and items with multiple settings; and FreeForm, which is used to sculpt organic shapes and figurines.
Since the introduction of a successful CAD/CAM program, the company has reduced its staff in the model making area by 30 percent. But rather than emphasize labor force reduction, Swarovski has focused on increasing productivity from its current staff and reducing the product development cycle time. "We're working on the next design concept while the milling machine produces the model in the next room," says Simms.
CAD also gives the North American division a niche not completely shared with Swarovski's lower labor cost facilities outside the United States. Thanks to computer-aided design, Simms says, the North American facility has successfully positioned itself to be competitive not just within the global company, but also in the cutthroat U.S. fashion jewelry market.
"The U.S. consumer has so many choices, and we sell something that they don't have to have," says Simms. "We must also be aware of competition offshore. We're part of a global company, so if we can't be competitive in cost and time, why wouldn't [company management] say they want to outsource design and model making? … This technology is allowing us to stay on top."