John Cage was a pioneer of modern sound art with his idea of incorporating complete silence and accidental everyday noise into his compositional concepts. He helped to shape a completely new direction in art, along with various other artists.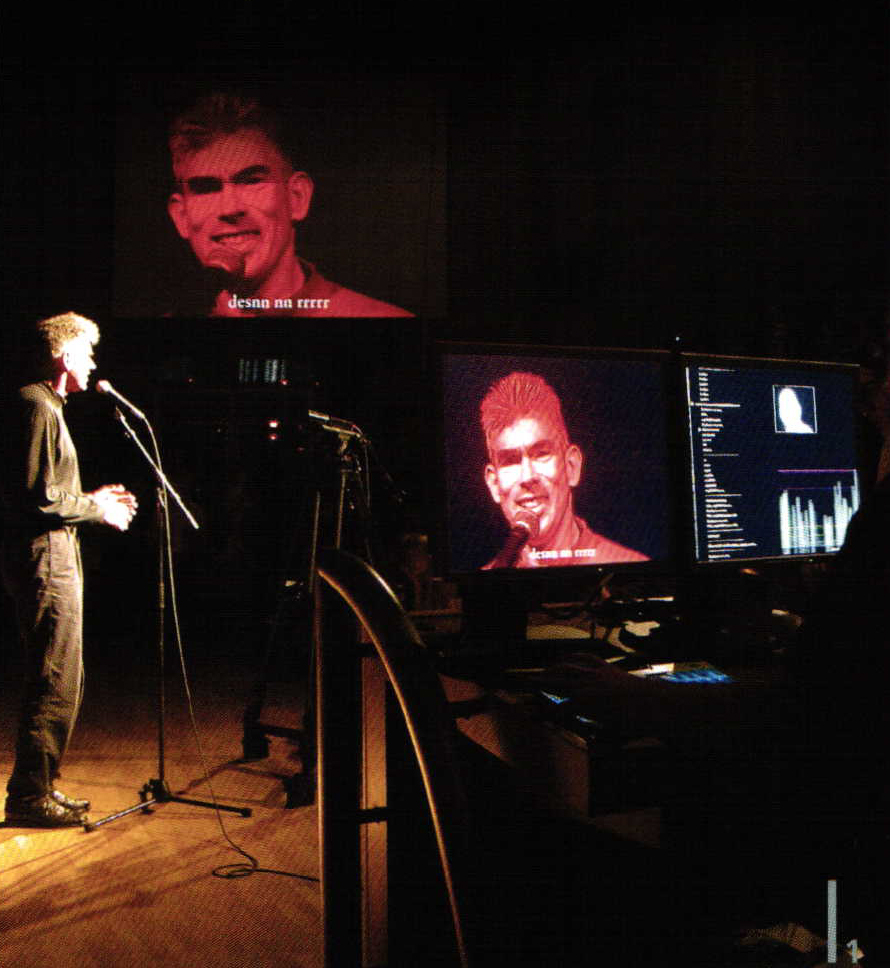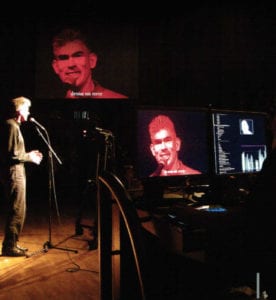 Jaap Blonk performing Schwitter's Ursonate with real-time subtitles by Golan Levin. At Ars Electronica 2005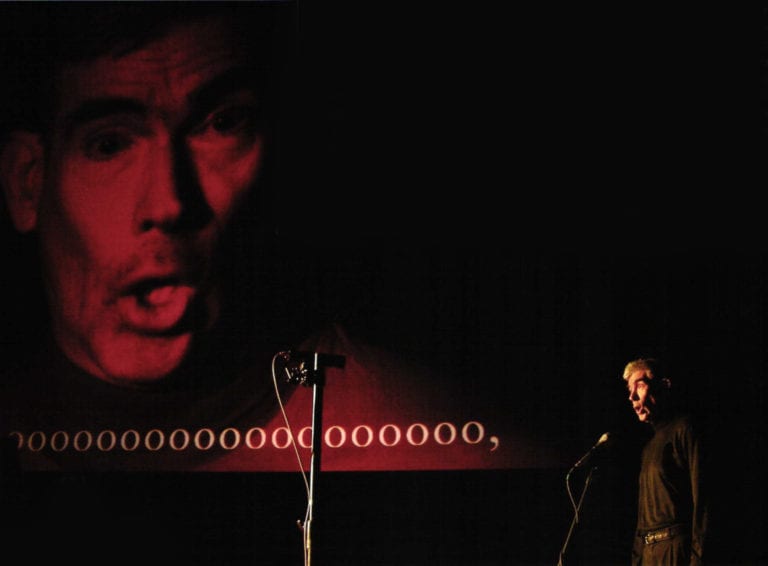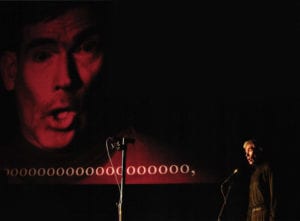 Jaap Blonk performing Schwitter's Ursonate with real-time subtitles by Golan Levin. At Ultrasound 2005
Anyone who is not familiar with sound art should understand the following: sound art is simply a form of installation art which focuses on aspects of sound. It can include everyday noises or complete silence or even be composed entirely of one or the other. It was developed in the 1960s/70s by representatives of the installation art movement who were influenced by the latest developments in contemporary music. The '4'33' silent piece composed by Cage is one of the most striking examples of the movement's early beginnings. The original performance of '4'33' took place in August 1952 in New York. American pianist David Tudor took his place at his closed piano for exactly 4 minutes and 33 seconds before leaving the stage. Not a single note was played. Cage created something with his '4'33' piece which had never before been seen in Western art music – silence as an act of art, music as non-music. While sound art was seen as pure provocation in 1952, today it can be roughly subdivided into four different subcategories – sound installations, music performance, the art of sound objects and sound poetry – which are now seen as exciting experimental fields comprising international sound artists.
Invisible/Inaudible
German composer Christina Kubisch is also part of the first generation of sound artists. Her works are characterized by various different techniques which she is constantly developing for the completion of her installations. "At the end of the 70s, I used electro-magnetic induction in my sound installations for the first time," she says. "The principle is based on the transfer of sound through adjacent magnetic fields. These fields are created using electrical cables in the room in which sound circulates, as well as by headphones I developed myself incorporating magnetic coils." In the 80s, she tried to filter out the soft buzzing sounds of the power cables from the headphones. However, the constant increase in 'unwanted' electrically-generated sounds triggered a new direction in her work in 2003: electrical walks. With the aid of extra-sensitive headphones, she no longer suppresses the sounds created by electric currents both above and below the ground – on the contrary, she amplifies these sounds "The range of these sounds as well as their tone and strength varies from place to place, from country to country. Each town has its own sound. Yet they all have one thing in common: the sounds are everywhere, even where you wouldn't expect to find them," says Christina Kubisch. Her electrical walks are an invitation to identify these everyday sounds: the power sources behind mobile phones, traffic lights, CCTV cameras, etc. all form an invisible electrical field with a very striking presence. All of this makes one thing very clear, says Christina Kubisch: nothing looks as it sounds. Nothing sounds as it looks!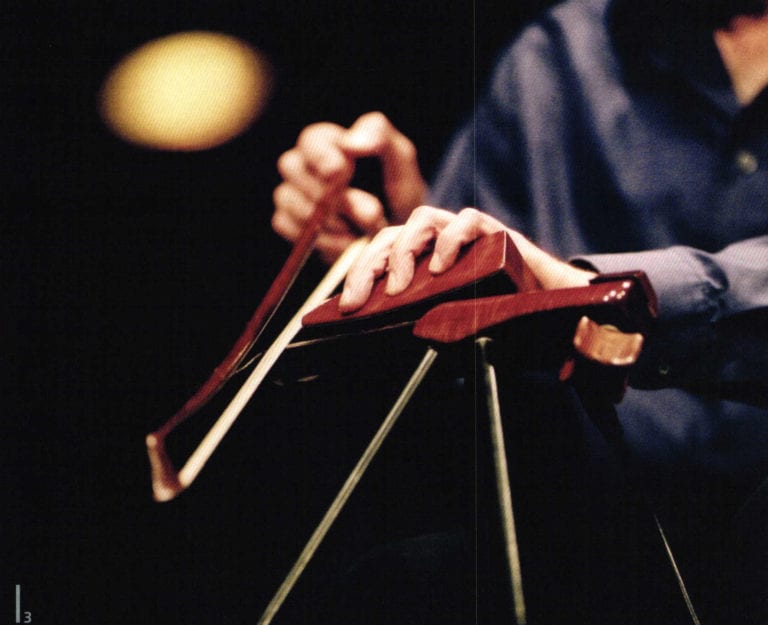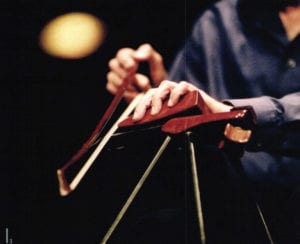 Mans Reichel playing his Daxophon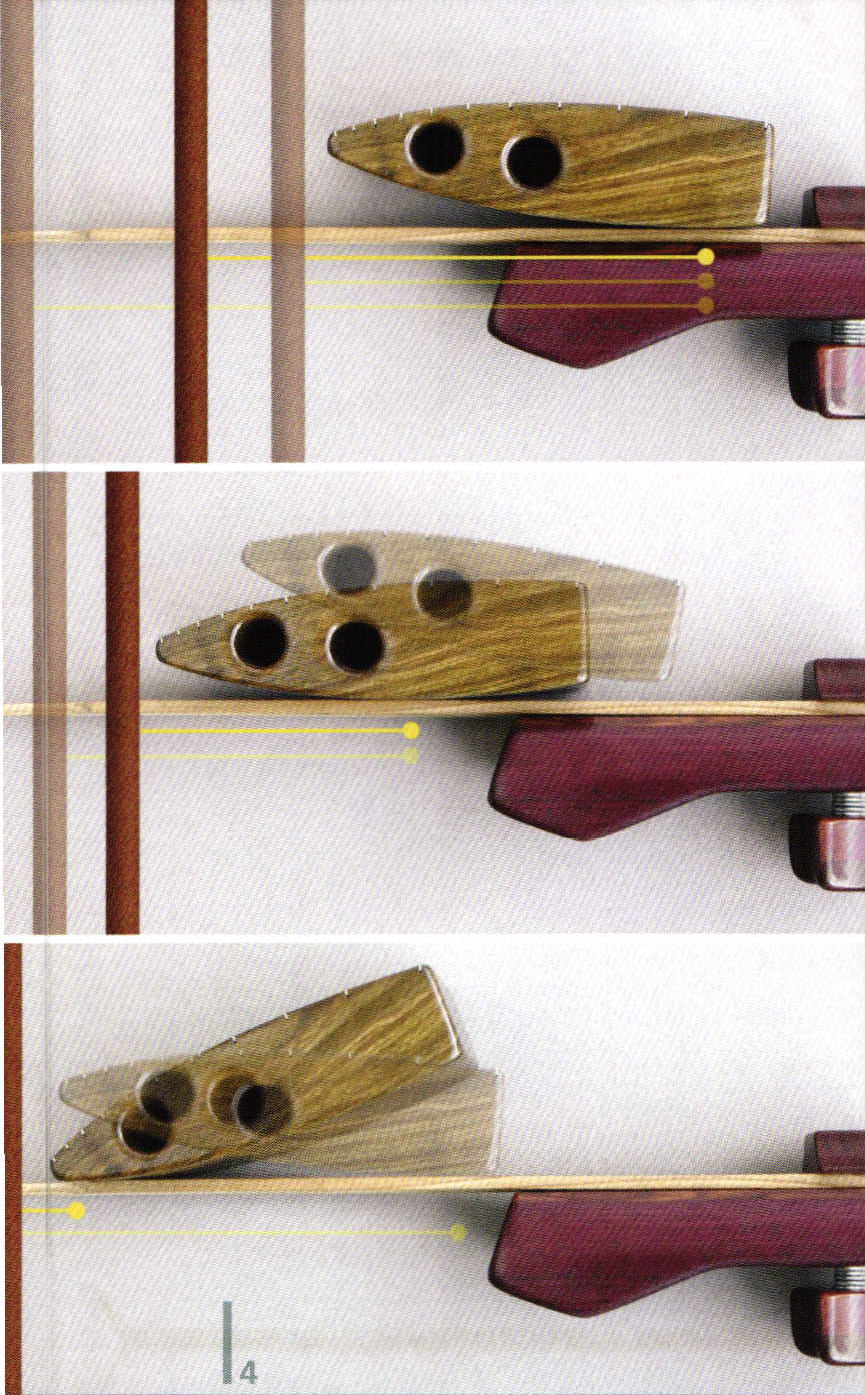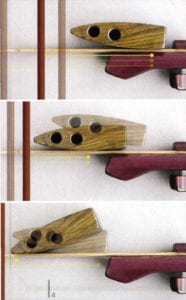 Hans Reichel's daxophone functions as follows: a bow is used to make the board vibrate. The tone varies depending on how the wooden wedge, the 'dax' is moved across the vibrating board
Healing sounds, idiophones and crazy noises
The passion of German sound artist Jochen Fassbender is to extract surprising sounds from the materials all around him. He extracts sound from wood, metal, stone and even water. Fassbender is convinced that sounds can have both a healing and destructive effect. He has created an 'instrument' which makes it possible to physically feel the sounds, known as a resonance cradle: a construction comprising a resonance chest upon which a person can lie swings above a copper pipe. If you strike the pipe, the cradle begins to resonate with the sound and transfers this to the person lying on the chest in the form of a physical sensation. Sound therapy harnesses the energy of such sounds, resulting in notable healing powers, for example in the case of muscle tension and psychological disorders.
German guitarist, violinist, instrument maker and typographer Hand Reichel developed a completely new stringed instrument, the daxophone, through experimenting with sounds and everyday objects. "When I first started to play it in concerts some years ago, people thought I was trying to create a fire on stage due to the white clouds of colophonium it releases, which are particularly striking in the spotlights," according to Hans Reichel's humorous account of his developments in the world of sound. The daxophone is just as loud and penetrating as it is small and inconspicuous.
It belongs to the idiophone family, which is comprised of self-vibrating instruments and functions as follows: a bow is used to make a wooden board vibrate. This board is connected at one end to a resonance chest. This chest contains microphones which convey the acoustic/ sensory signals. The other end of the board is free-swinging. The pitch and tone can be changed using a wooden wedge known as the 'dax' which is pressed backwards and forwards along the vibrating board. Hans Reichel has introduced many listeners to the strange sounds of his invention at international festivals through his 'All Dax(ophone) Band', which includes musicians Jan Kazda, Harald Heller and Ingo Specht. His website is also a real treat for the eyes and ears: www.daxo.com.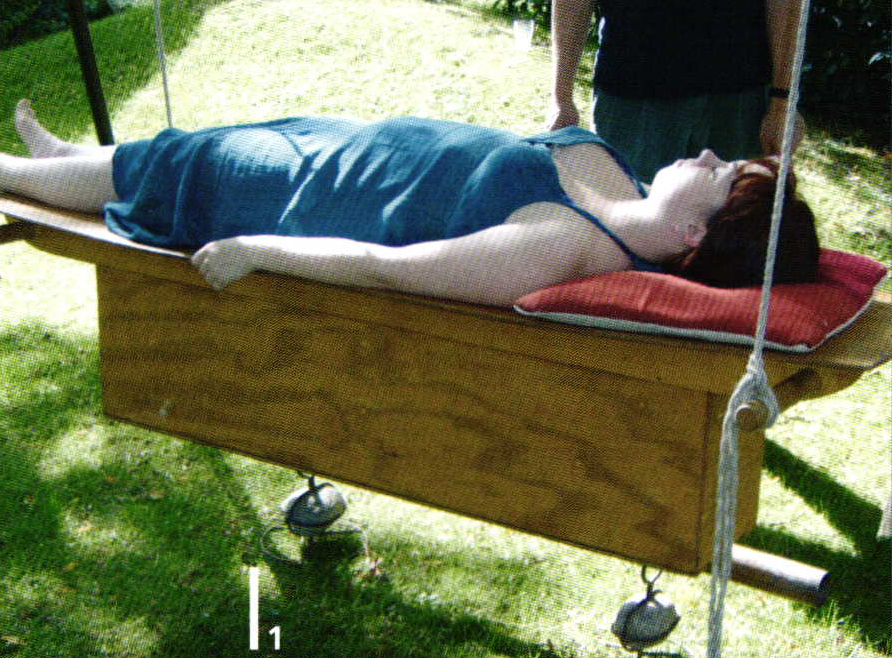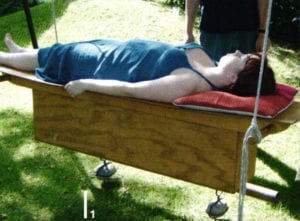 Feeling the healing sound: the resonance cradle created by Jochen Fassbender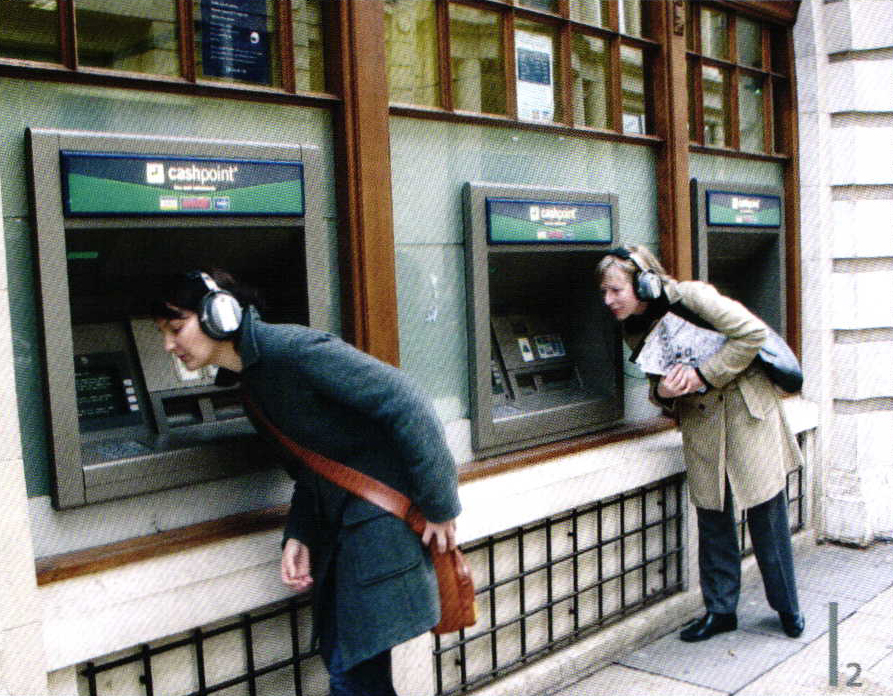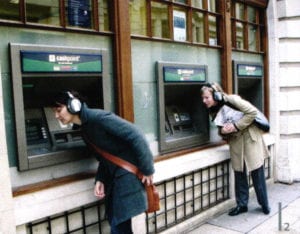 All over the world, people are exploring the electrical walks developed by Christina Kubisch – for example in Birmingham …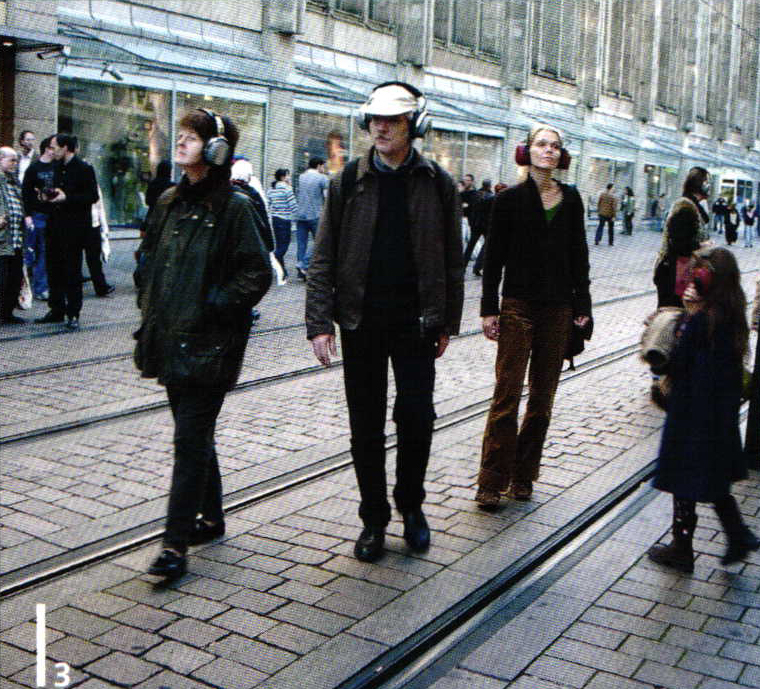 … and in Bremen
Sense/ Nonsense
Sound poetry is to lyrics what abstract painting is to fine art. Both use motifs or language not as content, but as a technique in itself. One of the most famous examples are Kurt Schwitters's 'Ursonate' (sonata in primitive sounds), composed by this German painter and poet at the start of the 1920s. Dutch vocalist and sound poet Jaap Blonk interprets this Dada classic magnificently. Together with American media and communications artist Golan Levin, he brings impressive form to this seemingly unorganized jumble of letters: while Blonk is projected against large screens during the recital of this spoken opera, Golan Levin creates the 'musical score' in real time, rather like subtitles, with 'notes' of different sizes running across the image in different directions and patterns. Although sound poetry may seem like nonsense when first encountered, sound poet Blonk feels that it plays an important role, both from an artistic and social perspective. In an interview given at a university lecture, he said: "I hope that poetry can still open people's eyes even today. That poetry can show them, for example, that there are also forms of thought where Yes and No are not mutually exclusive. Or that we can by all means think up our own rules – whether in creating a work of art or acting in an ethical manner. That we, for example, shouldn't accept the laws of hierarchical systems without giving them some thought. Sound poetry can play a particular role here as it can convey very significant content through nonsense. In this sense, I see myself as part of the tradition of artists who have broken with convention and who consider conventional means of expression to be empty and meaningless."