Jewelers, goldsmiths and specialist retailers are increasingly ordering on short notice. In saturated markets, the demand among consumers for new products is a lot more spontaneous than it used to be. Advertising pressure is necessary in order to generate needs. A lot of consumers respond to the trends in textile fashion, looking for the matching jewelry and watches. Designer jewelry also has a shorter half-life these days. Manufacturers and jewelry designers are therefore now expanding their spring collections or launching new products in fall, just before the high-sales Christmas period. As an opportunity to place orders precisely around this period, fairs in the fall are becoming increasingly important.
In international terms, the International Jewellery London (IJL), Hong Kong Jewellery & Watch Fair and the Scandinavian Gold-Silver-Watches Fair in Copenhagen are among the most important industry events in fall. These markets are very important in order to gain a foothold in foreign markets, especially for German manufacturers.
The IJL will be held in Earls Court Exhibition Center in London from September 4 to 7. It is the most important English fair in the jewelry industry. Over 640 English and foreign manufacturers and designers present their new products to a specialist audience here. The foreign exhibitors mainly come from Italy, Hong Kong, India, South Africa, Germany and Belgium. This year, numerous new exhibitors will attend the IJL for the first time to present their products. The fair has established a separate area to cater for these exhibitors. In the Design Pavilion, young British artists and iconoclastic figures of jewelry design like Sarah Jordan, Shaun Leane, Dower and Hall, Goodman Morris, Laura Tabor and Sam Ubhi will present their latest work. Each year, British jewelers generate just over six billion euros in turnover in the jewelry and watch sectors. This means that Great Britain is the world's fifth largest, individual market in this industrial bracket, trailing behind the United States, Japan, China and Italy. Even if English consumers are currently somewhat reserved, the demand for jewelry remains stable.
The largest industry event in Asia is the Hong Kong Jewellery & Watch Fair from September 21 to 25. Over 1,900 exhibitors from 47 nations have already announced their participation. The trade fair management expects 38,000 visitors. The exhibition space, all of 60,000 square meters, also seems likely to set a new record. There are over 1,000 exhibitors from Hong Kong alone, while roughly 480 come from other emerging Asian states. Over 15 countries will present themselves in international pavilions.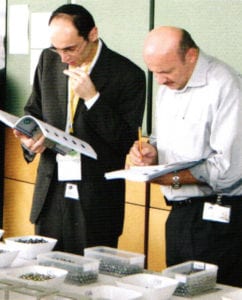 Exhibitors from the United States, Australia, Canada, France, England, Germany and Italy intend to grab their share of the booming Chinese market. The Hong Kong Jewellery & Watch Fair is one of the three largest industry events around the world. It is considered to be the most important trade fair for cultured pearls, the second largest shop window for diamonds and gemstones and the highest-turnover order event in Asia. Most of the visitors come from Hong Kong and China, followed by Taiwan, the United States and Japan.
The most important industry event in northern Europe is the Scandinavian Gold-Silver-Watches Fair, held from August 25 to 28 in Copenhagen. Housed in the Bella Center, seven kilometers from the Danish capital city and spread over 5,500 square meters, it offers 200 exhibitors the opportunity to show their latest products. Last year, the trade fair attracted over 8,700 captivated visitors. It is regarded as being the gateway to the Scandinavian jewelry and watch markets. Specialist visitors with an invitation have free entrance. A goldsmith and shop window competition is held during the trade fair. Daily trend shows present how perfectly jewelry and fashion complement each other.
The next few pages present selected German manufacturers of high quality jewelry and innovative machines and tools who will also be showing their latest products at the international trade fairs in fall.
www.jewellerynetasia.com/exhibitions/
www.gsu.dk/english/general+info
A world of pure emotions
monomania is pure and unblemished, self confident and a strong seller! The lifestyle brand sets strong standards in the range of stainless steel jewelry. In addition to the successful highlights, the 2005 collection includes numerous extraordinary items of jewelry and combinations with high-quality brilliants, Indian rubber, precious resin and real colored stones.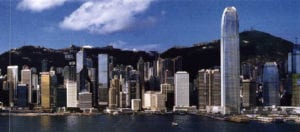 In addition to high quality jewelry design, the brand also offers a large range of accessories. All of the products can be combined to form classy ensembles. The neutrality of color in the stainless steel permits countless variations of decorating oneself with monomania. The surfaces on offer range from brushed matt to high gloss polished. International Jewellery London, booth 910
Beloved items of jewelry
Organic forms that underscore the femininity of the woman wearing them and that nestle around them without suppressing her personality due to their simplicity are the characteristic features of this high quality silver and gold collection by Tezer. Unique creations of timeless elegance in high standards of craftsmanship are the reasons for the success of this exceedingly extensive, technically brilliant collection from Frankfurt. International Jewellery London, booth 478
The spirit of pearls
Gellner stands for two generations of competence in cultured pearls. The company's declared goal is to lend a new face to pearls by integrating them within items of jewelry, thus bringing forth the spirit lurking within the pearl. Quality and creativity are the Gellner characteristics within Spirit of Pearls.
Each time has its own fashion. And this in turn influences jewelry as one of its most valuable companions. But classics do also exist. In its jewelry design, Gellner stands for this interplay between zeitgeist and timelessness. An exemplary case underlining these standards is the material mix of modern, colored plastic, combined with precious, cultured pearls in the new collection. The modern classics represent a peaceful rebellion against traditional values. A likable couple sits enthroned above the two or three-band rings: a cultured pearl from the South Seas with a colored gemstone set in gold. This is fresh and young and suits jeans just as much as a good mood. International Jewellery London, booth 208 / Gold-Silver-Watches Fair Copenhagen, booth E 23
Craftsmenship meets design
The Company was founded in 1975 by master goldsmith and Diamond Award winner Horst Lang He specialized early on in jewelry with colored stones made by highly skilled craftsmen and supported by CAD/CNC and laser welding machines The top lines are "Spirals", "Infinity" and "Comfortable".
"Spirals" are colored stones in the center of diamond spirals. They are offered as round, oval, triangle and rectangular spirals. "Infinity" setting frames the center stone and forms the pendant's loop – like the number eight. In many cultures the eight is a magical number, denoting harmony and infinity. "Comfortable" rings with rubber bands. They are very comfortable due to the flexible bands. International Jewellery London, booth 755
Good vibrations
Annoying when you are driving, praised and cherished as authentic by lovers of American motorbike legends, disturbing during most technical processes: vibrations.
Indutherm has now discovered this factor for casting jewelry and has fitted the new Vacuum Pressure Casting Machine VC 600 V with vibration technology (patent pending). lndutherm has developed this top model and the vibration system with the intention of producing a better and more even casting quality than ever before. The expectations were high as to whether all the advantages, which have been shown in the metallurgic analysis (e.g. finer grain, less porosity, higher and more constant density), would be confirmed in everyday use. Meanwhile, Indutherm got a lot of positive feedback from different customers working with the new system. Hong Kong Jewellery & Watch Fair, hall 7, booth F31
Experts for all aspects of precious metals
Hermerle + Meule, founded in 1845, is regarded as being the oldest gold and silver separating center in Germany. The Pforzheim-based firm has continually expanded its program for the jewelry and watch industries and for the goldsmith and watch maker studios. "The jewelry designers fantasy should be implemented in production without restriction" is the declared goal of the separating center.
In addition to classic precious metal recovery and precious metal trading, the company also focuses on the production of precious metal blanks and the development and production of galvanization chemicals along with the matching, small galvanization devices and even automatic galvanization systems.
The CNC-supported production of ring blanks and profile ring blanks that has been in use for years was expanded last year. In addition to the already considerable standard warehouse program in terms of alloys, wall thickness and ring width, further alloys have also been included in the program. The turned profile ring blanks manufactured according to customer specification are derived from 20 basic forms. This means that it is possible to manufacture almost any form rationally and cost-effectively. Hong Kong Jewellery & Watch Fair, hall 7, booth F40
Finishing technology for the highest standards
The brand name Otec is known throughout the world for its innovative grinding and polishing systems for the jewelry industry. The efficient and above a economical solutions make the company from the South of Germany a popular partner. The demanding technical solutions and the excellent constructive quality are the reasons for the global success of the disc finishing machines in the CF series by Otec. Offering different centrifugal force settings, the machines enable intense finishing of the work pieces with the processing medium. The technology is 20 times more effective than other, traditional finishing machines. During wet processing, a water/compound mixture is constantly added and drained off, rinsing off the eroded dirt particles. This lends the jewelry items a uniquely clean and light surface (see article in this issue on page 76). Hong Kong Jewellery & Watch Fair, hall 7, booth F31
Jewelry made by hand
For Manu, the name is synonymous with its product philosophy. Manu is Latin for "Made by hand", meaning that every piece from the Hameln-based jewelry workshop is handcrafted by qualified goldsmiths. Manu focuses on silver jewelry with fine gold soldering, manufactured in small series. Clear and often geometrical shapes dominate the design, with stones setting restraint highlights without being pushed to the foreground. The designer Ilse Ebert is responsible for a substantial part of the collection. The collection consists of about 250 pieces, complemented by numerous new designs each season. International Jewellery London, booth 269 / Gold-Silver-Watch Fair Copenhagen, Soelv Expressen, booth APS C2-21
The most fascinating facets of a woman
Gracefully, the diamond glides freely in its setting, held by an arch of polished platinum. The light strikes it from every angle and ignites its brilliant fire. With every movement, the stone and its wearer unveil a new, shimmering side of her personality, emphasizing sparkling features: Alongside diamond rings, exclusive necklaces and exquisite pairs of stud earrings also belong to the Arcana collection. All items of jewelry are made according to the Liberté principle. They distinguish themselves through precise craftsmanship and attention to detail. The jewel in the necklace oscillates like a shining star over the décollete of its wearer. The stud earrings light up on every movement of the head and attract magically admiring glances. A fascinating prelude to the new Liberté-series by Gebrüder Schaffrath. International Jewellery London; booth 305
Briolets, matched suites & color mix
These three topics are still dominating the fashion oriented sector of the jewelry market. August Mayer from ldar-Oberstein combines the trends by presenting these breathtaking sets and combinations. Briolets no longer only exist in drop shapes. They come as hearts, ovals, rounds and olives. Be colorful and dare to mix, new looks wait to be discovered! Hong Kong Jewellery & Watch Fair, hall 5, booth H06
Modern jewelry boxes
Ch. Dahlinger GmbH & Co KG, headquartered in Lahr, in the Black Forest region of Germany, is Europe's leading full-service provider for the packaging, decoration and presentation needs of jewelry, watches, writing instruments and other luxury products. The company was founded in 1871. Since then, Dahlinger has stood for high quality, excellent service and modern design. The company is well known for its cardboards in many sizes and fashionable colors. International Jewellery London, booth 1061 / Gold-Silver-Watches Fair Copenhagen, booth C4-21