Ask someone to define "fine jewelry" and you'll usually hear something about gold, platinum, diamonds, and other traditionally "precious" materials. But go to any high-end jewelry trade show today, and you'll find that the fine jewelry in the cases rarely matches this limiting definition.
Designers and manufacturers aren't hesitant to mix nontraditional materials, such as leather, exotic hardwoods, cords, and unusual gemstones, with classic fine jewelry materials.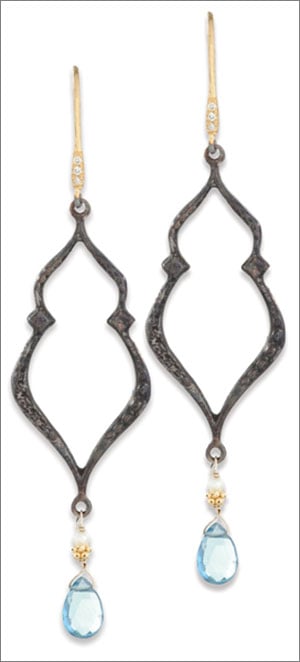 As the price of gold has escalated consistently over the past five years or so with little easing, upscale jewelry makers have had to rethink their product offeringsand in that time, the lines between "fine" jewelry and "fashion" jewelry have blurred. Designers who pre-2008 would never have dreamed of working in anything but gold have embraced sterling silver, while others have gone a step further in search of alternative metals such as titanium, tungsten, and stainless steel to achieve their visions.
"When designers and manufacturers call me today, they believe in their design and they want to get their product to market, but they need a price point that the market will bear," says Ed DeCristofaro, president of LDC Inc. in East Providence, Rhode Island, a contract manufacturer who specializes in fashion jewelry designs. "It doesn't have to be karat gold anymore, as long as the product has a unique design and the quality of manufacturing is good. Today's consumer is more interested in design and brand over metal."
The move to silver and alternative materials by fine jewelry designers is, of course, in large part a reaction to the economic situation. "Starting in 2008, consumers' disposable incomes were cut in half and precious metals prices tripled," says designer Etienne Perret of Camden, Maine, who about four years ago added ceramic to his 18k, platinum, and diamond line. "Jewelry designers and manufacturers have responded with thinner precious metal pieces, and, more recently, a move to alternative materials."
But that's not the sole reason why we find the boundaries skewing between the fine and fashion jewelry worlds. While the rise in precious metals prices has had a major impact on this blurring, other factors have come into play in this trendincluding an entire new generation of buyers who don't want to conform to traditional boundaries. For them, "precious" and "non-precious" don't matter as much as one thing: making a personal statement.
Is Silver the New Gold?
"If you look back about a decade ago, silver wasn't considered part of the fine jewelry world," says Alex Woo, jewelry designer and creative director of Alex Woo Inc. in New York City, best known for its "little icons" collection of gold and silver charms with diamonds. "Luxury brands like John Hardy and David Yurman brought silver into the fine jewelry realm, and ever since it has become accepted." Selling the luxury of silver and marketing it as a lifestyle choice for the well-heeled, Hardy and Yurman raised the bar for silver jewelry. They were among the first to make it a viable option as a fine jewelry choice.
Ever since, silver has seen a surge in usage among fine jewelry designers and manufacturers, many of whom have embraced the metal post-recession for its precious status and relatively low cost. Designers who previously worked solely in gold have turned to silver in droves.
Renowned New York Citybased designer Gurhan is an example of this. Five years ago, Gurhan used silver for prototyping only, fabricating all of his pieces in high karat gold. It was a metal that became synonymous with his brand. But in 2009, all that changed.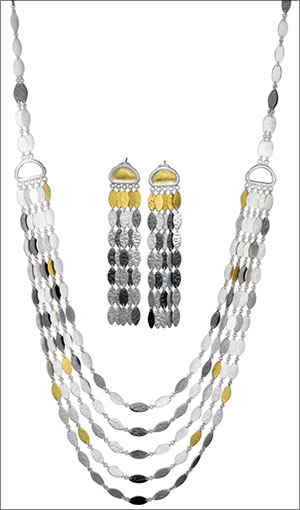 "To appeal to a broader market and make his work accessible to a wider range of consumers, Gurhan introduced a silver line in 2009," says Jamie McCorry, the company's marketing manager. "To stay true to his roots, Gurhan adds a kiss of 24k gold to all of his silver pieces. He feels that this simple touch keeps the work true to his first love and his signature aesthetic24k gold." Intentionally or not, it also provides a perception of added value that enables the product to fetch a higher price point at retail. McCorry reports that Gurhan's silver line has doubled in size since its introduction five years ago and now makes up about half of the company's product mix.
At the upcoming Couture show in Las Vegas, Lisa Jenks of Lisa Jenks in New York City plans to introduce an expanded line of silver offerings to meet what she sees as a real need at the retail level. "Retailers are looking for upscale silver designs that they can sell at a certain price point to consumers who value design and name brand," says Jenks. "It doesn't have to be gold anymore to be considered 'fine jewelry.'" By adding their creativity and brand recognition to silver pieces, designers today can make significant margins on such lines while offering the consumer a product she can afford.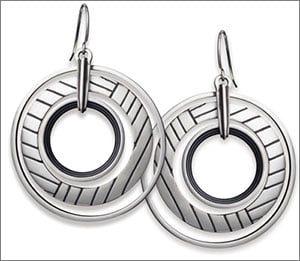 And just as unlikely as it was to see a lot of silver in fine jewelry stores a decade ago, it was even more rare to see silver set with diamonds and gemstonesa common practice among today's fine jewelers. While they are elevating the metal's status with big names and bold marketing, designers and manufacturers are adding value and increasing price points with the use of precious gems.
"When you think back seven to 10 years ago, very few people were doing silver with diamonds Yurman, maybe, but few others," says Irit Ehrlich of IritDesign in Malibu, California, who emphasizes blackened silver and diamonds in her jewelry. "Today, it's ubiquitous."
Beyond the combination of silver with a most revered material such as diamond is the emotional or personal meaning of the piece itself. A significant piece of silver today is considered an heirloom to be passed down through generations.
"With my line, the pieces have sentimental emotions attached to them," says Woo. "For example, a man might give his wife a push present of a silver initial charm that stands for the name of their first-born. The mom will likely wear the initial and pass it on to the child. A decade ago, someone might not have considered a silver jewelry piece to be heirloom-quality, but the emotion that you build into the piece makes it so, regardless of the metal used."
Alternative Materials Look Cool and Different
Sterling may be the "new gold," but it's still a precious metal. And in the blur between fine and fashion, even that distinction is no longer a requirement, thanks to the newest generation of jewelry buyers in their 20s and early 30sGen Y.
According to Perret, "the new generation is more willing and eager to consider materials other than precious ones for their jewelry." The steadily rising sales of Perret's ceramic bridal and fashion jewelry line are proof of this shift in mentality, particularly among the Gen Y set. "A lot of young consumers opt for my ceramic bridal pieces because they are cool," he says. "Their grandparents had gold bands, but they want something new and high-tech."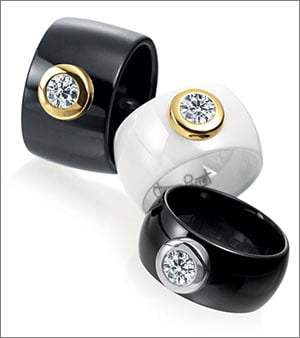 "Consumers are looking to express themselves individually, and this desire to set themselves apart and select something that speaks to them rather than conforming to the idea of traditional 'fine' jewelry is leading them into a fashionable arena," says Melissa Joy Manning of Melissa Joy Manning in Berkeley, California. "Designers, in turn, are responding by creating pieces that are unique and modern."
Those responses take many forms. In some cases, such as with Perret's ceramic rings, the uniqueness comes from nontraditional, non-precious materials. In others, it's pairing a precious metal with a nontraditional material. Woo, for example, has introduced a line of "mini addition" cord bracelets, which suspend 14k gold charms and a gold bead from a colorful fabric cord. Available in endless combinations, the cord bracelets are designed to be worn in multiples and retail for around $350 each.
Also working in precious metals, Manning is combining them with unusual and nontraditional gemstones. "When we first started using diamond slices they were considered trash [by gem suppliers] and priced for less than $90 a carat," she says. "Now they are 'graded' and can go for 10 times that amount."
Again, it all comes back to design. "I love to push people's perceptions of precious," Manning says. "A perfect white stone is beautiful, but it simply can't compare to [a stone in its raw natural state]. Through our use of innovative stones and modern pairings, we ask our customer to treasure the beauty of diversity in design."
Jenks pushed the boundaries when she started experimenting with bronze and "pink silver" a few years ago. "For some of our customers, it can be more about the look than the materials," she says. "Pink silvereven though it was mostly a copper-based alloy with a small amount of silverwas all about the color, while bronze has a sort of pedigree due to its relationship to sculpture and art jewelry." The resulting pieces were manufactured to the same quality expectations as Jenks' gold and silver offerings, and the response from consumers was positive. "They loved the name of the 'pink silver,' and they loved the warm color of the brass," she says. "Because it was part of our product line that is all handmade in New York City and had our name on it, they were open to the idea of alternative metals."
The Power of Celebrity
High metal prices may be spurring designers to shift from traditional "fine" materials, and a new generational attitude may be opening new markets for "blurred" jewelry. But when it comes to fueling demand, never underestimate the power of celebrity style influencers. It's not uncommon today to see even the richest movie stars who are accustomed to dripping in platinum and diamonds on the red carpet making statements with unique, "fine/fashion" designer pieces.
"In LA, celebrities who own Harry Winston are wearing my pieces," says Ehrlich, whose roster of famous admirers includes Halle Berry, Jessica Par?, and first lady Michelle Obama, who recently wore eight of Ehrlich's silver-and-diamond pieces to an event. "You can own a serious piece of platinum and diamond jewelry, but a silver and diamond piece is more modernmore fun," she says.
Woo adds that today's consumer is much more in tune to what celebrities are wearing, due to coverage in fashion magazines, blogs, TV shows, and websites devoted to celebrity trends. "People are more savvy today and know what is on-trendand they want to own it," she says, reporting a huge response when her "little icon" necklaces were worn on every season of "Gossip Girl." Woo counts Jennifer Lopez, Halle Berry, Jessica Alba, and Eva Longoria among her celebrity following, and feels that she is identified with fashion and style influencersbut also has a foot firmly rooted in the fine jewelry world. This is probably best exemplified by her Mini Addition cord bracelet line.
"My designs may be fashion-forward and on-trend, but the fact that they are personal, classic, meaningful, and are made with precious metals shows how I straddle the line between fine and fashion jewelry," she says. "My line has a certain balance that enables me to sit in both worlds."
And, if the blurring of the fine and fashion boundaries continues to pervade, she will be in good, and growing, company.