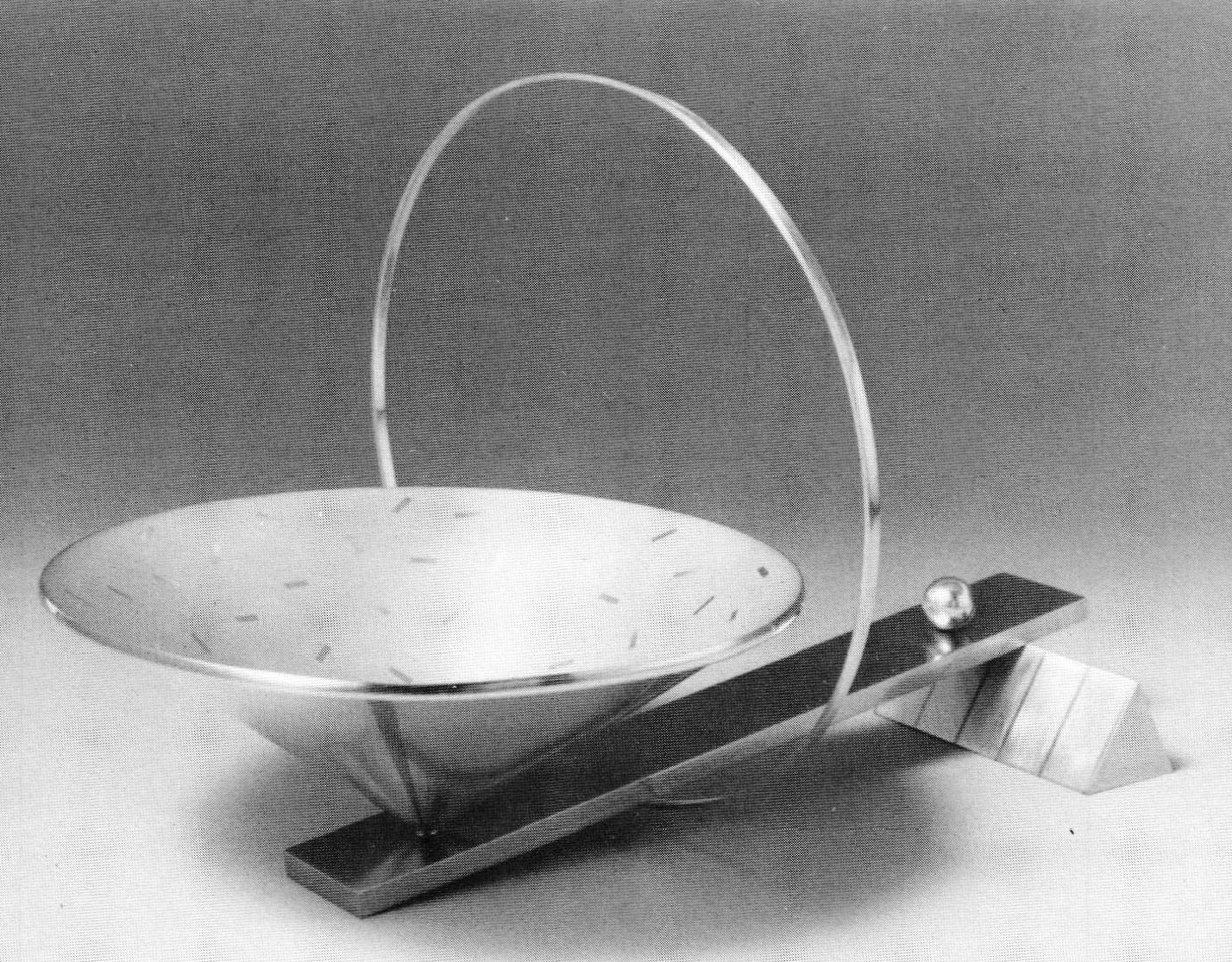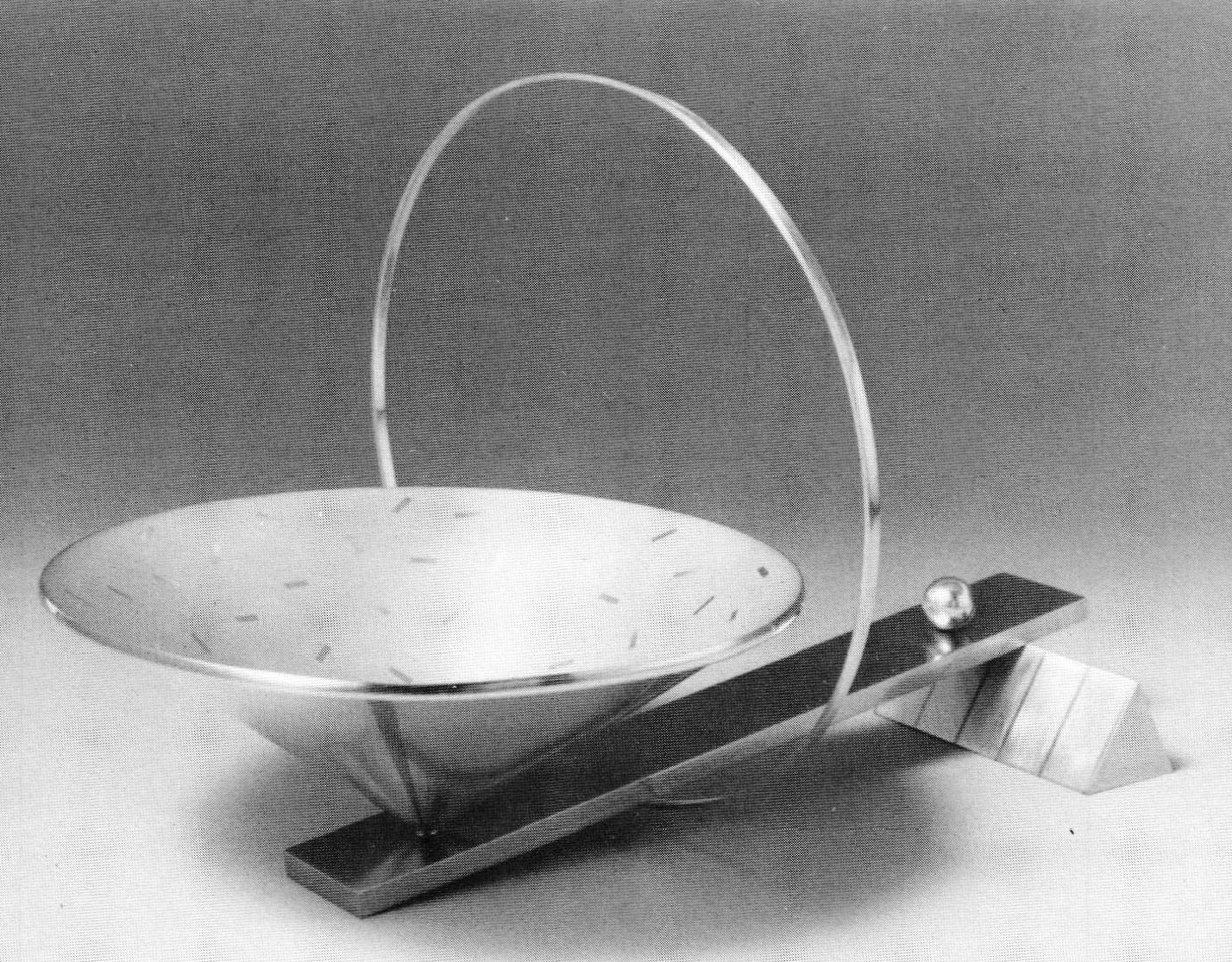 Randy Long: Works in Metal
---
2 Minute Read
This article is a review on the Works In Metal Exhibition by Randy Long held at the Fine Arts Gallery, Indiana University, Bloomington, Indiana on November, 1983.
Randy Long began her new position as Assistant Professor of the metals department at Indiana University with a most impressive exhibition of her metalwork. I have followed Randy's work with great interest and applause for the past several years. This exhibition demonstrated Randy's ability to express her vision in wearable jewelry as well as sculptural forms for contemplation.
Geometric forms prevailed here, with a delicate balance of surface treatments created by roller printing, sandblasting and manipulating colored metals. This surface treatment helps to soften an otherwise stark environment of geometric shapes. Throughout the show there were many symbols that Randy continues to explore with her own signature. Pyramids and cones appear throughout the work, calculated to look accidental in their placement. Her concentration on a limited number of forms allows freedom in the scale and arrangement of various components within each piece. Details of solids suggest mathematical equations of time, dust particles and atoms floating in an unfamiliar landscape.
In sculptures concerned with balance and interaction, such as Vessel for a Ring Master, the treatment of an edge is never overlooked. Line is seen as a repeating element, from inlay to edge to a tangible line in space Subtle touches are seen in the rim of nickel silver at the top of the cone and in the overlapped seam which creates a relief line indicating the construction. The shapes support one another leaning, piercing and interacting. The point of the cone is so sharp that the pierced disc that it penetrates is further emphasized. A circle holds everything together, as if the piece would fly apart from centrifugal force if it were not there. The infinity and perfection of the circle becomes a stabilizer in this delicate balance of images. The striped terrain softens the finite nature of the piece to indicate a fragment that continues without defining its borders. In contrast, the three brooches Closed Segment, Open Segment, and Frosted Segment are all framed by struts holding the flattened cones together while providing an edge to the work.
The apparent simplicity of this work is foiled by Randy's attention to detailing. She relies on pattern, texture and a change of color to give depth to the simple open and closed forms in this exhibition. The choice of materials becomes an essential element in the overall statement of each piece. Through the consistent use of sterling and nickel a sense of mystery and quietness is created. The translation of sculptural ideas into wearable jewelry works well, demonstrating an ability to freely design works for use and/or contemplation.
You assume all responsibility and risk for the use of the safety resources available on or through this web page. The International Gem Society LLC does not assume any liability for the materials, information and opinions provided on, or available through, this web page. No advice or information provided by this website shall create any warranty. Reliance on such advice, information or the content of this web page is solely at your own risk, including without limitation any safety guidelines, resources or precautions, or any other information related to safety that may be available on or through this web page. The International Gem Society LLC disclaims any liability for injury, death or damages resulting from the use thereof.
---
The All-In-One Jewelry Making Solution At Your Fingertips
When you join the Ganoksin community, you get the tools you need to take your work to the next level.
Become a Member
Trusted Jewelry Making Information & Techniques
Sign up to receive the latest articles, techniques, and inspirations with our free newsletter.