Show one of 3M's radial bristle discs to a non-jeweler friend, and you are almost guaranteed to get a lukewarm response: "This is what you're so excited about?"
But to the jewelers who have eagerly adopted them, these simple circular brushes are "the greatest thing since flexi-straws," says metalsmith Karen Christians. "I love them because they give me the freedom to get into those sniggly curvature areas that are nearly impossible [to reach] with nearly any kind of abrasive system," says Christians. "What really makes them [so great] is the flexibility. Because they bend almost 180 degrees, they can get into places you can't normally get with folded sandpaper or a Scotchbrite pad."
3M Radial Bristle Discs: What To Buy
As an Amazon Associate, we earn from qualifying purchases referred from our site.
The radial bristle disc is made of a specially formulated material impregnated with mineral abrasives and cut into bristles. Available in a variety of grits, from 36 grit down to 1 micron, the brushes were designed with the jewelry industry in mind.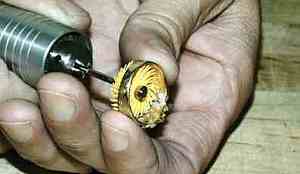 Although 3M has a long history of producing sandpaper and other products for the jewelry industry, it was 3M Sales Manager Rich Bohr's experiences with Native American jewelry makers in Phoenix that led to the development of the radial bristle disc. "One thing that kept coming up from manufacturers as well as small jewelers is that they traditionally used brushes loaded with compound [for polishing]," he says. "This compound would continually get into cracks and crevices, especially in ornate pieces. [In addition], the compound would fly off and get all over the operator." The jewelry manufacturers told Bohr that they'd be very interested in any product 3M could develop that would help in finishing around prongs and crevices without the mess.
The result, the radial bristle disc, was designed to work on gold, silver, brass, and copper, but also works well on stainless steel and platinum. The finer grits, including the 6 micron, 1 micron, and pumice discs, are soft enough not to scratch most gemstones, allowing use on prongs and tight areas near set gems.
But the real advantage to the discs, say jewelers, is their ability to get into places that other abrasives just can't reach. "[I do] fairly detailed castings, and they're good for getting into cracks and crevices that I just wasn't getting into with other polishing [tools]," says jewelry designer Janet Kofoed of Drexel Hill, Pennsylvania. "I'm much more satisfied with the quality of the finishing I'm getting. Before [the bristle discs], I'd look [at a piece] and say, 'gee, I really couldn't get into that crevice.'"
Although the radial bristle discs don't eliminate some of the steps necessary to get a final polish, they can save time by reducing the amount of work needed to produce an acceptable polish on complex pieces.
"The radial bristle disc gives a more uniform texture [that] doesn't rely on hand pressure, and [it doesn't] dig in or scratch [the surface]," says Christians. As a result, it's easier to teach her assistants the steps needed to finish pieces in her production line, and she gets a more consistent result. What that translates into is a new sense of freedom in designing, Christians says. "Usually, I'm trying to design for maximum cleanup [efficiency], given the tools and abrasives I have at my disposal," she explains. "[With this tool], I'm a lot more free in the design. It opens the world up a little bit."
3M currently sells its radial bristle discs through several jewelry industry distributors, both in individual grits and as a kit featuring all of the grits designed for jewelry making. The company has also recently introduced a jewelry radial bristle brush in a 6-inch diameter for use on bench motors. Check with your supplier for more details.