Paul Robilotti – Renaissance Collection
Paul Robilotti of Robilotti Fine Jewelers in Binghamton, New York, doesn't like to let inspiration pass him by. He always travels with a sketchpad, ready to jot down ideas at a moment's notice. His Renaissance collection, which he began in 1990, was inspired by the observations he made during a visit to Rome in the late 1980s.
The son of an architect, he relished the ancient city's details—elaborate friezes, carved moldings, and fanciful crowns—that later permeated his work. Yet, architecture is not his sole muse. An avid fly fisherman, he's also very much moved by nature. In fact, leaves, which dominate the Renaissance Bracelet, are a mainstay of his design. Along with the acorns, they add a romantic touch to the bracelet, as well as pay homage to his outdoorsy nature.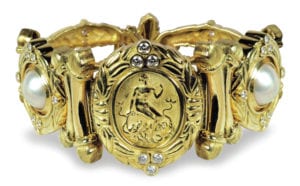 Robilotti envisioned a grand piece when he set out to design the bracelet. When he first conceived its design, he transferred the vague idea into a rough sketch that he then used as a reference as he began carving the design in wax. He favors the medium because wax allows him to create a more flowing design. Mirroring natural movement, he wanted to evoke undulation via discrete changes in texture. "When the wearer looks at it, she may not realize what the texture is until further inspection," he says. As the wearer examines the piece, she'll discover nuances, such as the small diamonds that symbolize berries.
Mirroring natural movement, he wanted to evoke undulation via discrete changes in texture.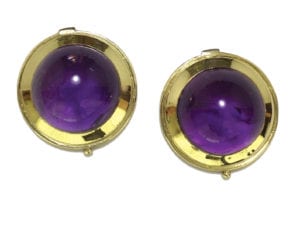 After casting the wax carvings to create a silver prototype, Robilotti turned them upside down, fit them together, and figured out how he should create the hinges. The challenge was to create a flexible bracelet. While he didn't want to leave visible spaces between the sections, he needed to ensure the sections could still move. He made the hinges out a piece of tubing he hand fabricated, cutting it into "knuckles," small tubing pieces that he installed on both sides of each bracelet segment. Once he aligned the knuckles on connecting segments, he threaded a wire pin through them and then soldered the wire at both ends to verify the fit and function of the hinges.
Ganoksin is sponsored by
When he was satisfied, Robilotti made a second mold out of natural rubber. "Everything but the casting is done in house to keep better quality control," he says. Then, he had the pieces cast in an 18k green gold alloy to further the feeling of passion and sentimentality, choosing the metal for its deep and rich color. "Pieces of this stature deserve a higher karat gold," he says. Not too soft, it's also great for hinges, which he cast in place on the final bracelet. He checked the alignment of the cast hinges and then threaded 18k wire through them, soldering each end of the wire to secure the hinges.

To complete the bracelet, Robilotti settled on giving the piece four finishes. He left some parts of the raw casting alone to highlight the reflective parts and "to bring out the character of the element within," he explains. "Because the residual casting surface is a little bit rough, it would appear to be a lighter color." He then sandblasted some areas to give the pieces more depth, highlighted the upper surfaces (such as the acorn stem and leaves) with a high polish, and used a graver to give a Florentine finish to each acorn. These finishing touches guarantee that, in the end, every detail reflects the expert craftsmanship of the designer.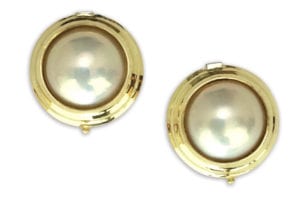 Like its history buff/sportsman designer, Paul Robilotti's Renaissance Bracelet boasts a chameleon-like ability to transform. The 18k gold bracelet comes with detachable intaglios bearing the image of Pan, the Greek god of the wild, that provide versatility – the wearer can easily swap out the bezel-set Mabe pearls or gem cabochons for the ancient gold coin replicas.
The intaglios were based on the molds of ancient coins made by Peter Rosa, Robilotti's mentor. A merchant marine, Rosa traveled extensively, often making casts from the ancient coins he handled in museums. Robilotti was one of the lucky recipients of those intaglios' reproductions.
Ganoksin is sponsored by
Robilotti's Renaissance collection was inspired by observations he made during a visit to Rome. He relished ancient city's details—elaborate friezes, carved moldings, and fanciful crowns—that later permeated his work.

Paul Robilotti
Robilotti Fine Jewelers
Binghamton, New York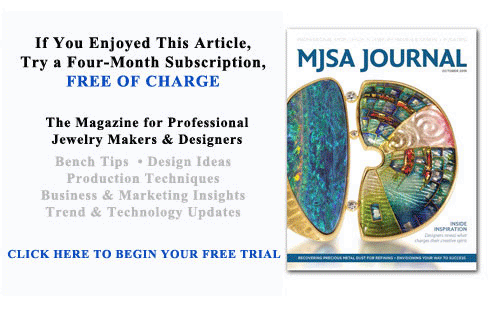 In association with

The award-winning
Journal
is published monthly by MJSA, the trade association for professional jewelry makers, designers, and related suppliers. It offers design ideas, fabrication and production techniques, bench tips, business and marketing insights, and trend and technology updates—the information crucial for business success.
"More than other publications, MJSA Journal is oriented toward people like me: those trying to earn a living by designing and making jewelry,"
says Jim Binnion of James Binnion Metal Arts.