You can hear the passion in Bruce Pucciarello's voice when he talks about what it means to keep his jewelry manufacturing operation in the U.S. When you walk around Novell Design Studio in Rahway, New Jersey, and witness the company's 70 employees hard at work — a CAD modeler skillfully designing in Rhino, a machinist cutting a new design he's conceived into a silver blank, a veteran bench jeweler hand-twisting wire into a braid for a ring insert — you get a sense that his passion is infectious.
At Novell Design Studio, efficiency, quality, and service get a jolt of passion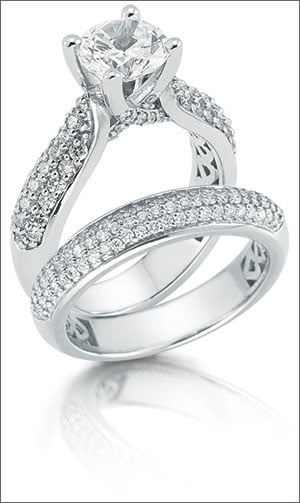 "It's critical for America to make stuff, and we are lucky to have skilled experts in every area of manufacturing who have the knowledge and enthusiasm to produce whatever product we want made," says Pucciarello, whose company's primary focus is precious metal bridal and fashion rings. "Everyone here is an artist — we all develop creative solutions to get things done."
And that creativity, knowledge, and enthusiasm — that passion — are what helps him to continue to "make stuff" in the United States. Case in point: A buyer from a major retail chain approached Pucciarello with a ring made by a manufacturer that had gone out of business to see if he could duplicate it. "It had a kind of crisscross sawblade background on the band and it was nothing that we had ever done before," he says. So he sent three silver blanks down to his production department and asked the manager to find someone who could duplicate it.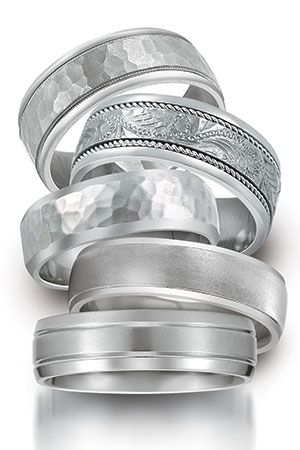 "She gave one blank to a machinist, one to a jeweler at the bench, and one to a polisher," Pucciarello remembers. "At the end of the day I got back three perfectly replicated rings."
But the story doesn't end there.
Competitive Edge
How Pucciarello decided which method he ultimately would use to manufacture the ring gives a glimpse into the inner workings of his operation. And it helps to further explain why his company has been successful in keeping its products "homegrown."
"We ended up going with the machining department for this effect because the production time was slightly less than [with] the other two options, and we had some additional manpower available in that room," he explains. "Another deciding factor was that the product's next step after applying the crisscross background occurs in the machining department, so we could reduce a travel step by getting both processes done subsequently in the same place. Streamlining travel around the facility is critical to efficient production."
The beauty of this approach, Pucciarello adds, is that by having multiple departments able to duplicate the effect, he can easily redirect the manufacturing step if there were a backup in the machine shop. This ability to flexibly and efficiently manufacture its lines to suit retailers' needs is critical to Novell's success as a U.S. manufacturer, he says — but it's not the only reason. Pucciarello also credits a number of other key factors as contributing to his company's competitiveness:
Customized Inventory Management System
Crucial to streamlining production is the company's internal inventory management system, which was designed by Novell's IT department. Dubbed HAL after the computer in the movie 2001: A Space Odyssey, the inventory management system keeps everything flowing smoothly, tracking each job from the moment the order is placed until it is shipped. In a single window, any computer in the company can display all of the active jobs in each department. Clicking on any job will pull up its history, including the time spent at each production step.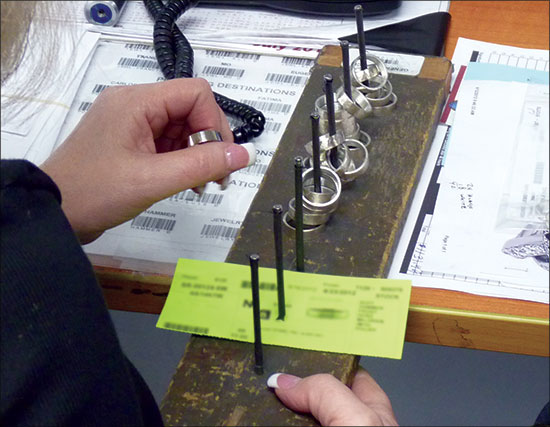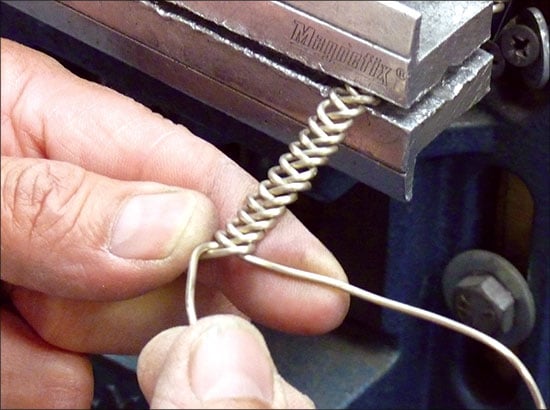 "Prior to our revamping of this system two years ago, we couldn't see all of the information on one screen," says Frank Rand, head of the IT department. "You would have to scan the paperwork traveling with the product to see the progress of each piece. Now, it's all there at your fingertips."
The ability to track production with this visual system has been especially helpful with clients who place large orders in which multiple pieces have different deadline requirements. "We can quickly filter the jobs by customer to see where all of their pieces are at any given time," says Rand. "If we need to push an order out or pull back on another, we can quickly make adjustments in our system and reprioritize."
For jobs due to ship that day, a red flag indicator flashes on the screen if it's been sitting in one spot for more than two hours, so the production manager can quickly spot any bottlenecks and move things along.
"HAL makes my job easier because it means I don't have to remember the details about all of the 6,000 rings currently in various stages of production in our facility," says Batool Esmael, Novell's production manager. "If a customer calls about the status of an order or needs to move up a deadline, we can alter the production schedule in our system and accommodate. That just doesn't happen when you work with overseas manufacturers. They can't make those types of adjustments as fast as we can."
Quality and Service
Esmael is quick to add that the benefits of U.S. manufacturing don't stop at speed. "Our quality control is second to none, and if a customer does have a problem with a piece, we can address the issue immediately because all of our manufacturing is housed in one place," she says. "Often when working with companies overseas, if you have a quality issue you are talking to a wall. You usually have to operate through a middle man to get things done. Here, our customers connect directly with our manufacturing operation and we can solve a problem immediately."
Because Novell tries to quickly move orders through its production department, customized orders can occasionally go awry if a design is improperly adjusted or misinterpreted. Again, Novell's system minimizes the potential for harm. "If when the finished product is checked against the original request things don't exactly match up, we can catch these errors before they go to the customer," says Pucciarello. "That's the luxury we have to re-make something the same day without the customer even being aware that we experienced a problem."
Even with the extreme cases that are out of the manufacturer's control, Pucciarello feels his company has an advantage. He shares the story of an incident where the shipping company lost a ring Novell had made for a wedding in Washington, D.C. When a frantic call came on the day of the wedding, he quickly had his staff re-make the ring, then had it driven down in time for the nuptials.
"That's a tough go from China," he says.
When it comes to quality, Pucciarello notes that "very few things I see coming into this country from overseas would pass our quality control." A gem-set ring might go through a vigorous 15-point checklist at Novell that includes such factors as acceptable prong coverage, metal integrity, and assay assurance.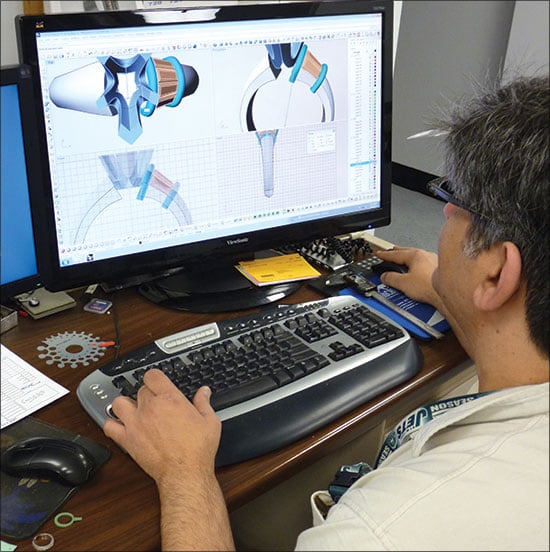 Pucciarello points specifically to major competition from foreign manufacturers when it comes to micropav? pieces with lots of stones. "The foreign manufacturers can sell pieces with 100 diamonds to the majors for 5 to 10 percent less than we can, because they don't have the high labor costs that we do. But often their quality doesn't stand up to wear," he says. "While overseas firms best compete on price with gem-intensive micropav? work, it's those very pieces that often require the most repair services, which is where the majority of these companies fall flat."
A few overseas manufacturers have approached Pucciarello, offering to make his product in China if Novell agrees to set up a small operation to handle repairs when a diamond falls out or the jewelry fails in some way. He didn't hesitate before turning them down.
"Companies like these don't set out to manufacture quality goods — and jewelry manufacturers here need to realize that and exploit it," he says. "We can find ways to compete on cost; they have a much harder time competing on quality and service."
Close Relationships with U.S. Suppliers
The bulk of Novell's rings are machined from ring blanks and tubing sourced from U.S. metal suppliers. Novell works closely with its suppliers to develop products that are relevant to consumers in the current economy. Last year it launched the In Union line of bonded precious metal bands manufactured by one of its suppliers, Kemp Metal Products Inc. in Westbury, New York. These bonded bands comprise an interior seamless blank of Argentium silver bonded to an exterior seamless blank of 14k gold.
"In Union enables the consumer to purchase a high-quality precious metal band with intrinsic value at a lower price point than an all-gold ring," says Pucciarello. "When we analyzed gaps in the market, we realized the need for a product made from precious metal at this price point."
Sales of the line to date have far exceeded expectations. "It's the fastest-growing product we have ever brought to market," says Pucciarello. "Our target for last year was to sell 10,000 units, and we quickly surpassed that goal."
Pucciarello says the partnerships he has forged with his U.S. suppliers over the years and their ability to flex with his changing needs has been an essential part of his success. "As long as they work as hard as we do, they become part of our growth."
And that growth is something he would like to see happen not just at his company, but in jewelry manufacturing firms around the country.
"Our industry is bleeding money to other industries by the millions," Pucciarello says. "We need to stop looking at each other simply as competitors and start working together to educate consumers about buying quality American-made precious metal jewelry. It's critical for America to make stuff," he repeats, "and if we don't have manufacturing companies for people to do that in this country, we'll lose our passion."