Discover the top jewelry trends in gold, silver, and platinum—and what you can expect to see in the metals markets this year
Gold Trends
Layer It On
"We're seeing a lot of stacking and layering," reports Jamie Cadwell Gage of LoveGold in Los Angeles. "There's very much the idea of people wanting to be able to afford fine jewelry and slowly building a jewelry wardrobe. Designers are making things that are smaller and more accessibly priced, allowing customers to collect them over time. This is especially true for rings. Women will start with one small gold band and over time get three to five of them to create a bigger look."
This layered look is also being spotted on ears as well, with many women taking advantage of multiple piercings in their lobes. "We're seeing women wearing multiple pieces of jewelry on one ear. In addition to ear cuffs, there are earrings that are made to go through multiple holes. It all ties in to the idea of collecting smaller, affordable pieces to create larger looks."
Keeping It Real
"There are a lot of interesting uses of texture," says Gage, who notes the abundance of rougher, more organic textures. "We're seeing different treatments—brushed, pebbled—that have more of an organic feel. I think part of it is people being eco-conscious and wanting more natural-looking jewelry. People don't want that perfectly polished and tumbled look. It's also about wanting jewelry that fits their lifestyle. The old idea of a six-prong halo diamond engagement ring doesn't resonate with the hiking, yoga-class Millennials. They want jewelry that's appropriate for everyday life, not jewelry just meant for special occasions."
A Cut & Color
"Women have been moving away from more traditional white gold rings and bands, and we're seeing a major shift to yellow and rose gold in engagement rings," Gage says. "Diamonds are still popular, but people have been exploring different cuts of stones. They want stronger designs than a basic six-prong setting and are open to things that seem designed and unique." While halo styles are still around, Gage notes that they've been given an update: "We see halos with interesting things, such as baguettes set around the center stone instead of a halo of diamond pavé. Or if there is a traditional halo around the stone, maybe it's mixing more colors in the same piece, such as an oxidized bezel and yellow gold shank, so it feels more modern and a little bit different."
2016 gold market forecast
A
ccording to the CPM Gold Yearbook 2016, the average price of gold continued to slide in 2015; by the end of the year, it had bottomed out at $1,060 an ounce as investors focused on other investments such as real estate and equities. The CPM Group believes that any further losses should be limited, and the price of gold should average around $1,190 for 2016. (As of early June, the price was hovering at $1,210 after strong investor enthusiasm in the first quarter.)
Despite that price softness, mine supply should continue to rise, thanks mainly to new and additional mine capacity that came on stream in response to the 2002-2011 run-up in gold prices. However, the current lower prices will limit future mine development and will lead to lower gold output in the coming years.
This price weakness has also had an effect on the gold secondary supply market (i.e., metal from scrap), which fell to 30.2 million ounces in 2015. The CPM Group anticipates this market will decline further in 2016 to 27.7 million ounces.
The CPM Group also predicts that lower gold prices will impact gold fabrication demand. Demand in 2015 rose to 96.7 million ounces, the highest level of gold use in jewelry and other fabricated products since 2007, and is expected to reach 97.9 million ounces this year.
The CPM Group is a commodities re-search, consulting, financial advisory, asset management, and commodities management firm based in New York City.
Platinum Trends
Banding Together
Those trend-setting Millennials are at it again, this time with bridal. "Halos are still going strong, but we're seeing some new interest in using bands for engagements," reports Jenny Luker of the Platinum Guild International in New York City. "Platinum brides are looking for a classic, basic look, but one with a twist. We're seeing [engagement] bands with more interesting diamond cutting." The recent stackable trend could be partially responsible for this, she adds: "These brides don't seem to be as matchy-matchy as they have been in the past," and they want their engagement rings to fit against their wedding rings, even if they don't necessarily match.
"Men's bands are getting wider," Luker adds, "and we're seeing them with interesting finishes and with a mix of metals. With men, the metal combinations are usually platinum with yellow gold or stainless steel."
Large and In Charge
Between the abilities of 3-D printers and the recent development of platinum powder for direct metal laser sintering, designers have more options than ever before for creating large but lightweight pieces in this dense metal. "This new technology is helping designers create unique, larger pieces as they figure out how to lighten them up with negative space," Luker says. "We're seeing a lot of larger pieces, especially many interesting cuff bracelets, being made in platinum. We're also seeing more earrings, which were challenging in the past because of the weight of the metal. Designers who may have moved out of platinum are coming back to the metal because of some of these advances in technology. And the price point of platinum [which is currently around $980 an ounce] is helping, too. It's a really exciting time to be designing in platinum."
Looming Large
Large looks are also being spotted around necks these days. "We're seeing a lot of necklaces lately," says Luker. "They were big at the award shows earlier in the year." And that trend seems to have trickled down from Hollywood to Main Street. "A lot of women are pairing smaller necklaces, where the focus is on the metal design, with a larger statement piece featuring more diamonds and gemstones, to help create a larger look." When it comes to smaller necklaces, clean, sleek lines are key, leaving large gemstones for the more substantial pieces.
2016 platinum market forecast
T
he average price of platinum fell by 24 percent in 2015 to an average of $1,053 an ounce, the lowest annual average in 10 years, reports the GFMS Platinum & Palladium Survey 2016. Factors that influenced the poor price performance included a 27 percent increase in South African mine production following a five-month strike in 2014, currency depreciation in South Africa, and the VW diesel emissions scandal that had the market contemplating the metal's future (since platinum is used to make diesel engine catalysts).
Despite the lower price, global platinum jewelry scrap rose 4 percent to reach its highest level since 2011. The sole driver behind this increase was a 21 percent surge in Chinese scrap supply as the combination of an increase in collection points and economic pressures lead to a rise in distress selling. China was also largely responsible for a 4 percent decline in global platinum jewelry fabrication to 2.46 million ounces, as the country's economic pressures limited consumer spending on discretionary items. With the Chinese economy outlook uncertain, it is expected that consumers will remain cautious in their spending and demand from the Chinese jewelry sector will continue to fall in 2016.
The GFMS forecasts the platinum market to return to a small physical deficit this year, driven primarily by lower mine supply as fewer new projects enter the pipeline. The GFMS also believes broad support from extremely gradual U.S. monetary tightening will pave the way for higher prices in 2016.
A division of Thomson Reuters, GFMS are metals market analysts offering insights on metal news, market development, and economic events impacting metals markets.
Silver Trends
Ring around the Collar
It's all about the choker, says Gloria Maccaroni of the Silver Promotion Service in New York City. "Chokers have been important this spring, and I think they're going to continue to be a very strong trend," she says. "They're being worn by every age group, and [with finishes] from polished to hammered to textured—it's across the board. We're seeing chokers with short hanging pendants as well as simple polished chokers. And it's not just limited to traditional chokers: We're seeing short, tight necklaces (around 16 inches) as large, statement pieces around the neck. They're great because they can be worn within the neck of a t-shirt—women don't need a cut-away top. Chokers are now a go-to style."
Mix and Match Rings
"We're seeing more and more people wearing rings on multiple fingers, or multiple rings on one finger," says Maccaroni. "It's not limited to regular stackables. Women are combining different designs and looks."
And the styles go well beyond traditional bands. "One of the key things we're seeing is rings with color, not just plain silver bands," Maccaroni says. "We're seeing lighter semi-precious stones trending."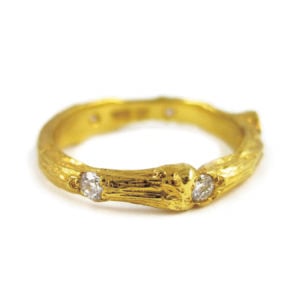 Let It Drop
Although ear climbers have been all the rage on the red carpet, Maccaroni sees another trend taking over on Main Street. "Ear climbers are still a hit in the fashion scene and on celebrities, but we see long drops coming into play. Our brands are seeing a demand for longer earrings." In particular, she reports seeing average women donning more drop earrings. "Drop earrings seem to be picking up momentum, and I expect the trend to continue into the fall and winter," she says. "Larger drop earrings, in particular, are being worn during the day—it's not just an evening look anymore. These tend to be longer, with multiple drops with a combination of stones and metal pieces. They also tend to be detailed and on the longer and thinner side."
2016 silver market forecast
Silver prices struggled in 2015, falling 17.9 percent to an average of $15.67 an ounce and a low of $13.85 by the end of December. However, in its CPM Silver Yearbook 2016, the CPM Group says 2016 will be a pivotal year for the silver market: It believes that the combination of slowing supply, modestly rising fabrication demand, and historically strong investment demand will help to raise the price of silver this year. (As of early June, the price of silver was nearing $16.)
While mine supply rose 1.2 percent last year, the CPM Group expects supply to de-cline about 2.4 percent to 784.4 million ounces in 2016, following scheduled mine closures and production cutbacks because of the metal's lower prices. Secondary supply of silver is also forecast to fall by about 1 percent, as a contraction of silver scrap continues this year.
Silver's low prices are having a positive effect on silver demand from jewelry and silverware, which rose 7 percent in 2015 to an all-time high of 297.4 million ounces. However, the expected rise in silver prices this year is likely to have a negative effect on silver jewelry demand since the sector is more sensitive to the price of the metal. The CPM Group expects a modest 1.5 percent increase in silver demand for jewelry in 2016.
The CPM Group is a commodities re-search, consulting, financial advisory, asset management, and commodities management firm based in New York City.