Clear floral motifs or forms like from a dream world, mystic color contrasts with soft waves, patterns that appear like grass or leaves, expansive or coiled – Namu Cho creates jewelry that is barely distinguishable from the basic form of a bracelet, ring, necklace, brooch or earrings, but yet he still creates inimitable, independent forms made of Damascene steel, gold, silver and platinum, frequently highlighted with diamonds.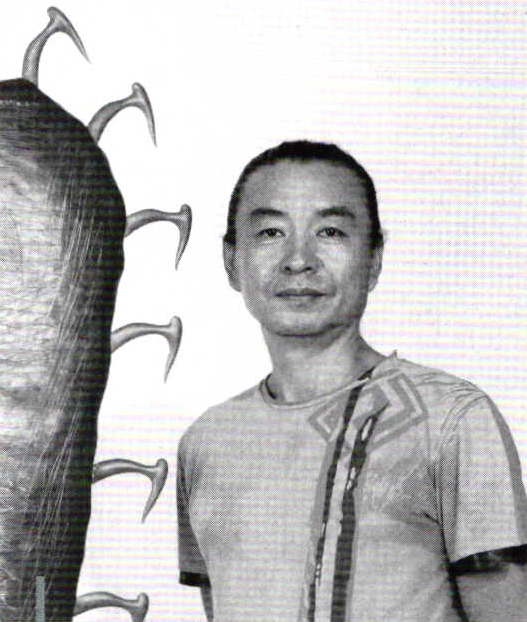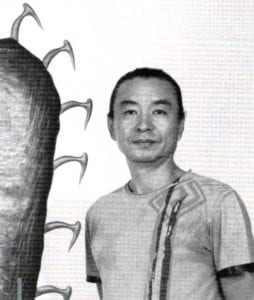 Namu Cho, Korean artist, living in Bethesda, Maryland, USA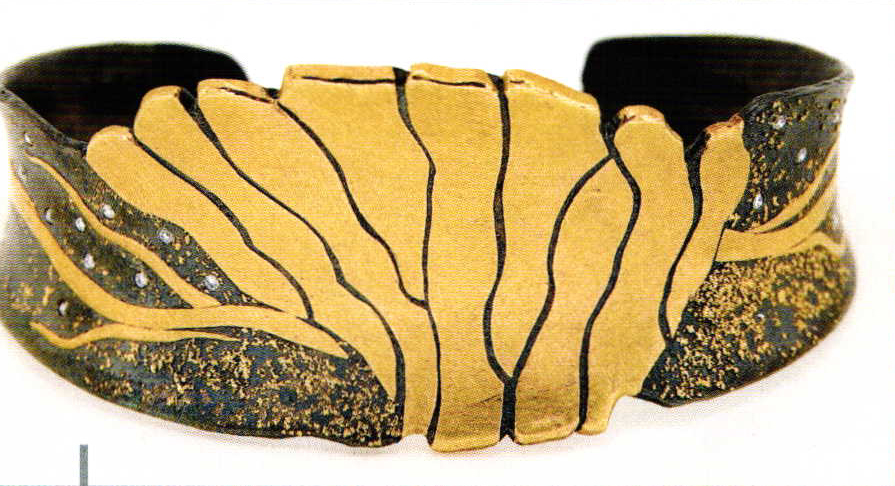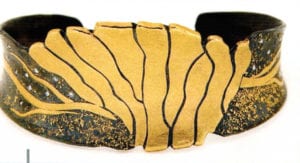 Bracelet, 24 karat gold fused on sterling silver, diamonds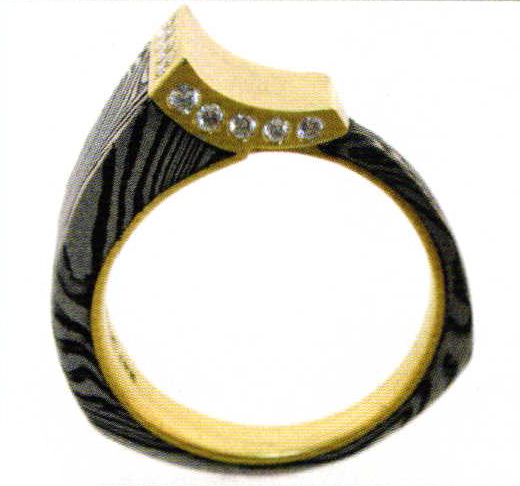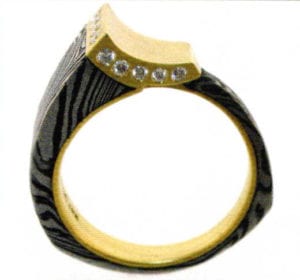 Damascene steel ring, 18 karat gold/22 karat gold, diamonds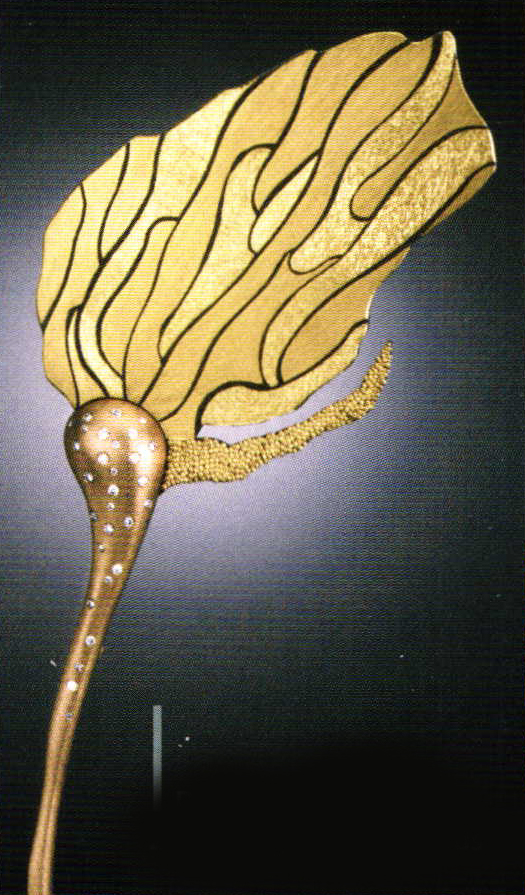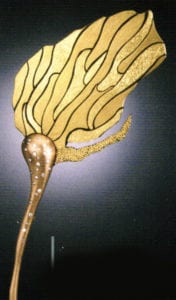 Damascene brooch, 24 karat gold, diamonds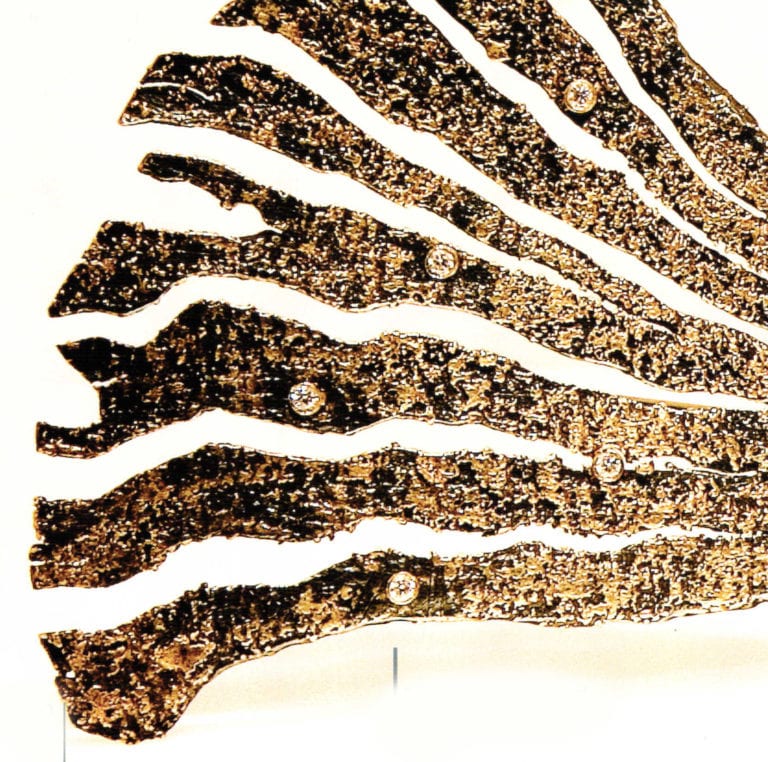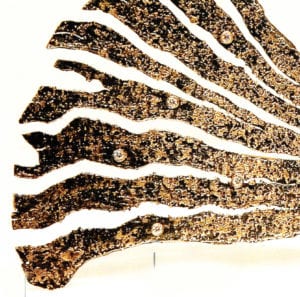 Pendant, 24 karat gold fused on sterling silver, diamonds
There is a fine but important distinction between amulets, lucky charms and talismans. For instance, gemstones have served for centuries as amulets in order to promote or ease certain characteristics. Lucky charms are in general seen as bringers of good fortune, for example a papier mache Buddhist monk, the eye of Fatima or a horseshoe. But objects deemed to be talismanic are chosen personally and can bring happiness, health and prosperity. Namu Cho has faith in the power of a talisman. He believes a talisman can help couples lead a better life or finally to conceive a child that had been longed for over ages. When Cho speaks of talismans, he puts them in a context with Chinese elements of protection that adorn Chinese residential buildings. He is fascinated with the meaning of the objects. In his homeland of South Korea, he was surrounded by this kind of lucky symbols. He is familiar with them and they appear almost self evident, while nonetheless losing nothing of their strong fascination. Namu Cho wishes that people who wear jewelry lend the importance they choose to it: "l want people who wear my jewelry to feel protected and strengthened by it." Many designers place a lot of importance on the power of signs, symbols and objects. Christian Dior, for instance, stitched a lily of the valley into each one of his catwalk creations because he believed in its power.
"While I was studying at the Kook Min University, Seoul, South Korea, I learned the goldsmith techniques. During the second section of my studies at the Bowling Green State University in Bowling Green, Ohio, USA, I was focusing on free art, including painting and sculpture. It was a very fascinating time." Namu Cho went to the United States to be a successful goldsmith. "I like living in Bethesda in Maryland. It is an old neighborhood and a destination for people living in Washington DC for outings." Supported by two part-time assistants, Namu Cho sells his jewelry to galleries throughout North America. "So far, I have not had the opportunity to exhibit outside of the United States, but I would most certainly be interested."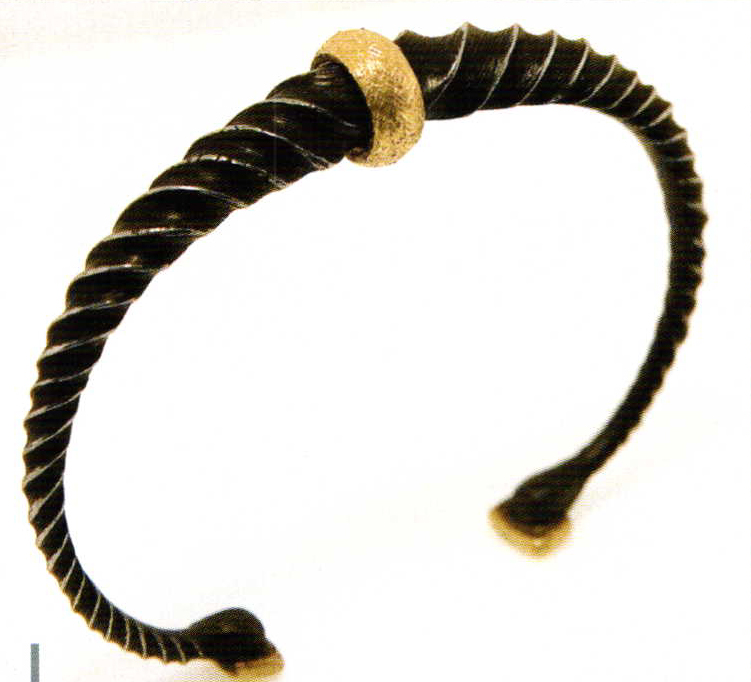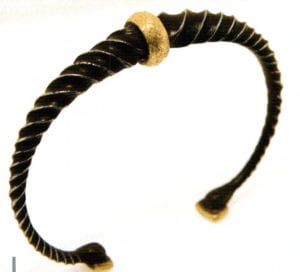 Damascene steel twists bracelet, 18 karat gold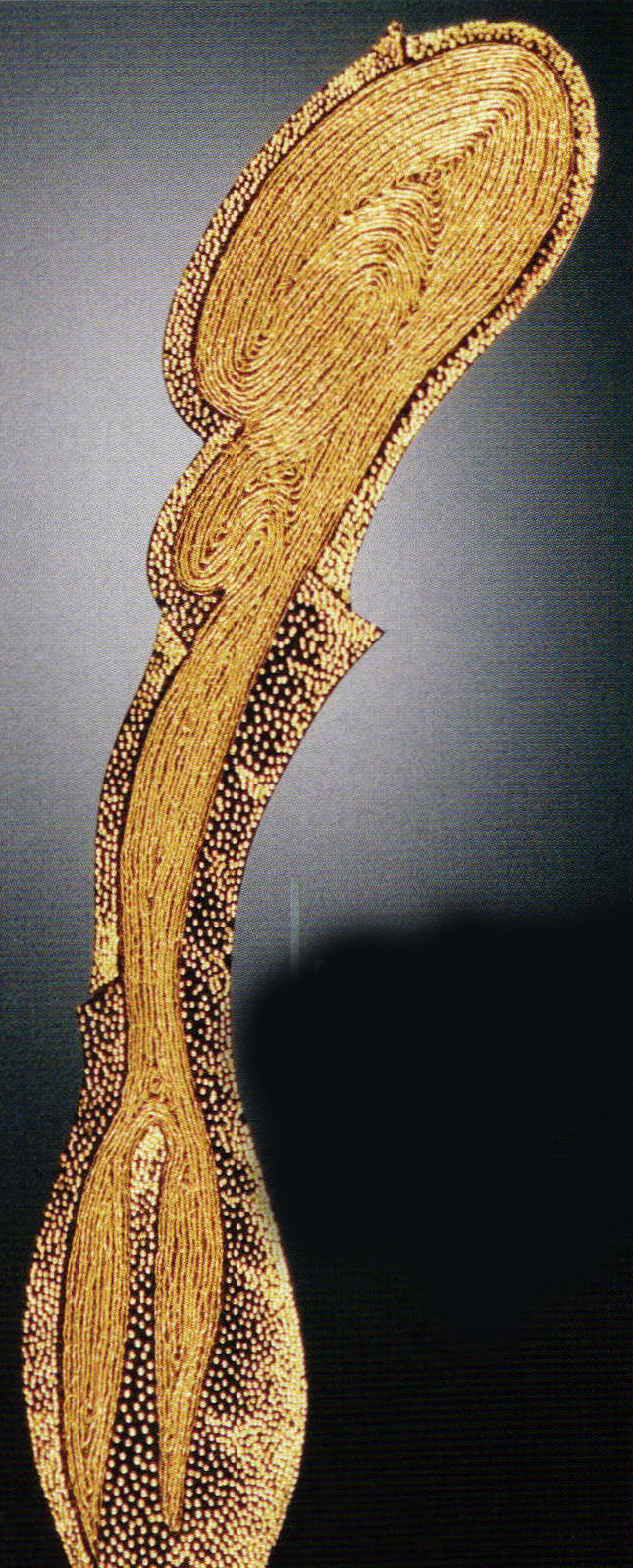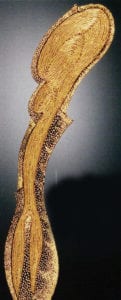 Damascene brooch, 24 karat gold, diamonds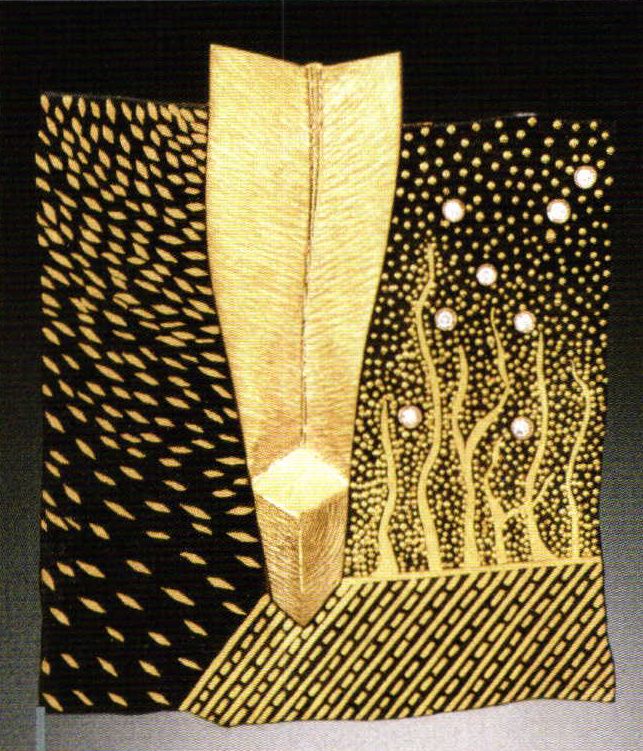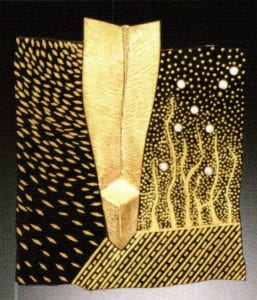 Damascene brooch/pendant, embroidery, 22 karat gold/24 karat gold, diamonds
Namu Cho uses an inlay technique called "Damascene". He learned it from a Damascene master. By hammering wire into indentations, Namu Cho creates the typical Damascene patterns which look like paint or drawing on steel. He initially cleans the surface with acid and then browns the steel with oil in order to preserve the black coloring. This technique enables Namu Cho to create contrast between the form and the color and also between the steel and the precious metal elements. Two of the numerous awards that Namu Cho has received for his jewelry are particularly exceptional and very difficult to attain. On the one hand there is the Tiffany Foundation Award, which is given out every two years. Thirty artists are honored from around 400 nominees currently working in video, mixed media, painting, sculpture, printmaking, photography, and crafts, but only one craftfield winner. The prize comes with 20,0000 US dollars. The second of these two awards was the Smithsonian Craft Show Excellence Award in 2004. www.studionamu.com