The contents of some projects are not restricted solely to creating a presitigious symbolic value, but which instead provide an actual benefit to all those involved. The cooperation between the South African gold producer AngloGold and a group of young and talented designers is a project of this kind.
Thankfully, there are meetings between David and Goliath that end up with everyone winning. This certainly applies to the cooperation between one of the world's largest gold producers and a group of socially disadvantaged, young jewelry designers in South Africa. "Proudly sponsored by AngloGold" says the catalog that visualizes the results of the unusual cooperation. However, the seven talented jewelry designers can be even prouder than the sponsor. They were selected to create a new jewelry collection that mirrors the sheer boundless variety of the African continent. AngloGold sponsored the entire material that was required to create the 18 karat yellow gold collection.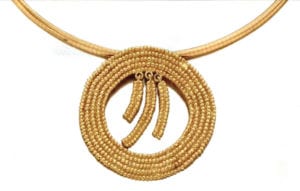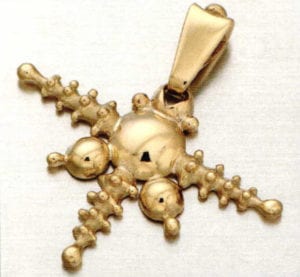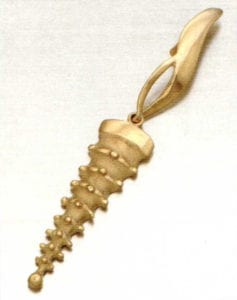 AngloGold, a global company with more than 53,000 employees, asked the African Designers' and Jewellers' Organisation (ADJO) for help in recruiting talented designers for the project "African Gold Jewellery Collection". ADJO, an organization that supports socially disadvantaged goldsmiths and jewelry designers selected from its ranks three young women and four men for the ambitious project. Support came also from Vukani-Ubuntu organization that is targeted at continual improvement of the social job creation and entrepreneurship. The jewelry designers cooperated with Haglund Jewellers, a specialist for high-quality African jewelry to create an impressive, 74-part collection with three different jewelry lines. The "Modern Africa Collection" captures the spirit of contemporary African life and combines tradition and innovation. Unlike in real life, this combination appears to be no problem at all. The jewelry in the line "Township Art" sees itself as celebrating daily life in African townships, and the collection "Irregular Motif" draws on the ancient tradition of African rock art.
Ganoksin is sponsored by
In creating the collection, the participating organizations and companies were not exclusively concerned with the social aspect of picking up talented artists off the streets and of giving them a sensible task to manage, nor were they concerned with the public image effects. Instead, this project is linked to the hope of laying the foundation for the creation of unique, African jewelry brands. Accordingly, the participating designers Bernice Dickson, Lungile Maseko, Credia Mamabolo, Eric Mazibuko, Vish Nadioo, Wooshen Pillay and Lee Tau were required to adhere to the strict professional specifications, regardless of how creative they otherwise were. The point was to create inherently structured, interlinked, expandable and commercially reproducible jewelry collections. The jewelry was on show for the first time during the International Jewellery London (IJL trade fair) 2003 as part of the South African Pavilion. AngloGold is committed to adding value to the ounces of gold it mines and to supporting the advancement of entrepreneurs in this country's jewelry industry. We are proud to have worked with a group of ADJO designers to develop their jewelry and to enable them to showcase their talents. We hope that this will prove to be the start of an exciting future for those involved."
Modern Africa Collections
The collection, which is divided into several smaller lines, combines African tradition with innovation. The end result: timeless pieces reflecting the unique spirit of a vibrant continent and its people. Inspired by objects of everyday life, by music, fashion and culture and by the fascinating jewelry traditions of their predecessors, the designers have created a collection full of wearable symbolism.
Township Art Collections
The dynamics and the energy that are unique to an Africa township is something that only few artists have managed to capture on canvas. Life is stripped of all pretence, yet there is an underlying beauty and harmony that is very rare and precious in today's world. The designers of the "Township Art Collections" have created small but singular tributes to life in Africa's townships.
Ganoksin is sponsored by
Irregular Motif Collections
In ancient Africa, people used rock art as a form of communication. Shrouded in mystery and rich in its nuances, these primeval and often cryptic letters fascinate us until today. The "Irregular Motif Collections" take their pattern from African rock art, reflecting man's age-old desire to express himself through art. Like those ancient letters, the pieces of jewelry are both subtle and complex, too.
Anglogold is a global gold producer with 19 operations in eight countries worldwide – Argentina, Australia, Brazil, Mali, Namibia, South Africa, Tanzania and USA. The company is among the world's largest gold producers with production of approximately 6 million ounces of gold each year.
ADJO – African Designers' and Jewellers' Organisation – is a body established to support previously disadvantaged jewelry designers and manufacturers.