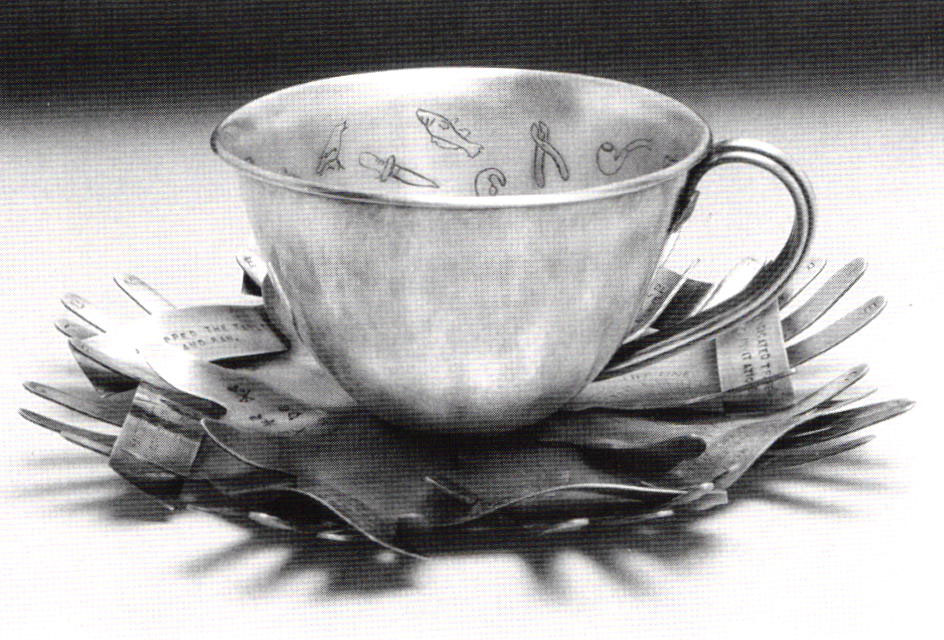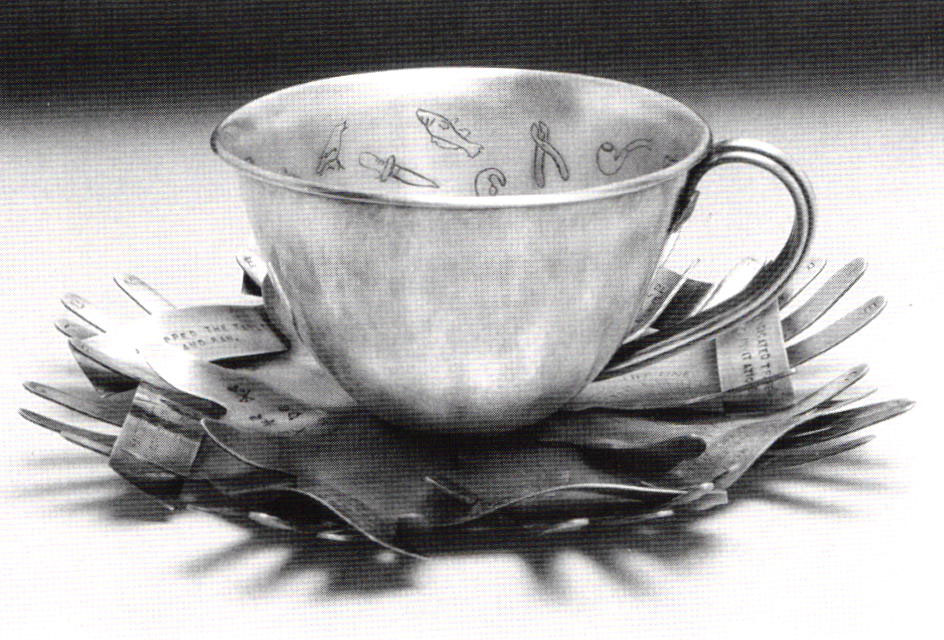 Metalsmith '96 Fall: Exhibition Reviews
---
14 Minute Read
This article showcases various exhibitions in the form of collected exhibition reviews published in the 1996 Fall issue of the Metalsmith Magazine. This features Anna Jaquez, C. James Meyer, Jamie Bennett, and more!
~~~~~~~~~~~~~~~~~~~~~~~~
De Colores: New Work by Anna Jaquez
Adair Margo Gallery
El Paso, Texas
May 30 - July 5
by Elizabeth Jones
Anna Jaquez began her first show at the Adair Margo Gallery with an auspicious, near sell-out bang. Her work appeals to a broad audience through her skillful combinations of multi-media craftsmanship, nostalgic content, and pleasing forms. Jaquez is a storyteller who creates mise-en-scenes which provoke the dramatic imaginations of her viewers. The exhibition consisted of 14 mixed-media boxes hanging on the wall or placed on pedestals.
The Tirando Chancla Series, 1995-96, includes seven narrow shrines. Each box contains a miniature room (5 x 5 x 5″), furnished with objects that reflect members of her family. The rooms and their trappings are constructed of prismacolored copper. So convincing is the illusion which Jaquez conveys that the viewer feels like Gulliver spying on the Lilliputians. The world that Jaquez creates, however, is not a foreign one, but a world that seems as familiar as worn out shoes. The series title Tirando Chancla means throwing away the old shoes, which is Chicano slang for throwing a Parry. The titles, more than the objects, remind us of Jaquez's Mexican-American heritage. They participate in the same kind of surreality that haunts the stories of Latin American writers such as Gabriel Garcia Marquez. The objects, however, transcend cultural boundaries in their simplicity. Magic realism heightens the ordinary, endowing things with spirit. Each room contains a pair of old shoes, such as high-heeled red pumps, worn work boots, bedroom slippers, or ballet toe shoes. A few significant objects, such as a rocking chair, potted plants, and a garden hose, a paint bucket and carpenter's tools, an ironing board with clothes' or a violin case and music stand, also inhabit the interiors.
The rooms, too, have a strong presence in spite of their tiny size. Most open onto shadowed spaces introduced by a cracked door, a balcony, an alcove, staircase, or hallway. Sometimes, if we crane our necks, we can glimpse another room through the opening. These rooms are the rooms of our dreams. Jaquez uses rapidly receding perspectives which enhance our feelings of mysterious, infinitely connected spaces. The images of Giorgio de Chirico came to mind as I sensed the empty spaces of Jaquez's work. Empty, because no human figure is present, yet full, because the objects and architecture convey a strong anthropological presence which invades the emotional spaces of our dreams. The personification of inanimate objects is clearly intended by the artist who recalls that her family humorously referred to their lumpy old couch as los comadres, the old gossiping godmothers, a title she gives to one of her pieces.
Several objects including Wrong Door, 1994, take the shape of stuccoed buildings. The artist's father is a builder who continually added on to their house. Boyfriends found difficulty locating the front door as the house erratically grew. Jaquez draws inspiration from the imaginative use of odd materials that her father combined in fantastic decorative motifs and spaces. Just as one might knock to gain entrance into a house, the viewer is invited to knock above the doorway so that the dark interior is lit. A distant courtyard is visible through the doorway of Hacienda Gordofeo, 1996. A knock reveals a staircased entry hall where evidence of the residents resides. The artist's interesting manipulation of space, light, and the viewer draws her audience into her world where each populate the scene with their own characters and concocts their own plots. For Jaquez, it is important to record the narratives of her life. Often, she writes her stories on the surfaces of her pieces although the writing is more decorative than conceptual. Jaquez's visualized stories maintain the same communicability that verbal language affords while opening the floodgates of memories and dreams which form our most hidden and personal being.
Elizabeth Jones is a professor of Art History at the University of Texas, El Paso
C. James Meyer
Anderson Gallery
Virginia Commonwealth University
September 29 - October 20, 1995
by Paula Owen
My first encounter with the recent work of C. James Meyer was similar to many gallery experiences in which the objets d'art are isolated in the sterile environment of the white cube. Given that jewelry is difficult to show well in a conventional gallery setting because the volume of most gallery spaces overwhelms the intimacy of the work, the tasteful cases and lighting employed in this exhibition, allowed Mr. Meyer's neck pieces, rings, and brooches to come across fairly well. The formality of the setting and the formality of his pieces, in fact, at first seemed to work together, and I was lured by his minimalist's aesthetic. Several weeks later, however, I had the occasion to handle the work and to wear one of his brooches from this exhibition. My perspective changed dramatically.
Though in the gallery I had admired his restrained sense of design, choice of materials, and his compositional choices in mass, line, and texture, it was not until I had interacted with the brooches that I really came to fully understand his work and the richness of it. In wearing one of these exquisite brooches I became fully conscious of the artist's sensibilities, determinedly haptic as well as visual, and of other non-observable properties of the pieces themselves. They are extraordinarily satisfying to handle and to wear; though large, a brooch rested on the curve of my sternum like a tiny, weightless shield, and performed its closing and unclosing duties with the satisfying precision of true craftsmanship.
The pieces in this exhibition, constructed of precious and non-precious metals, steel wire, beach pebbles, and whalebone push the limits of the wearable, but remain highly wearable. His works also impart preciousness to non-precious materials by his careful treatment of found stones set into gold and by the framing of such unusual materials as whalebone. The brooches especially belong to the strong, silent-type of jewelry and possess a masculinity conveyed by the choice of materials, the nautical themes, and the subtle references to early weaponry such as harpoons and spear-points. Though there is strength embodied in these works, isolation and introspection are also conveyed because of the associations with small boats and large expanses of water. Contemplative as a poem composed at sea, Meyer's pieces speak about the maker even as they commune with the wearer.
At the same time, this work is remarkable for the fusion of the elegant and crude, in attitude and texture, and for Meyer's reverence for the beautiful, the timeless, and the universal, which he manages to accomplish without imitation.
Paula Owen is the Director of the Hand Workshop in Richmond, Virginia.
Jamie Bennett
Helen Drutt Gallery, Philadelphia, PA
February 10 - March 30, 1996
by Marjorie Simon
"The ability to communicate an idea tangibly is a thoughtful, emotional endeavor dependent on a clear sense of purpose and an unencumbered understanding of one's own work."
Jamie Bennett.
"Form is the shape of content." Ben Shahn.
Jamie Bennett believes jewelry is so powerful it is its own subject matter, so significant it ought to contemplate ideas. It's nice to see someone value our endeavor so highly, to use jewelry to reflect on power, position, beauty, seduction, etceteras. Bennett wants us to think about the distance between organic origins and derived forms brought to the body as ornamentation, or the historical point at which ornamentation comes into jewelry. His show at Helen Drutt Gallery in Philadelphia, addressed such aesthetic and historical issues in the guise of volumetric, organic pendants whose enameled skins are decorated with his painterly marks and glyphs.
The pod-shaped pendants nestle comfortably, even comfortingly, against the breast and they have a satisfying heft and volume. Many have dangling charms like lewd little tongues, intimating the theme of seduction and desire Bennett introduces in his statement. Such naturalistic forms as seed pods and pumpkins are a departure from his earlier treatment of domestic themes.
It goes without saying that individual pieces are flawlessly crafted; gold housings gently lap over each other to bezel the velvety pods.
The matte surfaces carry some of the textual vocabulary of Bennett's paintings into the round. Having burst out of the frame in the early '90s, he has continued his exploration of form through controlled electroforming, building up a skin stretched over a biomorphic skeleton.
I confess I miss the shocking sensuality of the earlier forms. This work is confident and elegant; it owns its ornamental qualities. The necklaces are cerebral, demanding of intellectual contemplation, cool and composed. Though their purported subject is desire, they seem removed from their erotic source.
Jamie Bennett demands equivalence between an idea and its expression. This body of work makes me ponder the distance between the two, as I found myself thinking more about the ideas he had in mind than the images he used to express them. Nonetheless I welcome Bennett's discourse even when I have to look up words like Rocaille (meaning grotto-like) and Ambage (pertaining to paths, or ways). And I thank him for his contribution to elevating the level of dialogue about jewelry, for demanding that jewelry and jewelers address intellect and history and not just emotion.
Marjorie Simon is a practicing critic and metalsmith residing in Highland Park, New Jersey.
Jamie Bennett, "June Schwarcz, a conversation with Jamie Bennett." Metalsmith, Summer, 1983, vol. 3, no. 3, p. 30.
Quoted in Criticizing Photography, Terry Barrett, Mayfield Pub. Co., CA. 1996. p. 27.
Of Gardens
Prime Gallery, Toronto, Ontario
April 4 - 27, 1996
by Barbara Isherwood
The day I walked into Prime Gallery to review the metals component of Of Gardens, Toronto was in shock from a late but hefty dumping of snow. The spring-theme works by five Canadian jewelers proved a wonderful antidote to the wintry weather outside.
The jewelry of Welsh-born Vivienne Jones is organic in conception, featuring layers of irregular, cast, and fabricated-three dimensional forms, subtle matte surfaces, and implied or real movement. Endlessly intriguing, these small and complex works reward prolonged inspection. Inside a silver cauldron-shaped pendant grows a nest of tiny gold and silver elements, the ingredients of a secret, magic brew. A silver stick pin suggests a royal sceptre, yet sprouts limb-like growths and tiny bits of gold reminiscent of nascent buds on a branch. None of these associations are explicit; the space left for the wearer's own interpretations allows these pieces to become truly personal objects.
In contrast to Vivienne's poetic subtleties were the over-the-top insect pins of David McAleese and Lynn Wiggins. These big bugs burst with bright, vermeil plated surfaces and colored niobium, animated by squiggly scroll work, pearly feet, or a single rubellite tourmaline. The duo are technical adventurers, and the textures on these fanciful pieces were scanned into a computer then relief printed.
The elegant sterling silver necklaces, bracelets, and earrings by Van McKenzie represent a more streamlined interpretation of nature. Featuring highly polished, stylized forms based on vegetation, McKenzie's beautifully proportioned pieces have a sensuous quality. The plentiful silver seed pods that dangle from a bracelet would surely feel deliciously cool and smooth against the skin.
From modernism we turn back the clock to the Victorian-inspired work of Mimi Shulman. Trained as a sculptor, Shulman collages her silver castings of birds, bees, and flowers with period found-objects and modern stampings, to create unabashedly romantic pieces. Although her sentimentality sets her work apart from most contemporary metalsmithing, she retains a loyal following who find in her pieces precious metaphors for life's significant moments.
It's a happy coincidence that Montrealer Josée Desjardins's last name means "of gardens." Her organically-inspired pieces featured highly inventive combinations of materials, surfaces, and sensibilities, assembled with consummate craftsmanship and a refreshing sense of wit. Clever details abound. A pair of large matte silver earrings in the form of hollow seed pods swivel on stone mounted studs to reveal long, delicate tendril-like piercings on one side and holes resembling small, round seeds on the other. Pins with faux-taxonomies like Ruta Salix or Ruta Nigium are comprised of bold and whimsical sterling silver repoussé forms juxtaposed with coral. In the necklace that was her piéce de resistance, silver baubles with bumpy, brushed and pierced or oxidized surfaces had smooth, shiny backs - nature meets the machine age, and has a beautiful baby.
Kudos to Prime Gallery for selecting artists with such distinctive approaches to the natural world. Hopefully by the time this is published, our weather will be as refreshing as this show!
Barbara Isherwood is a freelance writer with a Masters degree in Art History.
The Commemorative Cup
The National Ornamental Metal Museum
Memphis, Tennessee
February 11 - April 21, 1996
by Linda Raiteri
In The Commemorative Cup, fifty American metalsmiths have met the challenge issued by curator Rosanne Raab and Associates: Design and make a cup commemorating, through its form and surface decoration, a personal or present day social issue. The works in this touring exhibit, supported by Gorham Silver, reveal the artists' very personal views of contemporary reality.
Commemorative silver predates Classical Greece. In America, ornate, personalized silver gifts were very popular until the industrialization of silver manufacturing in the late nineteenth century. By the end of World War II, the unique, hand-crafted and expensive commemorative pieces of the past were out of vogue.
The Commemorative Cup brings us back to honoring the events of our lives, our human frustrations and sorrows as well as our victories and joys. Here are tributes to rites of passage (birth, marriage, divorce, parenthood, childhood, death), travel, fortuna, gender, spirit, and to water towers.
Most of the metalsmiths have drawn from traditional commemorative forms: the utilitarian beaker; the loving cup which has more than one handle so its contents may be shared; the trophy, a cross between a Greek amphora and a loving cup symbolizing Victory; and the goblet and chalice, cups without handles, which emphasize the receiving of the sacred in religious ritual. Christina DePaul has created a trophy of sterling silver and anodized aluminum. The cup is a gridwork supporting charms engraved with children's names, wedding rings, bobby pins, clothespins, thimbles. Her 2000 Years of Quiet Perseverance honors the strength of women and the backstage role they have played.
Sheltered Blossom is Suzanne Amendolara's tribute to the need for self protection. Based on the shape of the heliconia flower, native to tropical America, the sculptural cup reflects the blossom of grace born from the strength of the nurturing self.
John Cogswell's use of traditional tools and techniques to fabricate his sterling Kiddush Cup, a Jewish ceremonial wine cup, marks the passing of religious beliefs down through the generations as well as his own metalsmithing inheritance. The inverted bell of the Kiddush Cup narrows to a stem balanced on a narrowing cone that opens to a disc at the base. The piece reverberates with the voice of a cantor and the ring of an anvil.
Stor Grabb celebrates the 50th anniversary of the 100 meter free style swimming record set by metalsmiths Olle Johanson's mother. He chose a design style popular during the time when she set her records , 1938-1950. Stor Grabb means "Big Lad" as there was no designation at the time for females. On the base of the cup he has outlined a woman swimming. The stem is a column of silver balls, like bubbles rising. More than a sports trophy, this goblet is a tribute to the woman who is his mother.
Barbara Nilausen-K says of her exquisite silver rose, Dua: A Prayer of Transcendence. "This cup is a prayer for my sisters in Bosnia-Hersegovina who encounter the horror of rape. The thorns and their penetration of the petals symbolize the violence of the act. The cup, with gold inner core, symbolizes the inviolate faith and soul of these women."
Arline Fisch created Springry, A Tribute to Youth. There is a roughness to the edges of this piece. The cup is wide, like a dish, and the winding stem has resilience so that when pressed down, the cup bobs like a spring.
Richard Mawdsley brings his unique style to his tribute to water towers, often the most prominent structure in a town. Gamme-water tower #3 could easily have been exhibited in a 19th Century World's Fair.
Marilyn G. da Silva made a sterling silver milk carton and put a silver straw in it. On the front of the carton, she formed a tiny staircase leading to a schoolhouse door. da Silva titled her piece Literacy: A Thirst for Knowledge.
The Commemorative Cup is a thought provoking and heartwarming collection of the works of fifty American metalsmiths. Also available at the exhibit is a book of postcards of the pieces. The show opened in January in New York City. From Memphis, it travels to Portland, Santa Fe, and Chicago before closing in Boston, February 1997.
Linda L. Raiteri is a writer and critic who lives in Memphis, Tennessee.
You assume all responsibility and risk for the use of the safety resources available on or through this web page. The International Gem Society LLC does not assume any liability for the materials, information and opinions provided on, or available through, this web page. No advice or information provided by this website shall create any warranty. Reliance on such advice, information or the content of this web page is solely at your own risk, including without limitation any safety guidelines, resources or precautions, or any other information related to safety that may be available on or through this web page. The International Gem Society LLC disclaims any liability for injury, death or damages resulting from the use thereof.
---
The All-In-One Jewelry Making Solution At Your Fingertips
When you join the Ganoksin community, you get the tools you need to take your work to the next level.
Become a Member
Trusted Jewelry Making Information & Techniques
Sign up to receive the latest articles, techniques, and inspirations with our free newsletter.