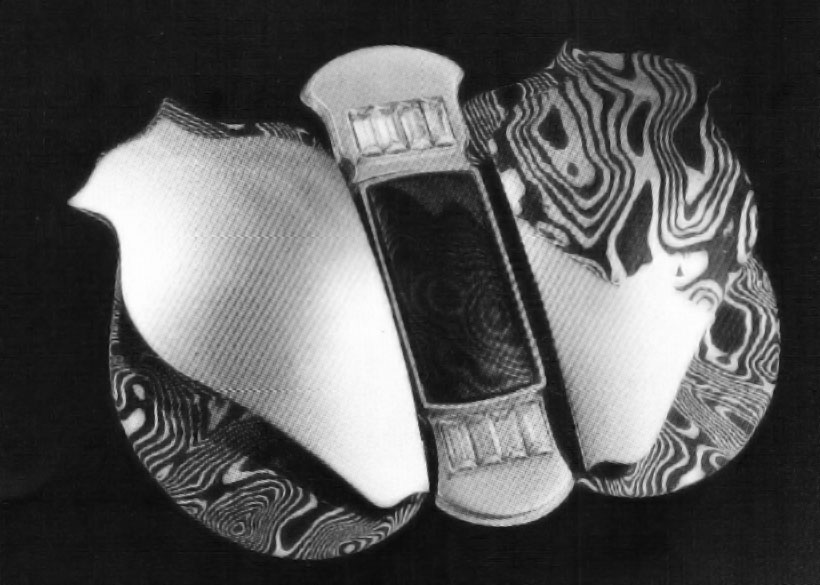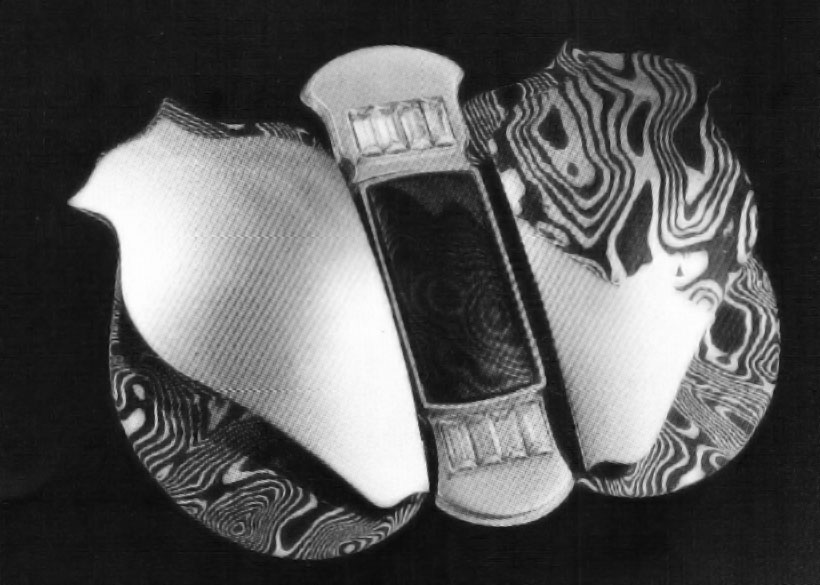 Metalsmith '92 Summer: Exhibition Reviews
---
20 Minute Read
This article showcases various exhibitions in the form of collected exhibition reviews published in the [year] [season] issue of the Metalsmith Magazine. This features Jonathan Bonner, Robert Coogan, Kiff Slemmons, and more!
~~~~~~~~~~~~~~~~~~~~~~~~
Jonathan Bonner
Peter Joseph Gallery
New York, New York
April 2 - May 2, 1992
by Lynn Brunelle
To explore and describe the world we live in is human nature. To better understand our world and ourselves, some of us observe, measure and record as scientists; others look, touch and create as artists. We grow up believing the two approaches to be opposite. Jonathan Bonner's new work exhibited at the Peter Joseph Gallery in New York combines these viewpoints using form, texture and technique to show us an elegant, simple unity between art and science.
A decided departure from his whimsical weathervanes and alligator candlesticks, Bonner's new work breathes life into the cool abstractions of geometric form and scientific vessels. Through ideas reminiscent of the Mobius strip, soap bubble and honeycomb, Bonner's large copper and brass vessels explore the mathematician's passion for planar continuity the physicist's love of the competing forces of interior vs. exterior and the biologist's reverence for cellular organization. Painted diagrams adorn the walls of the gallery as evidence of Bonner's explicitness about these relationships.
Klein is an abstraction of a Klein bottle. A Klein bottle - named for the German mathematician Felix Klein, who worked with the idea of infinity - is a one-sided topological surface having no inside or outside. At first glance, it appears to be a sphere with a hole and a long U-shaped tube attached to it, like a trombone slide. Upon closer examination, the viewer sees that the hole is actually a continuation of the tube, making the inside surface continuous with the outside surface. This idea is also the basis for Bottle and Inverted Bottle, whose outsides are actually insides.
Five Bottles is based roughly on a medieval distilling apparatus. What comes to the eye of the viewer of this stack of bottles is not its Function, but how absolutely lovely it is as a form. The walls of the vessel are a delicately balanced boundary between the interior and exterior forces, like that of a soap bubble.
The cellular nature of things is reflected in Cones (21), in which 21 identical cones are bolted together to Form a larger cone. Bonner's inspiration comes from the structure of the honeycomb, in which a larger whole is made up of smaller, similar components. This is evident in Cones (9) as well.
Bonner's use of bare metal, hammer marks, ground texture, rivets, bolts and exposed seams makes the viewer keenly aware of the artist's hand. His obvious presence transforms the scientific abstraction, be it mathematical, physical or biological, resulting in the union of science and art.
This exhibit, elegantly presented, echoed a shifting of view from the practicality of function to the beauty of form, joining them in a practical, poetic marriage. Jonathan Bonner allows the observer a chance to ponder, for a while, a unique exploration of a world we think we already know.
Lynn Brunelle is a metalsmith, writer and editor. She lives in New York City.
Robert Coogan
Albers Fine Arts Gallery
Memphis, Tennessee
March 6 - April 11, 1992
by Carol Martin
Walking into the show of Robert Coogan's copper vessels at the Albers Fine Arts Gallery in Memphis was a bit like entering a partially understood sanctuary in a distant land. Standing in the middle of the room, viewers were surrounded by pieces that might hold offerings to the gods, relics of martyred saints or ancient peoples or a profoundly simple and mysterious silence. The stately, sometimes classical forms have a lyricism that begged the eye to move around the room, traveling slowly over the sensuous surfaces, pausing on occasion to question or reflect. Where have they come from, what secrets do they hold, what messages do they attempt to convey?
Coogan's work transcends the line between the functional or utilitarian and the concept of the vessel as pure sculpture. Seen together, these pieces evoke a sense of place that exists outside time; the strong responsive feelings elicited from the viewer lend themselves to contemplation. Coogan uses chemicals like a watercolorist, creating sensitively patinated surfaces that are subtle, quick, instinctive. The color lends elegance (the fluid blues and greens of Sentinel), a sense of place (the floor of a shallow inlet seen through water in Sea Bowl) or a mood (the bold deep blue of Chrysalis, an emergent form filled with assurance; or the subtle, half-vanished greens and browns of Torso, which evoke memories of unearthed Egyptian tombs).
There are few people working on this scale in the vessel form, and much of the work I have seen has seemed highly structured and well thought out before execution. Coogan's vessels seem to have evolved intuitively, beginning with a reference: to form (the Summerian lines of Chrysalis), a way of life (Indian pottery of the American Southwest in Bound), a concept of worship (Offering Bowl, with its deep, open surface washed with varied greens, blues and browns suggests Proteus, the continually changing sea god of the Odyssey, while Offering Stones with its plow disk form designed to hold fire seems to refer to both Gia and Oranos). I had the feeling that Coogan began with an idea or concept that evolved and ripened while the work was in progress. His vessels seem to defy the structured traditions of metal by showing off the fluid qualities inherent in copper as well as its unique ability to respond to color.
Coogan's vessels are clearly about inquiry. In his artist's statement he describes his interest in "primitive" or archaic cultures and his fascination with the questions raised, through the excavation of relics, about these cultures. His vessels seem particularly relevant in a society in which the past often extends no further than one's grandparents and mystery usually means the latest suspense film. Bound, with the form and burnished black-brown color of rich, primitive-fired Pueblo clay pots, can be read as a container for the ideas and spirits of that nation. The sacred circle, made of twisted wire, tightly binds the chest, and the vessel in its fullness seems close to bursting. We might have learned how to live on this planet from a people who felt all things were connected and that man was merely a strand in the web of life.
Robert Coogan seems equally at home in fine jewelry knife-making and hollowware. In all these areas he combines exquisitely simple and graceful form with sensuous surface. His knives, often using mokumé-gane or Damascus steel, become pieces of sculpture that one would hesitate to use.
While these vessels look to the past, they break tradition with their free and lyrical spirit and discover new ways to work in the future. They seem an attempt to understand other cultures not so much on an intellectual or artistic level as on a spiritual or emotional plane. In doing so, they evoke a sense of wonder - about the past, about ourselves today.
Carol Martin is a potter who lives and works in Smithville, Tennessee.
Kiff Slemmons
Susan Cummins Gallery
Mill Valley, California
February 1992
by Dorothy Spencer
From Masai fat-beaded neck discs to Sioux breastplates, Kiff Slemmons' jewelry that was on view during February at the Susan Cummins Gallery in Mill Valley, California, suggests the tribal art of numerous primitive cultures. Some pieces are instantly recognizable, while others are more subtle in their allusions to ancient civilizations, remnants of obscure societies - totems of their rituals and religions.
Closer inspection provides startling revelations. These necklaces, pins and assorted body adornments reflect the tribal art of a more complex contemporary society. Made from a wide range of both precious and common metals in combination with discarded and found objects, they suggest multiple meanings - affiliations with the more recent past.
Seance, a wide, collar-like disc reminiscent of those worn by Masai tribesmen, is made from a long-playing vinyl record. The rim of its inner circle is trimmed in bronze. Sterling silver and copper silhouettes of hands and indecipherable scribblings, along with a bronze silhouette of a face, are meticulously pressed into the disc's surface, evoking an overall sense of mysticism.
Another piece, Protection, according to the artist's statement, is the first piece in her "Homage to the Ethnic Jewelry Ancestors." She states, "The Sioux breastplates of bone have long attracted and moved me both as ornament and symbol - the idea of wearing ribs on the outside" (thus the name). In the case of Protection, however, the bones of the breastplate are used yellow pencils. Woven together with horsehair and brass fittings, the breastplate, like its antecedents, has small objects such as mirrors, bits of deerskin, brass and coins attached to its "bones." One of the ornaments, an Indian head nickel, reiterates its native origins, the word liberty on the coin's face reminding the viewer of the ironies of the fate of the Sioux tribe.
Continuing with the breastplate theme, the artist has created similarly designed pieces from other relics of the not-too-distant past: typewriter keys and striking pins from early manual typewriters. When taken out of their original context, these skeletons of primitive mechanization are quite beautiful. The artist has cleverly incorporated the inner workings of these old machines into several sculptural neckpieces, combining silver, bronze and gold wiring with intricately cut silver shapes, providing grist for further interpretations.
An even further extension of societal ornament/comment can be seen in Romance, an innovatively designed neckpiece basically made from a long heavy-duty dress zipper. When closed or "zipped," the cut bronze objects that are so deftly attached to each of the zipper's cloth sides come together to reveal a head, house, heart and several coins - perhaps a statement to the ease in which these stalwarts of everyday life can be split apart.
Incorporating objects ranging from antique brass rulers to porcelain shards, Venetian glass to beach flotsam, Kiff Slemmons' work is refreshingly individualistic. She uses literal and visual puns to create a very personal style of jewelry that is exceptional on many levels.
The intended meanings and relationships between the design of the pieces and the viewer's response are filled with subtle ironies as well as humor. The reinterpretation of ancient forms and themes is certainly not a new idea, but the artist's approach is unique. For those who have the opportunity to view Kiff Slemmons' work, it is a thought-provoking and visually rewarding experience.
Dorothy Spencer, an art consultant living in Philadelphia, is the author of Total Design (Chronicle Books, 1991)
Matthew Hollern
University of Wisconsin - Madison
Class of 1925 Gallery
March 6 - April 3, 1992
by Paulette Werger
Rooted in hollowware tradition, Matthew Hollern's pieces are biomorphic forms, carefully executed and ranging in size from 1 to 6 feet. His work Functions on two levels. Derived from a love of materials, it explores the plastic nature of pewter, frequently pushing the limits of scale. In addition, besides being aesthetically pleasing, the work is designed to stimulate the mind. This is accomplished by the use of visual puns, abstraction and metaphor.
Conception, fabricated in pewter, combines a sinuous tapered speculum with an indented hemisphere. Stretching out about 3 feet horizontally, the head of the taper nestles into a soft rounded cushion. The piece has the appearance of both a sprout and a spermatozoon, an intentional mixing of meanings, as both words are derived from the same Greek root. The piece quietly speaks of the gentle moment of conception as well as that of growth. Furthermore, it draws a direct relationship between these processes and the creation of an artistic object. The concern for craftsmanship is also communicated in this minimal form through flawless execution and a consistent mat surface.
Silhouette in Bronze uses metaphor along with a somewhat quirky sense of proportion to allude to the human form. This 23-inch-tall vessel has a V-collar for its upper rim, then makes a graceful transition into shoulders and belly and finally diminishes to a small heavy foot. The urn-shaped vessel is bisected vertically by two wavy elements of forged bronze. These elements cut through the vessel, suggesting a head and cleanly outlining both the shoulders and hips of a torso. They also serve as a color contrast and visually elevate the vessel from the tabletop. It seems as if the urn would float, were the heavy foot removed.
Cruciform Chalice visually integrates the symbols of the Eucharist with the function of serving holy communion. The support for the chalice is a stylized cross of textured copper which has the appearance of hand-hewn wood. Suspended from the cruciform is a patinated figure with outstretched arms holding up the goblet bowl. The bowl of the chalice becomes the head of the figure, and the interior gold plating acts as a halo of sorts. The contrast of gold against sea green and burnt umber is visually exciting and emphasizes the individual elements of the piece.
Decisions epitomizes Hollern's concerns about the exploration of ideas. This most recent work relies less heavily upon the traditions of hollowware and addresses more the artistic concerns of sculpture. Over 4 feet in height and length, it combines steel, wood, pewter and bronze. A center needle rises from a wedge, shaped rocker. On one side of the rocker rests a pewter heart, while on the opposite side rests a stylized brain. The piece evokes the need to strike a balance between the joy of simply working materials and the concepts which they are capable of communicating. No matter how far tilted, the sculpture always returns to a center position of balance between the extremes of head and heart.
The frontal display of work around the perimeter of the gallery prevented the viewer from experiencing the sculpture and hollowware in the round. The strength of this show is the technical tour de force combined with the conceptual basis of Matthew Hollern's work.
Paulette Werger is a metalsmith living in Madison, WI.
Rosemary Gould
Creative Metalsmith Gallery
Chapel Hill, NC
April 1992
by Stephen Walker
Rosemary Gould's show at Creative Metalsmiths Gallery was more an exhibit of precious objects than of jewelry. Most of the 23 works displayed are jewelry pieces designed to be worn. The attitude apparent to this observer is that the artist is working more in the tradition of object maker than of jeweler.
Gould's materials are silver, mokumé-gane and semiprecious stones. Mokumé artists tend to be seen as technical masters, and in Gould's case this is certainly true. Mokumé assumes a precious material status through the magic of the technique. Her sensitive use of the material for its pattern and her composition with other patterned materials - stones and fabric - transcend the infatuation with technique that so often draws metalsmiths to pursue mokumé.
Among the stones the artist chooses to use is psilomelane. The patterns of grays and blacks in the stone are carried into the metal's color and pattern in the mokumé. The shield shapes in a series of brooches and earrings using bold symmetrical overlays have a regal, medieval look. While heavy and purposeful in their look, these objects are very wearable as jewelry.
Gould has a background in fiber. One of the most intriguing pieces in the show was Pattern Portfolio. The work is in several parts. There are four metal plates, each a married metal composition illustrating patterns and colors of various metals and patinas. These are contained in separate pockets in a batik silk purse patterned and made by the artist.
In one way the portfolio is a swatch book or sampler, but when given close consideration it reveals a lot about the artist and her Potential. Each of the compositions is in itself a finished piece of art. None of the swatches are as strong as her jewelry designs, but a love of the metal and the patterns comes through that tells us this is made for its own sake. Perhaps a greater depth of experience on the part of the artist as jeweler accounts for the greater mastery of design in the jewelry. The appreciation of the wearer is a powerful motivator for the designer that accelerates the development of jewelry. The object for its own sake tends to be motivated by the soul of the artist. The audience is fortunate that Gould has been faithful to this part of her artistry.
The creation of the precious object for its own sake has an intimacy about it that tends to be neglected when craft artists respond to the more marketable forms of their calling. Rosemary Gould has held on to her object maker's sensibility throughout the total of her work. The intimate display space of Creative Metalsmith Gallery on Franklin Street in Chapel Hill, North Carolina, was an excellent venue for this enchanting show of a gifted metalsmith.
Stephen Walker is a metal artists in Andover, NY.
Metal in Motion: Birgit Laken
Jewelerswerk Galerie
Washington, D.C.
March 5 - 26, 1992
by Lee Fleming
The spare elegance of Dutch artist Birgit Laken's mokumé-gane pins, brooches and necklaces belies both the effort and the hours expended on their creation. Organic allusions in her exquisitely worked shapes, which resemble spirals, pods and other natural forms, are matched by equally naturalistic patterns coaxed from the thinly beaten metal. The resulting visual metamorphosis, in which metal forms and graining ultimately suggest horn, shell, bone and even fur, encapsulates the wit and mystery of this evocative jewelry.
Although Laken confines herself to relatively few shapes in these series, the patterns evoked from the strips she gouges from mokumé metal blocks (mokumé-gane means "wood grain metal" in Japanese) provide infinite variety. Through intensive hammering, Laken controls the growth and direction of the metal and its markings. The paper-thin rippling of the edges of a spiral not only adds another degree of texture but also recalls the hours of smithing required for its making. Such vestiges, although nearly imperceptible, are powerful reminders of the artist's process.
In works such as Tigerspiral a 1987 copper and tombac brooch, Laken's continuous hammering has produced a form that subtly spirals down as it spreads out, echoing the torque of the mokumé pattern continually rotating on its own axis. These shell-like brooches are secured by thin, waved metal strips.
By 1988, however, Laken had united the method of fastening with the pieces themselves, allowing the inner end of her spiral to "run off" in a thin, rippled line, like a rivulet from a pool. This integrated, diagonal pin "breaks" the graceful spiral while at the same time assuring its functionalism. The trick is neatly done, enhancing rather than compromising the central form.
In Laken's most recent brooches resembling seed pods or shells - secured by separate, rippled lengths of mokumé - the contrasts between densely patterned flat edge and unpatterned convex core, or vice versa, again highlight the artist's mastery of mokumé. Technically brilliant at creating precisely delineated patterned and plain areas from a single piece of layered metal, she is no less adept at allowing the motion suggested by the metal grain to develop. This exploitation of the medium's inherent possibilities invests shapes which otherwise would suggest calm and stasis with a new, intriguing dynamism.
Another series of recent brooches, such as Black Head and Lickeen Lake, evoke wave-scrubbed shoals, pea pods and even stylized insects at rest. Their pins become underpinnings, supporting the brooch when off the body much as a stand props up a leaning sculpture. Wearers can have them both ways: as fine art objects with built-in means of display and as ingeniously engineered objects of personal adornment.
Most dramatic of Laken's offerings are the necklaces of suspended, podlike forms. The elongated waves of the mokumé patterns that wash their surfaces are echoed in the ripples of the neck wires from which they hang like the minimalist breast plates of a nature-worshipping priestess. Suggesting amulets or badges of ritual office, the spare beauty of these refined yet earthy forms gently but pointedly mocks the memory of heavier, overdone breastplates and full-blown jeweled regalia. At the same time they convey a sense of alchemical mystery as the metal, shaped into natural forms, transcends its origins.
Lee Fleming, a freelance critic, writes for City Paper in Washington and several national art publications.
René Lalique Retrospective
Musée des Arts Décoratifs
Paris, France
February 1992
by Jan Yager
Nothing could have prepared me for that first encounter with René Lalique's jewelry at the 1976 Chicago Art Institute exhibition. I was awestruck by how adept he was with so many materials and processes, and the extraordinary amount of time he had to devote to each piece. Later I learned that he hired as many as 30 master craftspeople, with the accumulated skills of turn-of-the century Paris, to actualize his vision.
Enticed by low airfares to Paris, nothing could deter me from this second major encounter, his retrospective at the Musée des Arts Decoratifs. More than 250 works were assembled from public and private European collections spanning 1885 to 1934. Almost 100 were spectacular jewelry pieces fabricated primarily in gold, with enamel, glass, horn, ivory, opal and tourmaline. The rest were mainly glass works.
The installation was imposing, dark and dramatic, with each piece afforded ample space. Most admirably, each was displayed at the height it would have been seen on a wearer (hair combs above eye level, brooches and pendants below). The jewelry, however, needed to be placed closer to the glass to allow more intimate examination. The work itself is much better than any photo can communicate. The pieces I liked best were not available in press photos but had been held back for the sumptuous exhibition catalog (which I recommend).
Lalique was determined to create something "never seen before," and he reinforced his idea with unparalleled skill and a commitment to perfection. Many pieces are surprisingly large, perhaps influenced by their intended use in theater productions with Sarah Bernhardt. Some may be large simply because the maker and his patron, oil magnate Calouste Gulbenkian, knew they would be treasured but rarely worn, destined to be among the vast holdings of what is now the Gulbenkian Museum in Lisbon, Portugal.
Lalique was obsessed with complexity and contrast. Why use simple round wire as links in a chain when twigs or violet blossoms wrapped around themselves would serve the same purpose? Why make the fronts interesting bur not the backs? Why set a stone in a plain bezel when it could instead be held by intricately chased oak leaves? Some pieces such as the Dragonfly Woman Corsage have incredibly delicate wings of plique-à-jour enamel, yet hawk-like talons of gold ready to claw the breast of the wearer. The delicately carved horn Hortensis Blossoms Hair Comb, with touches of gold, enamel and diamonds, is the quintessence of beauty though dead and wilted. Did he succeed in spotlighting beauty that one would never have recognized otherwise? Would wasps and beetles be allowed to encircle jewelry were they not so carefully rendered?
The exquisite gouache paintings in the show confirm Lalique as a consummate draftsman with a deep understanding of nature and a rich imagination. Obviously he explored ideas until they were fully developed on paper before he translated them into three-dimension. And like his contemporary Auguste Rodin, he approached his work as a sculptor. Ideas were modeled in clay, cast in bronze and, with the help of a reducing lathe, converted to jewelry scale.
The grotesque and the sublime coexist quite comfortably in Paris. One moment, overhanging gargoyles leer at you; the next, lovely carved stone nude women welcome you to a plaza. Seeing Rend Lalique's work in Paris, the city from which it came and in which he lived, added immensely to my understanding his work. But regardless of where or when you are able, I highly recommend you seek out his work in person and consider what is possible given unlimited imagination, skill, time (and support of a patron).
Jan Yager is an artist/jeweler living in Philadelphia.
You assume all responsibility and risk for the use of the safety resources available on or through this web page. The International Gem Society LLC does not assume any liability for the materials, information and opinions provided on, or available through, this web page. No advice or information provided by this website shall create any warranty. Reliance on such advice, information or the content of this web page is solely at your own risk, including without limitation any safety guidelines, resources or precautions, or any other information related to safety that may be available on or through this web page. The International Gem Society LLC disclaims any liability for injury, death or damages resulting from the use thereof.
---
The All-In-One Jewelry Making Solution At Your Fingertips
When you join the Ganoksin community, you get the tools you need to take your work to the next level.
Become a Member
Trusted Jewelry Making Information & Techniques
Sign up to receive the latest articles, techniques, and inspirations with our free newsletter.