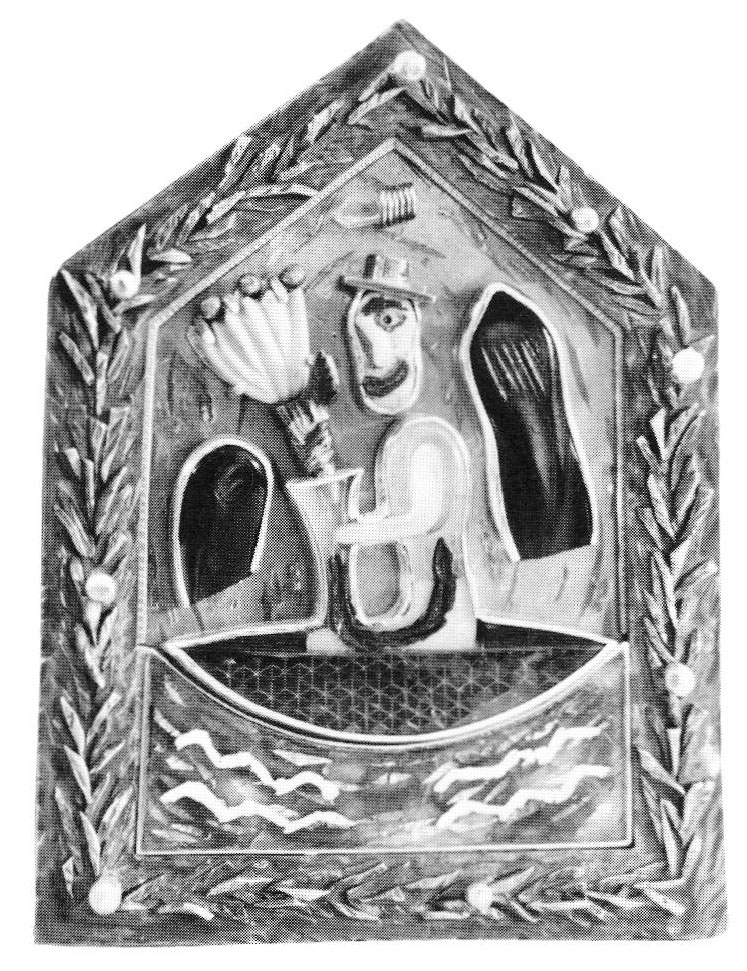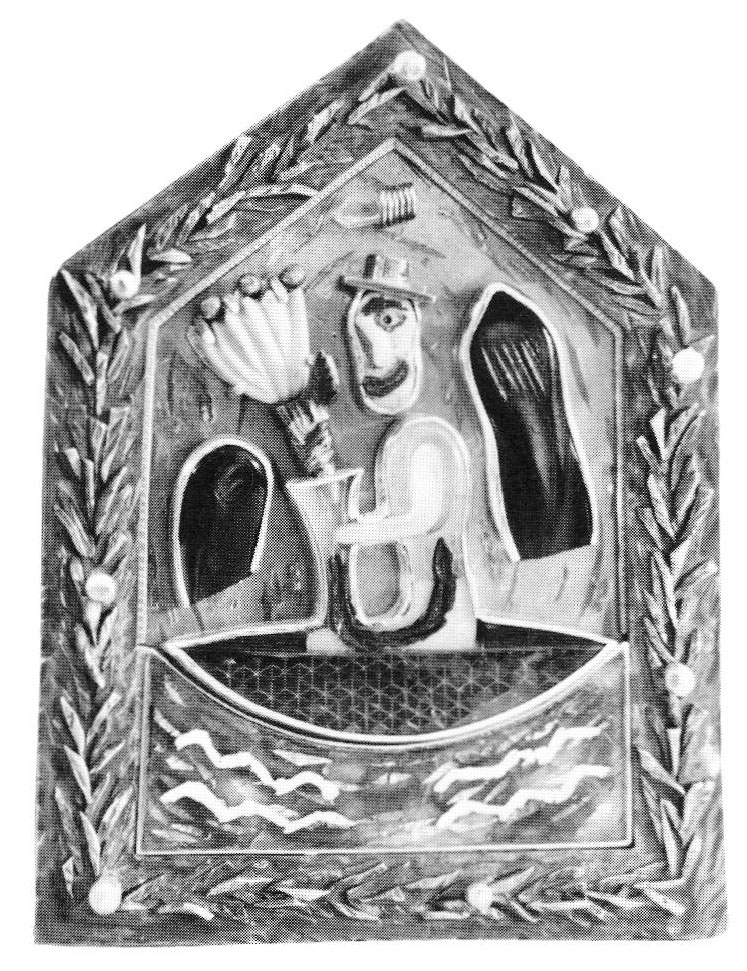 Metalsmith '85 Fall: Exhibition Reviews
---
37 Minute Read
This article showcases the various exhibitions in the form of collected exhibition reviews published in the 1985 Fall issue of the Metalsmith Magazine.
~~~~~~~~~~~~~~~~~~~~~~~~
Masterworks of Contemporary American Jewelry: Sources and Concepts
Victoria and Albert Museum, London, England
May-July, 1985
by Deborah Norton
The press release for "Masterworks of Contemporary American Jewelry: Sources and Concepts" announced that the Victoria and Albert Museum would host "The first comprehensive exhibition in a major British museum to survey the development of jewelry by American artists." The show was organized, not by the V&A, but by the Barbara Rockefeller Jewelry Associates, which the press release described as a "New York firm dedicated to the promotion and sale of the finest jewelry created by contemporary artists." One might have hoped that an exhibition of this importance could have been organized by someone dedicated to craft history and scholarship. It was to be a part of London's American Festival, held in response to last year's British Festival in New York City. This sounded like a rare opportunity to see some very important historical pieces in a setting where one could gain insight into the origins and growth of the American studio jewelry movement. But I must admit I was somewhat skeptical about the whole thing, as experience has taught me that, unfortunately, when such grandiose claims are made, it is often the press release, not the actual work displayed, that is the most impressive element in the exhibition.
This exhibition was held in the museum's jewelry galleries, in the cases usually reserved for changing one-person exhibitions of contemporary work. These cases are located in the midst of the permanent jewelry collection, containing masterpieces from ancient to contemporary times. It is a rare occasion when any temporary exhibit can compete with the V&As outstanding collection, but I had hoped that the stature of these American masterworks would enable them to at least hold their own. Unfortunately, due to several factors, this was not the case.
The primary problem was that the scope of this show was too broad to cover in the meager space allotted to it. Perhaps if it had been limited by years, maybe to "Masterworks from 1945-60"; or by media, "Masterworks in Enamel," it might have worked. But to try to cover the entire spectrum of the American studio jewelry movement, from its inception to current work, with only 43 pieces by 19 artists, is attempting the impossible.
Given such adverse conditions, it should have been obvious to the organizers, Barbara Rockefeller, Abbie Gonick and Toni Lesser Wolf, that their choice of artists and pieces would be crucial if this exhibit was to be at all successful. However, although some truly fine examples of various phases of American jewelry were included, some of the choices seemed quite poor. It may be significant that the 48-page color catalog says who "organized" the exhibit but does not mention that anyone "curated" it.
The exhibit opens strongly with one of Alexander Calder's remarkable neckpieces from 1945, a piece that was extremely innovative at the time it was created and is still alive with motion and personal expression today. However, the inclusion of three pieces by Louise Nevelson, a ring and brooch from 1968 and a pendant from 1976, struck this viewer as highly questionable. Although I am a great admirer of Nevelson's sculpture, her constructed wood jewelry seemed clumsy, lacking sensitivity to what jewelry is all about. I can certainly think of more exciting and influential work done by others in that time period. And one can hardly say that Nevelson has been an important influence on other jewelers. I also question the inclusion of John Marshall, who is deservedly renown for his holloware.
Although the two pieces of his jewelry that were in this show are quite nice, one cannot credit him with having nearly the impact in the field of jewelry that he has had in holloware.
Stanley Lechtzin and Svetozar Radakovich were included in the show, as indeed they should be, for both pioneered jewelry techniques that have influenced countless others. However, they are each represented by only a single piece and neither piece is an example of their early, most innovative work. Lechtzin's Torque #70E from 1983 uses the electroforming technique that he is so well known for. But how much more interesting it would have been if one of his pieces from the late 60s, when this technique was fresh and daring, had been included. Likewise, Radakovich, one of the first art jewelers to experiment with centrifugal casting in the 50s, is disappointingly represented by a constructed bracelet from 1975.
Among the highlights of the show were the four talismanlike enamels of William Harper, appropriately typical of the work he is known for. The three rings by Margaret De Patta, done in 1939, 48 and 55, seemed so contemporary it was hard to believe they were done decades ago. Her explorations of reflected and refracted light through the use of unusually cut stones in unique settings have yet to be equalled or carried further by anyone in recent times. And Jamie Bennett's 1985 Proteus Series brooches added new dimensions to his ongoing studies of semiabstract imagery in opaque enamels. His three anthropomorphized pins present many of the same conceptual ideas as in his previous pieces but in a fresh, more playful way.
The fact that eight of the artists (Mary Lee Hu, Richard Mawdsley, Margret Craver, John Paul Miller and Art Smith, as well as Lechtzin and Radakovich) were represented by only one piece did nothing to enhance their reputations or to make a strong case for why they should have been included in the exhibition. There should be an international law that group exhibitions must include at least three pieces from each artist.
Unfortunately, there were very few pieces from the late 60s and none representative of the strong artistic and political statements that were being made at that time. It is hard to understand how this most exciting period of American jewelry could have been overlooked.
Others in the show included Deborah Aguado, Colette, Robert Ebendorf, Philip Fike, Harry Bertoia and Earl Pardon.
In an effort to understand how and why this exhibition took place, I called Richard Edgcumbe, Assistant Keeper of Metalwork at the V&A. He explained that the V&A had wanted to participate in the American Festival, especially the metals department, which felt it had not shown enough American jewelry, but there was no money in the budget. Therefore, when Barbara Rockefeller Associates offered to do this show at no cost to the museum, the offer was quickly accepted. Although he was not altogether pleased with the results, he was quick to point out that it was not "just a rich woman's fantasy" and that it did "give an impression of what was going on." I guess the old adage still holds true: you get what you pay for.
— Deborah Norton
"Masterworks of Contemporary Jewelry; Sources and Concepts" was exhibited at the Victoria and Albert Museum, London, from May 11-June 27, 1985. The 48-page catalog with essays by Oppi Untracht and Toni Lesser Wolf, 13 color and 14 black-and-white illustrations, is available for $14 prepaid (New York State residents add appropriate tax) from Barbara Rockefeller Associates, 1080 Fifth Avenue, New York, NY 10128.
~~~~~~~~~~~~~~~~~~~~~~~~
Contemporary Metals USA
Downey Museum of Art, Downey, CA
May 9-June 21, 1985
by Carolyn Novin
Contemporary metal artists, liberated from restrictive parameters of beauty and function, are moving from a primary concern for method and material to a focus on idea and content. Whether the point of view emanates from personal vision, analytical interest or desire to make a universal statement, a basic individuality underscores the diversity of current work in metals. This assertive spirit energized and unified "Contemporary Metals USA," a competitive exhibition of 156 works by 129 artists from 33 states. Lynda Watson-Abbott, the sole juror, selected technically excellent sculpture, holloware and jewelry for this survey, which also included invited artists Jamie Bennett, Adine Fisch, Gary Griffin, John Marshall, Eleanor Moty and Kay Yee. Works representing their distinctive styles were not isolated in a separate niche but placed alongside their contemporaries in a successful departure from convention, which strengthened the show's impact.
Effectively mounted on the wall opposite the museum entrance, David Luck's Dream's Curtain in brass, copper and nickel silver was a striking introduction to the exhibition. A multitude of small squares hang from a semicircular panel; each is pierced, domed, patterned and made unique in a variety of ways. Then, all are linked into a rectangular tapestry of rich tactile and visual power that pulled the viewer into a private world of light and shadow.
Heather Marcus stimulates analytical interest in light and shadow with Black Slash, a wall-mounted construction of acrylic and gesso over steel. A dramatic black ledge transects rectilinear panels and juts towards the viewer. As cast shadows change in response to variations in light, they extend and modify the physical boundaries of the brightly colored piece.
In contrast, color unifies Claire Sanford's graceful sculpture. A flaring vessel narrows to balance atop a tapering, wire-topped pedestal. The subtle interplay of delicate aqua, pink and ivory tones on these two forms joins them into one powerful whole, which generates a ritualistic and mysterious aura.
William Baran-Mickle's Pacific Movement of brass, copper, nickel and sterling silvers, further exemplified the frequent use of the vessel as a sculptural idea rather than as a functional object. Textured layers with irregular edges seem to ripple as they build the ovoid from which linear elements arch and thrust in an intriguing counterpoint to the work's solidity and title.
Symmetrical assembly of highly refined components describes John D. Wittersheim's steel and aluminum Vessel #96, in which three triangular legs round and taper as they impale a dark, gleaming spheroid rimmed by a wide collar. The machined perfection of line and surface emphasizes the dramatic confrontation of downward momentum and aggressive uplift. This use of industrial technology either as a basis for design or as a source of parts, or both, was a feature of other works in the exhibition. Of note were Karl Matson's Free Fall, Roger Snyder's Weathervane #2, LoIIe Cherin's Spirit Catcher and David Tisdale's brooch.
Smaller sculpture and holloware, along with jewelry, were put into display cases in one room; severe overcrowding was a problem. These pieces demand and deserve enough space to be appreciated individually. Careful viewing was required, and rewarded, because these smaller objects reflected the same expressive energy, visual impact and skillful use of materials shown by the larger scale works. For example, Clara Arana's sophisticated wall piece Composition #11 of titanium, tantalum, sterling and nickel silvers, is enlivened by the dynamic interaction of basic design elements. Two independent but related squares are constructed of thin metal layers patterned and colored, then rolled back to release shining tendrils that probe and push beyond the perimeter. A froth of texture at one corner of each square gives balance and contrast. Not the only example of anodized refractory metal coloration in the show this work avoids cliché by subtle use of the popular technique.
Other artists combined different metals for effect in jewelry and holloware. Catherine Sanders produced three particularly refined fibulae of contrasting stripes of laminated copper and kuromido within a triangular design theme enlarged by linear extensions and shifted planes. Deborah Krupenia's Liqueur Cup II is a kaleidoscopic sampler of minute patterning and color in silver, 22k gold, shakudo, shibuichi, kuromido, copper and brass. This diminutive cone-like cup with rectilinear base surprises and delights when viewed from any angle.
Metals, enamel, plastics and stones comprise the colorful Man in My Boat pin by Lynda Ross, which has a playful energy and spontaneous visual appeal. In contrast, Colette's Column #4 is subtly enriched by symbolic detail. The black sculptural monolith, emblazoned with a glowing cloisonné enamel brooch, exudes hieratic power. Also special were Barbara McFadyen's Lightning Fair fibula and/or necklace fabricated of reticulated 14k gold and sterling silver with diamonds, Betsy Douglas's elegant bracelet of gently folded sterling silver and Cathy Lynne Holt's Wild Beast Kimono necklace of 14k gold silhouettes over patterned sterling silver.
Noel Thompson, who, with obvious care and imagination, supervised the installation, is to be congratulated for organizing the large number of diverse works into a coherent, exciting exhibition. "Contemporary Metals USA" should be an annual event because it demonstrated that the artists who share the joys and frustrations of working with metal, who chose metal as the medium for expression, make metal contemporary.
A narrated videotape documenting the exhibition will be available from the Downey Museum of Art, 10419 Rives Avenue, Downey, CA 90241
~~~~~~~~~~~~~~~~~~~~~~~~
Jamie Bennett
Helen Drutt Gallery, Philadelphia, PA
January 26-February 23, 1985
by Brigid O'Hanrahan
Jamie Bennett has used enamels combined with metal as a medium of esthetic expression for many years, mainly in the form of jewelry, and more recently with wall reliefs, in which reference to the human form has been a continued theme. Earlier work has been described by C.E. Licka as using talismanic and totemic forms that have a prehistoric quality in evoking the human form. Imagery from later work included fragmented torsos from classical Greece and Rome, as well as pieces from paper patterns used for clothing construction. In this work the body was fragmented, idealized and impersonal. The pieces suggested miniature framed paintings, the surfaces of which reflected the imagery, smooth and refined, like paper or marble, with no mark of process.
New work shown here built on the past while moving in a different and exciting direction. Multiple elements combined in one piece to make new forms, yet retained their individuality. The forms that made up each piece broke out of the frame with an animated, directional movement, a subtle freedom of gesture that created a sense of captured motion. Some pieces seemed to take the form of a series of brushstrokes; some had a figurative quality, a detail of a portrait; others appeared to be a partially seen landscape, as if viewed through a window. While the colors used were still subdued, they were warmer. Marks of bright color shot across muted backgrounds, enhancing the sense of captured process. The surfaces reflected these changes as well. The neutral, flat smoothness of previous work was now a tactile surface, combining matt and textured areas that invited contact. Within a single piece separate enameled sections came together with soft, rounded edges that imparted a human quality to the forms. The work exuded a presence that was active and personal.
The show was a strong one. I was intrigued by the sense of captured movement present. Bennett's work is developing in a direction that is at the same time more focused, more personal and more immediate, and I found that very exciting.
~~~~~~~~~~~~~~~~~~~~~~~~
Jamie Bennett Selects
Plum Gallery, Kensington, MD
May, 1985
by Gretchen Klunder-Raber
"Jamie Bennett Selects" reflected the Plum Gallery's current concept of having regional master metal designers select a group of young, lesser known artists whom they feel significant and for whom they have a stylistic affinity. Bennett selected Young Ja Baek, Tracy Cavanaugh, Rebekah Laskin and Donald Friedlich. That definition is not accurate for the latter two, who are relatively well known. The general impact of the show was that of an intimate experience. The space is small and the number of works limited; it was not an ambitious show.
While each artist has a different direction, three of them were linked by a stylistic thread. Donald Friedlich has the gift of exquisitely refined proportion that achieves a miniature monumentality, as seen in both his Tension Series and Interference Series brooches. In these slate, gold and titanium works, their superb art-fashion orientation was graphically clear. Not so clear was the work of Young Ja Baek, where there was evidence of a confusing message of casual technique and primitive forms, which were either very studied or very searching. I'm inclined to believe the latter. It is a deceptively difficult genre to work, in which one communicates the eloquence of the primitive iconography with a controlled relationship of materials. One guideline for serious students should be to unify their style through work in series. Note the work of Reinhold Reiling.
The large, heavy bezels by Tracy Cavanaugh were too restrictive for the low-key design of her enamels. Incorporating enamels into the jewelry object seems to pose the greatest challenge to many enamelists. However, this is not true of Rebekah Laskin, who handles the challenge with elegant lines, beautiful shapes and proportioned edging. She breaks the metal edge into functional design elements. Similarly, there is wonderful color, tone and surface painting. The restrained pastel color gradations contrast with diffused tone grids of enamel color. These are punctuated with accents of tiny metal shapes that mask rivets Bruce Metcalf is another master of this technique.
Finally, for that "to-the-point" quality of the master metalsmith that says all in the most economical terms, there is the work of Jamie Bennett. Three of his long, playful brooches exercised the eye with patterns, shapes and colors as seminal as those of Paul Klee. The raw simplicity of the bezels rise with sophisticated angularity to protect, define and articulate the design. Another elemental brooch was a puzzle structure of contrasting patterned pieces united by color and tone. The viewer is rewarded by seeing thought and resolution handled with the assurance that comes from talent and experience.
~~~~~~~~~~~~~~~~~~~~~~~~
Contemporary Blacksmithing
Signature Gallery, Boston, MA
February 22-March 30, 1985
by J. Fred Woell
This show exhibited a variety of unique objects that continue the traditions of blacksmithing and give rise to some interesting contemporary possibilities for the blacksmith-artist. Objects I would not associate with the blacksmith were done by Bob Griffith (cross-country skis), Joseph Bonifas (jewelry and a decorative object, entitled I've Got My Top Hat and Tails, loaded with skillful craftsmanship, fine design and humor) Brent Kington (Wind Toy), and Robert Timberlake (digital pocket watch). This last I found extraordinary, not because it was different in shape or nature from the traditional pocket watch, but because he used Damascus steel "wood graining" as a powerful and effective statement of surface decoration. This seemed an eminently appropriate way to apply a traditional blacksmithing technique to a traditional object with contemporary digital electronics. I smiled at the thought of it.
The idea of a blacksmith making skis also fascinated me. The metalwork on the skis was the boot clips, and when you investigated them closely you found careful designing that expressed more than just function. The decorative file work on the metal boot clip was a very handsome touch, as was the overall shape and grace of the laminated wood skis. A sensitivity to form was also evident in Bob Griffith's small and elegant table sculptures. These were just as beautifully refined. His ability to paint one of these with decorative calligraphic lines and just a touch of red in the right spot reinforced my impression of his sensitivity and abilities to cross that bridge between art and craft.
There were other examples of that same ability in this show. The art of blacksmithing certainly has not died. Yet the way it has been learned by the contemporary blacksmith certainly shows up in the shapes and decorative motifs that were repeated over and over in many of the works. I really have no prejudice against scroll work, or the variety of twists one finds along the length of a square steel rod, if it is done well, is appropriate to the object's design and contributes to its uniqueness. However, there was plenty of evidence in this show where the twist and scroll was a conditioned response—a "Here'sssss Blacksmithing!" approach to design. There was also the usual use of the "wet-noodle" line that wanders in space to no particular conclusion. The fact that steel can be heated and turned into a continuous, senseless linear scribble in space or made to imitate a grapevine with leaves has to be treated with careful imagination. Pieces that I felt exhibited strong creative use of line were done by Michael Ficalora (Wall Sculpture), Joe Bon if as (Wall Mirror), Dimitri Gerakaris (Fireplace Grate), Brian and Judy Cummings (Cheese Cutter), John Dittmeier ("Don't Tread on Me" Snake), Joel Schwartz (Gate) and Michael Bondi (Wall Light).
Ironwork does not necessarily need to be perfectly refined. I like hammer marks on the surface, if they embellish or are in character with the piece. Some work I found to be crude enough to border on unskilled. Certainly, part of the beauty of Stephen Bondi's glass table were the hammer marks that showed the way the steel was manipulated. The surface pattern developed by moving the metal by hammering also expressed a powerful decorative energy that heightened the tension in the design and nature of the table. The same thing happened in the steel forged armature of Michael Bondi's Light with Arm. You really could see the plasticity of the hot metal and how fluid it becomes under heat in the hands of a skilled blacksmith. Some work seemed crude, or even primitive in its execution and yet retained a sense of charm. lra Dekovan's fireplace set had that charm, and his sense of humor came through even more forcefully in his Donkey Hooks.
This show was made up mostly of utilitarian objects. I wish I could have handled all of them. Those I could get my hands on I gave some simple tests. I was surprised at how poor the balance and uncomfortable the handles were on almost all the fireplace sets and the fire pokers. The best I tested I'd have to credit to Jimmy Fike's fireplace tools, whose rack was expertly finished. Logically he used two metal straps to hold together the three bars that made up the legs and rack hooks. It was a simple answer done expertly.
The knives in this show were excellent. Jimmy Fikes, Phillip Baldwin, Robert Timberlake and Daryl Meier know their craft, and the objects they exhibited had authority and were handsome.
The objects in the show that were purely meant to be taken as sculpture I found to be the weakest. They were particularly poorly matched to their bases. The best base-to-object relationship I thought to be the I've Got My Top Hat and Tails by Joe Bonifas. I was impressed by the Richard Sexstone's Hip of Woman. The sculpture's integrity, developed anatomically out of a plate of steel, was sensitively and forcefully expressive, despite a base that called attention to itself. Its wood grain and busy patterns of stains were an unfortunate distraction, however. The base-to-sculpture mismatching deals with the basic problem of transition. It is unfortunate that so many pieces failed on that account. The connecting element of one of the glass tables to the curvilinear leg was not only abrupt but looked like an afterthought. A candleholder in the show started at the bottom, with feet that imitated the paws of an animal, and ended up at the top with platforms that looked more mechanical in appearance. The integrity of the total design fails in such situations.
This show was well worth close scrutiny. The small space available for it, however, did not properly display nor do justice to an appreciation of the larger work.
~~~~~~~~~~~~~~~~~~~~~~~~
Helen Shirk
Yaw Gallery, Birmingham, MI
March 16-April 10, 1985
by Gary S. Griffin
Helen Shirk's recent vessel forms may well prove to be one of the significant facets of her already illustrious career. But what are these, and where do they dovetail into the development of her work? Are they a radical change in attitude or simply a variation?
These nonfunctional works are titled Vessel, with a numerical code following. The term "vessel" has recently entered the metalsmithing vocabulary, probably appropriated from ceramics, and there is no question that Shirk is using the term to distinguish, or perhaps divorce, these new works from their ancestors, her holloware Bowls, Containers, etc. lf the titles indicate a move from functional to nonfunctional attitudes, then how do the works themselves secure this position? And, more important, what is that position?
The term nonfunctional opens the floodgates to an infinite variety of possibilities. Are these works illustrations or statements of her views towards holloware? Are the works metaphorical, autobiographical or are they formal, compositional inquiries? I think the last. These works are primarily exploring the vessel as format.
While making a break from function, or the implication of function, Shirk continues to exercise her well-founded talents in formal manipulation of design elements. This conclusion derives from analyzing eight of these new works at the Yaw Gallery, from studying Shirk's written statements about this new work and from following her work over a 10-year period. Although she cites the arid or desert landscape and flora as stimulating influences, these sources appear to be used literally rather than expressively. The vessels do have points, but to me they do not allude to the defensive spikes of cactus as much as they describe the aggressive shape of a punk electric guitar.
These vessels begin as an exploration of shape, that is, their initial phase of formal investigation is two-dimensional. Shapes are drawn and shapes are cut out. The shapes are subsequently formed to become the walls of inverted conical vessels. Shirk applies multiple patina hues to reinforce the distinction among these shapes, much as a label is applied to a can. Although we see form, that is, the three-dimensional vessel, we cannot avoid the graphic references. The shapes stand out as parts or pieces that label the form, that designate contents. This shape-form relationship, the formal meat of this work, while creating visual interest, is conceptually troubling. The stage is set for tension, yet I only find contradiction.
Why is Shirk attributing the aggressive shape of her forms to flora rather than popular culture? Why are the rather tight, restricted shapes and forms of this work meant to indicate the openness and expansiveness of the Southwest? With these and so many other uncertainties and contradictions, I can only conclude that these works represent formal inquiry. The works represent a highly developed sense of manipulating shape, color and form without conveying meaningful content.
These vessels give clear evidence that this is transitional work. Shirk's search for new arenas is to be admired and supported. It is courageous. However, it appears to me that while Shirk is seeking new expression and meaning, she is also carrying the baggage of her past formal investigations. Until she relegates her highly developed formal skills to become expressive tools, until she uses her formal skills as understood vocabulary, the work will remain in this transitional position, as formal investigations with content askew.
For another view on Helen Shirk's recent work, see Metalsmith, Spring 85, volume five, number two, page 43.
~~~~~~~~~~~~~~~~~~~~~~~~
Plastic Crafts
Brookfield Craft Center, Brookfield, CT
April 14-May 26, 1985
Brookfield/Sono Craft Complex, Norwalk, CT
June 6-August 4, 1985
by Akiko Busch
More than any of the polemics of Modernism or controversial canons of the International Style, it was perhaps the development of a new material that most influenced design of this century. The advent of the age of plastic in the mid-20s dramatically transformed the surface—both literally and figuratively—of furniture, furnishings and accessories, the decorative arts in general. For jewelers, the simple advantage was that Bakelite, Celluloid, Aladdinite and synthetic amber all nurtured a new and less reserved use of ornament, and the blunt geometric motifs of Art Deco especially were suited to expression in plastics. Yet human tastes being what they are, the very nature of the material—its indestructability, permanence and availability—were all cause for its diminishing appeal. As its material cost decreased, so too did its appreciation, until the very word "plastic" became synonymous with the commonplace, the contrived, the insubstantial.
Yet, like any other revolution of public taste, this one has come full circle. As items ranging from Greek columns to miniskirts will attest, everything comes back. Not only, then, have artists, craftsmen and designers been given to reexamining the material and esthetic properties of plastics and polymers, but the general public has been more given to enjoy and collect them. "Plastic Crafts," a national invitational exhibition curated by crafts consultant Rosanne Raab was both a demonstration and celebration of this rejuvenated appreciation on the part of woodworkers, weavers, quilters, ceramists and jewelers.
As the exhibition demonstrated, it is not simply that plastics and polymers have come back, but how they have come back that makes for the interest. Clearly, the material provokes a variety of treatments from jewelers and metalsmiths. In some cases, it is used almost in place of more precious materials. Lapis, ivory, bone, tortoiseshell and amber, we see, have their celluloid surrogates; they can be referred to obliquely or emulated outright. The black acrylic handles of John Horn's sterling silver flatware, for example, suggest the smooth surfaces of bone, yet there is a perfection to the edges that divulges their machine-cut origins. Linda Moughemer's acrylic hairpins are set with semiprecious stones and silver and brass decorative inserts, much the way traditional ivory and tortoiseshell hairpieces were ornamented. Far from being incompatible, as plastics and precious metals are generally thought to be, her pieces suggest that deliberate workmanship, an understanding of material, a sense of invention are indeed enough to assure their happy coexistence in a single piece.
More brazen, however, are the Pieces that present the material as precious and jewel-like in itself. Tracy Ruhlin's miniature threaded grid constructions have a preciousness more characteristic of rarer and more costly materials. They are an affront, almost, to our notions of what constitutes value, and therein lies the appeal. Perhaps it is simply human nature to assign a value to material objects in direct correlation to their availability. Ruhlin's pieces delicately and precisely ask that we consider instead the wit, the sense of invention and the workmanship that have gone into construction. Likewise, Peter Handler's covered jars have been constructed of milled and lathe-turned aluminum. Lustrous epoxy resin insets suggest a bejeweled surface, but circular and oblong, they drift along the surface in forms not ordinarily found in precious gems. They too evoke images of precious metals and stones only to dismiss them. Again, it is the assault on our assumptions that gives them a value apart from the craftsmanship of their construction.
Finally, we have plastic for its own sake without the faintest allusion to anything precious or rarified. Bill Keith's necklaces are colorful collisions of fantasy shapes—lightning bolts, fragmented grids, geometric planes. Tiny, elegant toys constructed in styrene, acrylic sheet and plastic resins and dyed in flashy, flamboyant colors, they could not be taken for anything other than what they are. Nevertheless, there is an elegance and a refinement of form that we rarely associate with these materials.
While these are the three most apparent treatments of plastics by metalsmiths and jewelers, what is refreshing are the ways in which a single piece may combine them. A piece of acrylic cut as a precious stone might be set in a sheet of phenolic resin that could be nothing other than that. The color, shape and textures of celluloid are indeed more varied than their counterparts in the natural world, and how craftsmen exploit these qualities, often to playful excess, while retaining the spirit of the natural material, makes for a provocative esthetic tension.
What is more appealing about these pieces, though, is the way in which they question and play, twist, turn, distort and otherwise dismiss our preconceived notions of what, exactly, constitutes value. Whether value is a quality attached to limited availability, monetary cost and perishability or one more intrinsically tied to imagination and craftsmanship has certainly been asked before, but not always with such art and innovation.
~~~~~~~~~~~~~~~~~~~~~~~~
Dalya Luttwak: Portfolio Exhibit
Aaron Faber Gallery, New York City
April 8-May 2, 1985
by Komelia Hongja Okim
Dalya Luttwak's recent work shows the direct interplay of herself as an artist and precious metal as an instrument. After seven years of experimentation with a variety of techniques and design elements, simple circular forms have become the dominant image. These forms are sliced and divided, combined and re-combined in interpretations that make the resulting works unique and elegant. Cut-out sections are additionally utilized as elements in repetitive patterns or as segments of design in a descending order. The repeat patterns and forms are also apparent in the play of negative shapes. Her art evidences a sense of playfulness and spontaneity as she arranges and rearranges elements to create a mass in a minimal and simple fashion.
Luttwak was born in Israel and now lives in Washington, D.C. She has traveled extensively throughout Europe and the Far East, collecting art objects related to fashion and body ornamentation. This pursuit has led to an open but controlled exploration of the possible interpretations of her uncluttered images. Her simple but bold forms have been further dramatized by the use of 24k gold attachments, in the manner of Keum-Boo, a traditional Korean technique, just enough to break the simple surface and create an enrichment that brings enormous excitement to the work. The gold attachments were first used in the style of cut-outs, carefully layered and arranged on a silver background. In later works, the gold attachments have been dramatized by an oxidized black background and emerge as paper collage with 24k gold foil as the torn element. The total experience for the viewer is one of a harmony of contrasts in color, sizes and shapes.
~~~~~~~~~~~~~~~~~~~~~~~~
lgnatius Widiapradja: Sculpture and Sculptural Body Adornments
Contemporary Crafts Gallery, Portland, OR
May 23-June 15, 1985
by Jalaine Madura
"There is no conceptual difference between my sculptures and my sculptural body adornments." This observation by lgnatius Widiapradja about his work helps define the abstract relationship of the two types of art pieces presented in this show. However, it falls to the viewer to discern the practical distinctions between "sculpture" and "body adornment," and this distinction raises significant issues of function, material and object identity.
Widiapradja's sculptures appear as mixed-media constructions in space, assemblages of thread, bamboo, wood and copper. They present tiny dialogues of tension and suspension, meticulous wrappings contrasted with the exposure of slim, streamlined forms. Perhaps because of their scale, or perhaps because of the way they seem to have been crafted, they rest in their cases like silent, spiky artifacts. They are static, but they also pierce their respective atmospheres with ritualistic possibilities.
At first glance, the silver brooches also displayed at this exhibit suggest similar emphasis on design, space and linear clarity. However, the differences between the sculptures and the body adornments underscore practical and artistic distinctions. For example, the sculptures appear destined to remain encased indefinitely, labeled, catalogued and wondered at. As such, they take on not only the potential of use but the meaning of non-use as well. Their ultimate ritual may have more to do with creation and the artistic processes involved in realizing the potential of combined materials. The body adornments, conversely, can be displayed as they are in the gallery, but they are also meant to be used and worn. Therefore, they must be of more durable materials; the intersections of the slender pieces must be sturdy. Further, although other materials might be more serviceable and enduring, the use of silver satisfies our established human desire to decorate ourselves with precious materials.
As independent pieces, the body adornments are meant to be arranged and rearranged. Their kinetic possibilities invite the viewer to experiment, to discover different geometric configurations. This evolving symmetry harkens back not only to various areas of symbolism—metallurgy, astrology, even the origins of the written word but also to more general ideas of artistry, design and esthetics. Interestingly, however, the wearer does not have such options, as the brooches can only be worn in one specific way, since they will not stabilize in alternate configurations. This surprising factor seems a bit conflicting and suggests that the pieces as body adornment are meant to be arranged and presented only in the way the artist intends. The viewer may explore the optional arrangements only until the pieces are worn, whereupon the artist's esthetic decisions take precedence.
Despite the reasonable assertion that the two types of work presented in this show are conceptually identical, there seem to be great differences between them. By combining simple materials, simple forms and meticulous execution, Widiapradja achieves in the sculptures a quality of the primitive and the timeless. When applied to the body adornments, however, the effect seems quite the opposite. The pieces are just as purified, lust as free of clutter and superfluity, but they are sophisticated and modern as well. As body adornments, they can be expected to appear and to be used in contemporary environments. For the viewer, the two outcomes of this exhibit are the recognition of conceptual similarity and clear evidence that the application of similar concepts to different materials and functions can yield substantially different results.
~~~~~~~~~~~~~~~~~~~~~~~~
Munya Avigail Upin
Willingheart Gallery, Austin, TX
Spring, 1985
by Alice M. Shukalo
Munya Avigail Upin's work is at once reminiscent and startlingly specific: her unmistakable imagery brings up both memory and possibility, the mundane opening the way to the fantastic. Several of the pieces in this show were respects paid to past residences, the memories that preserve the fondness for one's old neighborhoods. 814 Prairie Ave.: A Farewell and 934 7th Aye, the numerals inscribed into the metal with the latter piece, are the more obvious statements. Upin also has created several pieces that she calls memory containers: small, sculpted pieces more open to the inference of the viewer. Wisconsin Landscape in sterling and nickel silver is a sight familiar to anyone who has driven miles over rolling, curving highways, the broken line dividing the road, the pavement itself receding into the vanishing point on the horizon.
Upin's goals are immediately apparent: she wants to interpret her life to bring recognition not only for her own experiences but for those of the viewer as well. Her designs employ light, dimension and texture in fabrications that look deceptively simple. In fact, she says she makes only three to five pieces a year. One of her most important artistic influences is the work of the painter Leger, whose fascination with the precision of machinery resulted in an austerity of line, an abstraction of function and a fullness of character that infused his compositions with mystery and fantasy. Upin combines her three-dimensional imagery with a sensitive use of graphics, as did Leger. In fact, one of her pieces, a brooch made of sterling, copper and plexiglass, is titled Homage to Leger. Leger's love of the visually rich image, achieved with the careful composition of the abstract, clean-as-a-whistle form, is evident in Upin's work.
Upin readily acknowledges that her work takes two quite different paths, one of emotional completion, the other of artistic challenge. "There are my narrative pieces, and there are those that have strictly to do with design," she says. "My narratives are very emotional. They are mostly autobiographical. I have many fond memories, and I find solace in them. But I find lately that my pieces are changing into less accessible, more abstract pieces, partly because of people's comments about my work, saying it's cute and precious."
It's true that Upin's work is small, some even miniature, like OK Cafe, a brooch made of sterling silver and nickel, fashioned into a plate with a piece of pie and a pair of chopsticks, or Memory Container II: Sleeping Gypsy, a small box, the lid satin-pillowed on the underside, that opens to reveal a carpenter's toolbox set into the top and, when the toolbox is lifted out, a bane and ballet slippers underneath. However, the smallness of scale and the precision of the workmanship should not be confused with the merely decorative. Upin's work is not to be momentarily admired and then dismissed, but rather contemplated and embraced, to be returned to again and again, to grow more meaningful with time.
Her next project is to make a series of Jewish ceremonial objects. "I finally broke through with the Mezuzah," Upin said of one of the pieces in this show. "I want the objects to be contemporary, to represent their ceremonial function, contain the symbology, and also have my own ideas. The most difficult part by far is the design.
"My work is a way to document my life," she adds. "I feel like I want some permanence about my life after I die. The pieces are graphic, narrative and autobiographical, but there is a preciousness about experience, memory and established intimacy. My pieces need to be held and examined. The thing of most importance to me is that connecting with another person's life, my connection with them. I want people to look at my work and recognize something about their own lives. It's like when I went to a show and felt almost naked because the artists knew so much about me."
~~~~~~~~~~~~~~~~~~~~~~~~
Elisabeth Kodré-Defner
Elaine Pottery Gallery, San Francisco
April 2-27, 1985
by Britta Schömer
Jewelry has always been more than a body ornament. In various societies and times it has been looked upon as symbol, carrier of cultural values and object of ritual or magic. Elisabeth Kodré-Defner's work is part of that tradition. Her shells and snails, precisely cast in 22k gold, a rich and warm metal, draw attention to surface structure that in nature often disappears behind color. A variety of subtle and complex textures form intricate patterns and demonstrate the perfection of nature's designs. Shells are assembled into clusters and combined with rubies, sapphires, opals, emeralds, diamonds or ivory drops to create jewelry that never appears merely decorative and precious but transmits a feeling of significance. Pendants, necklaces, rings and earrings focus the viewer's attention and invite contemplation of forms, which, as the artist points out, could possibly disappear.
The beauty inherent in dead substance becomes even more apparent in her insects and beetles. Accurate gold castings of dragonfly, scarab or stag beetle bodies, often hinged to imitate the natural movement of segments, spread their white gold wings open in a posture of symmetric harmony. With precious stones balanced between antennae in perfect equilibrium, they don't give the impression of flying away but seem suspended in a state of transformation. Recognizable species or abstract interpretations are composed in strikingly attractive necklaces and meditation pieces on the cycle of life and death, matter and spirit.
With her fetishes the artist enters the realm of magic. Bird skulls and a small crocodile skull, cast in various alloys of silver and gold in shades between cold gray and light yellow, form the masklike center of heavy pendants and are set off by ivory horns, feathers and wing- or hornlike shapes of black copper and colored titanium. Precious stones are carried above the head, on the forehead or between the eyes. A drop or ring may hang from the tip of the beak. These jewelry pieces, often displayed on top of a "magic stick," are reminiscent of primitive art and African or American Indian symbolism. They have an archetypal quality, stimulate the imagination and evoke strong feelings. Viewers react either with fascination or dislike, rarely with indifference. Beyond its high degree of perfection in design and technique, Elisabeth Kodré-Defner's work has the power to move.
You assume all responsibility and risk for the use of the safety resources available on or through this web page. The International Gem Society LLC does not assume any liability for the materials, information and opinions provided on, or available through, this web page. No advice or information provided by this website shall create any warranty. Reliance on such advice, information or the content of this web page is solely at your own risk, including without limitation any safety guidelines, resources or precautions, or any other information related to safety that may be available on or through this web page. The International Gem Society LLC disclaims any liability for injury, death or damages resulting from the use thereof.
---
The All-In-One Jewelry Making Solution At Your Fingertips
When you join the Ganoksin community, you get the tools you need to take your work to the next level.
Become a Member
Trusted Jewelry Making Information & Techniques
Sign up to receive the latest articles, techniques, and inspirations with our free newsletter.