A dark room paired with elements of light makes contemporary jewelry glow in Andronikos Sagiannos' Gallery in Athens. He opened his fascinating gallery "Makriyanni" in the Old Town of Athens opposite the Pantheon Temple of the Acropolis in 2004. The patron of the gallery and the adjacent street is General John Makriyanni, who fought for Greek independence in the 19th century. Studying jewelry took Andronikos Sagiannos to Geneva and Barcelona. This is where he learned the combination of experimental work, but also age-old crafts techniques. Art merges with crafts in his work. After the intense experience of studying art and also concept, Sagiannos returned to his native country of Greece: "The culture and climate made me come back."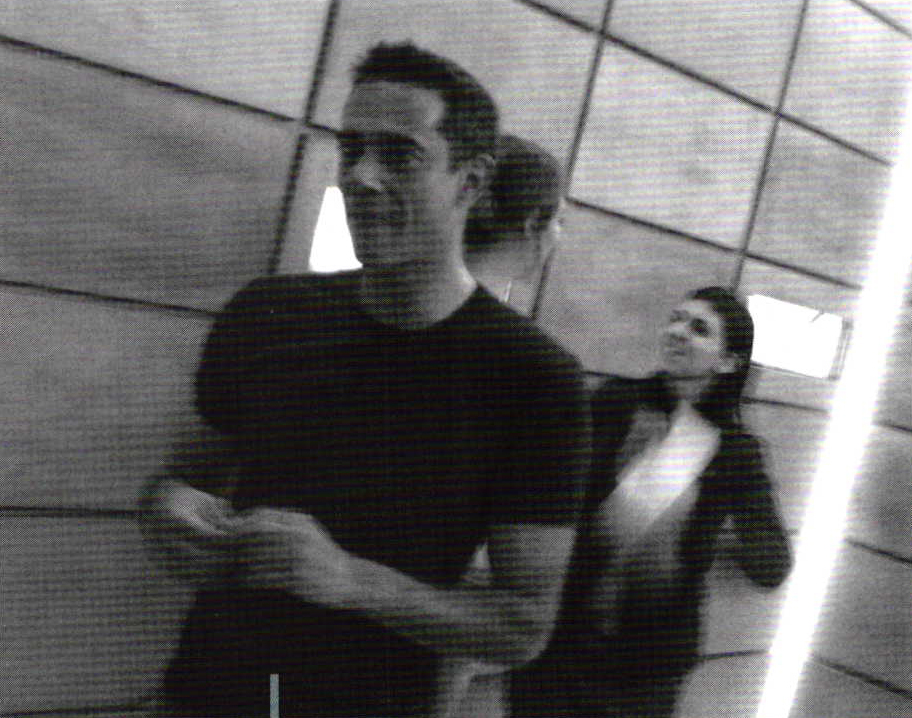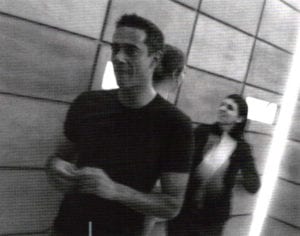 Andronikos Sagiannos in his gallery "Makriyanni"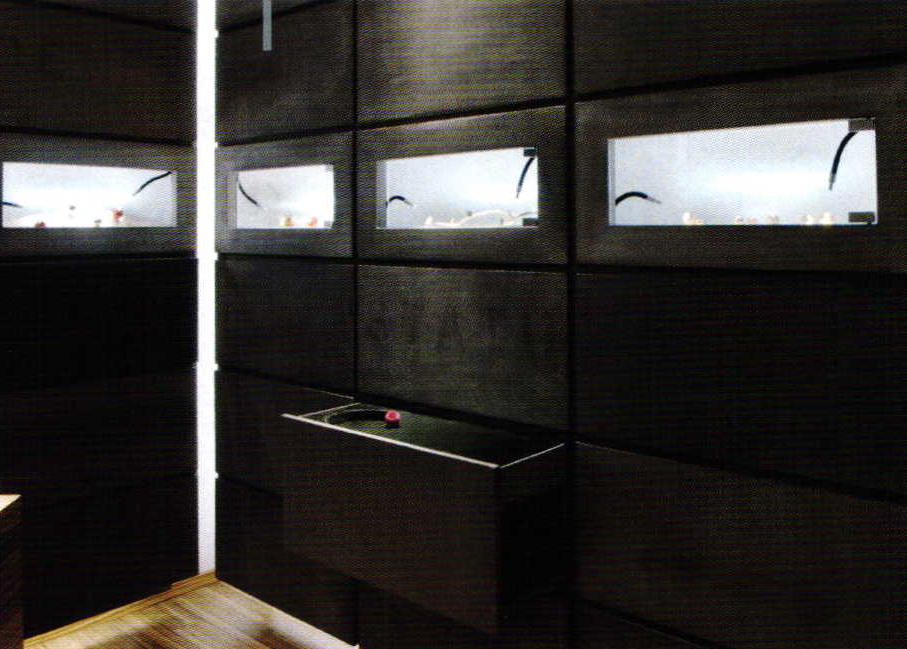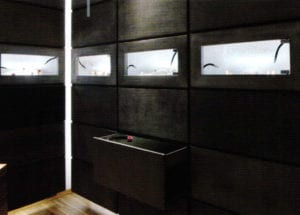 The walls are assembled in such a way that each individual, rectangular wooden panel can be replaced by lighting elements or by any other material. The showcases installed in the walls can be rendered invisible using blinds. A part of the wall paneling, the third row from the bottom, can be pulled out and is then a table or a showcase, depending on  whether the surface is then wood or glass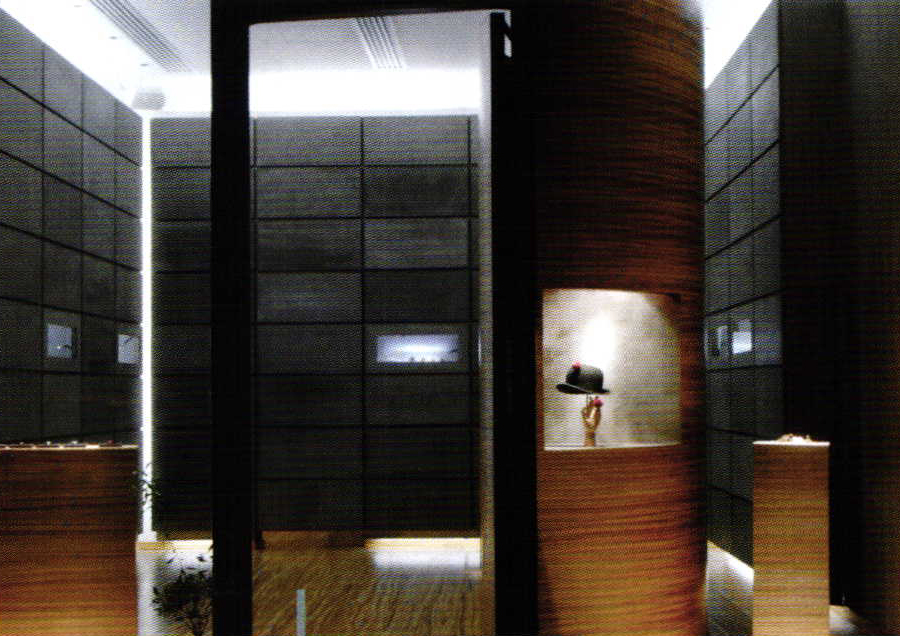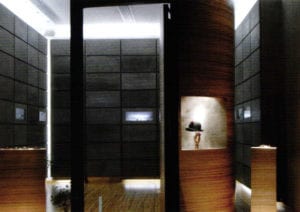 The exhibition concept is to be able to achieve a rapid and easy transformation of the exhibition space in order to present around all items of jewelry in an ideal manner, irrespective of the form and size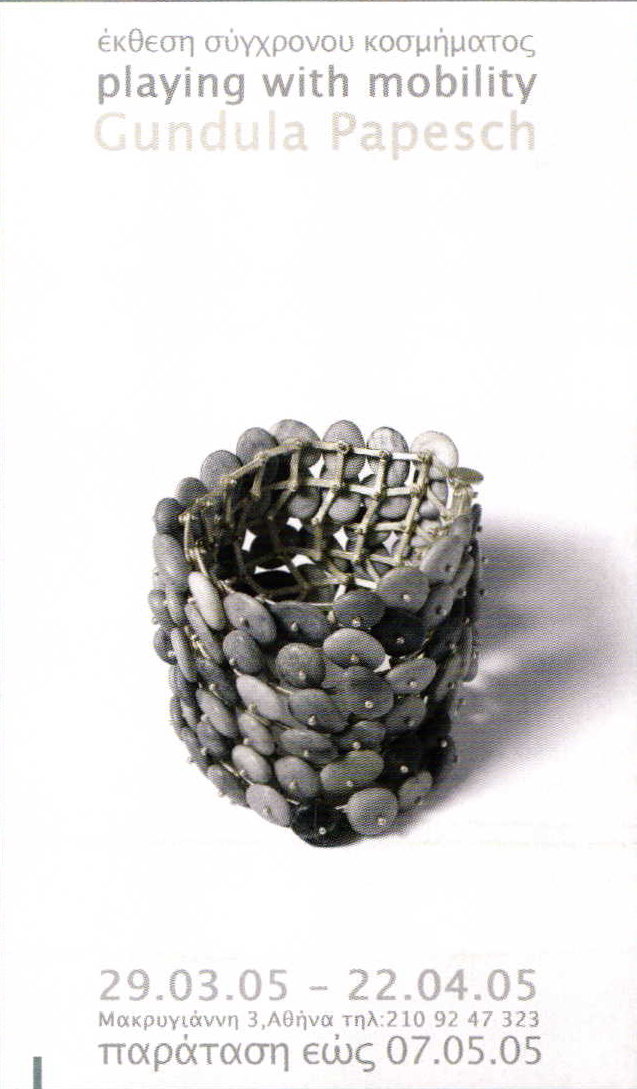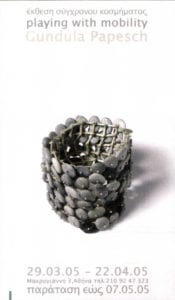 Gundula Papesch (Austria), exhibition "Playing With Mobility" in Gallery Makriyanni, 2005


Andronikos Sagiannos, "Sphere 4", various metals
Curiosity and people's great interest in contemporary jewelry surprised Sagiannos. He justified opening the gallery with the words: "I like the ineractive exchange of designers and customers as a short-cut from the mentality of the society, in the sense of everyday observation." The gallery's interior design is strikingly unusual, conceived by Andronikos Sagiannos himself. In his gallery, Sagiannos concentrates on jewelry. This makes his gallery distinct from many other galleries that present handicrafts and free art together with jewelry. Sagiannos exhibits international artists in addition to his own collection. Within this framework, he places great significance on "symbolic or narrative ideas that try to redefine jewelry." Sagiannos explains: "it fascinates me to be in contact with other people of the same field and exchange ideas and impressions of each one's activities." This is also the reason why he regularly attends symposia, for example the Ars Ornata Europeana or the international conference held by the Association of Contemporary Jewellery, England. In his gallery, Andronikos Sagiannos has support from a core of staff members, so that he is regularly able to spend time in his own workshop, located in a neighboring distinct. At the moment he is renovating an old house, where he would like to live, move his workshop and in future also offer goldsmith workshops.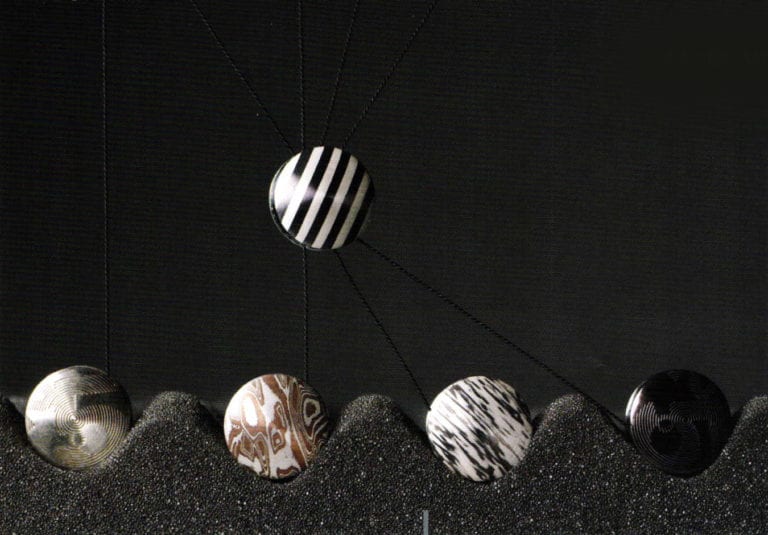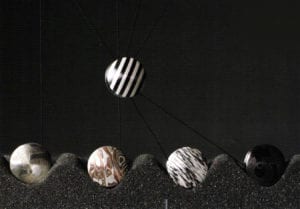 Anrdoniokos Sagiannos, "Yo Yo's", various metals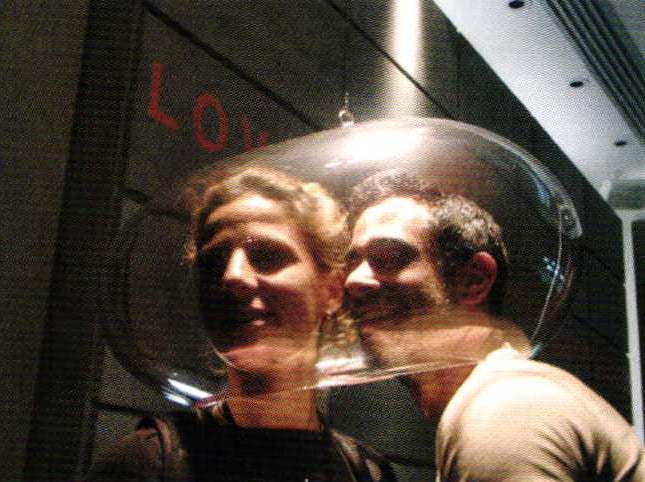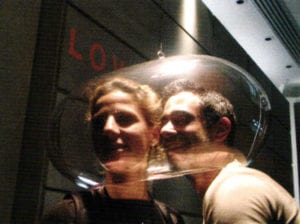 Carolina Vallejo (Denmark), exhibition "Love and Faith" in Gallery Makriyanni, 2005; Andronikos Sagiannos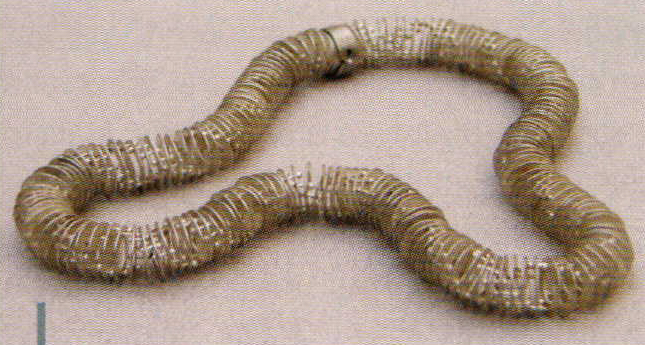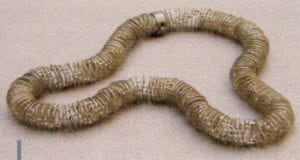 Gundula Papesch, necklace "DNA", silver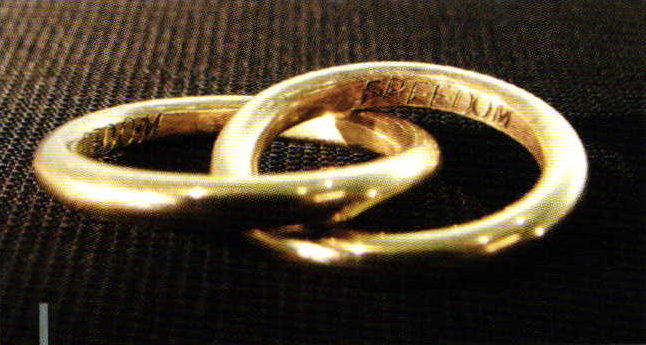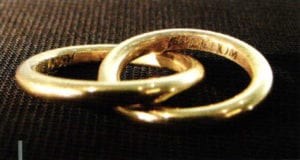 Carolina Vallejo, rings "Freedom", symbol of matrimony, gold, silver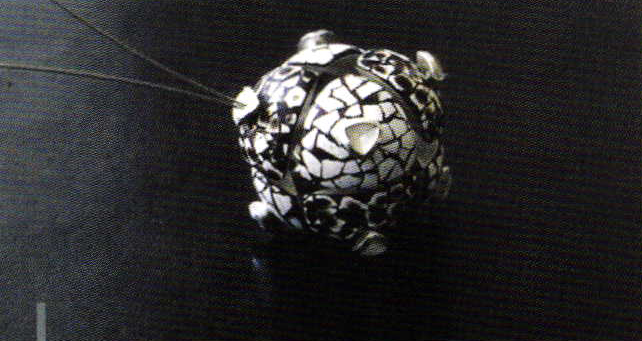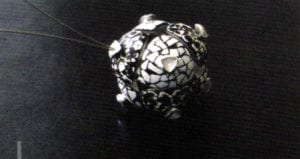 Andronikos Sagiannos, "My balls", exhibition in Gallery A, Geneva, 1998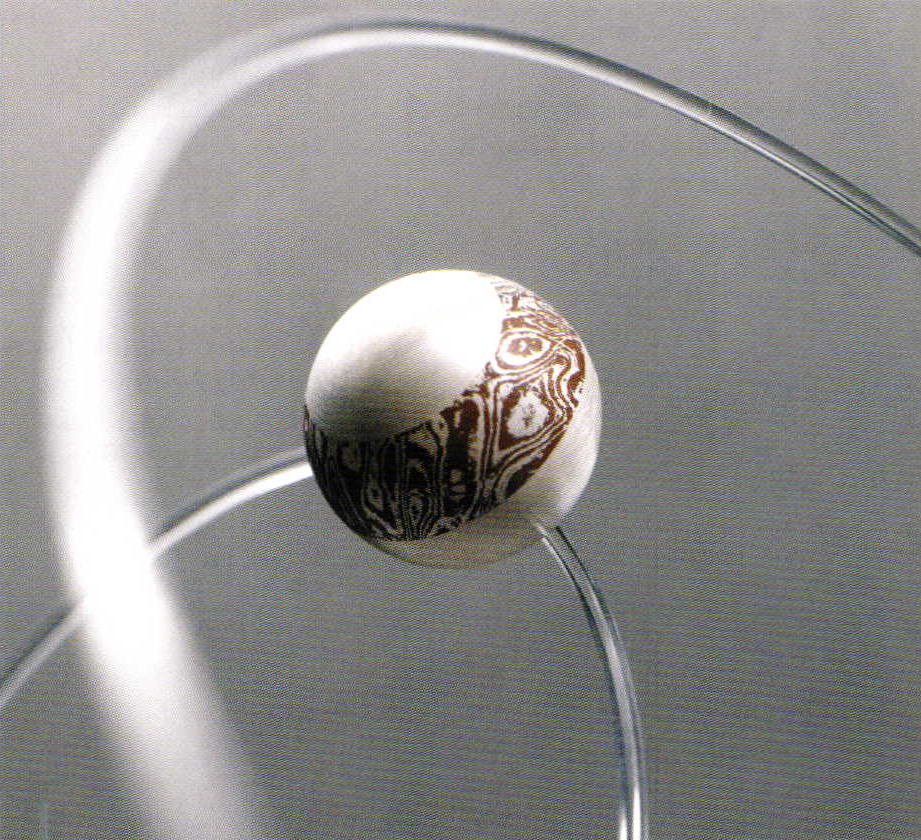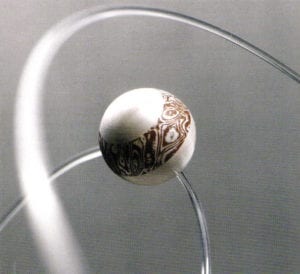 Andronikos Sagiannos, "Sphere 6", silver, copper
Andronikos Sagiannos has been a self-employed designer since 1996: "I make jewelry because of the possibility to share ideas and emotions with other people through a 3D world," is how Adronikos Sagiannos describes his motivation. He divided his studies in Geneva individually into two years at the Ecole Des Arts Décoratif de Genéve in the field of Jewelry and three years in the field of Objects at the Ecole Supérieure Des Arts Appliques. Sagiannos rounded off his training by learning the Japanese lacquer technique Urushi and enamel work at the jewelry college Escuela Massana in Barcelona. It is therefore no surprise that in addition to Greek, Sagiannos also speaks French, English and Spanish. Over the last 15 years, he has participated in 19 group exhibitions, among others in the renowned jewelry gallery Helène Poree, Paris, Gallery A, Geneva, Galerie Zebra, Bern and Forvm Ferlandina, Barcelona. Andronikos Sagiannos' jewelry is part of a small, exquisite collection of contemporary jewelry in the watch museum Musée d'Horlogerie in Geneva.